By Matt Klampert
Though originally known for its soba noodles, Tokamachi has recently become a local hotspot for ramen lovers. This summer, eight ramen restaurants around the city have taken part in a radio promotion, offering prizes to lucky foodies who sample a few limited-time delicacies. I ended up going to five of these shops for some delicious research of my own. Each of them have their own unique flair, and a wide variety of flavors to choose from. Come and see which of Tokamachi's many delicious ramen shops are the best for you!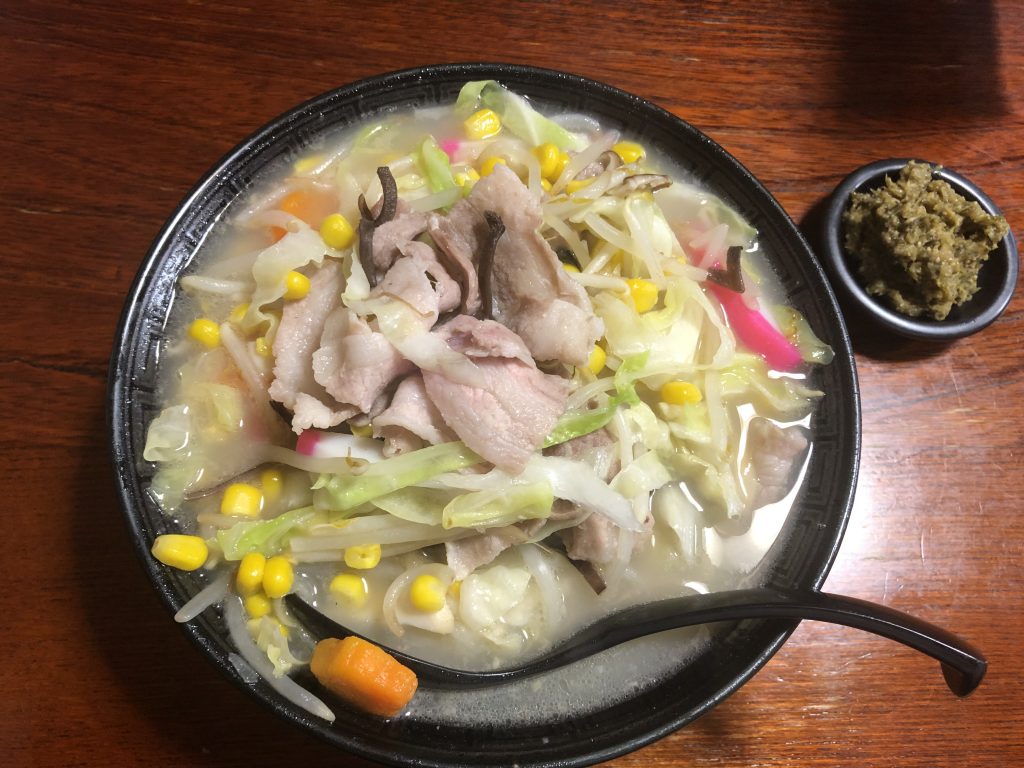 Tsukemen Sakura
First up is Sakura, a ramen shop and izakaya-style restaurant about 15 minutes from Tokamachi station. It is a combination noodle shop and drinking establishment, with counter seating as well as Japanese-style tables. Sakura features a big menu, highlights of which included chahan – fried rice dishes – and a wide selection of gyoza dumplings. Some interesting ones included mentaiko (spicy pollock roe) and cheese, umeshiso (plum and perilla leaf), and shrimp flavors. However, my eyes were on the ramen!
Sakura is most well-known for their black sesame-flavored kurogoma tantan tsukemen, however I decided to take a stab at their Yukiguni Chanpon Ramen. Chanpon, a fish-based noodle dish characteristic of Nagasaki cuisine, has been given the snow country treatment with the addition of fukimiso, or butterbur mixed with miso paste. The chanpon noodles were thin hosomen-style noodles, and the soup itself was a colorful mix of mozuku seaweed, cabbage, corn, carrots, and mushrooms. The meat and fish sausage blended together into a hardy dish, which was surprisingly not overpowered by the addition of the fukimiso. The soup was thin and easy to eat, and it was an altogether pleasant first ramen experience in Tokamachi.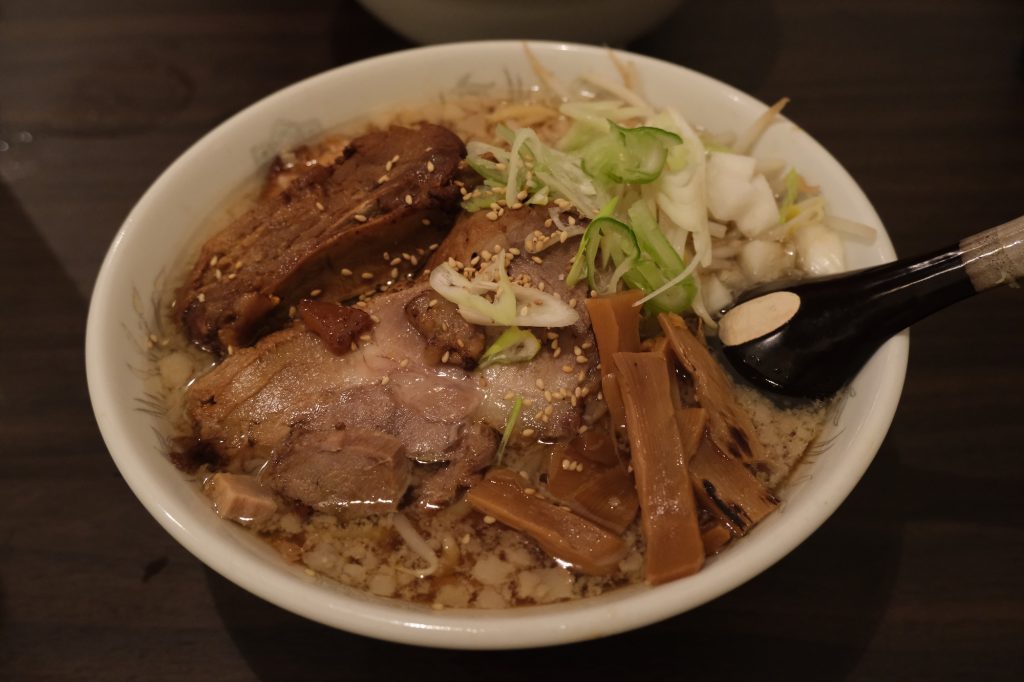 Yorozu Sake Bar Nomiya
Next up was something a bit more daring: Buta no mega lover triple pork ramen at Nomiya! Move over meat-lovers pizza, say hello to meat-lovers ramen! This bowl was packed to the brim with 200g of spare rib, sirloin, and pork belly. If you are at all familiar with the "Ramen Jiro" chain of restaurants, this was quite similar in terms of style: chunky, meaty, and fattening, with a taste that could compete with some of the best Jiro's in Tokyo. The soy sauce broth was flavorful, and the tender meat came right off the bone.
Nomiya is right in the middle of Tokamachi's bustling shopping street. While there is unfortunately no parking at the restaurant, there are small lots scattered along the way. The shop attracts mostly a young clientele, and includes counter-seating as well as intimate table seating. While the Buta Lover Ramen is a time-limited item, Nomiya is known for their Iwanori Ramen, a scaled-down version of what I ate. For those, like me, who couldn't finish the large amount of food in the bowl, this seems like the more reasonable option.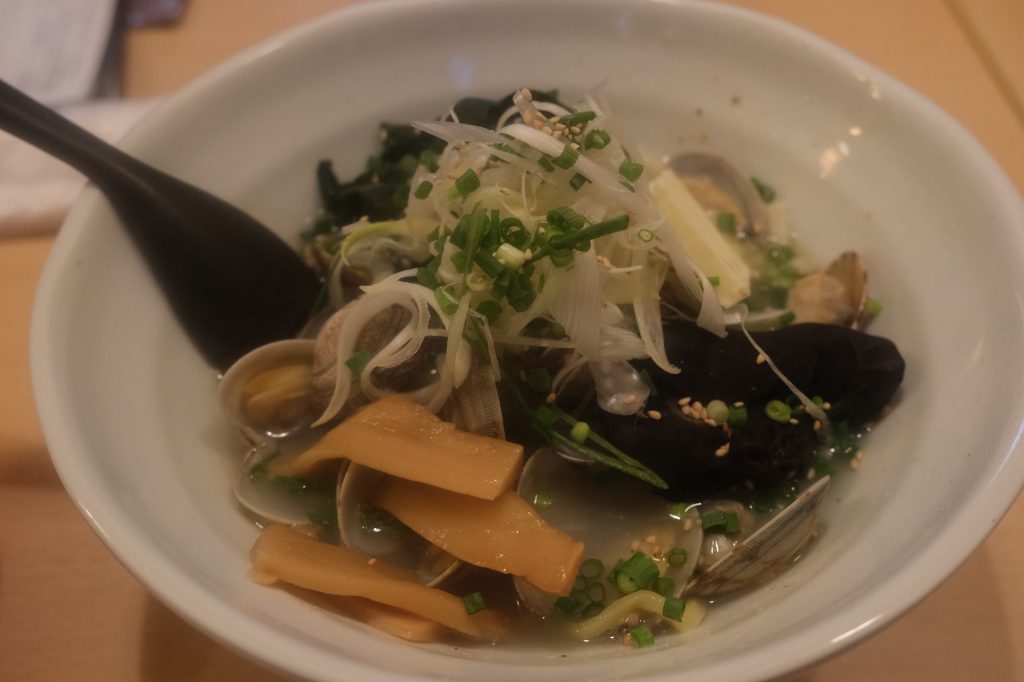 Miso Doraku is a beloved local chain, and the one in Tokamachi features Asari Shio Butter Clam Ramen! It's certainly not your typical bowl of noodles, although the large amount of clamshells floating in the soup do make for a pretty sight. Though the odd piece of pork meant that this was not vegetarian friendly, it does make for a more health conscious option compared to some of the items on this list. At Miso Doraku, customers use vending machines to purchase ramen and toppings, but to order this special dish you have to go into the shop, ask for the "Tokusen Ramen," and pay in cash up front. Otherwise, as their name implies, Miso Doraku specializes in different kinds of miso ramen. It is a good choice for those looking for a stronger-flavored broth to savor.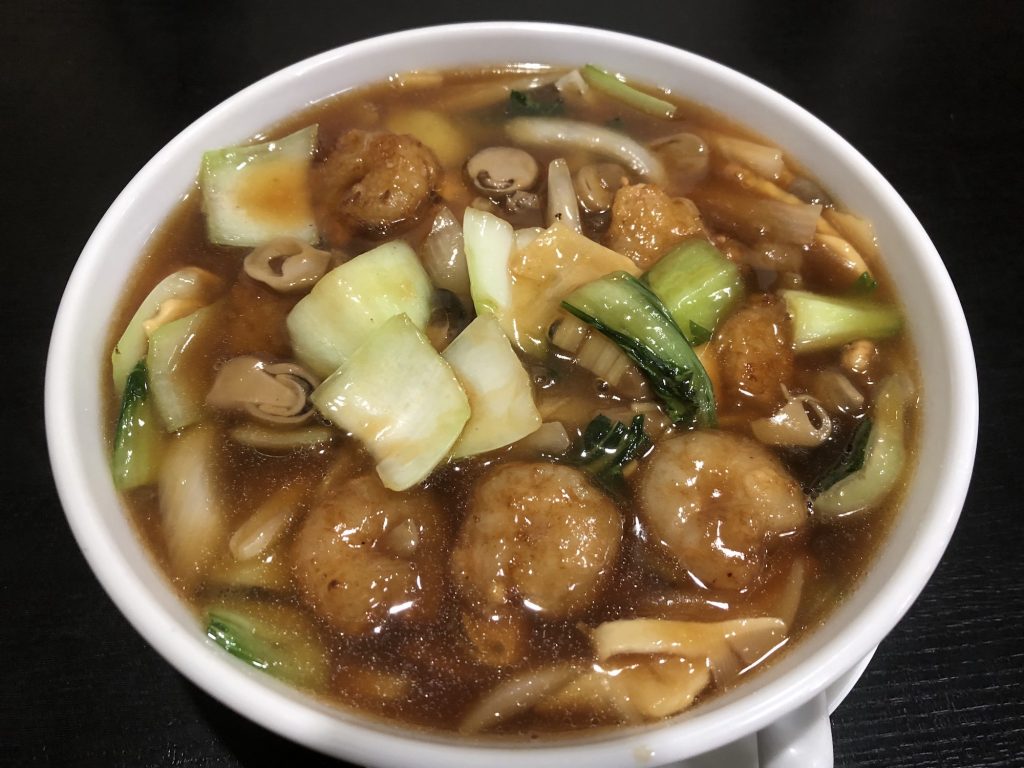 Tenshan
Tenshan is a Chinese restaurant right next to the Ta River in Tokamachi. It is an attractive building with plenty of parking, and the interior is clean, bright, and family friendly. They don't have a counter space; instead there are groupings of bigger tables, as well as a private room. It is a good place to go if you want to eat where the locals do.
Their special is the Ebi Ankake Shrimp Ramen. Unlike the other items listed here, it is apparently available year-round. It features a thicker, sweeter ramen, with yakisoba type noodles and plenty of delicious lightly battered shrimp! This was my first experience with ankake ramen anywhere, and it was definitely unique. Of the dishes mentioned here, this meal was also unique as it contained no meat, but plenty of thick cut leeks, plus onions, mushrooms, and bamboo shoots. There were also plenty of Japanese-Chinese food staples like subuta, ebi chili, and chinjao rosu available at Tenshan. I'd love to come back here sometime just for more Chinese food!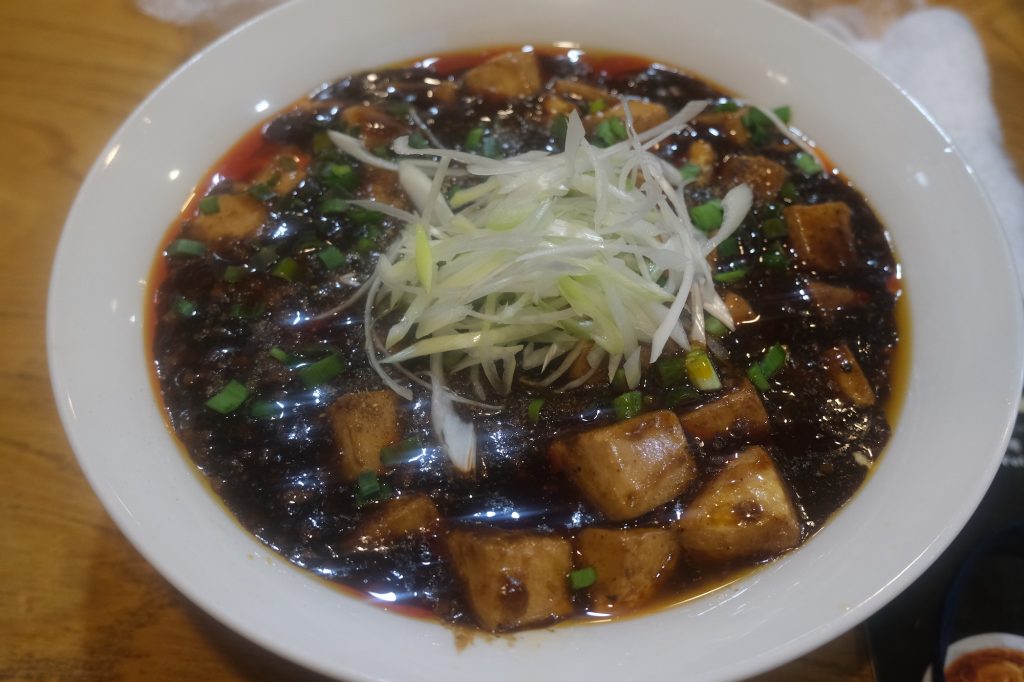 Mogura
Mogura's signature ramen is called "Mogumogu Black," a specialty ramen for garlic-lovers that is very limited, as only 10 bowls are served each day. However, it was sadly sold out, as was their "Mogu Ramen," another unique ramen made from a mixture of pork and chicken bone stock. Their next most popular dish, I was told, was the "Mapo Ramen," a mixture of ramen and mapo tofu. What arrived was a spicy bowl of bright red tofu-laden ramen. This visually striking, though intimidating bowl was actually an unforgettable ramen experience. It does take a bit of endurance to sweat through this spicy ramen workout, as this was basically two meals in one! However, it was undeniably delicious. Please note, that this version of mapo tofu, like just about any other mapo tofu in Japan, does actually contain pork along with the generous portion of tofu.
How to get in on the fun
When you order the signature ramen at these shops, you will usually be presented with a small card to fill out with your personal information, and which of the free items you'd like should you win the random drawing. Of the five places I visited, one actually forgot to give me the application card, so you may want to remind the staff if necessary. The campaign runs until the 25th of July, so it's the perfect time to get your ramen fix. In YUKIGUNI, even the ramen is an experience like no other!
Information for Travelers
Tsukemen Sakura
Address: 1 Chome-58 Miyukicho, Tokamachi, Niigata 948-0052
Phone: (81) 025-761-7880
Hours: 11am to 9pm, closed on Mondays
Yorozu Sake Bar Nomiya
Address: 4 Chome−36, Honcho, Tokamachi, Niigata 948-0082
Phone: (81) 025-750-5088
Hours: 5 pm to midnight, closed on Tuesdays
Miso Doraku Tokamachi
Address: Ueshima 59617, Tokamachi, Niigata 948-0000
Phone: (81) 025-750-7200
Hours: 11 am to 2:30 pm in the afternoon, 5pm to 7:30 pm in the evening, closed on Wednesdays
Tenshan
Address: 1 Chome-5-5 Minamishindencho, Tokamachi, Niigata 948-0005
Phone: (81) 025-757-6432
Hours: 11:30 am to 2:30 pm in the afternoon, 5pm to 9 pm in the evening, closed on Thursdays
Mogura
Address: 3-1 Nishiteracho, Tokamachi, Niigata 948-0085
Phone: (81) 025-761-7002
Hours: 11:30 am to 2 pm in the afternoon, 5:30 pm to 10 pm in the evening, closed on Wednesdays and Thursdays
Things to do
Take a gastronomy tour to experience the blessings of the area with all five senses.
YUKIGUNI prepares for winter from spring to autumn because of its snowy and long winters. As a result of this, a rich knowledge of preservation, including fermented food, has been accumulated. YUKIGUNI Gastronomy Tours are an opportunity to immerse yourself in the unique food culture that emerges from this. YUKIGUNI is also famous for its sake, thanks to the abundance of pure water from the melting snow.