Special soups, seasonal soups, and soups full of pride
Whale Soup
This is a classic summer soup in Niigata. It is drunk to help get through the damp, humid heat of the summer months. There are several varieties that vary by area and might use a miso or a soy sauce base. In the past whale was an important source of protein in Japan.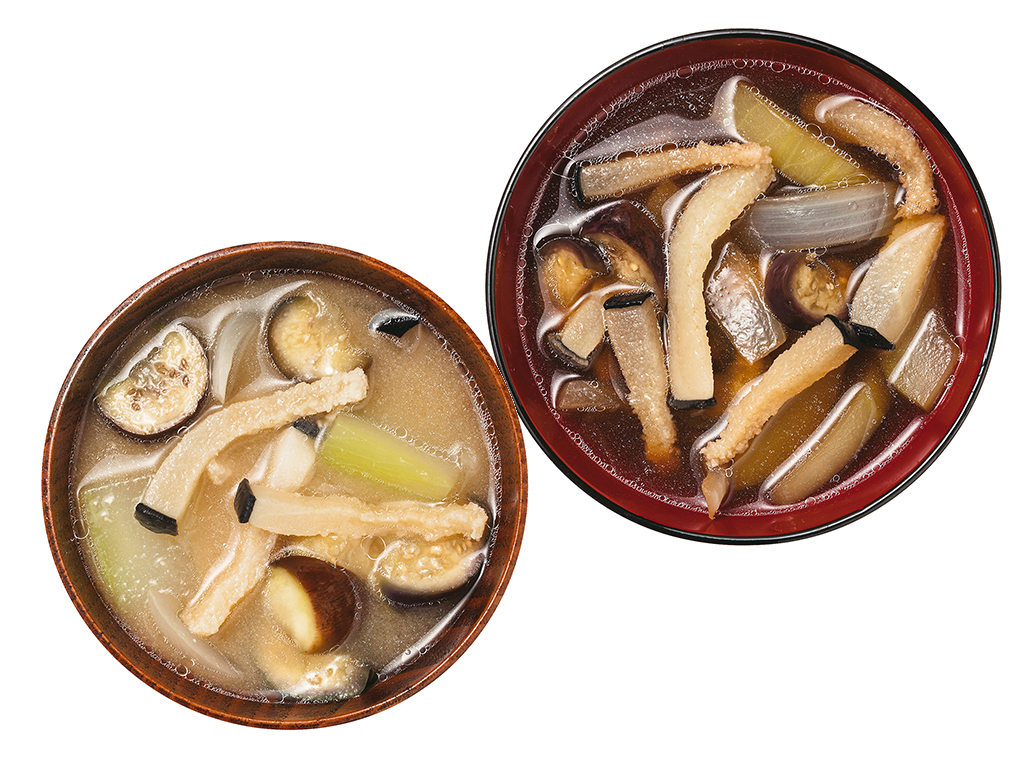 Soup with sake lees
As it contains the by-product of sake production this is a warming soup, especially in winter. There are places in both Niigata and Nagano that add Nagano's famous Nozawana pickled greens to this soup.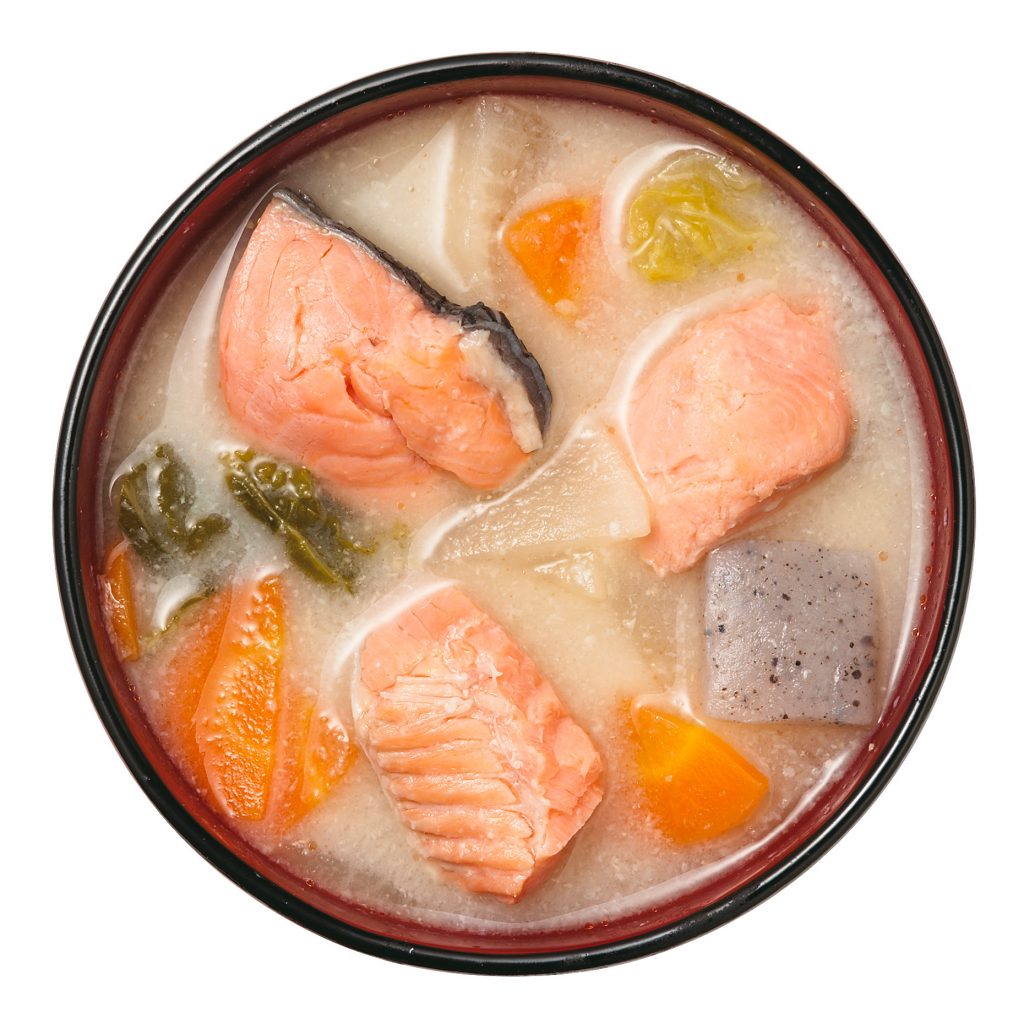 Mackerel and bamboo soup
This a miso soup that uses bamboo shoots and tinned mackerel. The different regions are split by those that like to use mackerel, and those that like to use herring.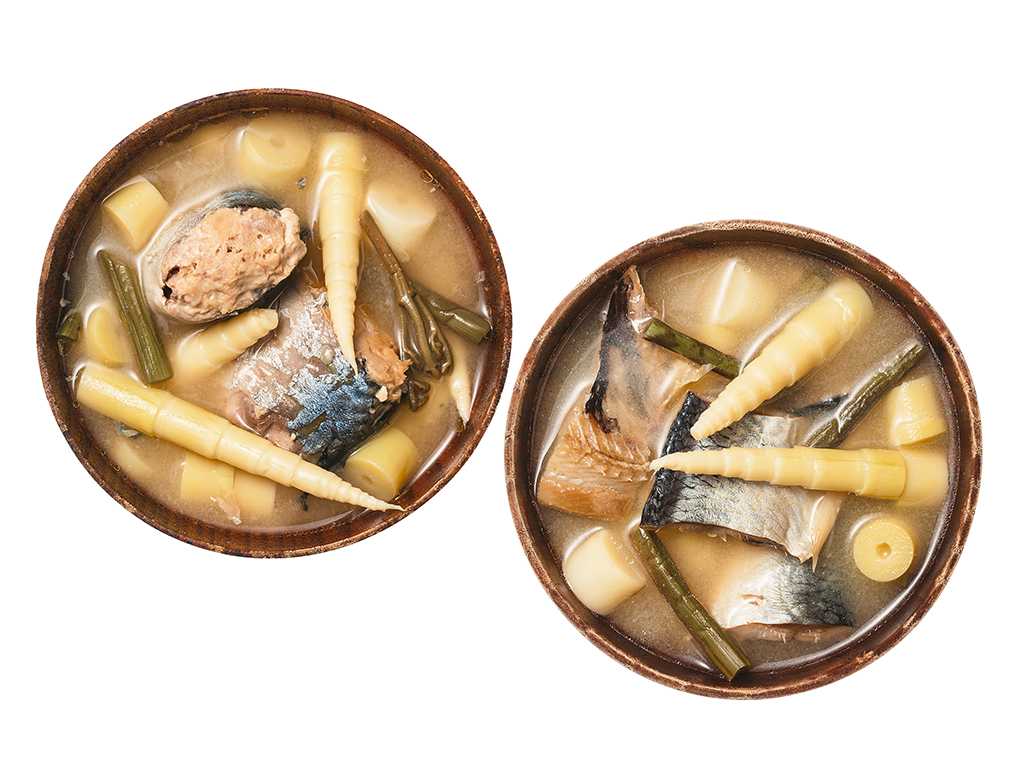 Mushroom Soup
This is a classic autumn soup that is full of ingredients. Using the wild mushrooms that you yourself have picked makes it much more delicious than usual.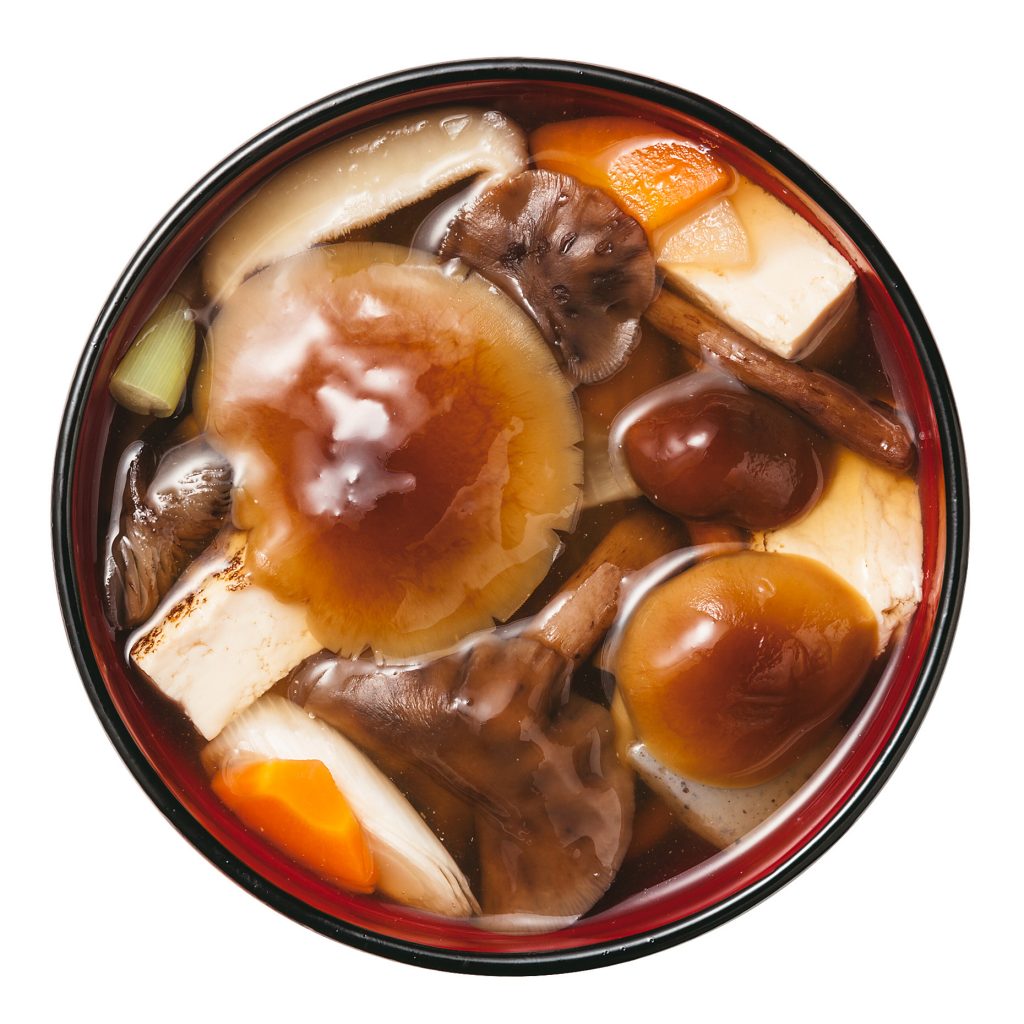 YUKIGUNI Hotpot
This is the seasonal hotpot that incorporates the very special ingredients from around YUKIGUNI. Let's have a closer look.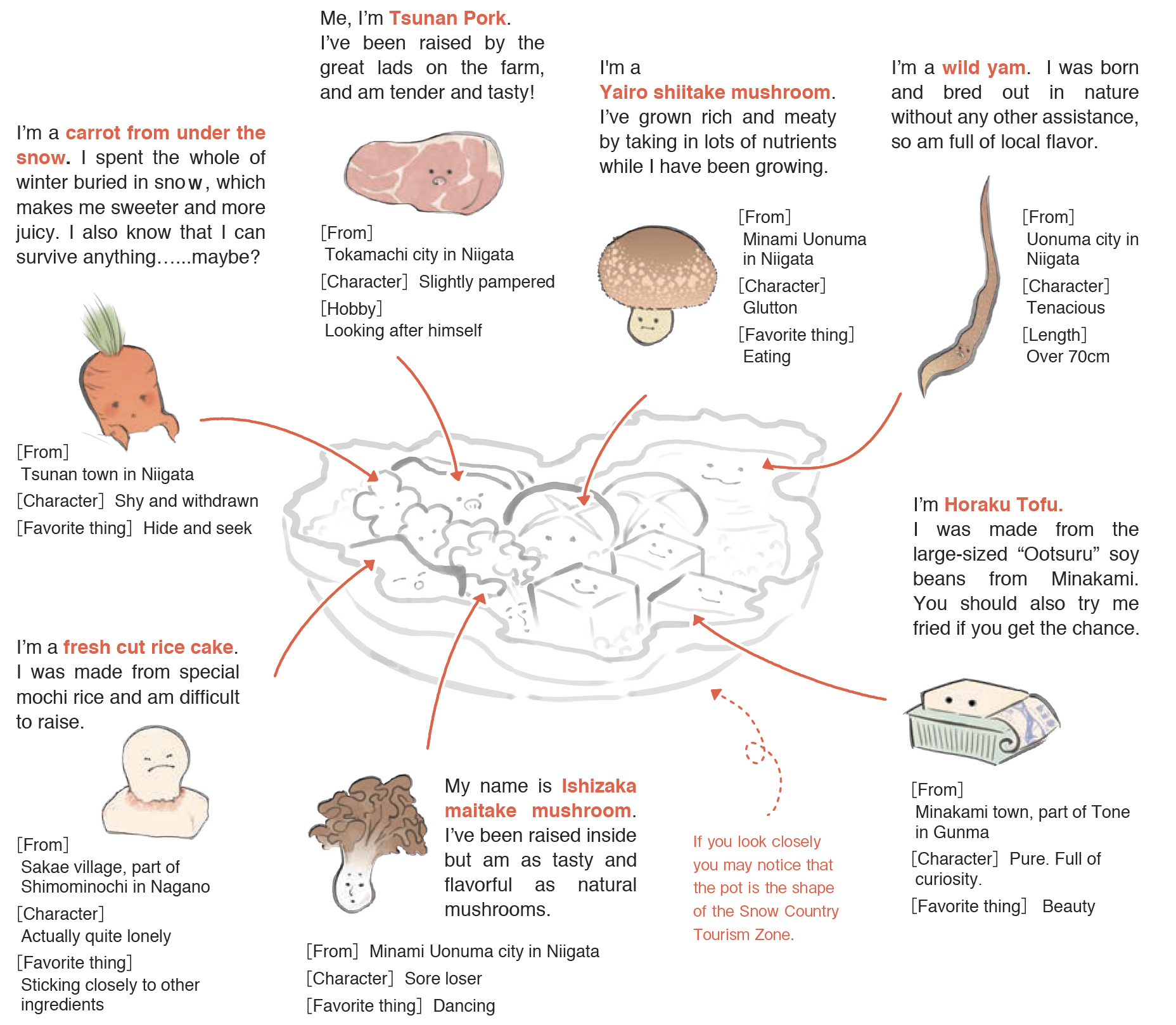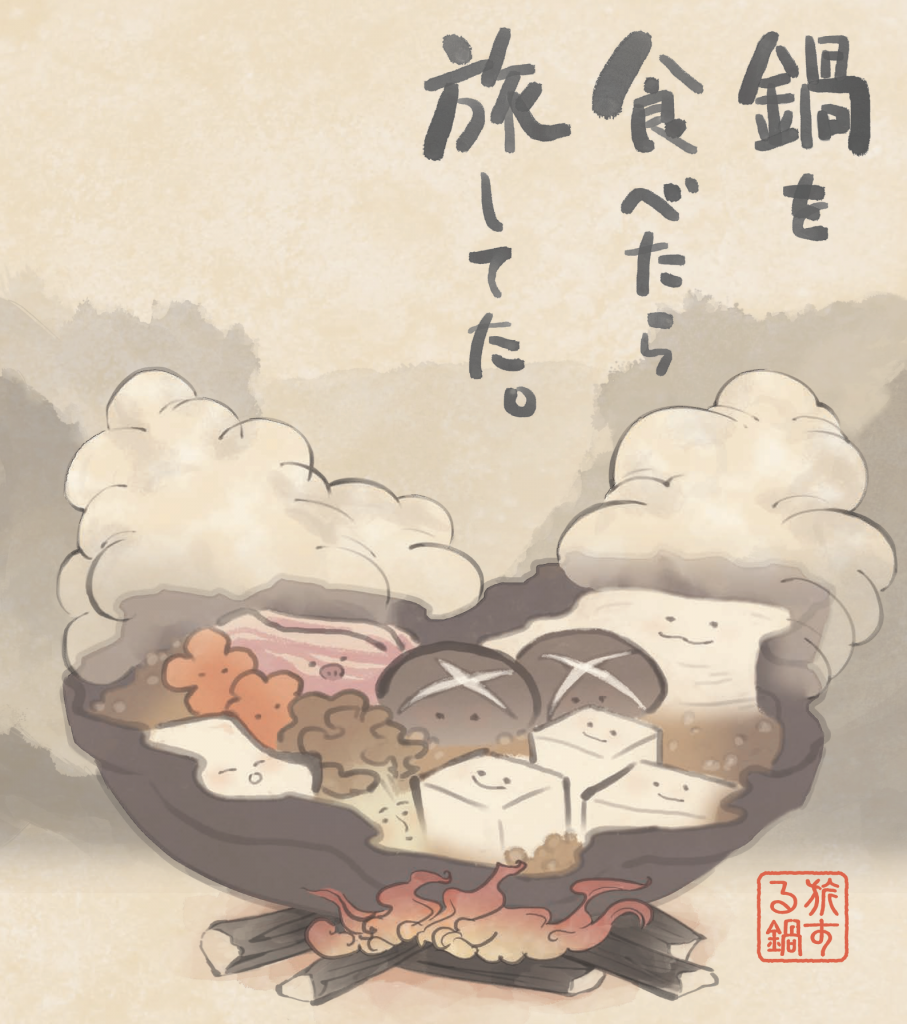 This is where you can find them!
Tsunan – Carrots under the snow
Fujimiya
949-8202 Niigata-ken, Nakauonuma-gun, Tsunan-machi, Oaza-Ashigasaki 203
Tel: 025-765-2823
Fax: 025-765-2949
They have a shop in Tokorozawa in Saitama called "Tsunan Fureai Center"
Minami Uonuma – Shiitake Mushrooms
Yairo Shiitake Cooperative
949-7231 Niigata-ken, Minamiuonuma-shi, Myogasawa 1473-25T
el: 025-780-1360
Fax: 025-780-1363
They are growing them to be as meaty as possible.
Sakae – Namakiri Mochi
Inaka Kobo
389-2702 Nagano-ken, Shimominochi-gun, Sakae-mura, Hokushin 3636
Tel: 0269-87-3190
Fax: 0269-87-3195
Stocking traditional countryside foods such as anbo, mushrooms, mochi, pickles and rice
Minakami – Horaku Tofu
Takumi-no-Sato Fukuju-Chaya
379-1418 Gunma-ken, Tone-gun, Minakami-machi, Sukawa 847
Tel: 0278-64-2210
Fax: 0278-64-2220
You can also try your hand at making tofu at Fukuju-Chaya(By reservation only, at least 2 days in advance)
Tokamachi – Tsunan Pork
Farmland Kiotoshi
948-0304 Niigata-ken, Tokamachi-shi, Kiotoshi 1366-3
Tel: 025-761-1331
Fax: 025-761-1577
Tsunan Pork is very well cared for, and is raised with great attention paid to the nutritional balance from the time the pigs are very young.
Uonuma – Wild Potato
JA North Uonuma Wild Yam Growers Cooperative (JA North Uonuma Yunotani Centre)
379-1418 Niigata-ken, Uonuma-shi, Iguchi Shinden 645-13
Tel: 025-792-2101
The friendly locals are working hard to bring you these yams from the rich surrounding nature of their hometown.
Minami-Uonuma – Ishizaka Maitake
Ishizaka Kinoko Cooperation
949-6545 Niigata-ken, Minamiuonuma-shi, Nagasaki 3478
Tel: 025-782-0688
Fax: 025-782-9704
To bring you the most natural mushrooms possible we are doing everything we can to raise mushrooms as nature does.