By Matt Klampert
When it comes to the YUKIGUNI town of Tsunan, it can be said that its greatest charm is its exceptional natural beauty. This is also true of another YUKIGUNI town, the village of Sakae, in nearby Nagano. In between these two towns lies the Naeba Sanroku Geopark, which is one of 43 such Geoparks in Japan.
So, what exactly is a Geopark? It's not really a place where you might sit on a bench by a pond and feed some ducks, or play a game of tennis from time to time. Instead, it is more akin to a giant natural preserve and historical site all rolled into one. During my time at Naeba Sanroku I got to see hiking trails, archeological ruins, temples and shrines, restaurants, onsen, and more! There is plenty here to see and do, but it may not be the most accessible to someone visiting for the first time. Even more so than other articles written on activities in the area, you REALLY need a guide if you are planning to spend any significant amount of time in this area. It is also recommended that you do at least stay overnight to experience all that the Geopark has to offer. It would be impossible to cover everything there is to do in a single article, but here is an example of a typical day trip, starting at Tsunan and ending at Sakae. Of course, you can start at Sakae and go the other way around as well, as both entrances to the Geopark have good access to nearby train stations on the JR Iiyama line.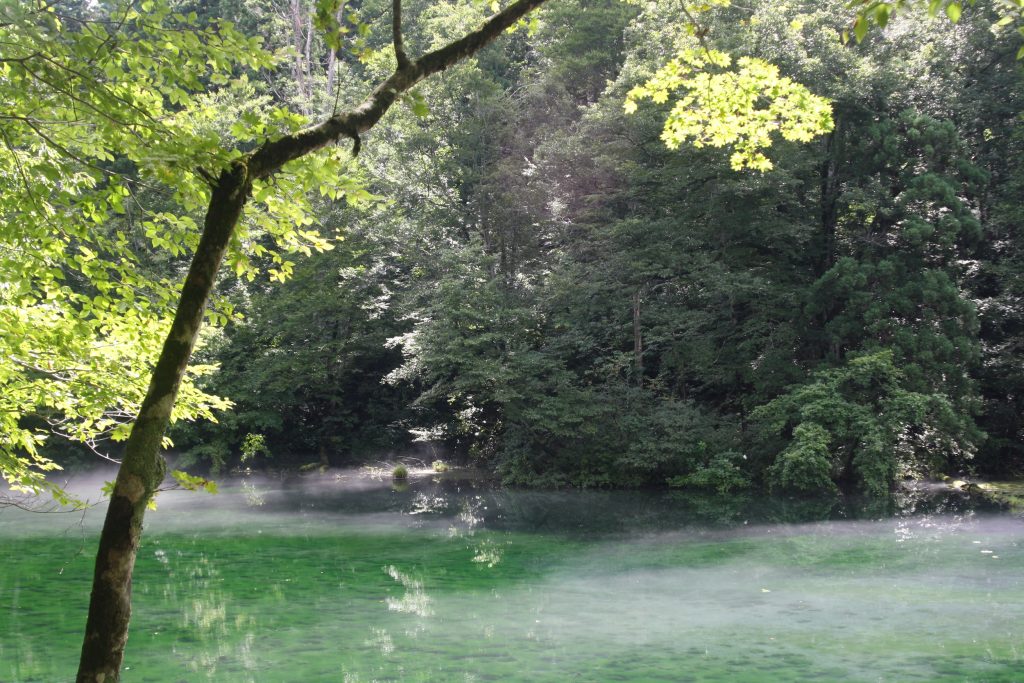 The start of our journey
From the Tsunan Town Hall, we travelled another 15 minutes to the first stop on our tour, Rygakubo! Ryugakubo is a serene forest trail which opens up into a beautiful clear pond. The spring water there is well known for its purity, to the extent that it is common to see locals bring empty bottles to take some of the water home with them, and it is also used in the making of local beer. The spring is said to be protected by the spirit of a dragon, who you can see in decorations covering the area. There are also multiple shrines along the trail where you can pray to the dragon for your own protection.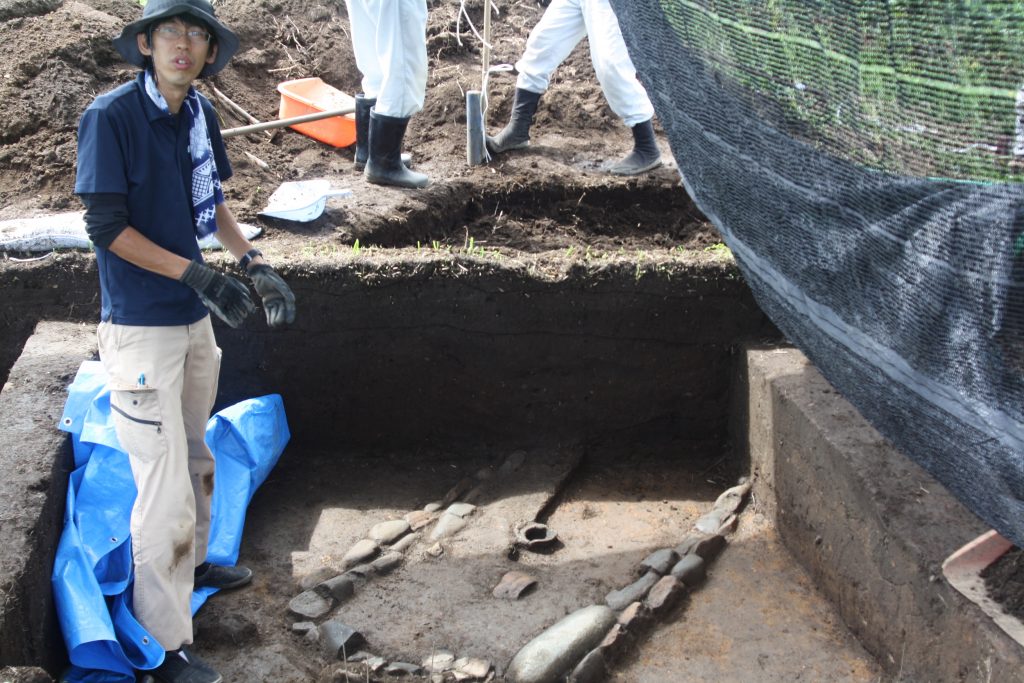 A look back into history
The Naeba Sanroku Geopark was originally created by volcanic activity around Mt. Naeba, which was last active approximately 300,000 years ago. This caused movement in the Earth which gradually allowed rivers and lakes to form, and eventually, human settlement. Around the same time as the great ancient civilizations of Egypt and Mesopotamia over 12,000 years ago, groups of hunter-gatherers formed largely permanent settlements all around Japan. These people became known as "Jomon," and were known for, among other things, their unique pottery.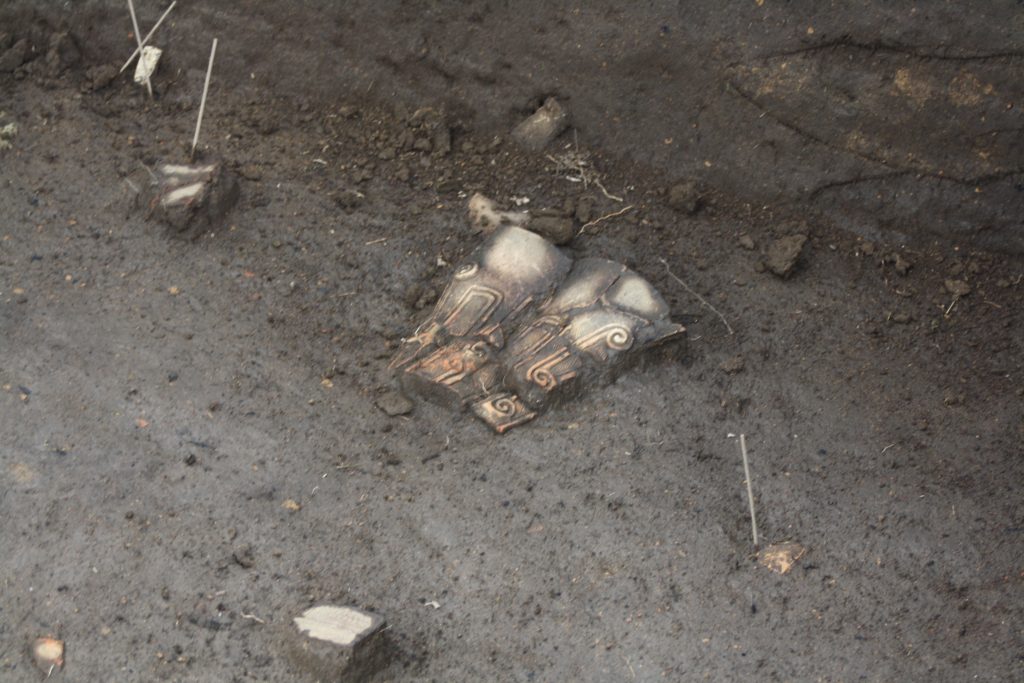 It just so happens that Naeba Sanroku Geopark has had significant archeological finds over the years. The day that I visited the Ishinohara ruins, I was fortunate to run into Mr. Masaichi Sato, one of the foremost archaeologists working in the area. Unbeknownst to me, that very day they were in the process of unearthing discoveries at some of the dig sites. I got the opportunity to stand in what was once a Jomon dwelling and see a partially-excavated cooking hearth. At another nearby site, workers had just uncovered a piece of pottery estimated to be approximately 5,000 years old. Mr. Sato explained a little about Jomon culture to me, and how we can learn from these early Japanese cultures to address problems in the present day. This is due to the fact that the fall of the Jomon people approximately 3,000 years ago was mainly due to food shortages brought about by climate change. Though our impromptu meeting was certainly not an everyday occurrence at the Geopark, there are regular Jomon exhibits in the area which are open to the public, such as the nearby Najomon Museum.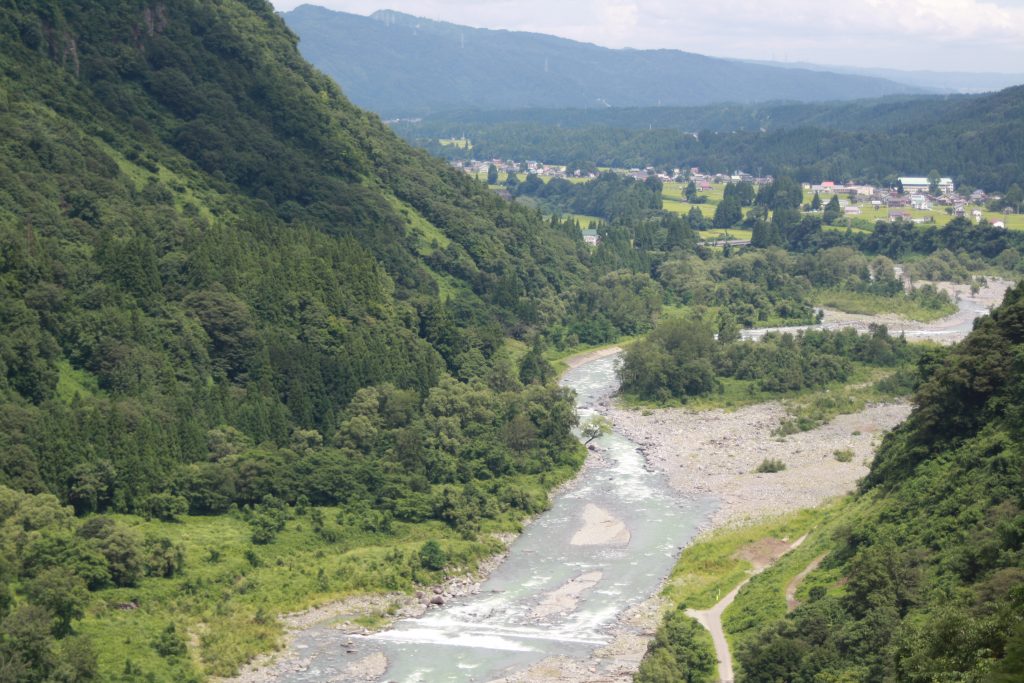 A trip to Tsunan's Grand Canyon
After that little history lesson, we headed to Midama Park, a sort of park-within-a-park in Tsunan. It is a great place for a family walk along the leisurely trails, as well as for breathtaking views of Nakatsu River, with its rushing rapids surrounded by sheer cliffs. This part of the Geopark is actually known as "Tsunan Grand Canyon," and the cliffs here are so deep you could put a building the size of the Tokyo Tower inside it!
In Japan, Shinto and Buddhist beliefs often exist together side-by-side, and this is true in Naeba Sanroku Geopark as well. The Midama Fudoson Temple is a local Buddhist power spot – a large temple atop a hill above a waterfall. I am told that this is also considered a prime location to view the fall colors. Whereas the previous shrines contained plenty of dragons, the area around the temple here has a frog motif. As the temple here is said to be nearly 1,000 years old, visiting it is a great chance to experience a lesser-known piece of local history.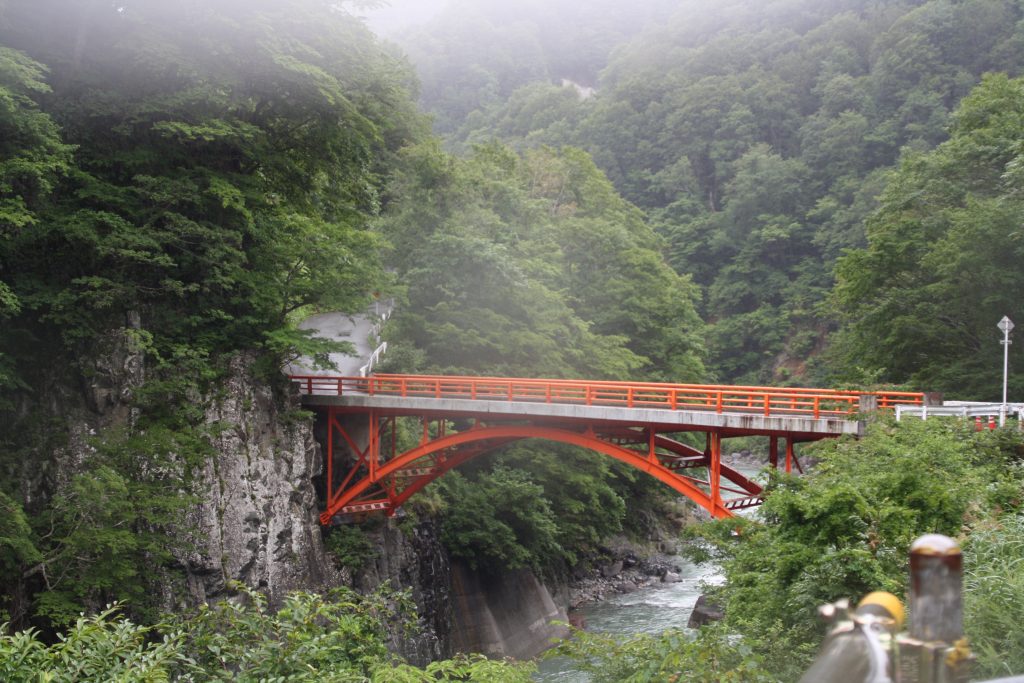 Time stands still in Akiyama-go
Finally, we made our way over to Nagano and to Sakae via Akiyama-go village. Unlike the more well-known Shirakawa-go, Akiyama-go is absolutely massive in size by comparison. In this case, the area of "Akiyama-go" actually refers to a group of small villages joined together by a series of bridges and mountain passes. Because of the area's relative distance from heavily populated areas, it is a rare sort of place where you can actually get a glimpse into traditional methods of Japanese living. In the midst of this, there are also great photo spots like Maekura Bridge and Jabuchi Waterfall, and museums as well. Plenty of lodging is available in the area, including glamping tents for those that want to be among nature. There are also "hidden onsen," unique open air baths at Kiriyake and Koakazawa. Though there is accommodation available at both Sakae and Tsunan towns, staying within Akiyama-go itself might be an ideal choice for those looking to get the most out of their Geopark trip.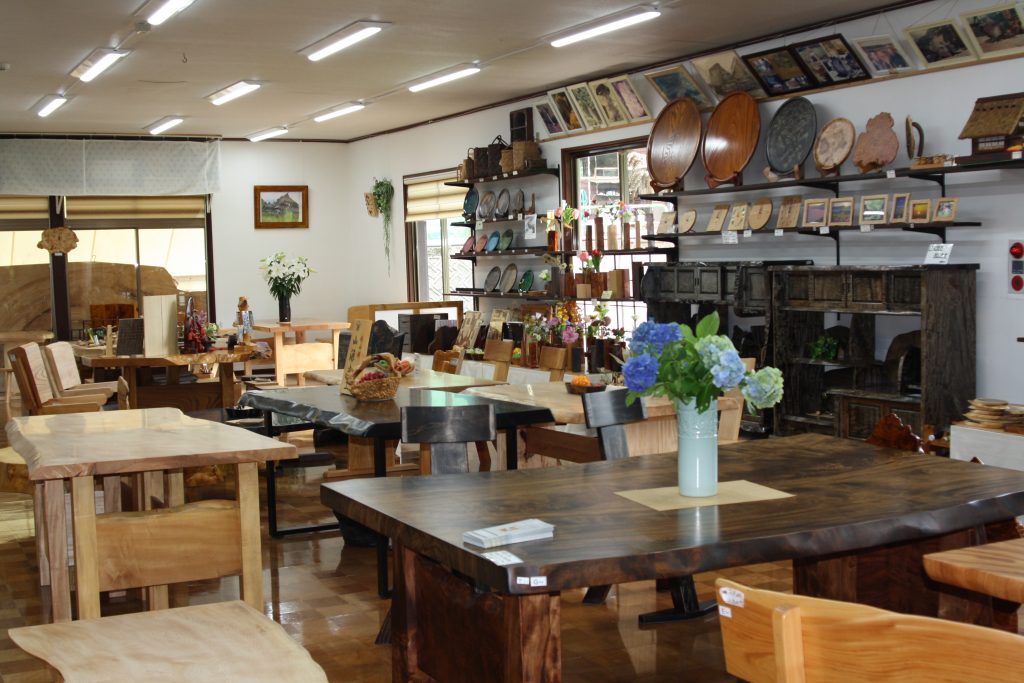 Land of char and chestnut
One thing to note when looking for a place to eat in the area is that some of the nearby restaurants have hours that change depending on the season. The place we visited, Yamagen Moukou, is actually a combination restaurant and woodworking shop. They had many typical Japanese dishes, though the staple of the region is probably iwana, or char. The furniture shop at Yamagen features a wide variety of handmade items made primarily from tochinoki, or Japanese chestnut. They ship internationally, so even travelers can get one-of-a-kind goods there made by local expert craftsmen.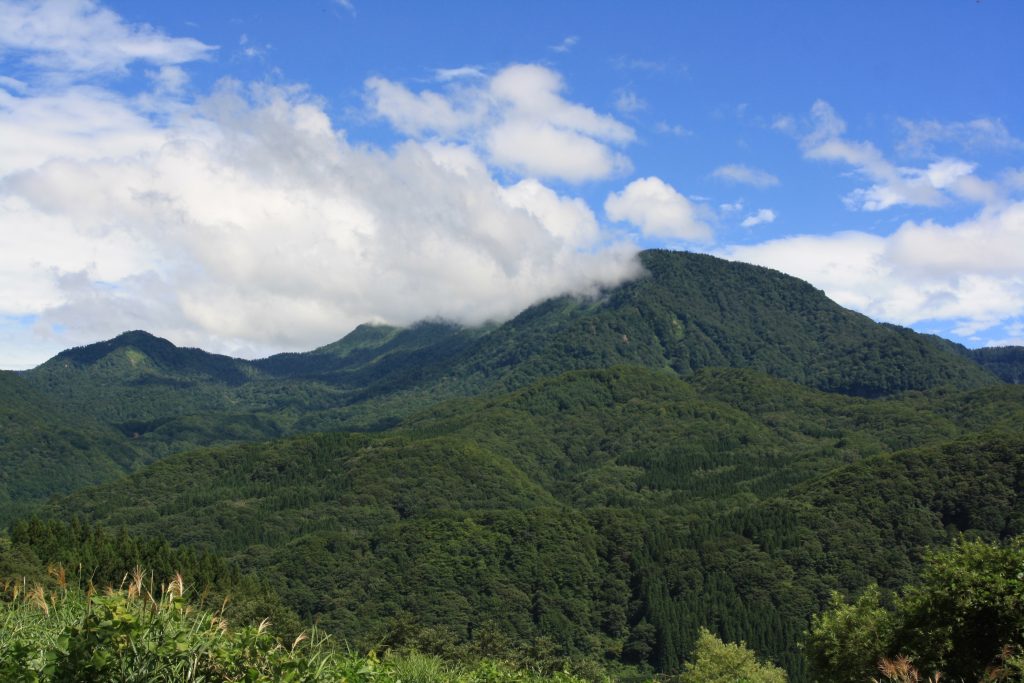 When it comes to outdoor activities in the YUKIGUNI area for summer and fall, Naeba Sanroku Geopark is a must-see location that should be at the forefront of your itinerary. See below for some of our recommended locations within the Geopark, or click here for more information.
Information for Travelers
Tsunan Town Tourism Area Development Department DMO Promotion Office
585 Shimofunatobo, Tsunan, Nakauonuma, Niigata prefecture, 〒949-8292
Ryugakubo Spring
6217 Yachi, Tsunan, Nakauonuma District, Niigata 949-8204
Najomon Museum
835 Shimofunatootsu, Tsunan, Nakauonuma District, Niigata 949-8201
Midama Park
Akinari, Tsunan, Nakauonuma District, Niigata 949-8313
Midama Fudoson Temple
9761 Akinari, Tsunan, Nakauonuma District, Niigata 949-8313
Maekura Bridge
Oakasawatei, Tsunan, Nakauonuma District, Niigata 949-8317
Yamagen Moukou
97 Ōakasawatei, Tsunan, Nakauonuma District, Niigata 949-8317
For information on English-speaking guides, please contact us.