By Matt Klampert
Art in this region of Japan has a long and storied history, including that of YUKIGUNI's best-known artist: the painter and sculptor Uncho Ishikawa. Born in Edo (modern day Tokyo) in 1814, he was something of a young prodigy in his day. At only 20 years old he had already become a master craftsman, and was given the name Ishikawa as a sign of membership into the famed Ishikawa group of artisans. Very little of Uncho Ishikawa's early work still exists; instead, his reputation largely rests on the art he has left behind in temples around the Niigata region, for which he has been given the moniker "The Michelangelo of Japan."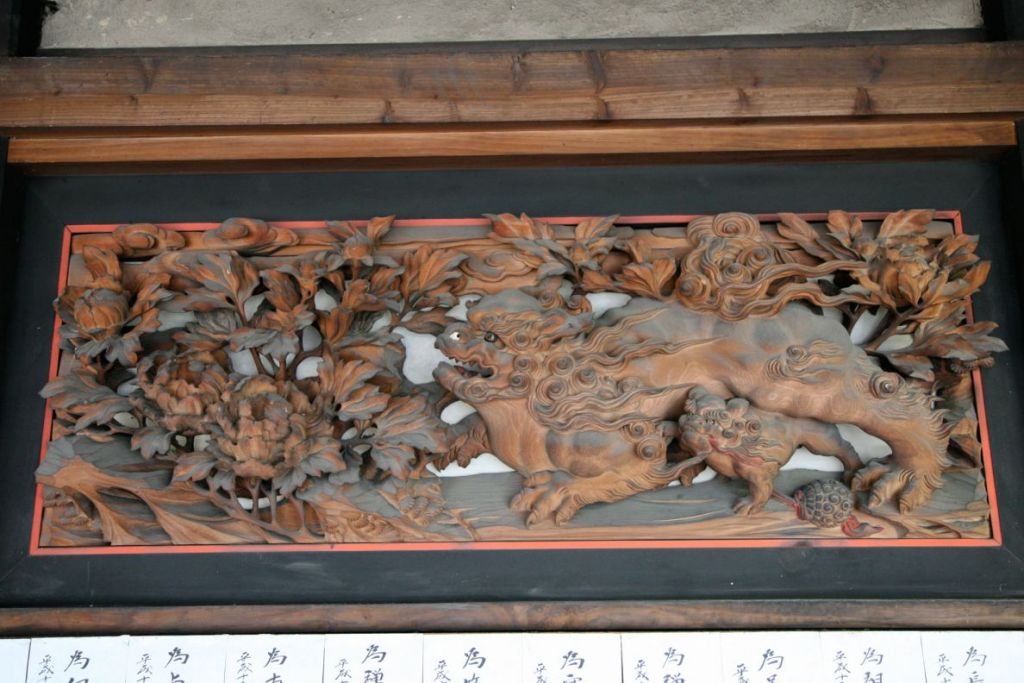 A man of many talents
Much of Ishikawa's work consists of skillful carvings made of wood or plaster, paintings, or a combination of both. The biggest of these carvings adorn famous temples in what was at that time called Echigo province, now Niigata. The pieces can be considered analogous to famous frescos that adorned Christian churches in antiquity. A key difference is their surprising depth: Ishikawa's works are layered on top of one another in a way that seems to pop off the canvas or wall. Add to this the large size and scope of his biggest pieces– which can cover an entire temple ceiling and walls- and you'll feel as if you are going "into" the artwork, and not just viewing it from outside.
Uncho Ishikawa was in some cases in charge of a temple's entire artistic direction, giving these religious sanctuaries a museum-like quality that we can all now enjoy centuries later. This amount of control also meant that Ishikawa could display the full range of his skills and work in a variety of mediums. Of special interest to those interested in Japanese-style works are his fusuma-e- ink paintings done on wooden sliding doors. Also of note are his hegi-ka, or wall paintings. If you have any interest in traditional Japanese art or Buddhist temples, there is no better way to become accustomed to his works than to travel to some of these sights and view the works of this great artist yourself.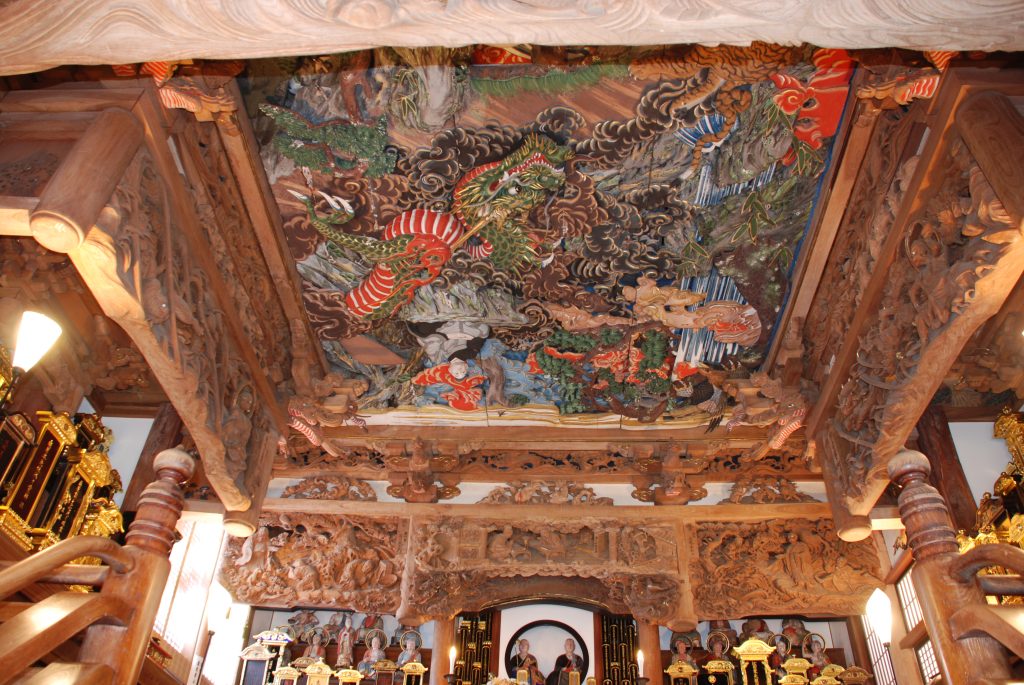 The works of Japan's Michelangelo
The real Michelangelo was known for, among his many masterpieces, the frescos adorning the walls and ceiling of the Sistine Chapel. If Uncho Ishikawa is the Japanese Michelangelo, then Saifukuji Temple in Uonuma city is the Buddhist Sistine Chapel. More than any other place, Saifukuji is the most closely associated with Ishikawa, as evidenced by the statue of Ishikawa in the temple courtyard. The temple itself is nearly 500 years old and one of the most important religious sites for the Soto sect of Zen Buddhism, with artwork reminiscent of the world-famous Toshogu shrine in Nikko. The honzon (main effigy of Buddha) is notable as being from the Kamakura period. It is surrounded by elaborate relief work depicting the Buddha and dragons, with artful sketches of cranes on the shoji doors nearby. The sounds of the waterfall coming from the pond outside impart a calming ambience over the temple.
By far the most famous aspect of Saifukuji, however, is the kaizando, a painted sculpture on the ceiling of the temple which is striking for its impressive level of detail. The artwork depicts a famous story of the Zen master Dogen. While in China on a religious pilgrimage, he was set upon by a tiger while meditating. However, a dragon appeared, which scared the tiger away. It is quite a sight to see the many tourists and pilgrims flock to this out-of-the way rural temple, but certainly understandable once you see the breathtaking artwork within.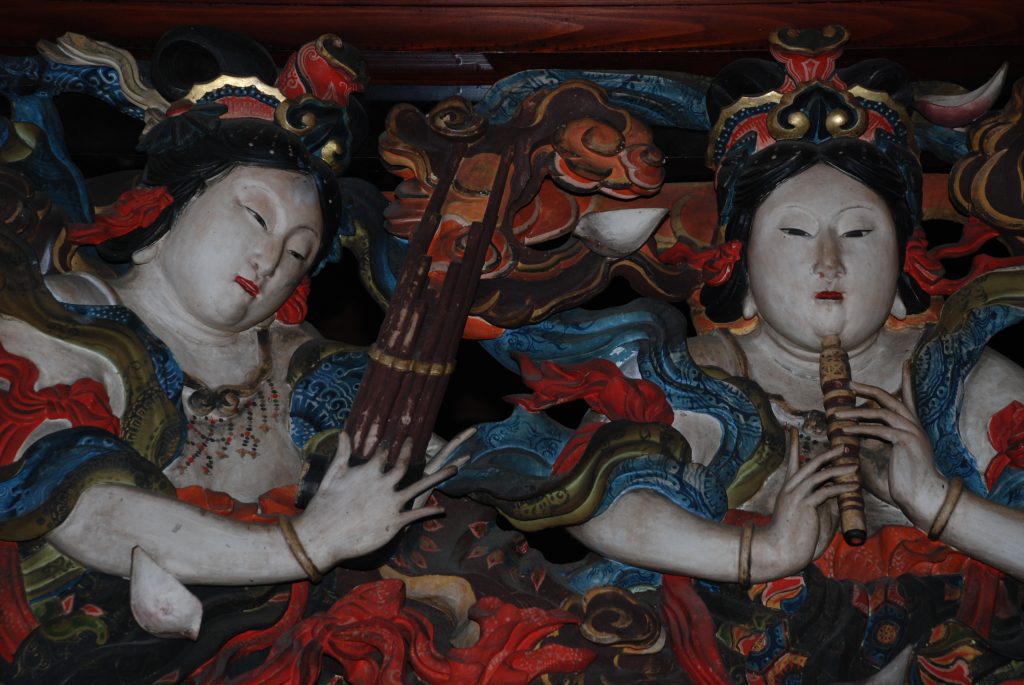 Uncho Ishikawa at the gambler's temple
More of Ishikawa's masterpieces can be seen at Eirinji Temple, also located in Uonuma in Horinouchi. Among fans of Ishikawa, the works in Eirinji are considered to be the best of his later-period art. This may be due to the fact that Ishikawa himself resided at the temple for the better part of 13 years. According to a popular story, Ishikawa agreed to work at the temple in part to cover a gambling debt incurred with the chief priest at Eirinji. In return for his services, Ishikawa was promised good sake for the rest of his life.
The scenery of Eirinji is on the whole brighter and more jovial than the more somber Saifukuji. Western visitors can also draw closer parallels to art typically adorning historical European churches. This is especially obvious by the relief paintings of tennyo, which are Buddhist angels who are said to bring those who venerate them great wealth. Eirinji can be considered unique also in that the artwork depicts not only Buddhist figures, but beings from Japanese mythology, such as tengu and other creatures. When browsing the temple, always remember to look up, as there are many interesting pieces, such as ritual bells and drums, affixed to the ceiling. At Eirinji, rather than a dedicated gift shop, there are many charms and other items, including books about Uncho Ishikawa himself, strewn around the temple. Payment for these goods works on an honor system, so do put the requested amount into the box nearby each item.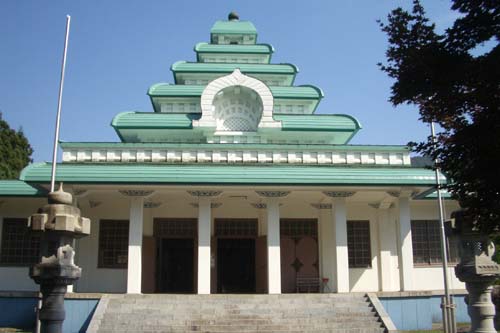 Somewhat less well known among travelers but no less impressive is Ryukokuji temple in Osaki, Minamiuonuma. More so than the other temples which house Uncho Ishikawa's art, Ryukokuji is immediately visible due to its strikingly modern-looking Zen architecture. I was also drawn to its beautiful ceremony hall with its giant Buddha statues. However, the best work lies further inside.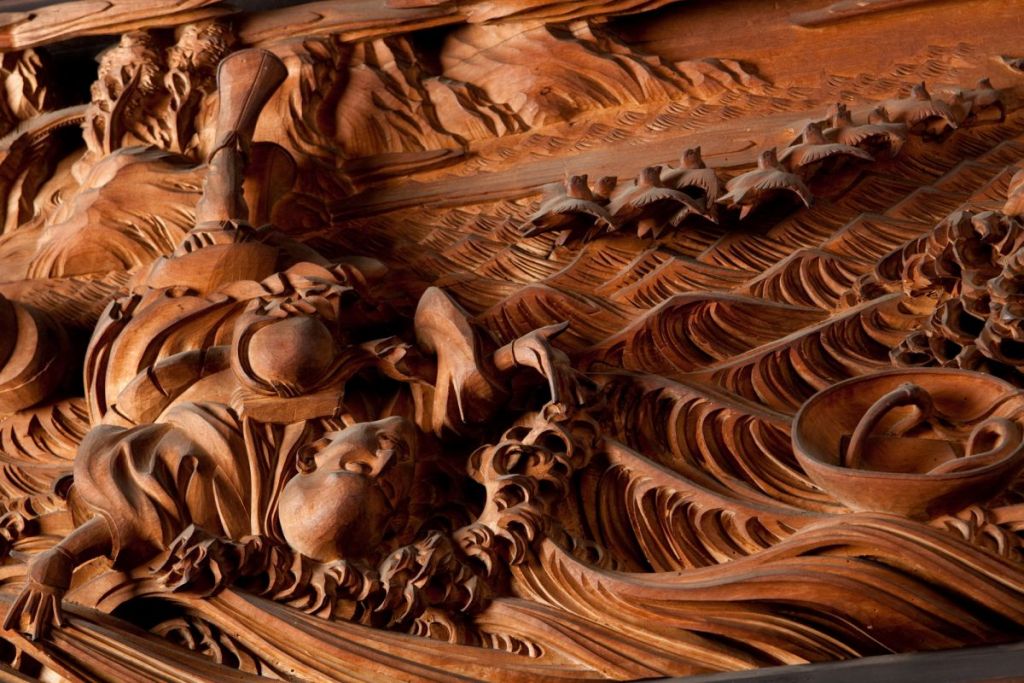 Inside lies the main temple hall, whose foundations date back to the 12th century. The temple's founding is purported to be a memorial to a group of samurai, who escaped to the temple following a battle, but unfortunately froze to death. Alongside a famous 11-faced Buddha is Uncho Ishikawa's relief depicting a monk furiously paddling on a boat. Typical of many of the temples we have seen, the artifacts here are incredibly well preserved; even hundreds of years later the pieces have lost none of their luster. Though unrelated to Ishikawa, Ryukokuji is also known for the Myokodo, a hall containing 100 Buddhist figures carved during the Meiji period. Being able to see so much excellent workmanship up close is truly worth the small price of admission.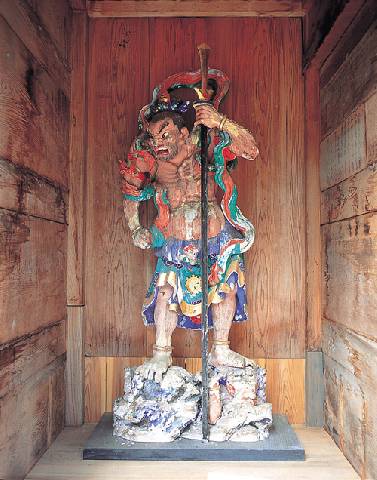 Other places to see Ishikawa's work
If you are staying in YUKIGUNI, you have a unique opportunity to sample many of Ishikawa's other great works. This includes the quaint Zuishoan shrine in Yuzawa, as well as Tyoonji, which is conveniently located next to the historic Bokushi-Dori Street in Minamiuonuma. The nearby cities of Nagaoka and Niigata contain further examples of his work, as does Sanjo, where Ishikawa later lived until his death in 1883. Interest in Ishikawa's art experienced a revival in the 1990s, and since then more Ishikawa pieces have been rediscovered in many private collections in the area. For those interested in amazing works of art and history tucked away in the countryside, the works of Uncho Ishikawa are a must-see.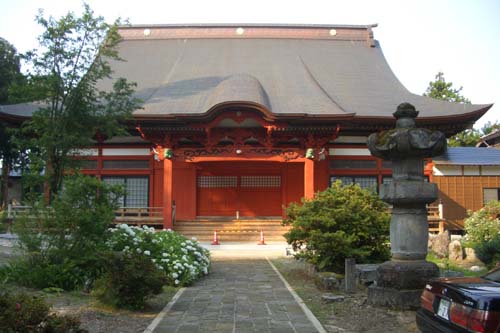 Information for Travelers
Address: 174 Oura, Uonuma City, Niigata Prefecture 946-0033
Hours: 9:00 a.m. to 4:00 p.m.
Cost: 500 yen per adult
Eirinji Temple
Address: Negoya, Uonuma City, Niigata Prefecture 1765
Hours: 9:00 a.m. to 4:30 p.m.
Cost: 300 yen per person
Ryukokuji Temple
Address: 3455 Osaki, Minamiuonuma City, Niigata Prefecture 949-7251
Hours: 9:00 a.m. to 4:00 p.m.
Cost: 300 yen per person
Tyoonji Temple
Address: 371 Shiozawa, Minamiuonuma City, Niigata Prefecture 949-6408
Cost: free
Zuishoan Temple
Address: 4595 Tsuchidaru, Yuzawa Town, Minamiuonuma District, Niigata Prefecture 949-6103
Cost: free