By Matt Klampert
While staying in YUKIGUNI you will have many opportunities to sample delicious and traditional meals, with an emphasis on our premium koshi-hikari rice and tasty local produce, which is sometimes even used to create Michelin-star food. Once you've tasted some delicious sansai, iwana, or kirizai , how about some dessert? This area also has a tradition of amazing sweets that are unique to this region of Japan. It is a far cry from your typical pocky and ramune, and often with much more cultural significance as well. Let's find out a little more about them.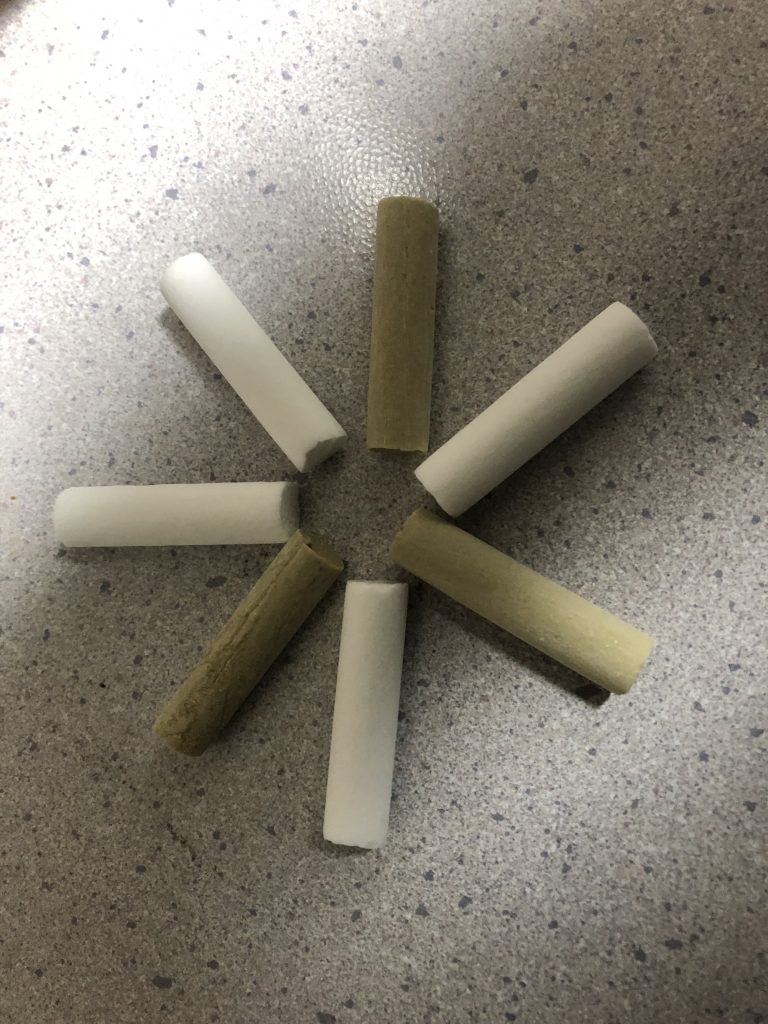 Hakkato: A sweet & minty tradition in Minamiuonuma
Hakkato are bite-sized minty sticks that have a long history in YUKIGUNI. They are thought to have been first made in the Edo period centuries ago. At that time they were used medicinally- as a cure for everything from fatigue, coughs, and even hangovers. These days, however, people just love snacking on them. To make hakkato, sugar and water are mixed with gelatin and glucose syrup at high heat, and reduced. Crystalized mint is added to the mixture once it cools, and is spread evenly by use of a mechanical pulling machine which stretches the mixture and allows air to enter inside. It is pulled even more by hand in a process referred to as "silk pulling." The resulting mixture is then cut into small cylinders resembling candy cigarettes or chalk.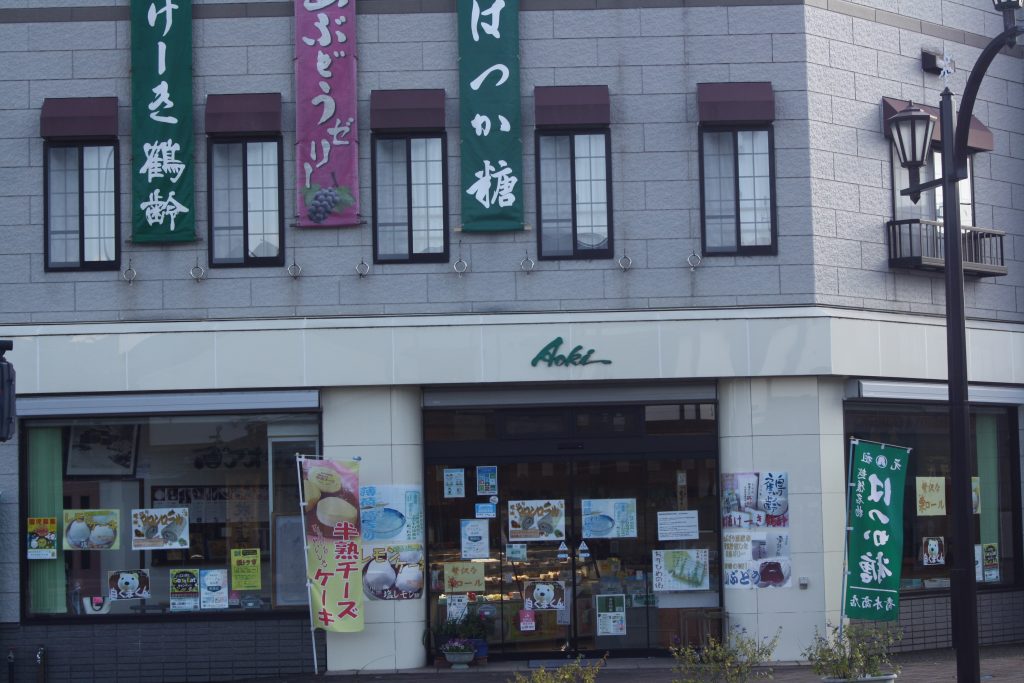 Hakkato are a relatively common sight all over Minamiuonuma, but the hakkato at Aoki Sweets Shop is probably the most famous. This shop has existed for 12 generations, and while they serve a variety of cakes and Japanese sweets, Aoki are of course best known for their hakkato, which comes in mint, wasanbon sugar, and matcha flavors. Come on by to their shop in historic Bokushi-dori Street and grab a large package for only 400 yen.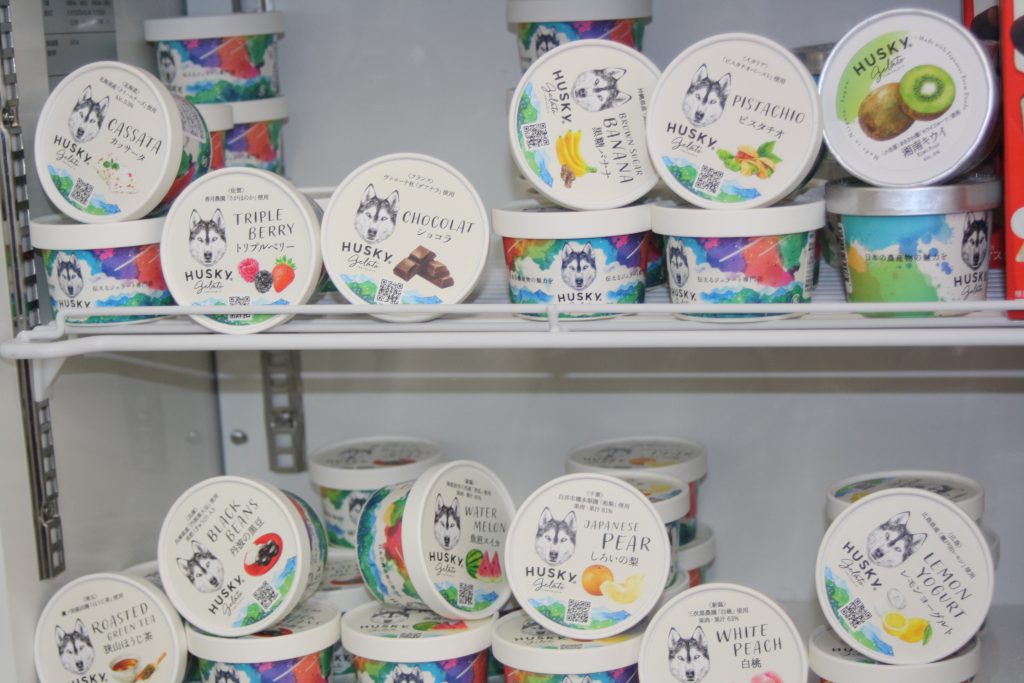 Husky Gelato: A modern favorite taking Japan by storm
What do the sleepy city of Uonuma and the busy streets of Tokyo have in common? Well, for starters, they are places where you can buy Uonuma's own husky gelato. In a relatively short amount of time Husky have gone from humble beginnings here in YUKIGUNI to being sold all over the country. They have their factory in Uonuma, and pride themselves on merging the best of Japanese agriculture with eye-catching designs. This gelato uses real fruit and a variety of seasonal ingredients to create great flavors like "Echigo hime strawberry" and "Uonuma watermelon" as well as unique and delicious combinations like yuzu and cheese or black sugar banana.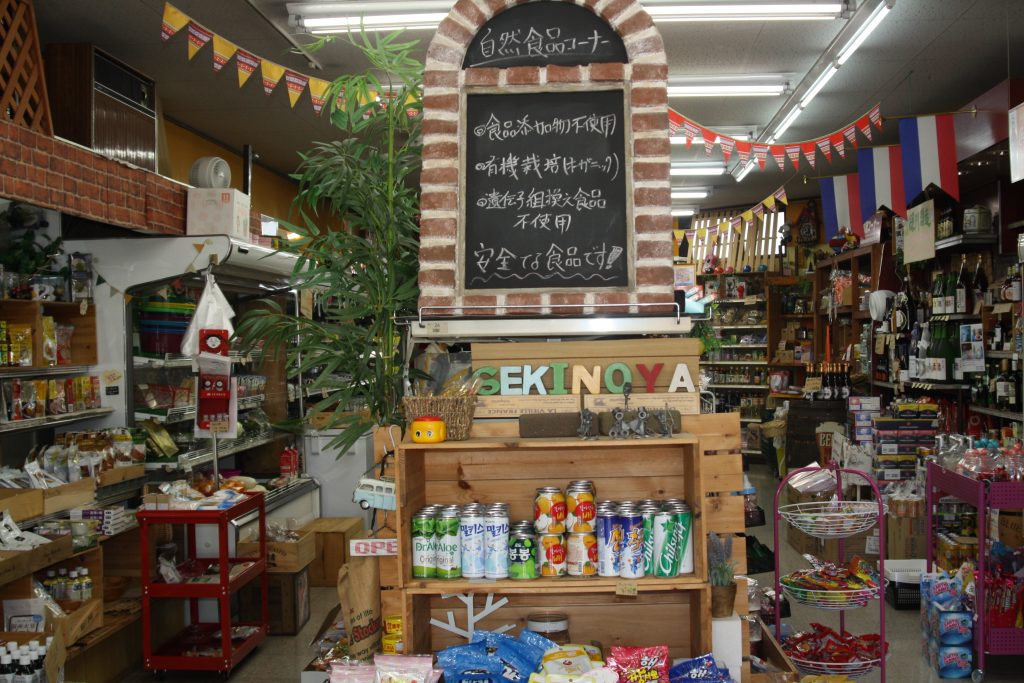 Though Husky has shops in both Tokyo and Saitama, if you want to experience Husky Gelato in the place where it is made, there is an interesting shop here that carries it. Sekinoya is what is known in Japan as dagashiya- an old fashioned penny candy shop, which also sells liquor, imported foods, toys, and fine coffee. Sekinoya don't serve meals, but do have a burger vending machine right outside. Husky Gelato is also available at Ponshukan in Echigo-Yuzawa station.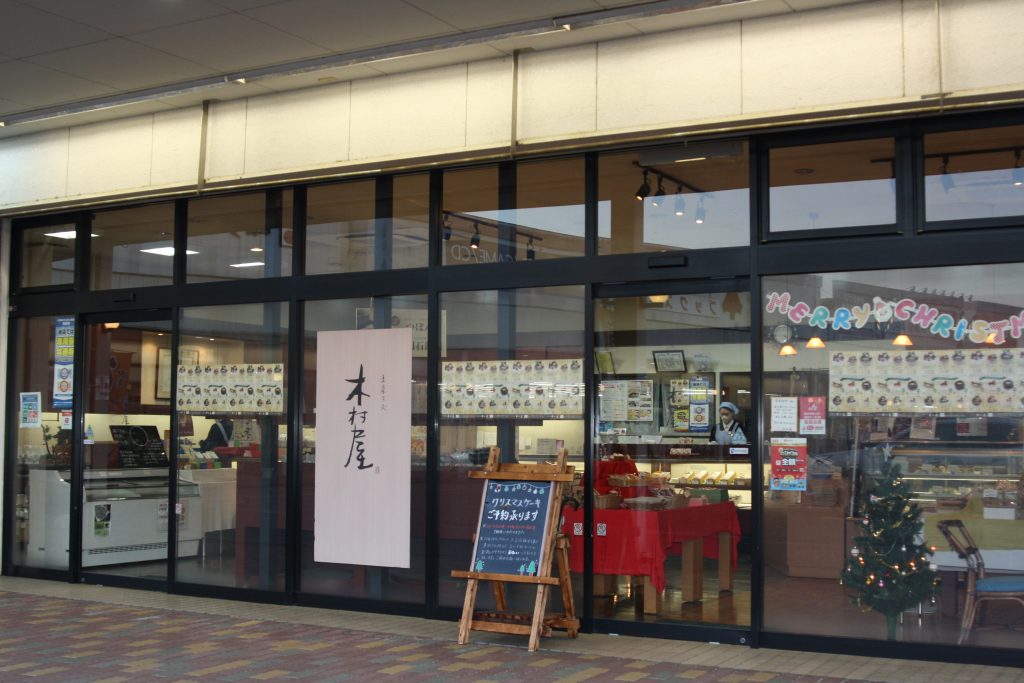 Doki Monaka- Inspired by YUKIGUNI's Jomon Heritage
This region of Japan is known for having many Jomon settlements. The Jomon were an early-hunter gatherer culture who formed what are considered the first societies in Japan nearly 14,000 years ago. A symbol of the Jomon were their intricately carved flameware pottery called "kaengata". In Tokamachi, a high school student designed a kaengata shaped snack, and this prizewinning idea is now for sale as "doki monaka." A monaka is a Japanese wafer sandwich cake made with mochi and filled with anko, or red bean paste.
Doki Monaka have become a specialty offering at Tokamachi's Kimuraya. Kimuraya has two locations in Tokamachi, including one close to Tokamachi station. As of 2023, Kimuraya has existed in Tokamachi for 100 years. Why not support a long-loved local favorite by sampling their newest hit?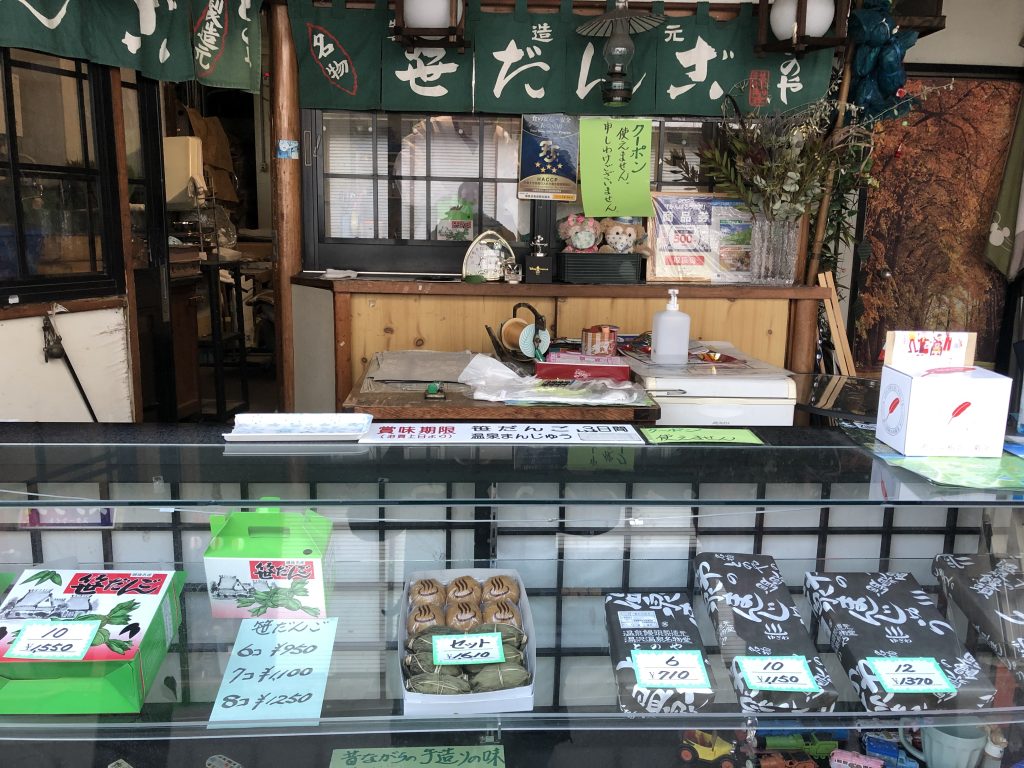 The most famous sweets in YUKIGUNI – Sasadango
If it can be said that Niigata in general and YUKIGUNI in particular is most famous for one sweet above all, it would have to be sasadango. Sasadango is a rice dumpling made with yomogi or mugwort, a plant which gives this sweet its signature blue-green color. Inside the dumpling is more anko paste, and this is wrapped in a bamboo leaf, called sasa. The yomogi is grown in Niigata and boiled, then added to dough made of rice, often by hand, and wrapped in a bamboo leaf, which combined with the mugwort gives sasadango its fragrant smell.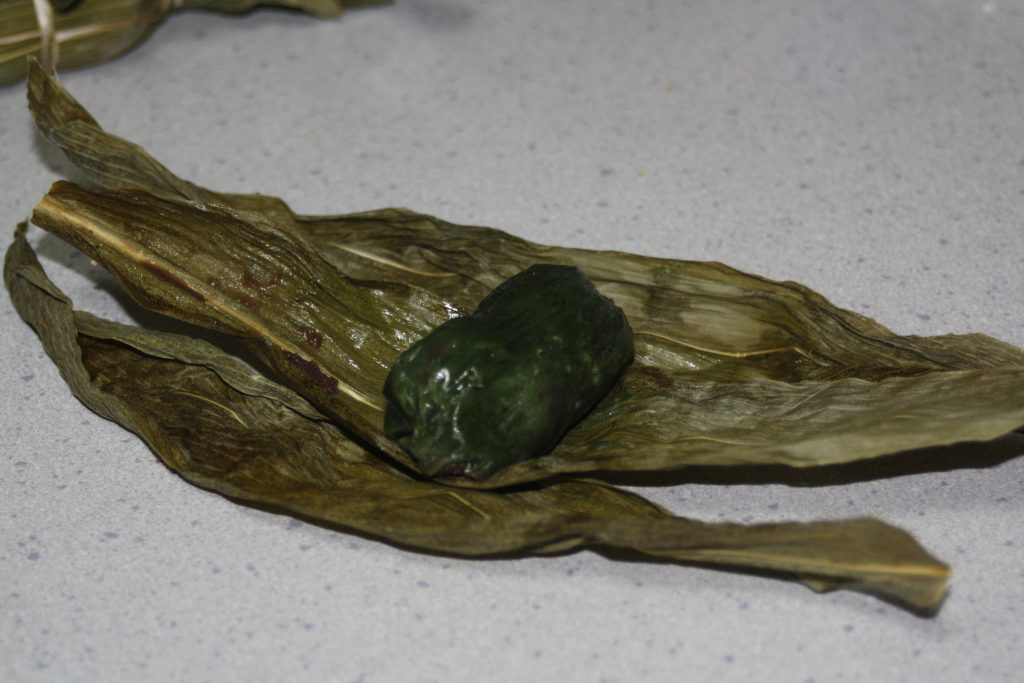 Though sasadango is ubiquitous all over Yuzawa, one of the places with the most history behind it is Tonoya on Yuzawa's scenic onsen street. Tonoya is over 70 years old, and specialize in making delicious sasasango as well as fresh onsen manju cakes. Sasadango can be purchased here in boxes of 6 for 950 yen, or 8 for 1250 yen. As they are made fresh, do keep in mind the date on the box!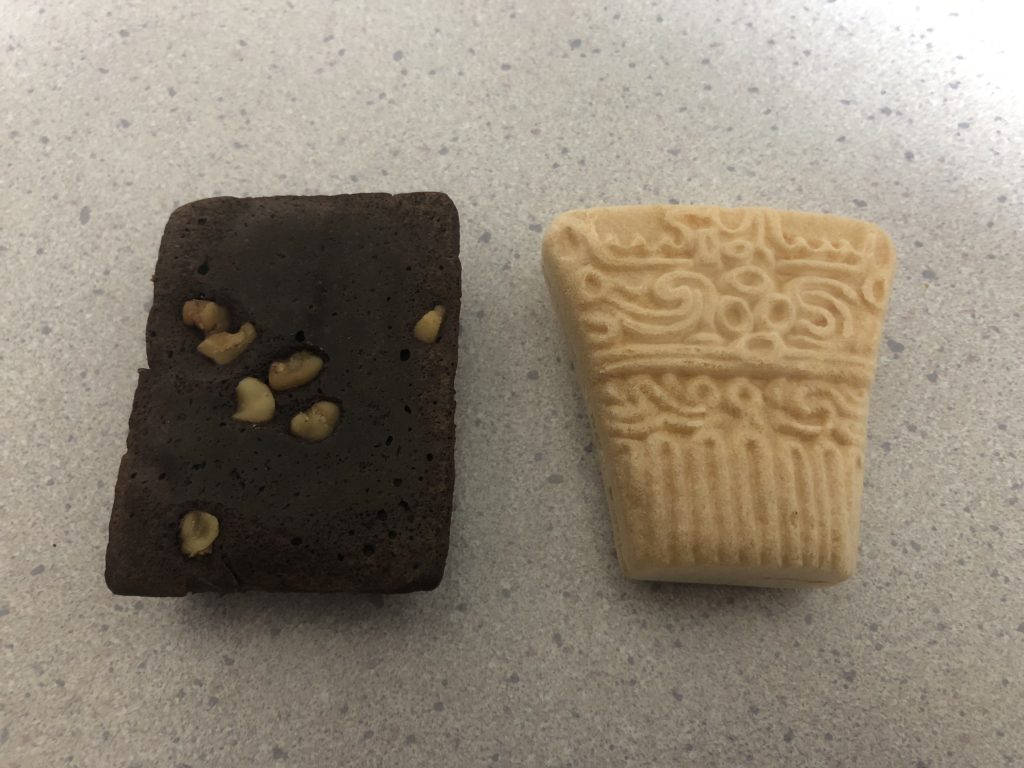 Other tantalizing specialties of the area
These are only a few of the many delicious sweet treats available around YUKIGUNI. The Ponshukan Sake Museum in Echigo Yuzawa station have their own "Yukiguni Renga" sake brownies among their big sellers. There is also "komako mochi," a special kind of mochi named for the heroine of Yasunari Kawabata's Snow Country, for sale at Yuzawa's Okumanya. In Matsunoyama they have their own special "shinko mochi," which is very limited and quickly sells out each day.
Information for Travelers
Aoki Sweets Shop
Address: 81 Shiozawa, Minamiuonuma City, Niigata Prefecture 949-6408
Phone: 025-782-0047
Open 9:00 a.m. to 6:30 p.m.
Kimuraya
Address: 98-1 Ekidori, Tokamachi City, Niigata Prefecture 948-0088
Phone: 025-752-2280
Open 8:30 a.m. to 6:00 p.m.
Sekinoya
Address: 177-11 Yokkamachi, Uonuma City Niigata Prefecture 946-0007
Phone: 025-792-0509
Open 8:00 a.m. to 6:00 p.m. Closed 2nd and 4th Sunday of each month.
Tonoya
Address: 354-16 Yuzawa Town, Minamiuonuma District, Niigata Prefecture 949-6101
Phone: 025-784-2234
Open 9:00 a.m. to 8:00 p.m.