Together with your family and friends, you will create memories that will last a lifetime. This special 4-day itinerary will give you the opportunity to discover the culture, community and gastronomy of YUKIGUNI, an undiscovered destination in Japan.
The trip begins in Shiozawa, where the weaving tradition dates back to the Middle Ages. In this small area you will find workshops producing exquisite textiles, historic breweries and a medieval town centre.
The next thing to do is to immerse yourself in the rich food culture that only YUKIGUNI can offer. Taste gastronomic delights in a well-designed ryokan, or learn about local cuisine from a local master in a quaint house.
Next, immerse yourself in a natural landscape of overwhelming scale and be surrounded by contemporary art. This is the "Echigo-Tsumari Art Field", a world-famous contemporary art village.
And we have chosen to stay at TIMELESS YUKIGUNI, a collection of luxury inns. As time spent in a ryokan is a big part of any trip, we have carefully selected ryokans that embody YUKIGUNI culture.

TOUR INFORMATION
Price: Please inquire about price
(Charges will vary depending on the transportation and number of people)
Itinerary
Day 1
Echigo Yuzawa, the gateway to YUKIGUNI, is only 70 minutes away from Tokyo. On the way to the Shiozawa area we will have a packed lunch made from the best rice in Japan.
You will visit a traditional "Honshiozawa" weaving workshop where you will be guided by the owner to see the craftsmen at work.
In the medieval streets of Bokushi street we will visit a historic sake brewery. You will also have the opportunity to taste some special sake.
Accommodation is at ryugon, a design conscious ryokan in an old manor house renovated in a modern style.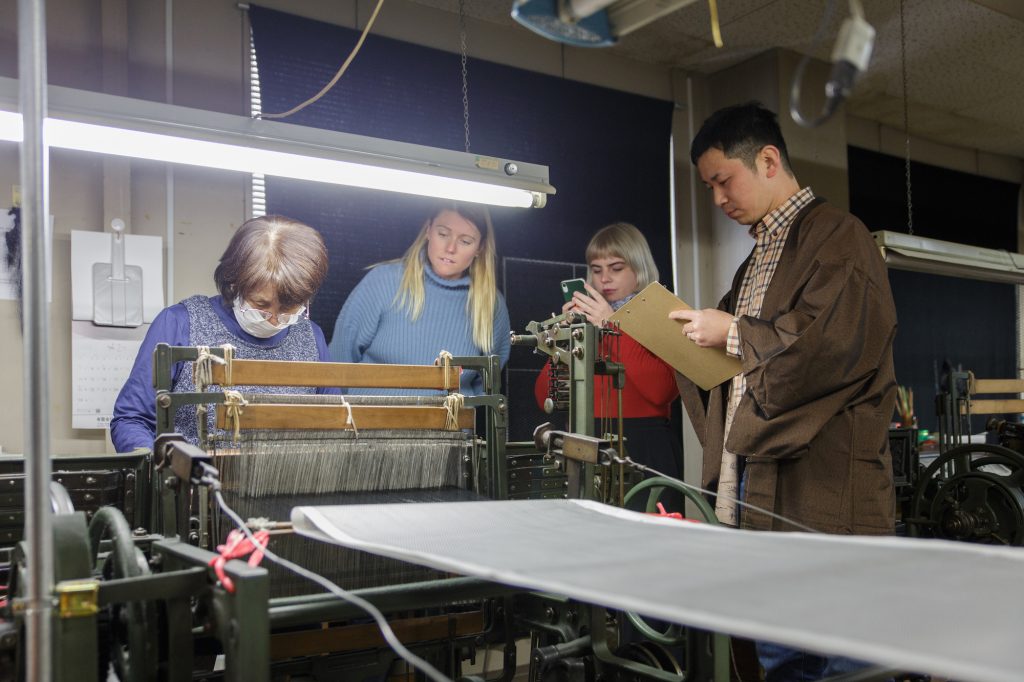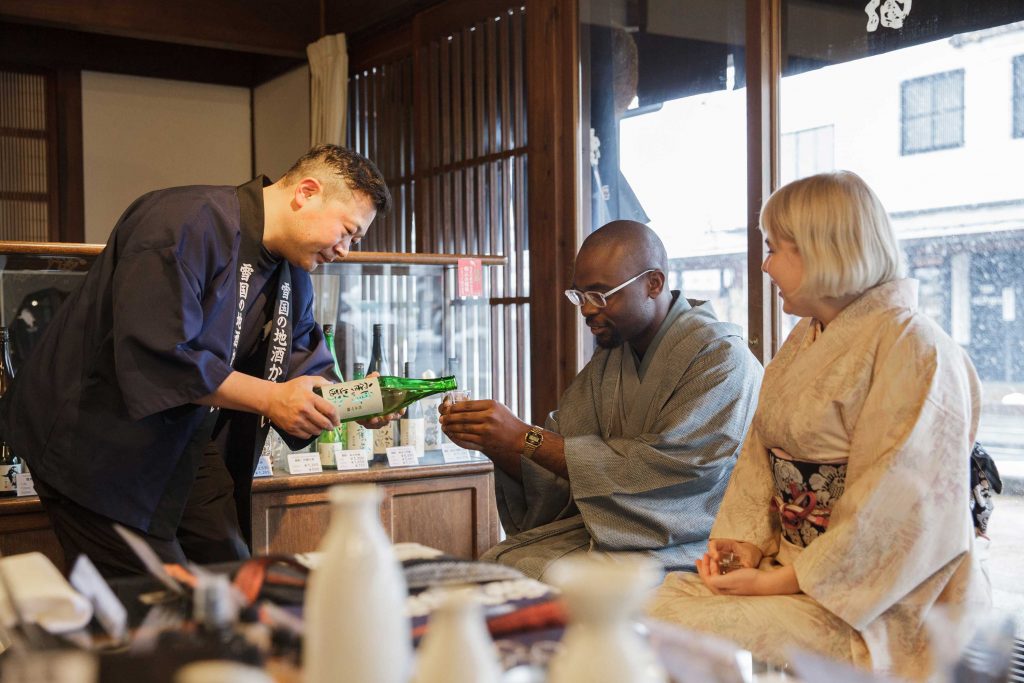 Gathering at Echigo Yuzawa Station→Bento with Koshihikari rice (Kometaro *planned)→Honshiozawa Weaving Fabric Sightseeing Tour→Bokushi Street (sake tasting in brewery)→16:30 Muikamachi Onsen
Accommodation: ryugon
Day 2
On the morning of your second day, stay in the spaciousness of ryugon and relax.
In the traditional Japanese kitchen "Doma", you will have the opportunity to meet the local mothers who will teach you the local cuisine and have lunch together.
In the village of Uonuma, you will visit a "Yukimoro (snow room)", a place where the wisdom of YUKIGUNI is used. In YUKIGUNI, we have been using Yukimuro in the past and still do, because the flavor of sake and vegetables stored in a snow chamber is enhanced.
After a visit to a museum of contemporary art, we will head to Matsunoyama Onsen (hot spring), which is said to have a curing illnesses.
Dinner around a traditional 'irori' (hearth) in a traditional Japanese house is also a wonderful cultural experience.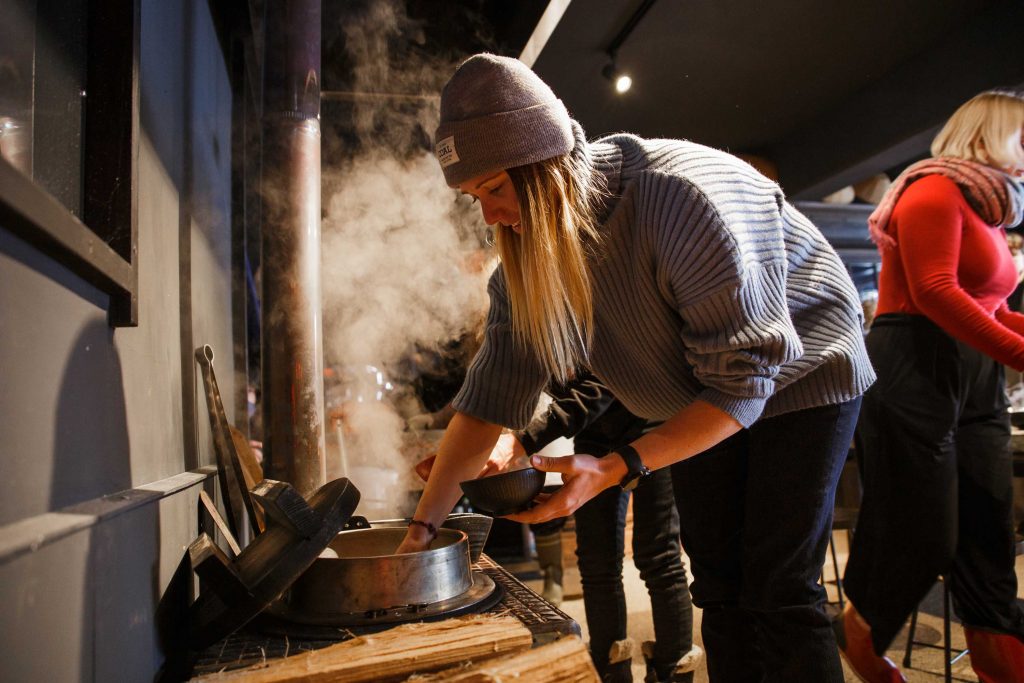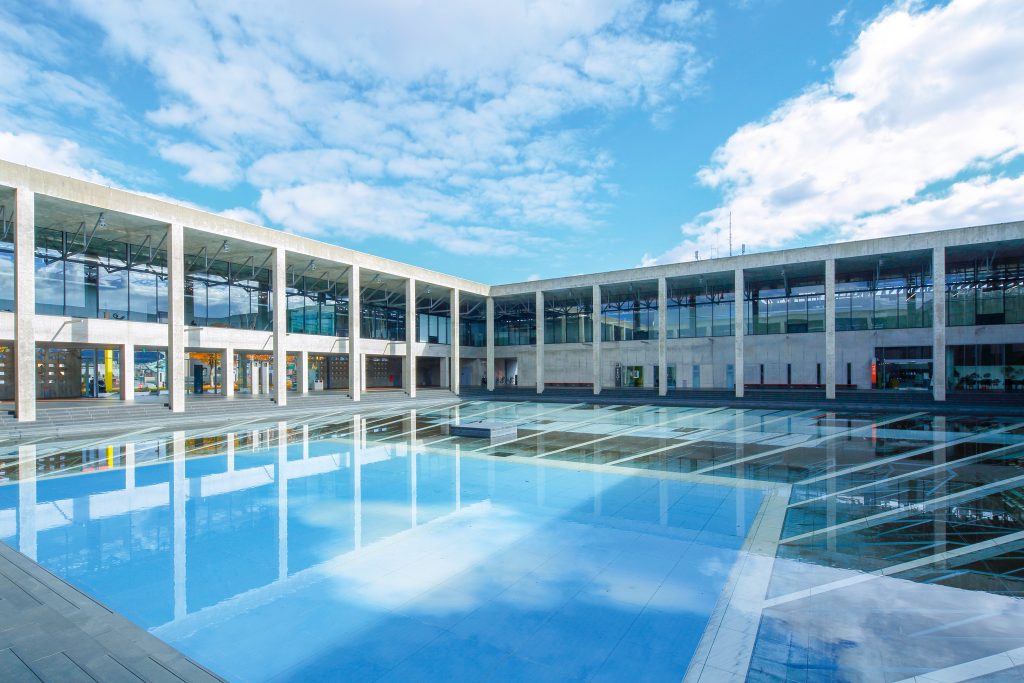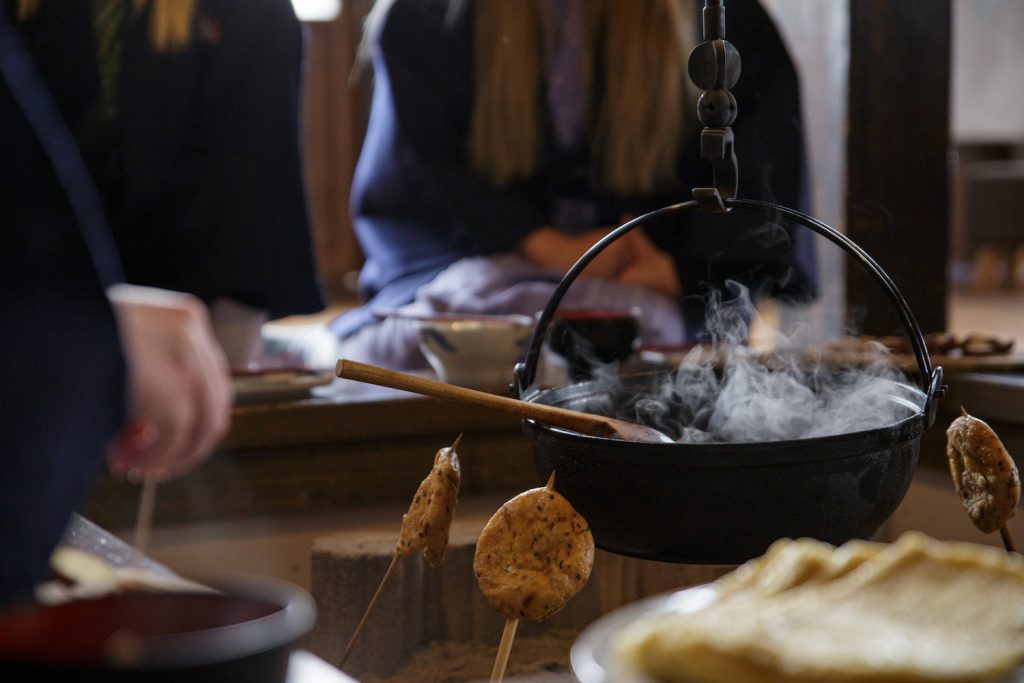 After enjoying coffee and beautiful snow scenery at the inn, you will experience Doma cooking (* Sunday only, from 11:30 to 13:00)→Uonuma-no-Sato Hakkaisan snow cellar tour→Echigo-Tsumari Satoyama Museum of Contemporary Art, KINARE (* Weekdays)→Around 16:30 Matsunoyama Onsen
Accommodation: Hinanoyado Chitose
Dinner: Traditional irori experience (sitting and eating around the fire)
Day 3
Once you have left the inn, we will take you to a place where you can enjoy a panoramic view of the river terraces. In winter, enjoy a snowshoe hike through the breathtaking scenery.
For lunch, we will follow the traditional method of making soba noodles, which has been recognised as a YUKIGUNI A-grade gourmet.
A spectacular spot in the Echigo-Tsumari Art Field. You will be surrounded by the contemporary art of Kiyotsu Gorge.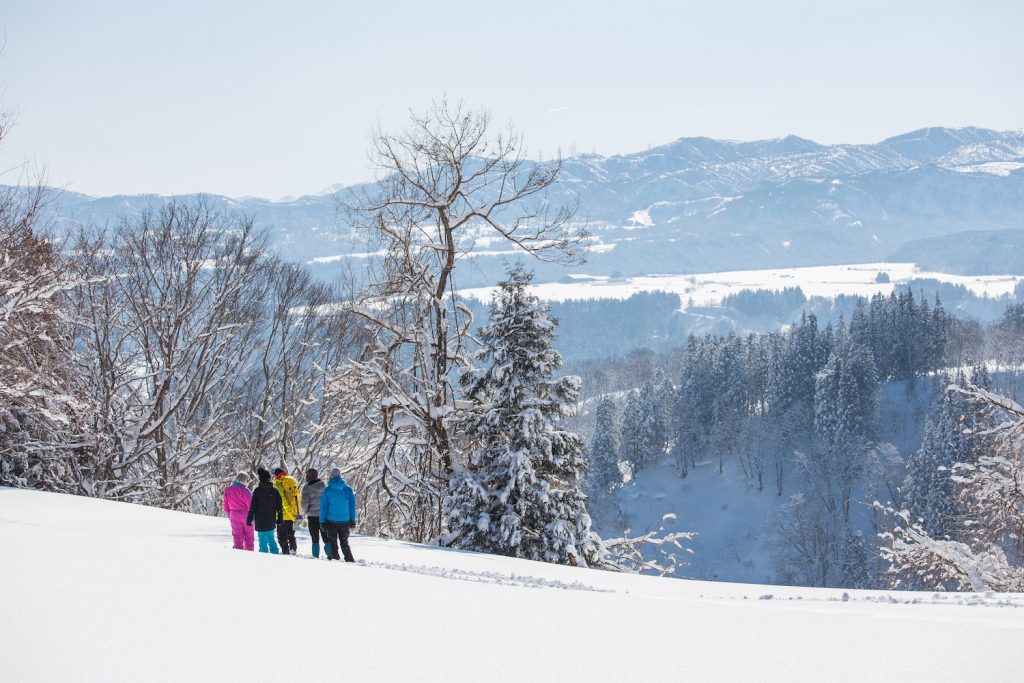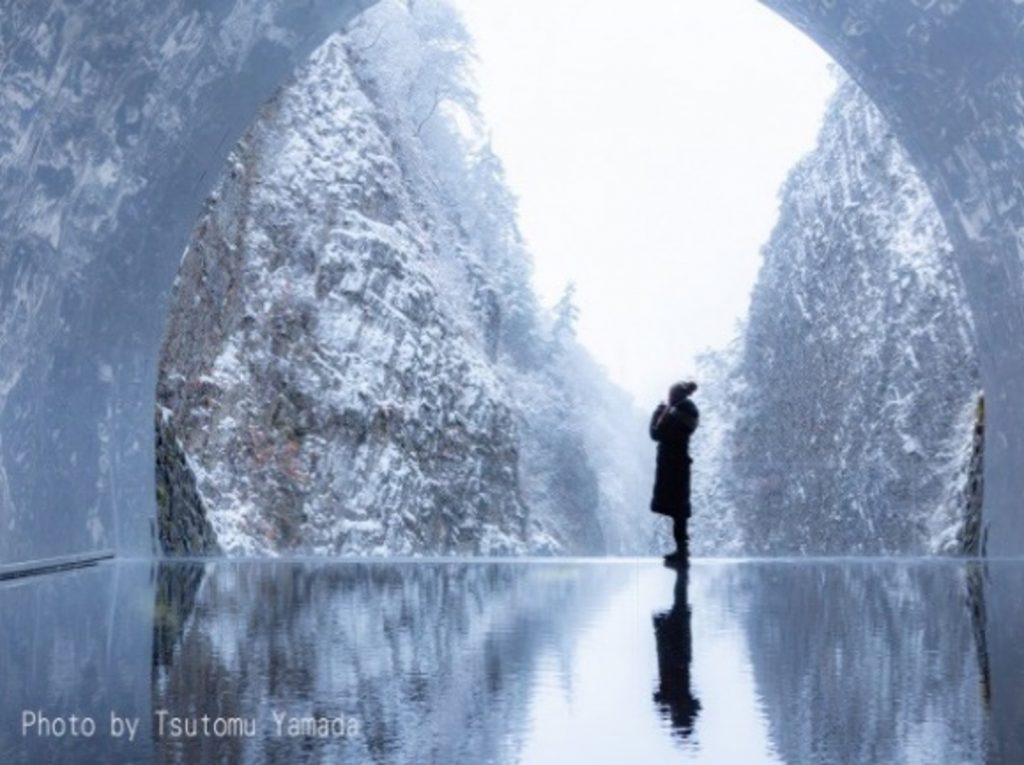 Depart from inn→Snowshoeing→Lunch with soba (Tomizawa *planned)→Kiyotsu Gorge Tunnel→Around 16:00 Echigo Yuzawa Onsen or Kaikake Onsen
Accommodation: Takahan or Kaikake Onsen
Day 4
We return to our starting point in Echigo-Yuzawa.
We will take the ropeway up to the top of the mountain where you will have a great view over the city of Yuzawa.
Inside Echigo Yuzawa station you will find a number of souvenir shops.
This concludes our journey to discover a different culture in YUKIGUNI. From here it is only 70 minutes to Tokyo by Shinkansen.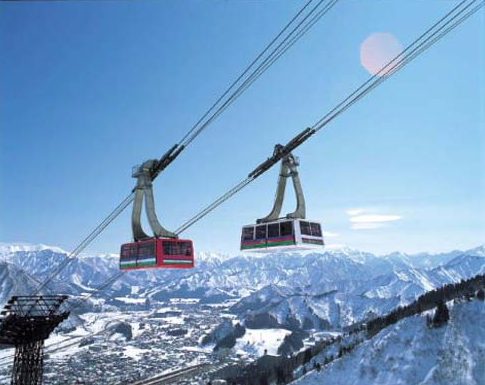 Depart from Inn→Yuzawa Kogen Ropeway→Lunch with Sushi (Osushi *planned)→Around 14:00 Buying souvenirs at Echigo Yuzawa Station→Leave for Tokyo or Niigata City
We also propose tours that explore the theme in depth
YUKIGUNI prepares for winter from spring to autumn because of its snowy and long winters. As a result of this, a rich knowledge of preservation, including fermented food, has been accumulated. The gastronomy tour is an opportunity to immerse yourself in the unique food culture that emerges from this. YUKIGUNI is also famous for its sake, thanks to the abundance of pure water from the melting snow.
The Echigo-Tsumari Art Field is so vast that it is impossible to visit it all in one day, but we have selected some of our favourites. This is a full day tour with an experienced guide to immerse you in nature and contemporary art.
YUKIGUNI is proud of its many small, luxurious onsen ryokans. "Luxury" in this context does not mean luxury. It means being unique, authentic and original. We believe that a unique experience is what makes a trip truly luxurious.
If you want to know more about the story of our culture and gastronomy, you can read articles of interest from the diverse themes of "Snow and Journey".