The source of YUKIGUNI culture is wisdom. Wisdom unique to YUKIGUNI. Here the winter shuts out almost half the year, the wisdom to overcome this still lives on. This wisdom can most prominently be seen in YUKIGUNI food. From early spring to late autumn mountain vegetables are harvested, pickled in salt or dried. The fermented foodstuffs and storage food culture here is world renowned. This aspect of YUKIGUNI food culture you can have personal experiences in, YUKIGUNI gastronomy tourism.
Furthermore textile culture is prominent in YUKIGUNI. Textile work is well suited for the cold winters, and the humidity characteristic of YUKIGUNI conveniently means the thread doesn't break so easily. Textile culture started with the Jomon, with the cloth 'Angin' and this has been passed down via UNESCO Cultural Heritage 'Echigo Jofu' (high quality cloth). Snow workers using snow bleach is another example of YUKIGUNI wisdom.
TOUR INFORMATION
Price: Please inquire about price (Charges will vary depending on the transportation and number of people)
Itinerary
Day 1
The heavy snowfall of the area integral to the production of sake in the area. As the snow melts there is an abundance of fresh water used to brew some of the finest sake in the region.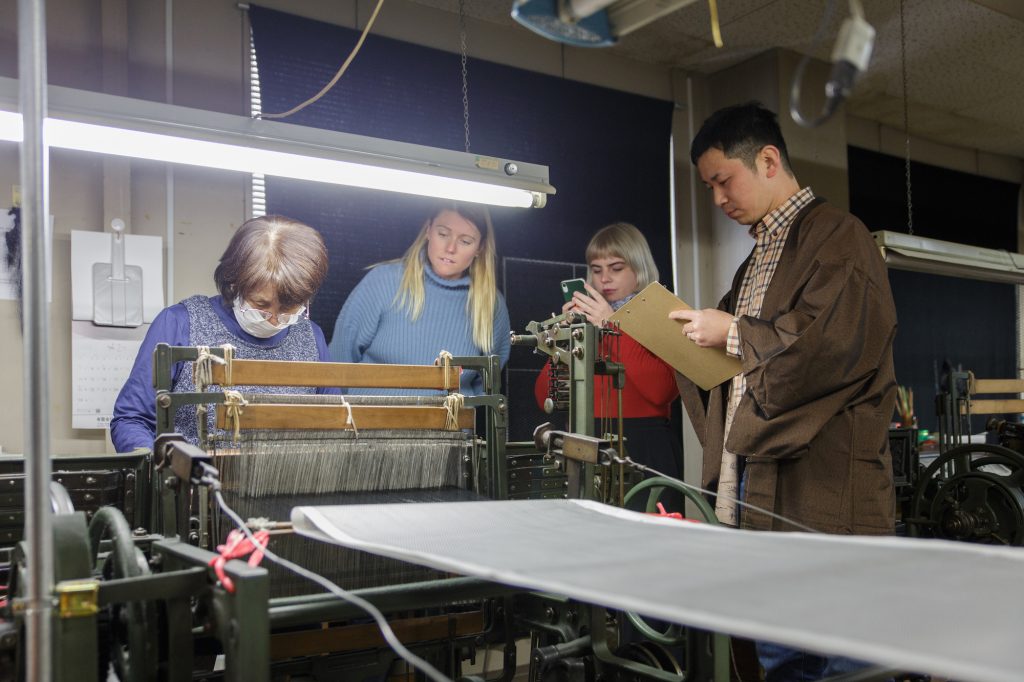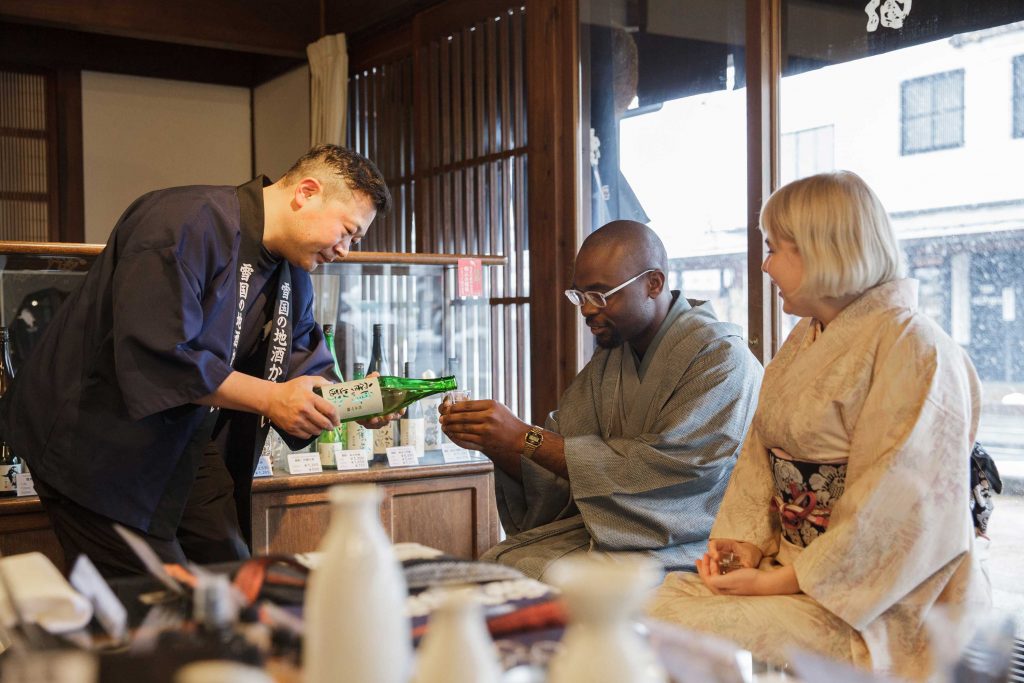 Gathering at Echigo Yuzawa Station→Bento with Koshihikari rice (Kometaro *planned)→Honshiozawa Weaving Fabric Sightseeing Tour→Bokushi Street (sake tasting in brewery)→16:30 Muikamachi Onsen
Accommodation: ryugon
Day 2
Sample the freshness of the local cuisine, some of which is sometimes kept in natural "YUKIMURO (snow refrigerators)." The area is also home to Matsunoyama Onsen, famous for the medicinal quality of the waters flowing there.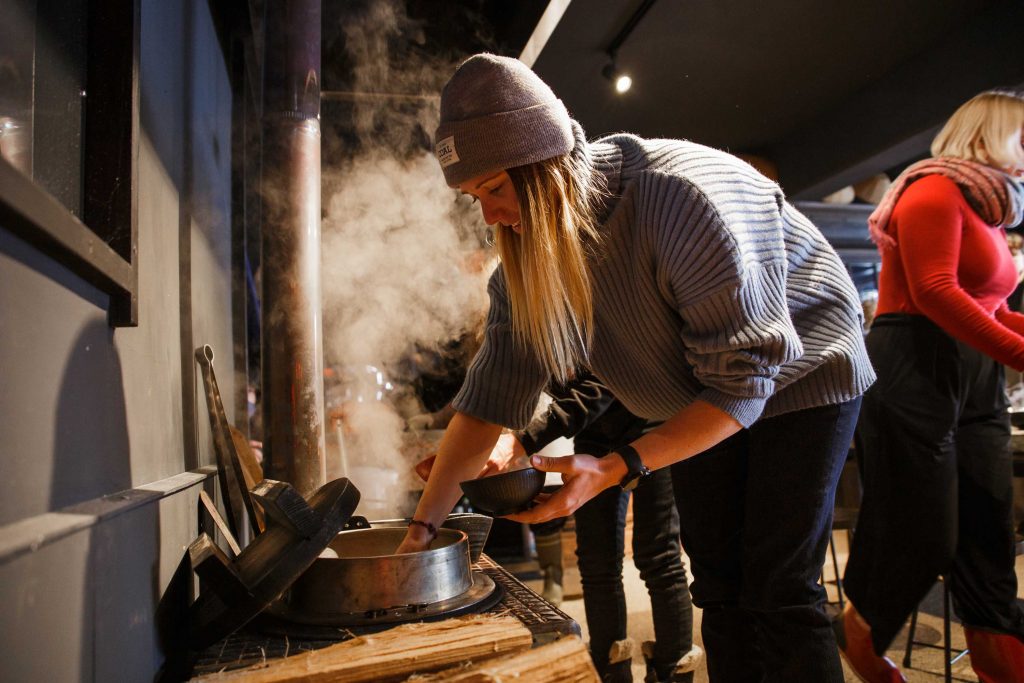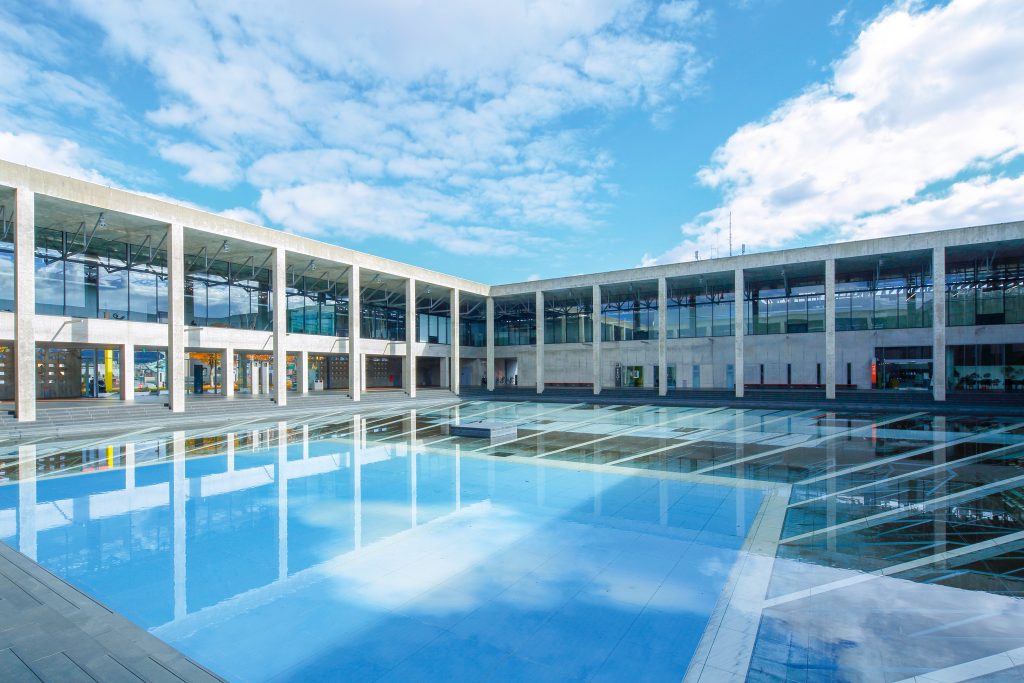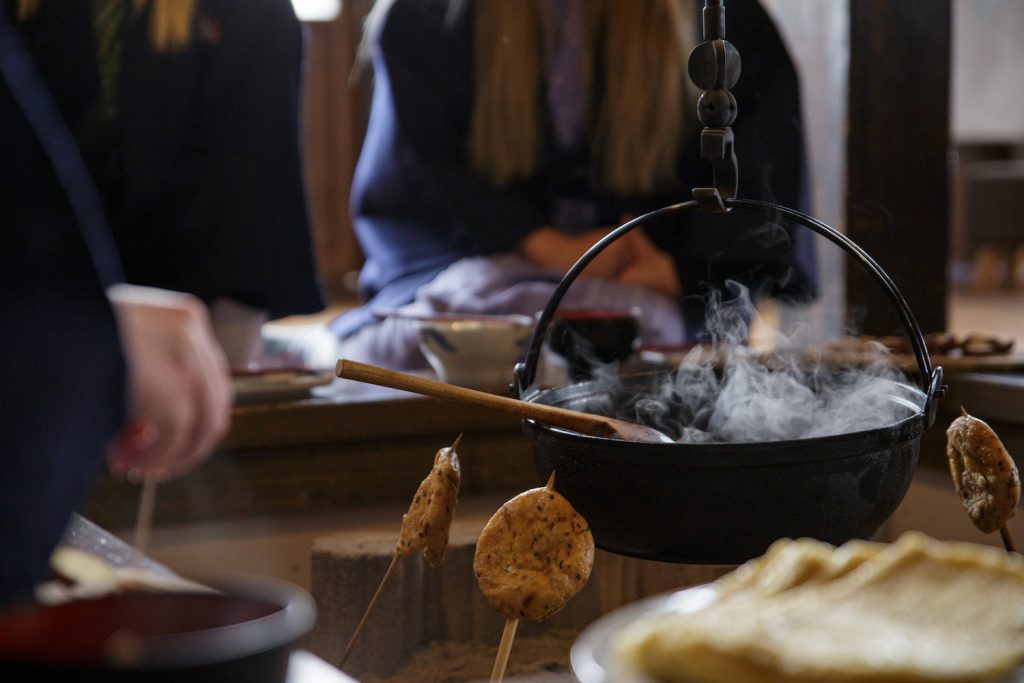 After enjoying coffee and beautiful snow scenery at the inn, you will experience Doma cooking (* Sunday only, from 11:30 to 13:00)→Uonuma-no-Sato Hakkaisan snow cellar tour→Echigo-Tsumari Satoyama Museum of Contemporary Art, KINARE (* Weekdays)→Around 16:30 Matsunoyama Onsen
Accommodation: Hinanoyado Chitose
Dinner: Traditional irori experience (sitting and eating around the fire)
Day 3
In this area you will hike along trails that date back to Japan's Jomon Culture and take you through some of the finest scenery the land has to offer.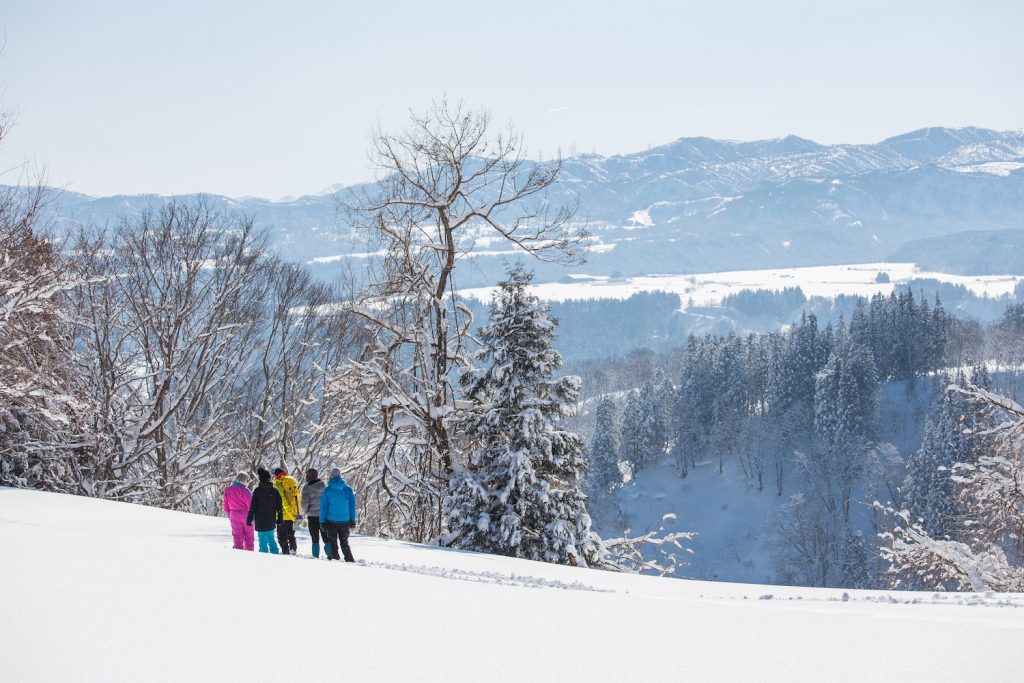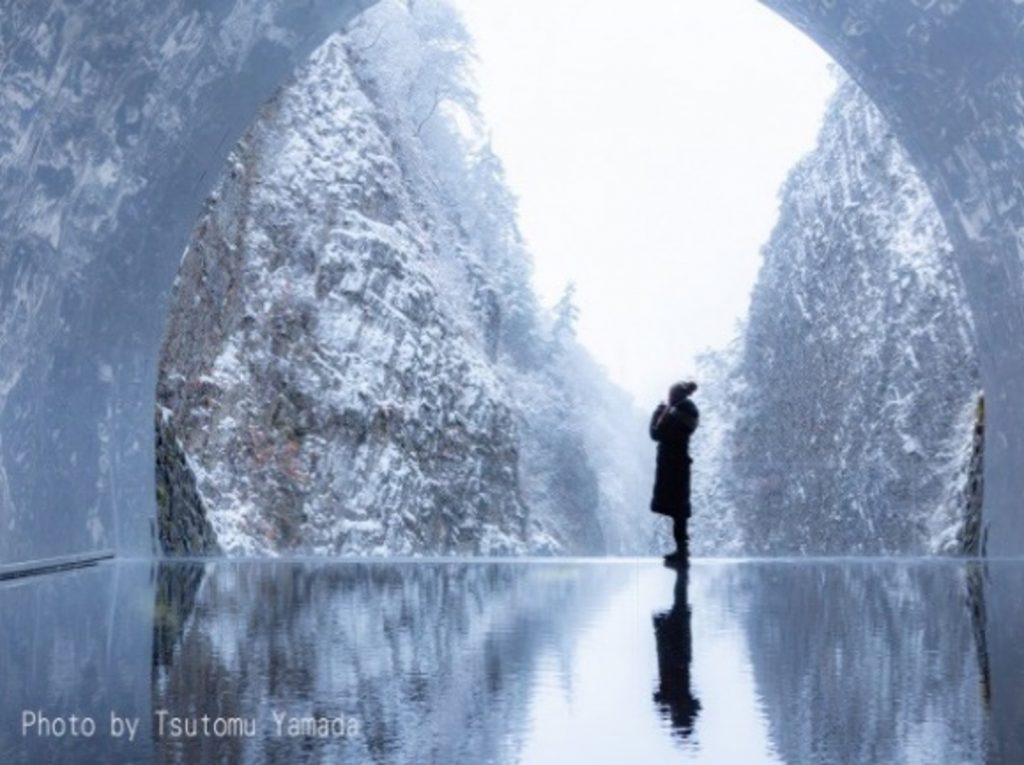 Depart from inn→Snowshoeing→Lunch with soba (Tomizawa *planned)→Kiyotsu Gorge Tunnel→Around 16:00 Echigo Yuzawa Onsen or Kaikake Onsen
Accommodation: Takahan or Kaikake Onsen
Day 4
Ride the ropeway while enjoy the panoramic views of snow.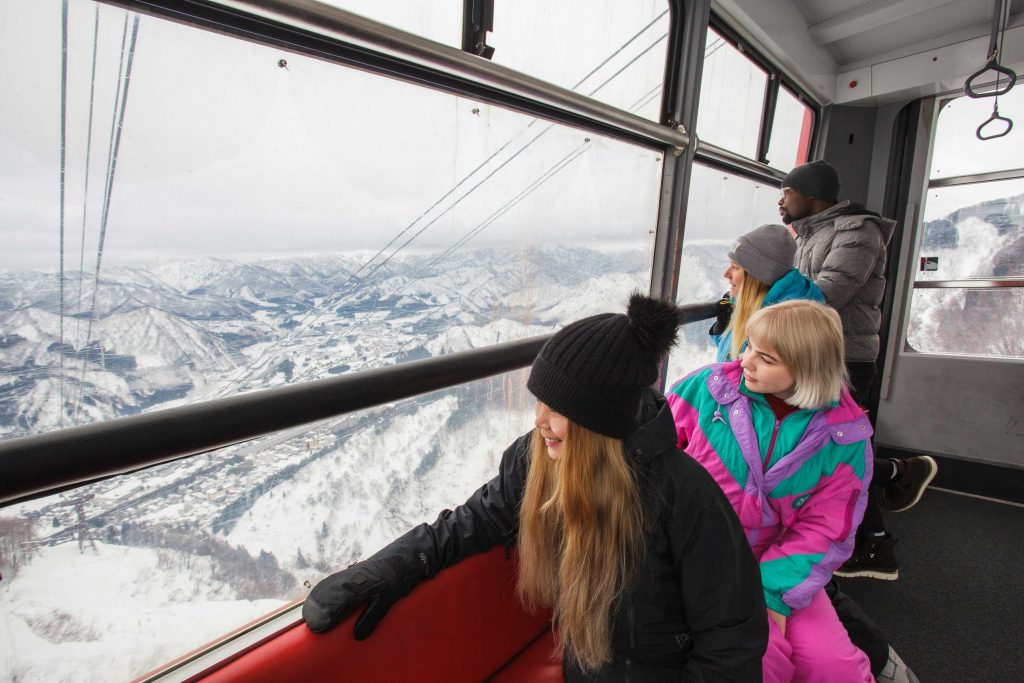 Depart from Inn→Yuzawa Kogen Ropeway→Lunch with Sushi (Osushi *planned)→Around 14:00 Buying souvenirs at Echigo Yuzawa Station→Leave for Tokyo or Niigata City
Overview
YUKIGUNI has over 8000 years of history. Since the distant Jomon period, a long time ago, our ancestors came to live in this pure white world. Even now the wisdom raised back then lives on to this day.
Located 37° north. YUKIGUNI is on the same latitude as San Francisco, Athens and Lisbon. Despite being on the same latitude as these relatively warm cities, here in Yuzawa, there is an unparalleled amount of snow piled up from December to April.
The secret lies in warm currents in the Sea of Japan. The moist warm air hits the first high mountains, such as Naeba Mountain and Tanigawa Dake, the air quickly cools and causes snow to fall. Because of this the snow here has high moisture and stickiness. This is what creates the characteristic densely packed snowscape.

A culture that has lasted for 10,000 years, unparalleled in world history. Living in harmony with nature. Villages arranged in a circle so that they can see each other, which develops the connections of people. Plenty of time because we are buried in snow in winter. Something that has been left behind in modern times is there. Something fundamental. Jomon asks us "What is richness?"
Scattered across the Snow Country are fabric production areas. These fabrics have, since ancient times, had a deep connection with the climate, nature and the every-day life of the people of the Snow Country. We visited local people involved in the production of these fabrics
YUKIGUNI is buried in snow for close to half a year which means in order to survive winter there are many additional chores such as storing enough food, and protecting things so they don't get destroyed by the snow.
There are lots of activities that are closely associated with their own particular food and each of these has their own YUKIGUNI know-how.
Due to the snowy climate and long winters, the warmer months are used in part to prepare foods for the winter. This results in a unique cuisine that combines preserved ingredients alongside fresh meats and vegetables. The area is also well known for the quality of its sake thanks to the abundant clear water that snow provides as it melts. The cuisine here is designed to warm both the body and the soul.
One the largest international art festivals in Japan. This event takes place in one of the snowiest regions of Japan, the Echigo-Tsumari area. Here you can enjoy contemplating works of art amid the gently falling snow.
This region boasts its rich culture of "Satoyama" where people engage with the land through agriculture. The festival has attracted attention from all over the world as an example of community revitalisation through art.
The ryokans selected to represent TIMELESS YUKIGUNI embody the very best of the Japanese hospitality tradition and the highest levels of comfort. Yet each one of them goes further than this, and all have incorporated influences from the history, culture, and way of life of the area. This inspiration is what makes each ryokan unique.