Ohnishi Osamu / Ohnishi Masako, "Grand march of GERONPA"
By Matt Klampert
This year marks the 22nd year of the oldest arts festival in Japan, the Echigo-Tsumari Art Triennale. Also known as the Dai Chi no Geijiutsusai, it is not held in just one location, but in 6 areas throughout Tokamachi and Tsunan. Each location contains unique installations and exhibits, as well as cuisine which represents the best of rural "satoyama" Japanese cooking, and accommodations where you can enjoy the beautiful Snow Country's green season in comfort. What follows is a look at one of the many tour options available to guests of the festival.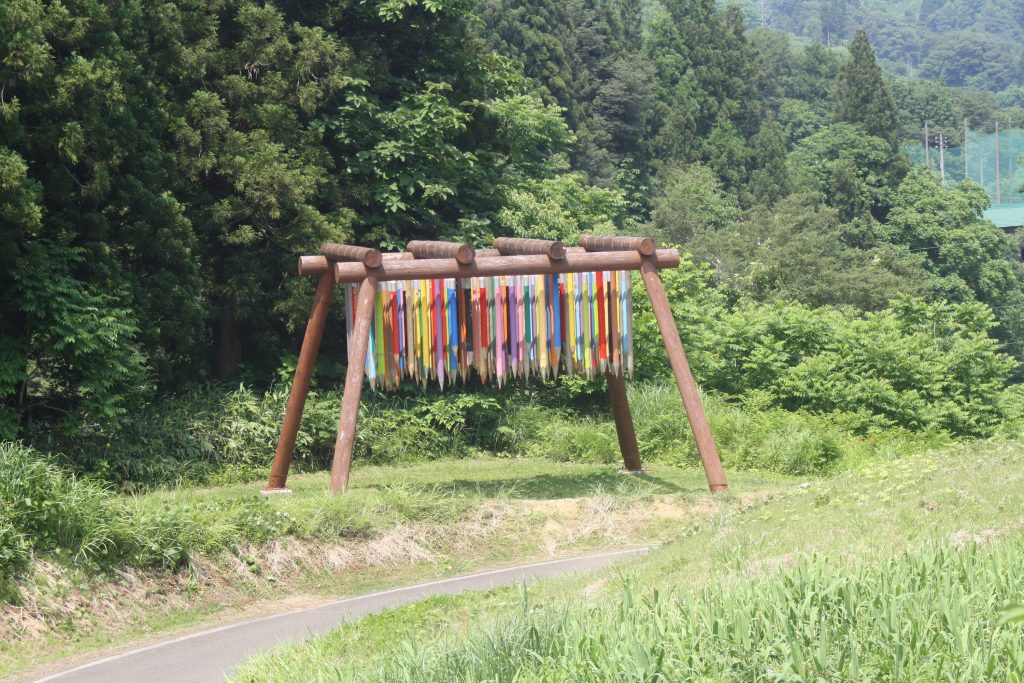 Touring the Echigo-Tsumari Art Triennale
We took the "Kamoshika Pyonpyon Course," which runs every Sunday until July 24th. In addition, there are also regular tours on Saturdays, as well as a few special day-only tours, and half-day tours. Many of these tours conveniently begin and end at Echigo-Yuzawa station, however they may not be in accord with when your train actually arrives or leaves, so do plan ahead. We also recommend that you bring an adequate supply of water, as well as bug spray and sunscreen. Summers are hot and humid even in the mountains of Niigata, and the rural locales, while containing beautiful art, don't always have a place to stock up on drinks or snacks. Many of the locations do have bathroom facilities, however.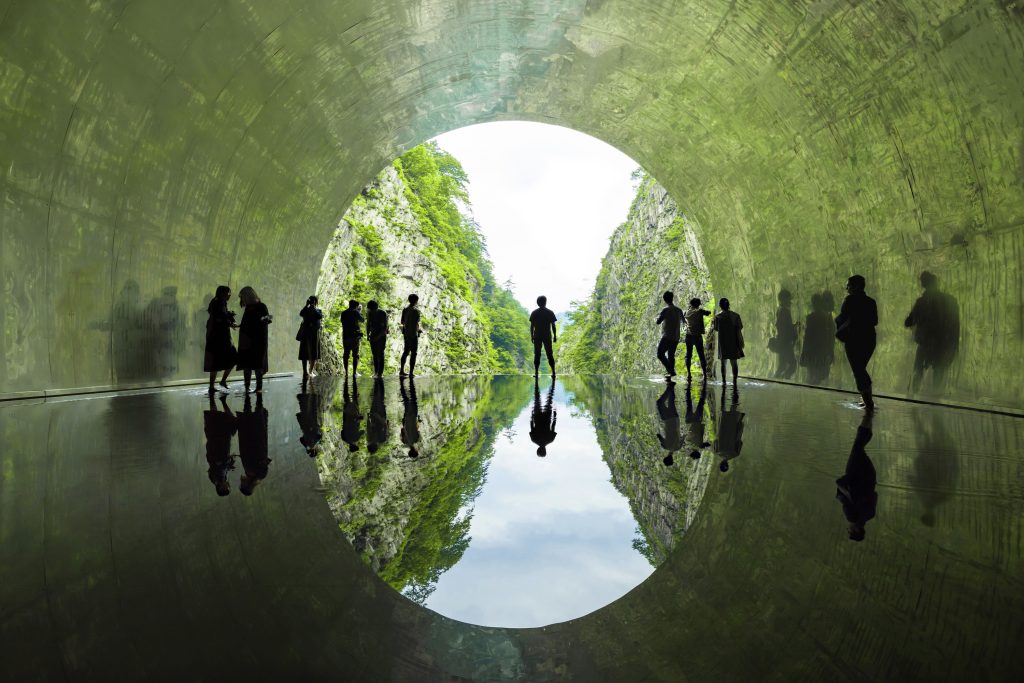 Kiyotsu's famous "Tunnel of Light"
First up on our tour was a trip to Kiyotsu Gorge to view the famous Tunnel of Light. Kiyotsu is part of Joshin'etsu-kogen National Park, and is considered one of the top 3 canyons in Japan. The 750-meter tunnel that is featured in this exhibit was originally built in 1996 and first became a part of the Echigo-Tsumari Art Triennale in 2018. A part of it has been renewed for this year's Triennale. The tunnel also offers a unique way to view the surrounding natural scenery through three separate observatories. The walk through the tunnel can be surprisingly chilly, so some guests might want to have a sweater or light jacket handy. At the very end is Panorama Station with its "Light Cave" where guests can enter a small pool which reflects light off the tunnel ceiling.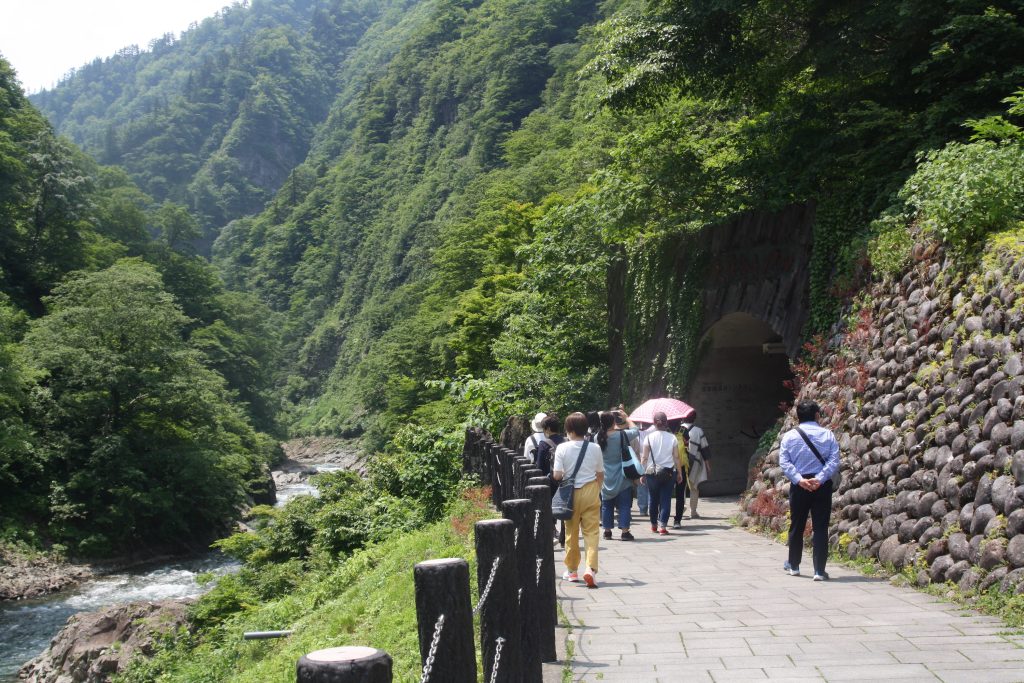 Other things to see and do in Kiyotsu
After you finish exploring the Tunnel of Light, you are not quite yet done- there is an adjoining café and footbath that is also a part of the exhibit. For people planning on staying around Kiyotsu, there are various minshuku and ryokan hotels, as well as some local restaurants. Like many places on the tour around the Echigo-Tsumari Art Triennale, Kiyotsu is a place to appreciate both art and nature together. Even if you do not visit this area as part of a tour it is possible to go to the Tunnel of Light on your own, but you may need make a reservation first while the Triennale is ongoing. Click HERE for details.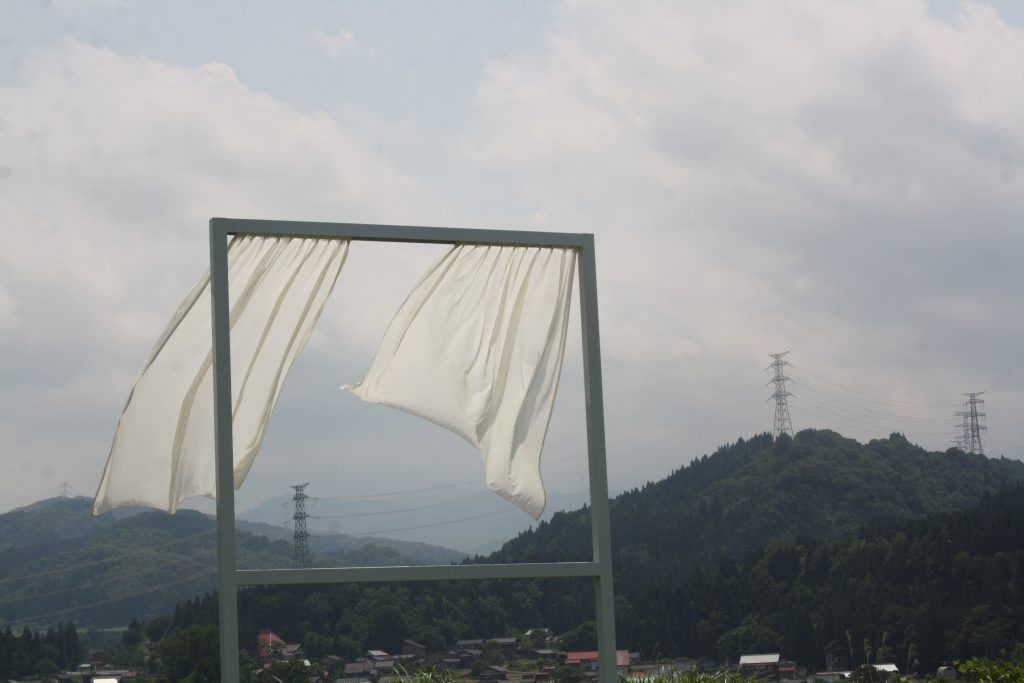 Contemplating peace and nature in Matsudai
While on the Kamoshika Pyonpyon tour you will frequently stop to admire works of art both big and small. At Kikyohara Uruoi Park you will get a chance to view the installation "For Lots of Lost Windows," a literal window from which you can take in the splendor of Echigo-Tsumari!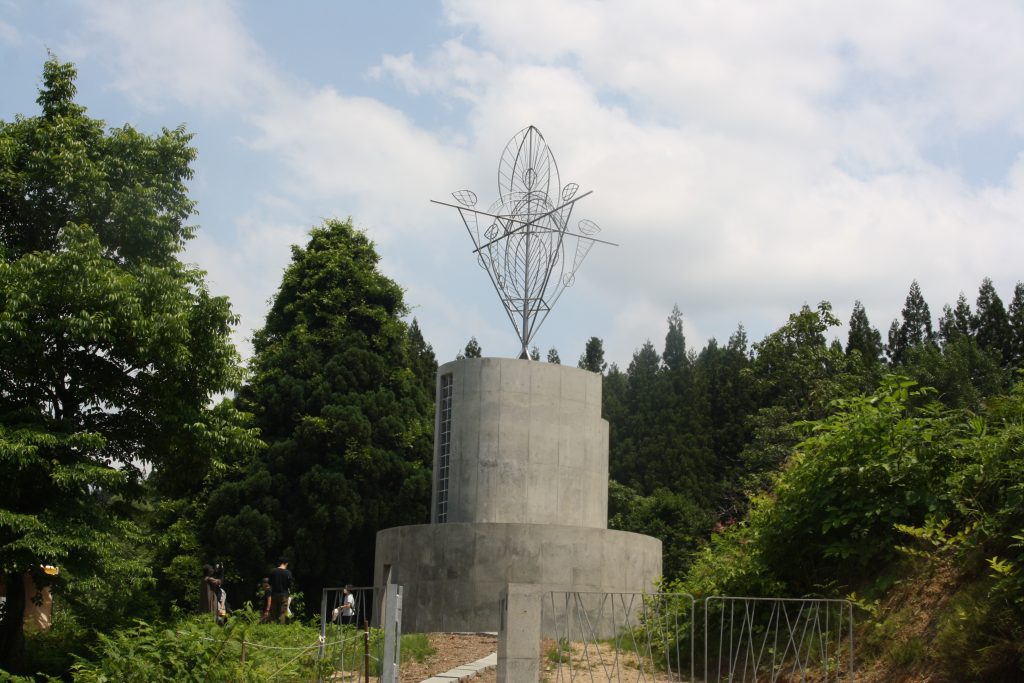 From here, we go deep into Matsudai, where you can see a brand new installation created for this year's Triennale: the "Monument of Tolerance" by Ilya and Emilia Kabakov. This tower contains within a variety of fascinating sketches with a powerful message of peace. The monument is especially powerful at night as it lights up according to the state of world affairs.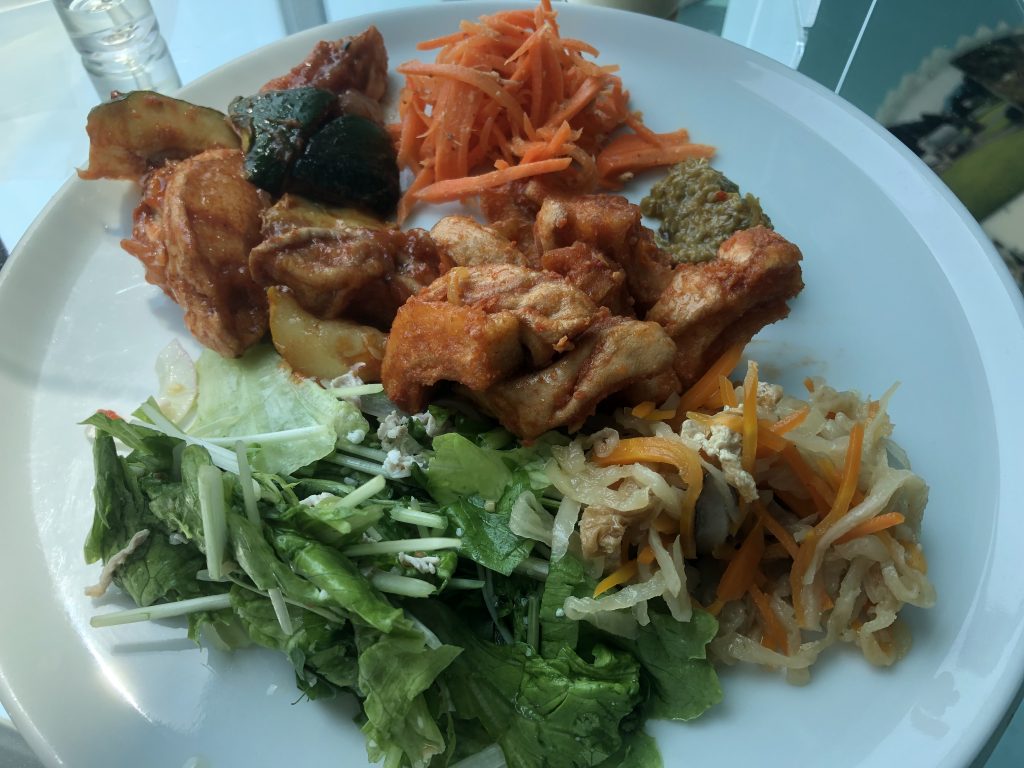 Fine food and art at Matsudai NOHBUTAI
From the Monument of Tolerance, you can enjoy a leisurely walk down to Matsudai NOHBUTAI, while viewing more artwork on the way. NOHBUTAI is one of the permanent galleries of the Echigo-Tsumari Art Triennale as well as the home of the Satoyama Shokudo café, where you can enjoy a healthy and delicious buffet featuring fresh farm-to-table fare! Click HERE for more information on Satoyama Shokudo as well as other vegetarian friendly farm-to-table establishments in YUKIGUNI.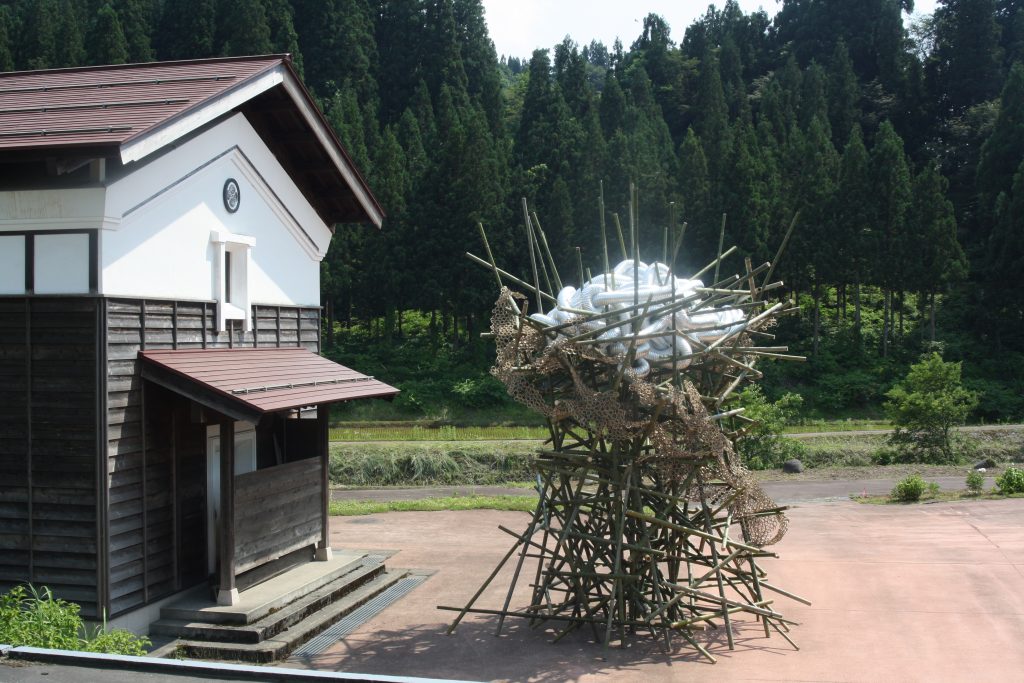 Those on the tour will have plenty of time to enter and enjoy the exhibits at NOHBUTAI at no additional charge. There is also an observatory on the roof where you can enjoy the beautiful scenery surrounding NOHBUTAI, although it gets quite hot in summer! If you simply want to go to NOHBUTAI and are not on the tour, the building is also connected to Matsudai station on the Hokuhoku line. You may even notice some of the Hokuhoku line trains decorated as part of the Triennale. From NOHBUTAI, there is a shuttle bus that can take you to some of the nearby sights if you'd prefer not to walk.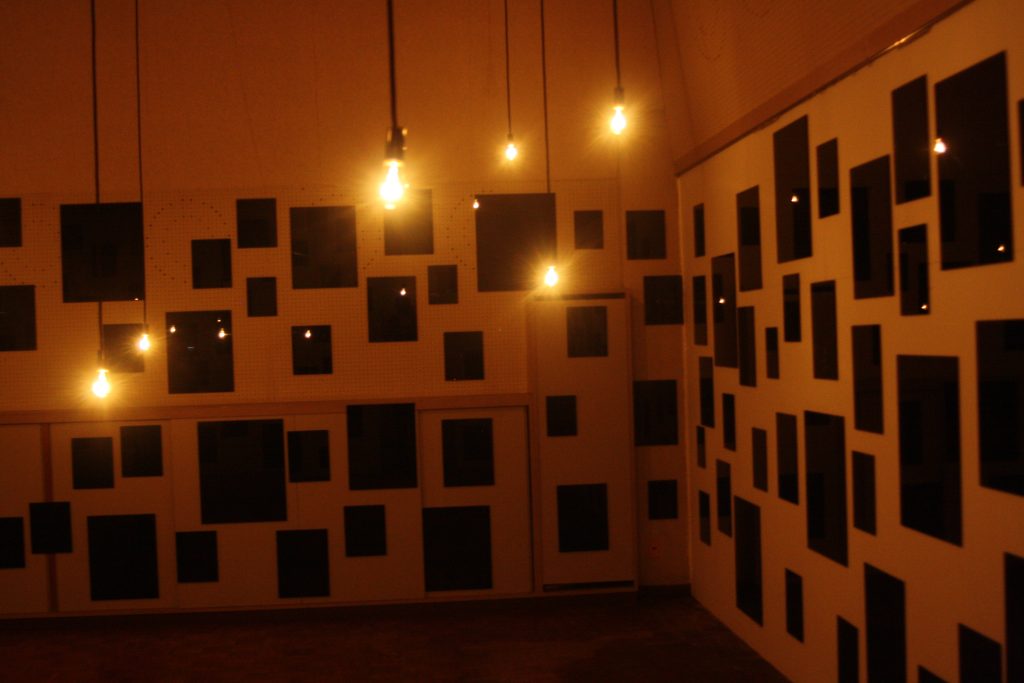 The most beautiful school in Snow Country
Deeper in YUKIGUNI is the Matsunoyama area, home of nearby Matsunoyama Onsen and one of my favorite exhibits, "The Last Class," which you can enter on this tour. The site of this exhibit was formerly an elementary school but has been completely transformed top to bottom while holding on to the memory of the time when it was full of schoolchildren. The exhibit is a journey through multiple floors of the school, and besides the art you will also learn about the history of the school itself.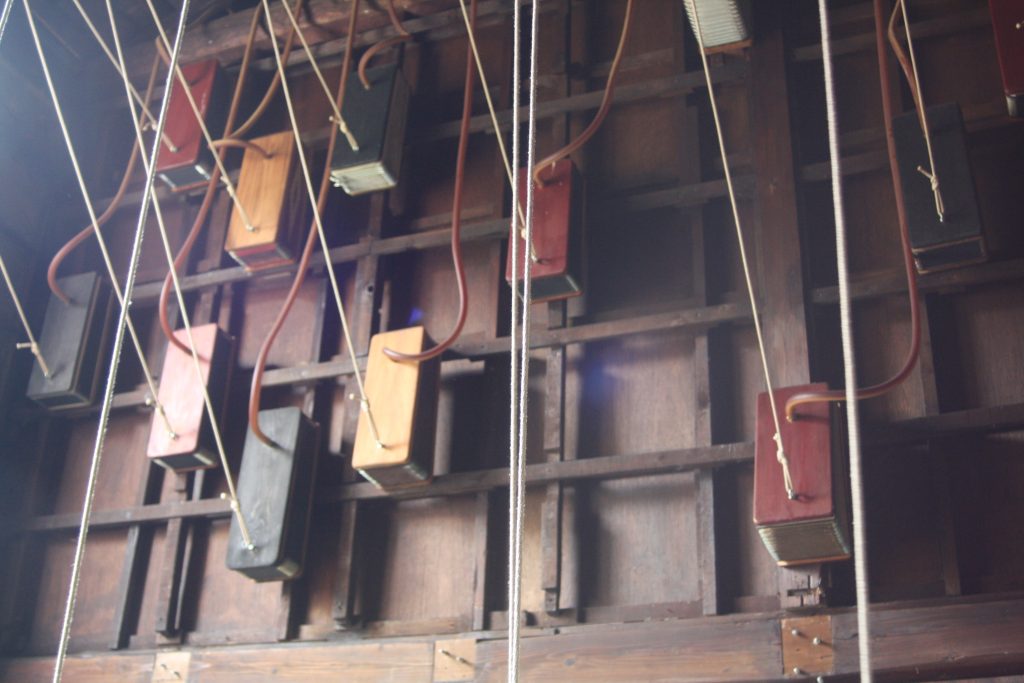 A musical journey along the Shinano River
At this point in the tour we leave Tokamachi and enter the town of Tsunan near to the border with Nagano. You will pass by the beautiful Shinano River and see Tsunan's famous "kagan dankyu" river terraces.
The Kamoshika Pyonpyon tour ends in Tsunan, but how about making a bit of music before you go? "Air for Everyone" contains a great many instruments that can be played in new and interesting ways. The old house it is contained in may give you an idea of how people here have lived.
The final stop on the tour is the Naeba brewery, which is also the site of "Invisible Grove," a paper exhibit that blends the ideas and aesthetics of both 2D and 3D. You can also try some of YUKIGUNI's superior sake, which is for sale at the gift shop on the 1st floor.
After leaving the Naeba Brewery, you will begin the bus ride back to Yuzawa. On the way back you may see some actual kamoshika hopping through the fields, as I did. The tour ends at approximately 6 p.m. upon arrival at Echigo Yuzawa station.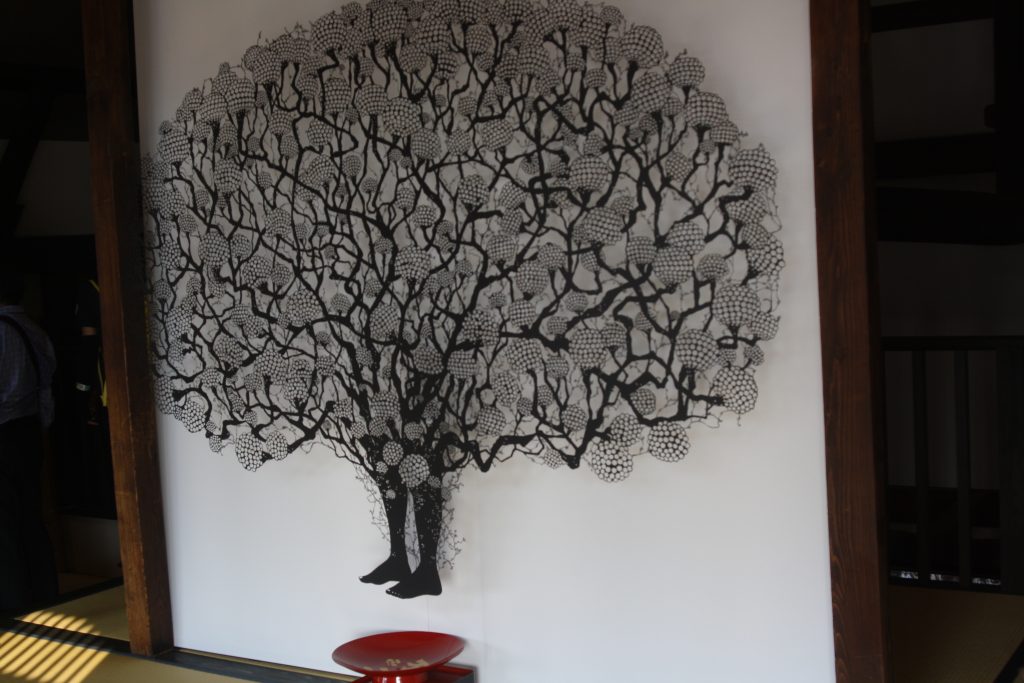 Further Information about the Echigo-Tsumari Art Triennale 2022
This year, the Echigo-Tsumari Art Triennale will be running for an extended period until November 13th. In that time, there will be a great number of things to see and do.
At the moment there is another regularly scheduled tour running until July 23rd, the Goat Shizuka course, which is available every Saturday. Featured locations include the pottery museum and the restaurant Ubusuna House, a picture book museum in an old school, and a visit to MonET, one of the must-see museums in the YUKIGUNI area.
From the end of July until September, there will be two new regularly occurring tours: the Owl Flap Course, and the Shake River climbing course. The former tour features a few key spots from earlier tours as well as a visit to the Nunagawa campus, where there are many efforts aimed at reviving the Japanese countryside, including the unique concept of an "agricultural women's soccer team," FC Echigo-Tsumari.
As for the Shake River course, there are a variety of theatrical and musical performances on this tour, including at the Kamigo Grove Theatre Restaurant.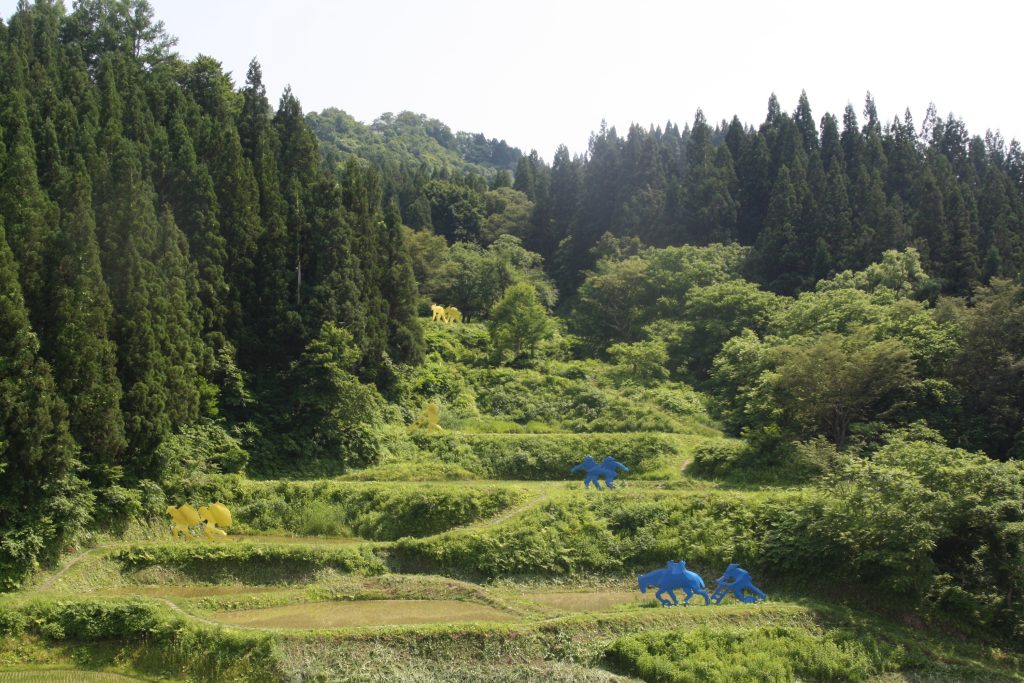 Come and join us in Echigo-Tsumari!
Currently there is an early bird special for tickets: until July 29th general admission passports can be purchased for 3,500 yen. Passports and tour reservations can be purchased online as well as at MonET, NOHBUTAI, and tourist information centers in Tokamachi and Tsunan, among other locations. A passport gives you access to most of the tour sites, the ability to go multiple times, and subsequent discounts. Click HERE for more information.
If there are simply too many places you would like to visit in one day, why not stay awhile? There are a variety of accommodations available throughout the Echigo-Tsumari Art Triennale depending on your needs and interests. One of the most well-known is the so-called "Shedding House," a hand-carved kominka house that is available for overnight stays. Also of note is the "House of Light," an experimental guest house created by the accomplished artist James Turrell. It is meant to be a place where you can stay in quiet meditation.