By Matt Klampert
While a move towards a more plant-based diet appears to be increasingly catching on among people in the West, you would be forgiven for thinking that the opposite is true of Japan. Speaking for the other expats residing here, just about all of us can name a few friends who were originally vegetarian but eventually changed their dietary practices after living in Japan for some time. This can be due to a lack of Japanese knowledge– perhaps they accidentally ordered one meat dish too many at restaurants. For others, it can be a simple matter of convenience, as there are rarely vegetarian substitutes available in eateries, convenience stores, or supermarkets. Whether it be tonkatsu, gyudon, sushi, or the broth used for most ramen, the fact is that modern Japanese cuisine is known for its liberal use of animal products. Things like ramen and tonkatsu also tend to be rather fatty, and are unhealthy if eaten too often.
In my time living in YUKIGUNI, two things definitely stand out in regard to food: the pride the region takes in their vegetables, and their commitment to fresh, wholesome food. Today, we'd like to introduce to you three local farm-to-table restaurants. To clarify, what we mean by "Farm to Table," is that the ingredients come from local farms or grown on the premises, the food is fresh and seasonal, and there is also some sort of focus on sustainability. Below are some eateries that we believe represent these values well.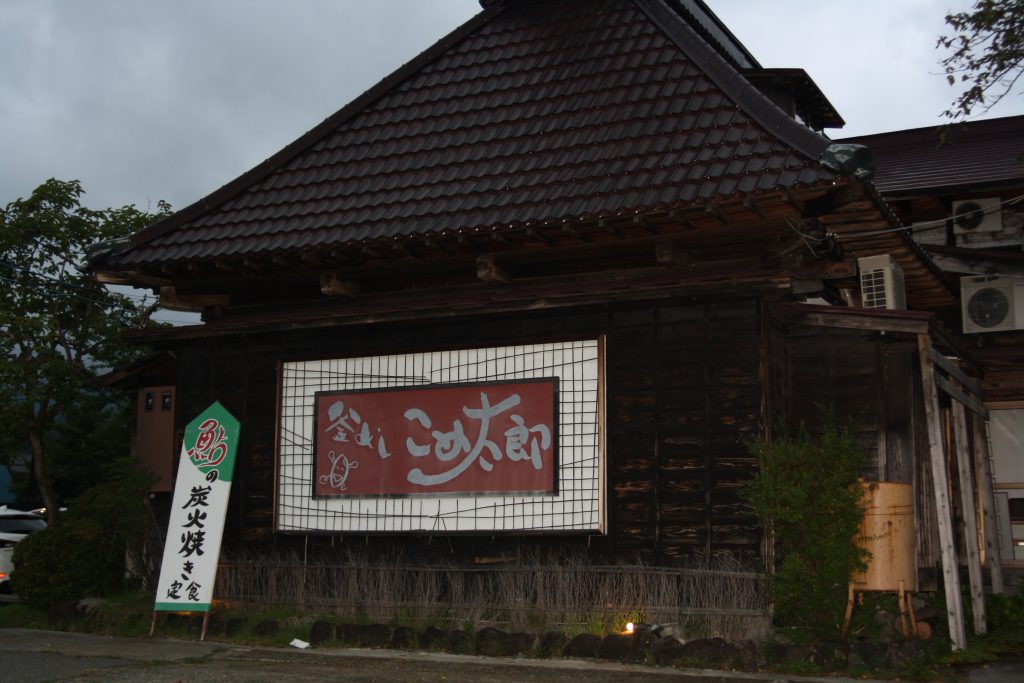 Farm to farmhouse at Kometaro
One of the more notable sights along Route 17 in Minamiuonuma is a certain 400-year-old farmhouse. It originally stood on a nearby mountain, but was moved 40 years ago and is now the site of the restaurant Kometaro. The exterior is not just for appearances sake: in the back of the house is an actual farm, where much of the food is grown, including a lake where free-range fish are raised. The interior is also completely authentic, including a giant oogama pot and numerous fire pits for grilling fish right at your table!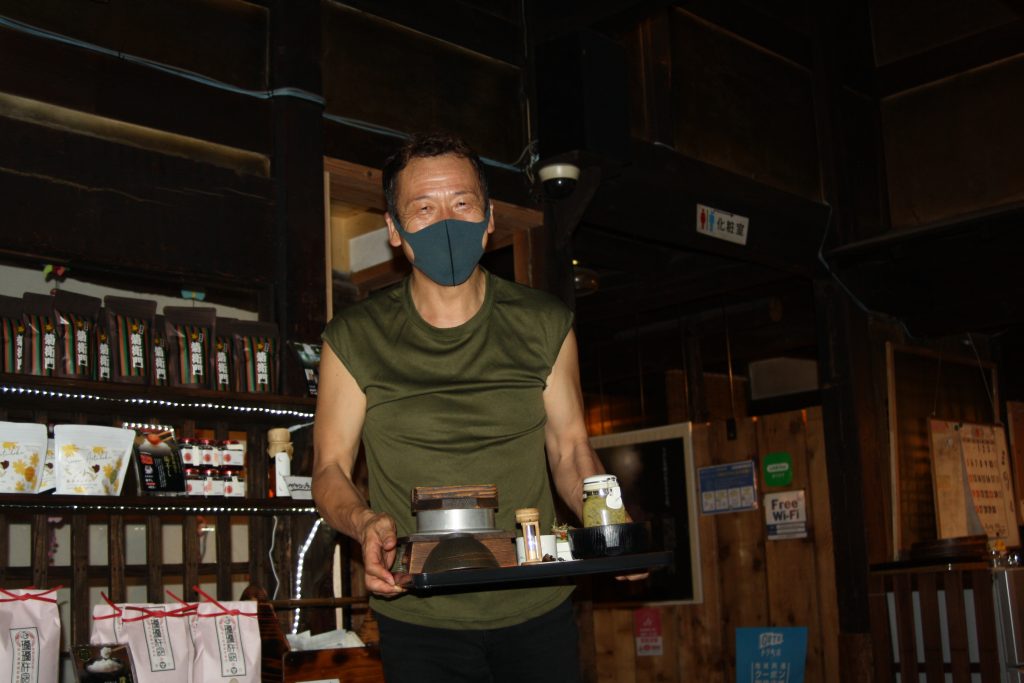 The food itself, though nominally traditional Japanese, is a far cry from curry rice and yakitori. There are teishoku set meals, such as the kawauo irori yaki teishoku set, featuring whole freshwater fish, or the Echigo otachmeshi set, a "warrior's dish" inspired by the likes of famous samurai Kenshin Uesugi. Another specialty of Kometaro is the kamameshi steamed rice bowls. These can also be part of a set, which includes either chazuke (green tea poured over rice, with various toppings), or a salad and some udon noodles. I opted for the kuro maitake kameshi, which features the region's specialty maitake mushrooms, burdock root, tomato and garlic over rice in a special squid ink sauce. The rice, being the so-called "kome" (in Japanese) in Kometaro, is also a standout, as it features the region's koshihikari type rice, arguably the tastiest in Japan. For desert I was treated to some hachimitsu honey tofu, which surprised me as honey and tofu do go quite well together. The price, all told, is quite reasonable for the portion sizes and obvious freshness.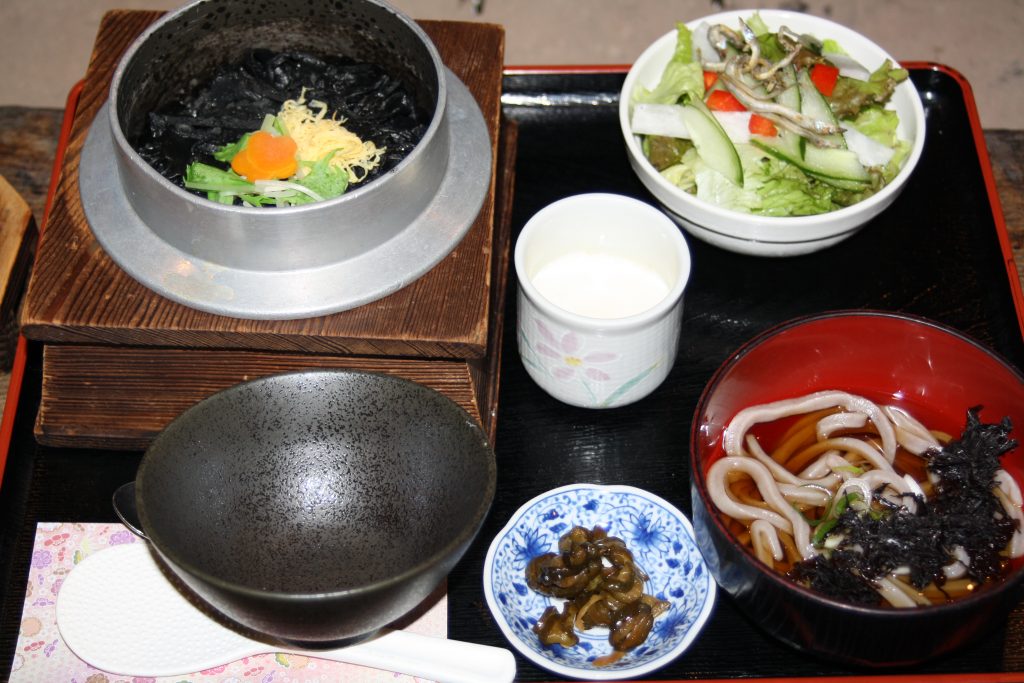 Some food for thought
When discussing food at Kometaro, the key word is "Chobishoku." This is the term the restaurant's owner, Mr. Saiki, uses to describe their emphasis on food which is good for you, both inside and out. Originally, Saiki explained, people from this area, who were mostly farmers, simply ate what they were able to grow. Rather than be attracted to particularly rich or sweet food, the point of food, he said, was primarily to aid digestion and contribute to greater overall health. However, this food culture has greatly changed in modern day Japan. The primary culprits, it seems, are both a western diet, which puts a greater emphasis on meat, dairy products, and bread, as well as a reliance on processed foods from convenience stores. Even much of the produce at conventional supermarkets contain pesticides, which Saiki points to the increased instance of people getting allergies or other health problems.
Though the term is rarely used in Japan, Kometaro's cuisine can truly be thought of as "slow food." Not only is this fresh food made with loving care, but it is also meant to be eaten slowly. In the modern world where convenience is king, there is something to be said for a place where you can eat calmly and in comfort. So when you stop by, eat slowly, and savor everything! For this reason, Kometaro has turned heads locally, and reservations can be tough to come by, especially in the fall months. English menus are available upon request.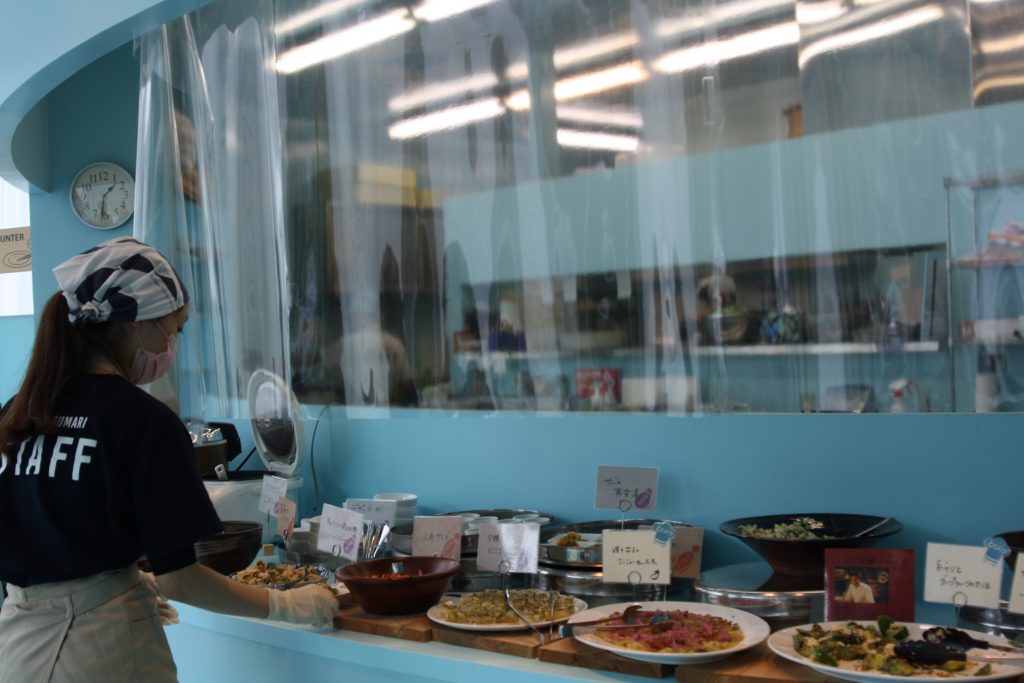 A home-cooked meal from Mom at Echigo Matsudai Satoyama Shokudo
Though remote and unassuming, the Matsudai area of Tokamachi is home to one of the most well-known regional art festivals in Japan: the Echigo-Tsumari Art Triennale. Every three years, tourists from all over Japan- and the world- flock to these "Art Fields" to see artwork from around the world that expresses the charm of the region.
With the concept of "food is the art," the food at Echigo Matsudai Satoyama Shokudo is full of the culture and wisdom of the region. At first, local mothers sold handmade rice balls, but this evolved into a full-fledged restaurant to accommodate the large number of customers.
The staple of the Echigo Matsudai Satoyama Shokudo is their generous buffet. As buffet-style dining is somewhat rare in Japan, I was excited for this opportunity to sample the fresh local cuisine to my heart's content. The buffet spread changes regularly, and features a modern twist on the local cuisine. Fare for the day I went included veggie-filled gratin and ratatouille, fried agedashi tofu, grilled burdock root, and a multitude of salads. There were also a few non-vegetarian options, such as babanji- a Japanese take on a Szechuan chicken dish, and the ever present Japanese fried chicken karaage. In addition, you have your choices of rice, soup, and curry. Aside from the buffet there are also daily set meals as well as a curry special. Though there is an additional fee for all-you-can-drink soft drinks, water as well as barley tea is complimentary. In addition to whatever desert is available at the buffet that day, Echigo Matsudai Satoyama Shokudo are famous for its homemade desserts. Of special interest are their veggie-puddings, with such flavors as eggplant and caramel, and tomato basil, among others. It is an adventurous mix of savory and sweet. However, a more conventional selection of scrumptious looking cakes are also available.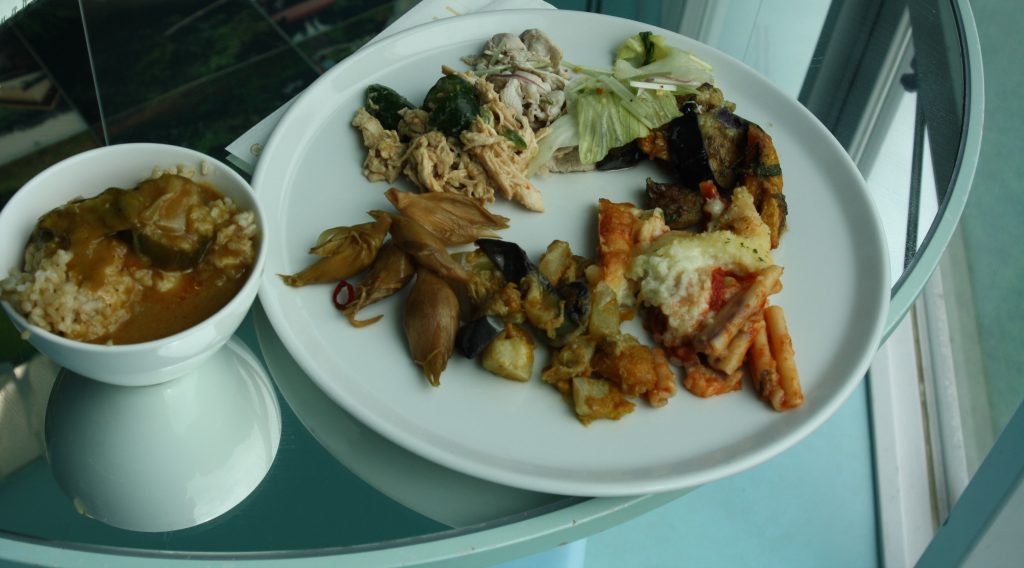 A feast in an art field
The space where Echigo Matsudai Satoyama Shokudo is located is also a work of art in and of itself. All over the ceiling is a collage of photographs depicting Matsudai's beauty throughout the changing seasons, created by the artist and the locals, as a way to contribute to the local charm. To give a better sense of perspective, the tables are mirrored to reflect the pictures on the ceiling, and the windows give a beautiful view of the fields where much of the food for sale is grown, including koshihikari rice available by the bag-full.
The Satoyama Shokudo exists not only for tourists, but locals as well. As employees are all members of the community and commonly use family recipes for meals, it has become a way of passing down local culinary traditions in the community from mother to child. The NPO running the restaurant and the Echigo-Tsumari Art Triennale is also a community in many ways: from the farmers to the service workers, the staff, young and old, have managed to work together harmoniously. They have also taken customer feedback to heart and put in their own new and unique ideas for menu items, while still adhering to their traditional standards of healthy and delicious food.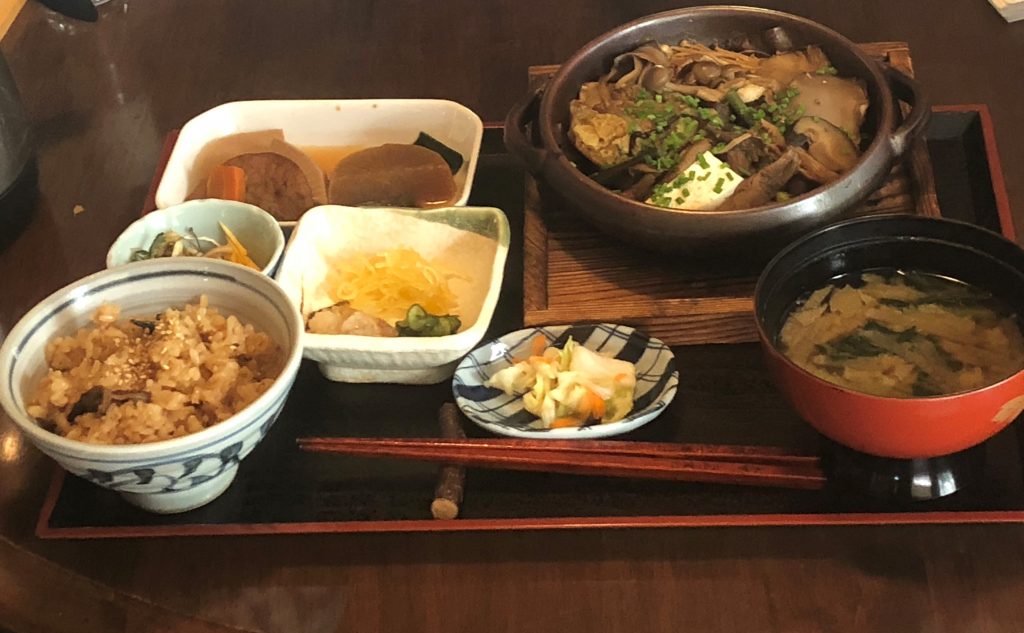 A visit to your grandparents at Irori Jinen
In a remote section of Uonuma city near Tochiomata Onsen is the "countryside restaurant" Irori Jinen. What looks to be a nondescript house is actually a warm and inviting restaurant courtesy of Mr. and Ms. Komagata, the couple that act as its proprietors. In all ways Irori Jinen is a far cry from ostentatious and touristy: the entire restaurant only seats approximately 12 people and the menu is limited to only three or so main courses at a given time. However, for a very reasonable price you get the freshest farm to table food that is also light, healthy, and comforting. On the menu this fall is the sashimi konyaku teishoku – which is fresh caught miyuki masu trout sashimi with konjac root and seven types of condiments. There is also the tempura set meal, which is light, fluffy, and expertly made. It features local staples such as fresh hiratake mushrooms, as well as more traditional options like chrysanthemum, known as kiku in Japanese, which while rarely eaten nowadays, are quite tasty. The standout was the akebi no toubanyaki, which features meat-stuffed akebia fruit with mushrooms, tofu and soy beans. For those who have never eaten akebi- another traditional staple here- imagine a cross between a litchi and a pear, which is surprisingly versatile in the ways it can be prepared and served. All dishes included miso soup, hearty mushroom infused rice, and a variety of pickled vegetables. To drink we received some chilled perilla (shiso) tea.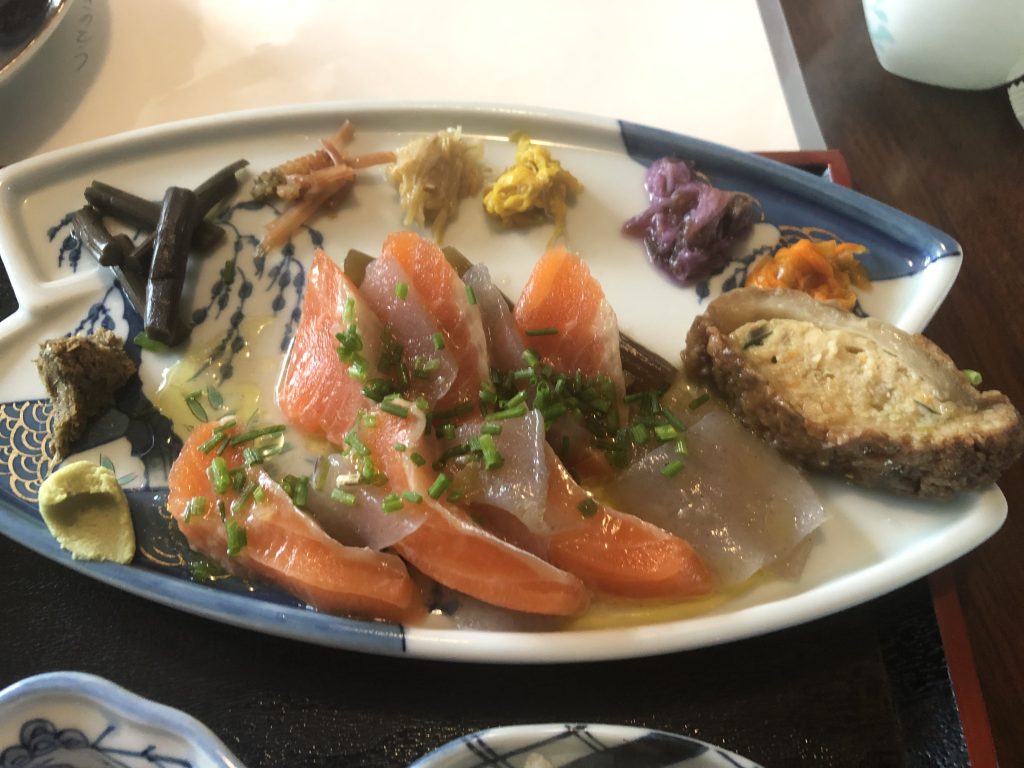 This particular part of Uonuma is known for its hitou, or "hidden onsen." These are out-of-the-way hot springs that can also have full-service hotels and restaurants on the premises. Mr. Komagata got his start working at one such establishment before creating a restaurant out of his home, where he has now been working for 18 years. The guests who come to such serene and peaceful places to rest their minds then often go to Jinen to restore their bodies with healthful meals. The restaurant is particularly popular for their sansai, or mountain vegetables, which they serve in spring. Going to Irori Jinen is like taking a trip to your grandparent's house; it's a perfect place to relax with a book and a great home-cooked meal.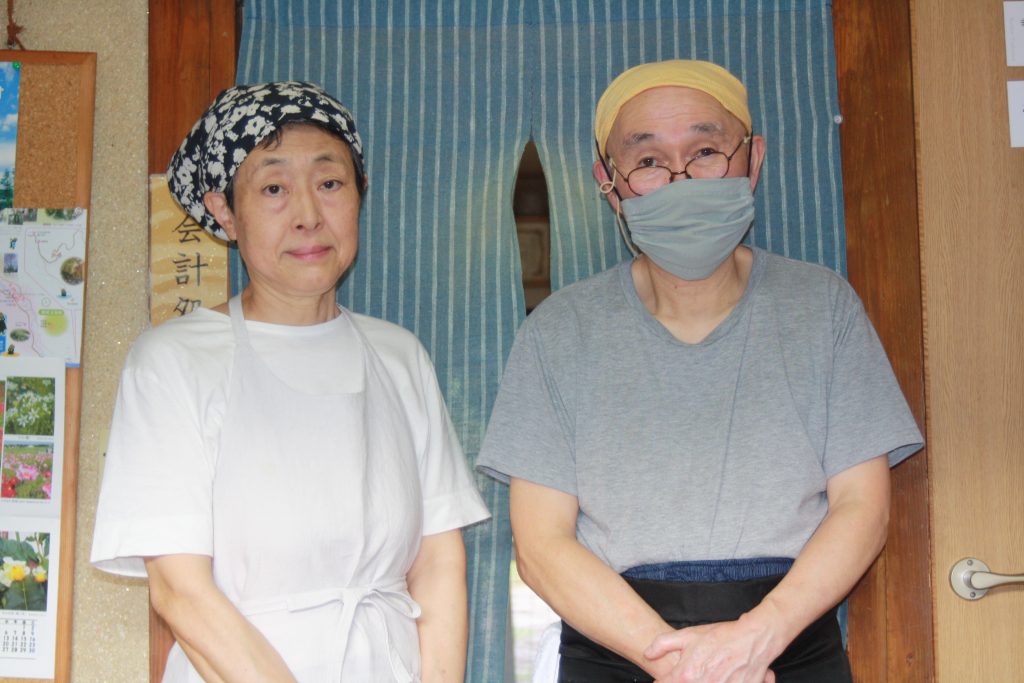 A-Grade Gourmet: Protecting food culture in YUKIGUNI
All of the restaurants written about here participate in YUKIGUNI Japan's A-grade gourmet campaign. Rather than being a local sort of Michelin Guide, the focus here is preserving a past way of life, and introducing sustainable and local cuisine to future generations. More information can be found here.
Information for travelers
Address: 323-5 Kamihitoichi, Minamiuonuma City, Niigata Prefecture 949-6408
Hours: 11:00 a.m. to 3 p.m. in the afternoon 5:00 p.m. to 9:00 p.m. in the evening, closed Thursdays
Address: 3743-1 Matsudai, Tokamachi City, Niigata Prefecture 942-1526
Hours: 10:00 a.m. to 5:00 p.m. closed Tuesdays and Wednesdays. Buffet normally limited to weekends, check homepage for more information.
Address: 718 Kamioritate, Uonuma City, Niigata Prefecture 946-0087
Hours: 11:00 a.m. to 3:00 p.m. or until sold out, closed Thursdays, closed from late November to mid-April