Just by taking off your skis and venturing into town a little, a different world opens up to you: the nature, way of life and culture of the YUKIGUNI. A world with a different culture that is hard to imagine for those living in the city where there is no snow is waiting to be discovered. Wanting to experience this different world, we paid a visit to people living in YUKIGUNI.
This article focuses on the diverse culture of YUKIGUNI and the people who embody it. Hunting, Sparkling threads, Doburoku (unrefined sake)…
Why not listen to what they have to say?
Hunting
Hunters consider conditions such as climate, sunlight and food when they look for places where game might be found. It is important to try and think like the animals. Hunters will have their eye on places which are attractive to animals because they are safe and have agreeable conditions, such as steep inclines with good sun exposure.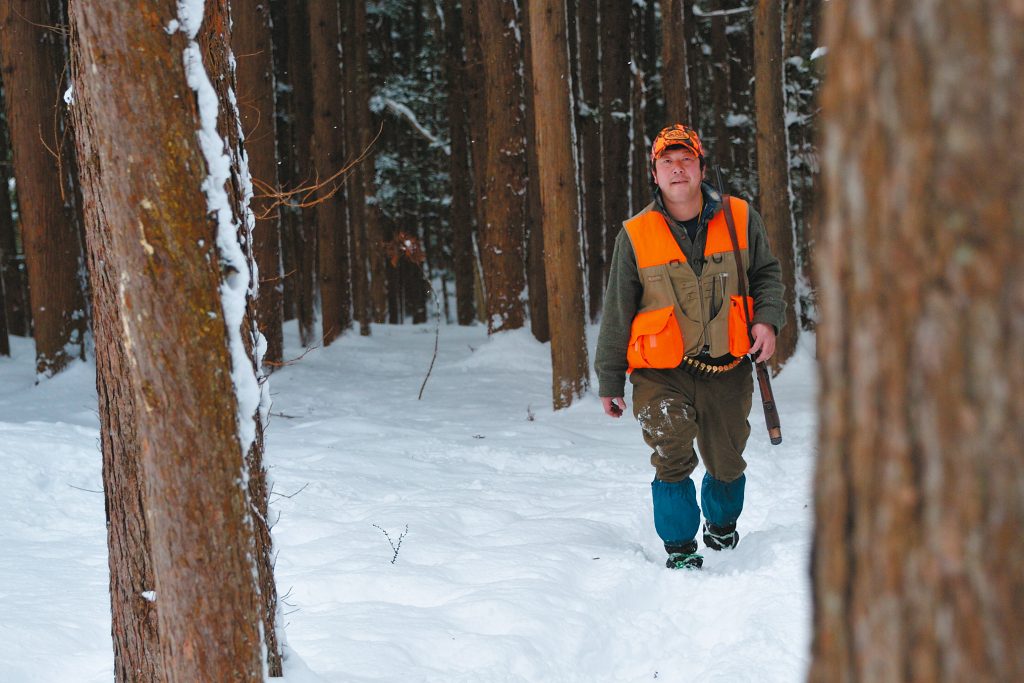 Tatsuya Abe, who has been hunting for 16 years, says "I started to hunt because I admired people who were good at gathering food and outdoor activities". Deep in the mountains of Minakami Town which is on the Tanigawa Mountain Range, there are many animals to be hunted. "While there are also mountain birds and rabbits, I hunt big game like bears, deer and wild boars". Mr Abe says he initially learned from a local fourth-generation bear hunter. "First I hunted with a shotgun. But although a shotgun is easy to use, I wanted to use a rifle, which is more precise and has a longer range…" After having hunted with a shotgun for ten years, Mr Abe took the required exam and finally obtained the permit necessary to own a rifle, which is more difficult to use.
Now Mr Abe hunts exclusively with a rifle. How does one look for animals deep in the mountains? "At the beginning, I struggled to even find game to hunt. But when the snow thickens, the animals emerge and you can spot them." Even animals which are impossible to spot before the snowfall because they hide among trees and foliage become remarkably easy to find when the snow piles up.
Animal tracks in the snow and animal dung also provide valuable assistance. Mr Abe is a hunter, but he is also the head chef at "Shobun", an Onsen Ryokan. It is perhaps unsurprising that Mr Abe, who is focused on using locally sourced ingredients, has ended up using edible wild plants from the mountains, mushrooms and wild animals. Mr Abe says about the many uses of snow: "With animals who are exclusively herbivores such as deer, in order to prevent them from spoiling, I remove their internal organs as soon as possible after shooting them. In addition, I also do this so that I can stuff snow inside the abdominal cavity and use the cold temperature of the snow to lower the animal's body temperature. When there is snow, I can slide the game I have shot across the snow and can therefore transport the game without harming the meat". The fatty, delicious cuts of meat are used for shabushabu or for yakiniku (a type of barbecue). Depending on the cuts, they are processed into products such as salami, ham or sausage and offered to customers after long periods of storage and curing.
Mr Abe says, with an affectionate expression in his eyes: "Animals are strong. They go to all these places; places that people cannot even imagine."
Sparkling threads
From ancient times, Minami-Uonuma City Shiozawa has been famous for textiles. "Echigo-jofu" (a high-quality, lightweight patterned textile made from the ramie plant) has been designated by UNESCO as intangible cultural heritage and "Hon-Shiozawa" and "Shiozawa Tsumugi" (two other types of fabric) have been designated by Japan as traditional crafts. However, while there were as many as 45 textile workshops in Shiozawa during the golden age of the region's local textiles, now only 9 remain.
Even among these, Sakaiorimono is a rare example because here, from refining to weaving, more than 30 processes are carried out in one workshop. Moreover, not only the weaving itself, but the majority of these processes are carried out by hand. Mr Sakai explains with a laugh: "Nowadays, there are so many things, and we find ourselves in an age where things are disposable and sold cheaply. This workshop goes against the tide and invests time and efforts in its products."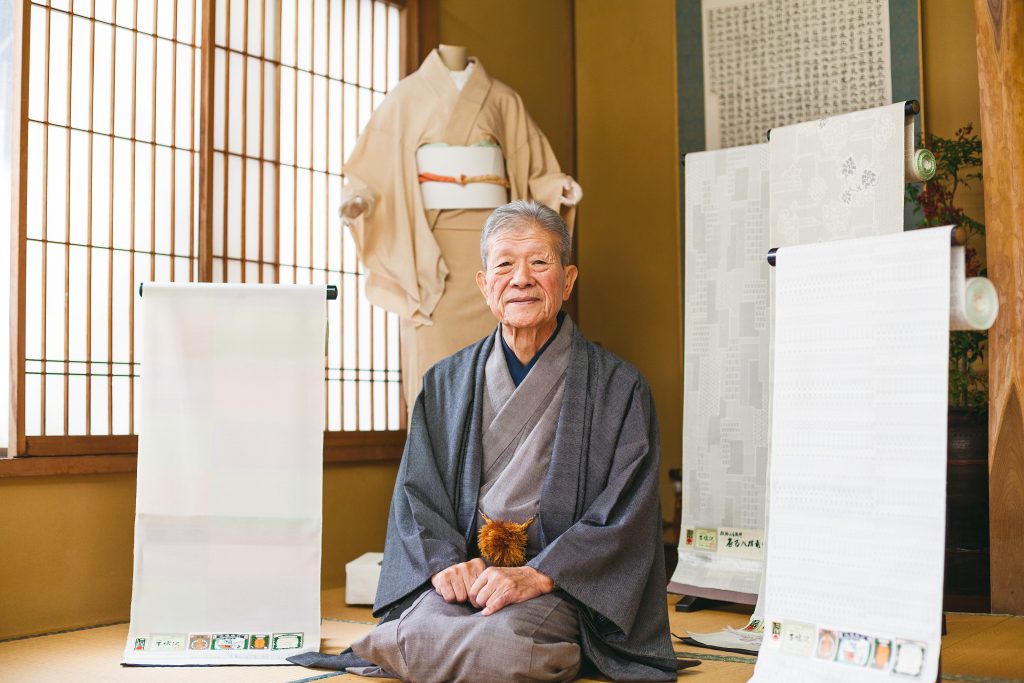 Although there are now many places where the refining process of washing the threads is carried out by machines, Sakai-orimono is particular about using a traditional manual process. "We wash the thread by putting it into an iron pot and washing it for three hours with hot water under constant supervision, and then wash it with underground water from more than 100 metres under ground which also contains melted snow water. Then the threads sparkle. You can see the difference to tap water. By using manual procedures, the threads can swim freely, impurities are naturally removed, and a soft thread with depth is produced." The reason why textiles have developed in YUKIGUNI is that during the winter months, it is not possible to carry out farmwork. The wooden sticks used for the refining process are wood which has bent under the weight of snow brought from the mountains. It seems like the relationship between textiles and snow is deep.
Doburoku
Mr Fueda started making doburoku (unrefined sake) when Yuzawa Town was designated as a special area for doburoku in 2005. Despite having no prior experience in this area, he still took the plunge. "People drink sake for all sorts of occasions, don't they. Both when they are happy, or when they are sad. I was fascinated by the idea that people's emotions might be impacted by rice I produced in the spring." Mr Fueda made preparations for sake making while also managing a lodge and and continuing to farm. In July 2006, he obtained the prestigious designation of "Yuzawa Onsen Doburoku Special Area Number One".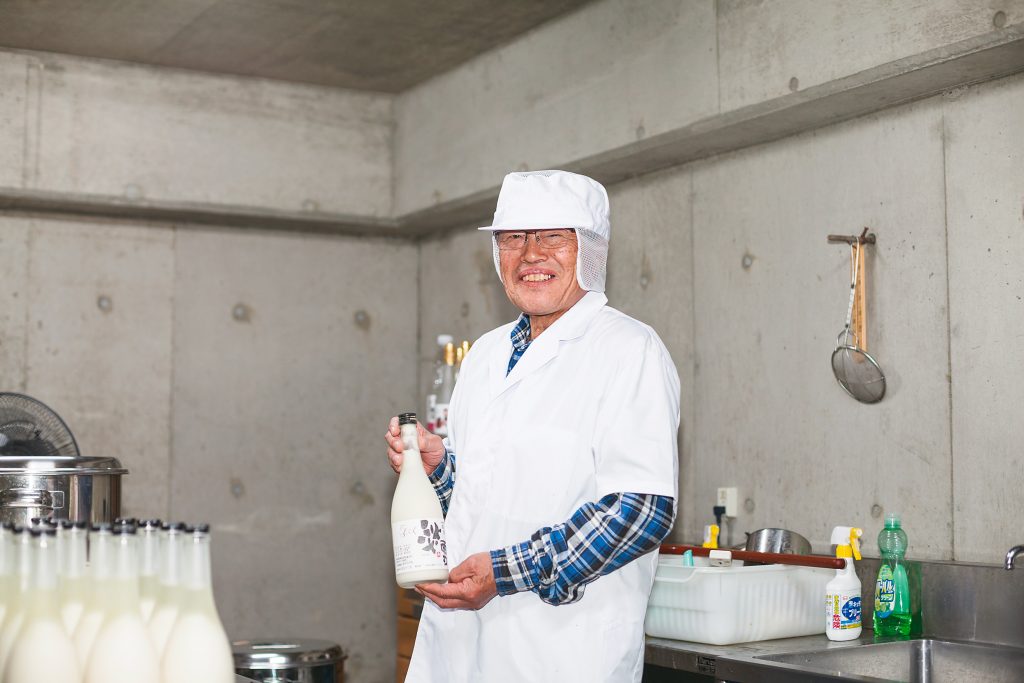 Amazingly, Mr Fueda's doburoku, in its first year, suddenly won a prize in the "National Doburoku Research Contest". Since then, although the business has been going well and the number of fans of Mr Fueda's doburoku has been rising steadily, he is not considering a production increase. His clients are limited to specific shops in Yuzawa Town and Minami-Uonuma City. This is because Mr Fueda wants to help invigorate the region. "It's because I don't want to send my doburoku far away, and I'd love for people to come here. I'd be really happy if people said 'let's go to that shop in Yuzawa because that's where you can drink that doburoku'."
Straw craft
Sakae Village is covered in large amounts of snow for 5 months of the year. Until about 1965, people here were making everyday items out of straw, which is a by-product of rice production, during the winter months. The cat tsugura which has come to represent Sakae Village is one of these items. Now as in the past, each straw is carefully selected, and the final product is woven day by day.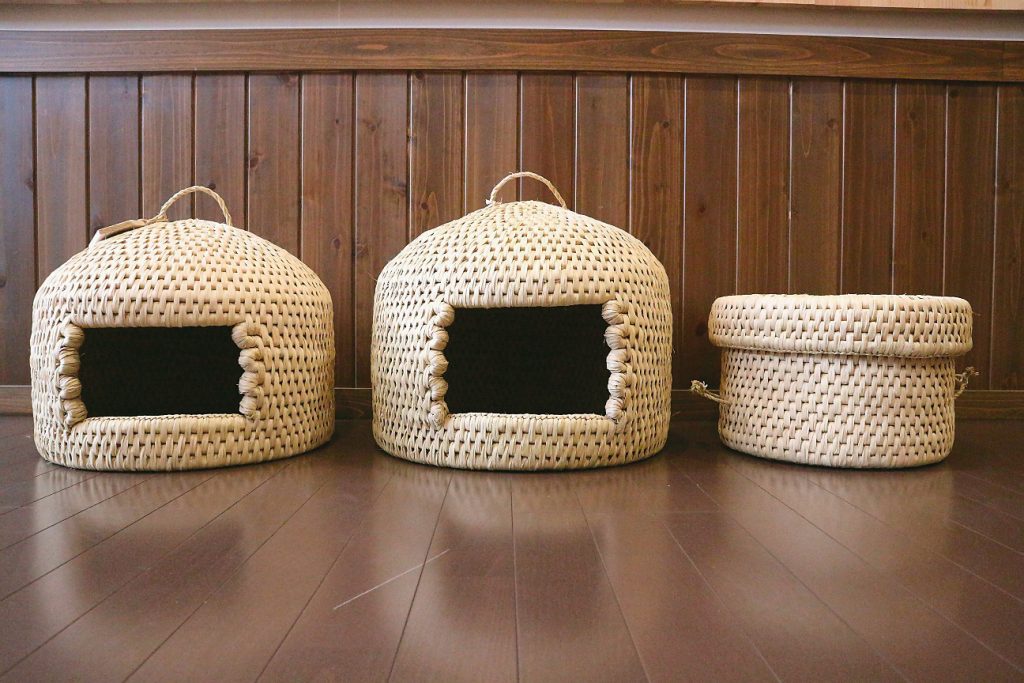 At Roadside Station Shinetsu-Sakae, located on the border between Nagano and Niigata, visitors can purchase items produced in Sakae Village such as folk craft items, vegetables, fruits and souvenirs. Meals are also provided. Of course you can also buy a "cat tsugura" here.
Onsen taxi
Straddling both Sakae Village and Tsunan Town, Akiyamago is a famous tourism destination because it is considered a "secluded region". Known for its beautiful valley, it is also a hot-spring treasure because in eight hamlets in the region natural hot spring water rises to the surface. However, the roads here are narrow, and for drivers who are not used to driving on mountain roads it can be a challenging route.
But there is now a helpful service being provided for tourists who feel this way: the "Akiyamago Onsen Taxi". Driver Mr Osamu Kuwahara says: "Our company is affiliated with the local taxi association, but I started to think that it would be great if we could help invigorate tourism in Akiyamago, in places where there are no bus routes and it's also hard to drive on the mountain routes in private cars."
An onsen connoisseur himself, Mr Kuwahara also offers explanations about the various onsen in the region, and as a local driver he shares useful information concerning hidden viewpoints, local specialties, famous local produces and history. We asked Mr Kuwahara whether he would recommend a particular onsen. "Koakazawa Onsen Rakuyokan hot spring. Rare even in Japan, its water is red because it is high in iron. The concentration of iron is more than twice as high as for a normal medical onsen. It helps with ailments like exhaustion, joint pain and rheumatism. There is also the mansion onsen Shuseikan which is quite unusual as well. Depending on the temperature, the colour of the water changes from cloudy to colourless to emerald green." Mr Kuwahara also changes his route depending on his customers' wishes and the weather.
Sake brewery
For Tamagawa Sake Brewery it all started when, during the great snowfall of 1981, as close to one meter of snow was falling per day, its sake was buried in snow. When the sake was dug up the following spring, it was discovered upon tasting that its mellow fragrance and good taste had increased. Taking this information and after careful research together with university professors and experts, the snow storehouse was developed. The current snow storehouse was build in 1990 and is used to guarantee the perfect environment for sake, ensuring the constant temperature, high humidity and low vibration so important for sake.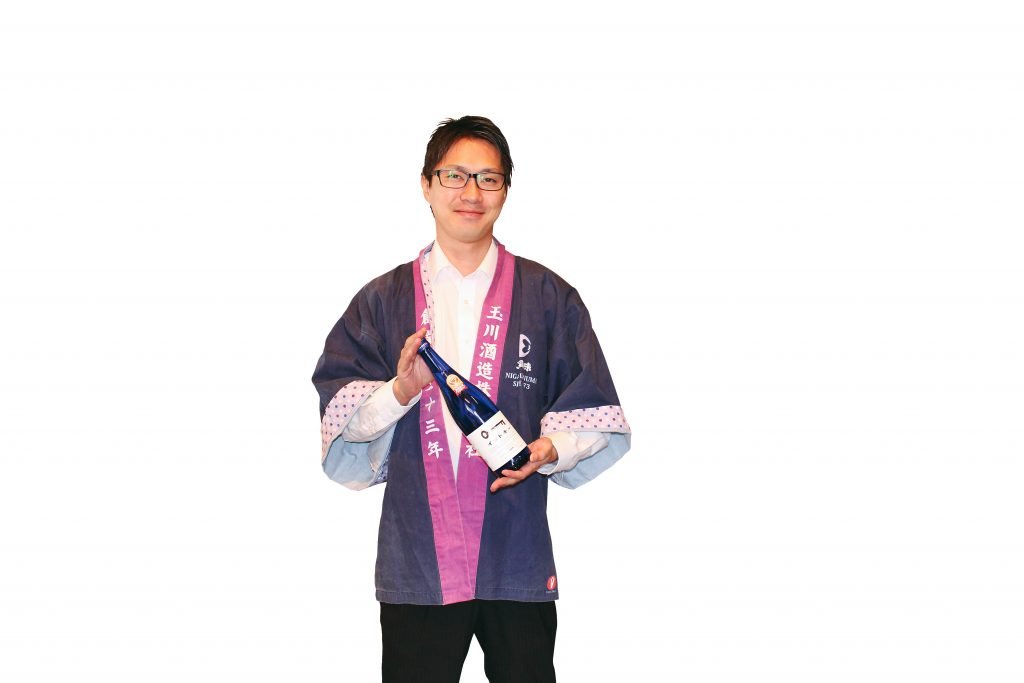 Sharing a drink with friends
"Bridegroom Throwing in Matsunoyama Onsen" is an event held on the "Little New Year" (15 January) at Matsunoyama Onsen and draws many tourists. Mr Onozuka of the Matsunoyama Onsen Association who is involved in everything from the festival's preparation to its management says: "We are doing this not to attract tourists, but as a local festival." "Because it's a local festival, you do everything while having a drink with friends, including the preparations. This is one of the great things about living in a mountain village." Nowadays, not only locals, but husbands chosen through public advertisements are thrown from the inside of the Doctor's Shrine from a height of about 3 metres into the snowy fields below.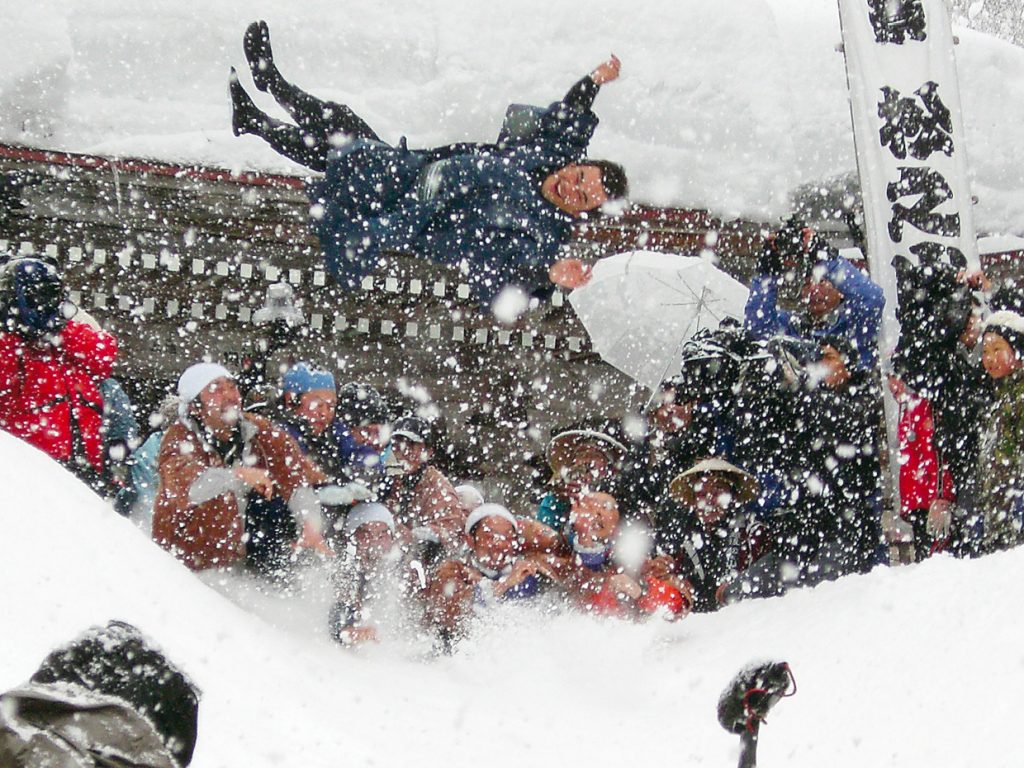 The "ink coating" following the husband throwing is an unusual ritual where ink is mixed with snow and smeared by festivalgoers into each other's faces as a prayer for good health. Men and women of all ages paint their faces with ink like small children. Nowadays tourists and foreigners also take part. It is said that faces painted with ink to a degree where it is impossible to tell who is who come out clean again when washed in the hot water of Matsunoyama Onsen.
Together with your family and friends, you will create memories that will last a lifetime. This special 4-day itinerary will give you the opportunity to discover the culture, community and gastronomy of YUKIGUNI, an undiscovered destination in Japan.