By Matt Klampert
In our overview of the many "strange festivals" around YUKIGUNI, we briefly touched on Mukonage, the famous "Groom-Throwing Festival" held every year at Matsunoyama Onsen in Tokamachi. This year, we were able to travel there and see the event itself! Even having seen many traditional Japanese matsuri in the past, the Matsunoyama Onsen festival is still wholly unique and well worth attending.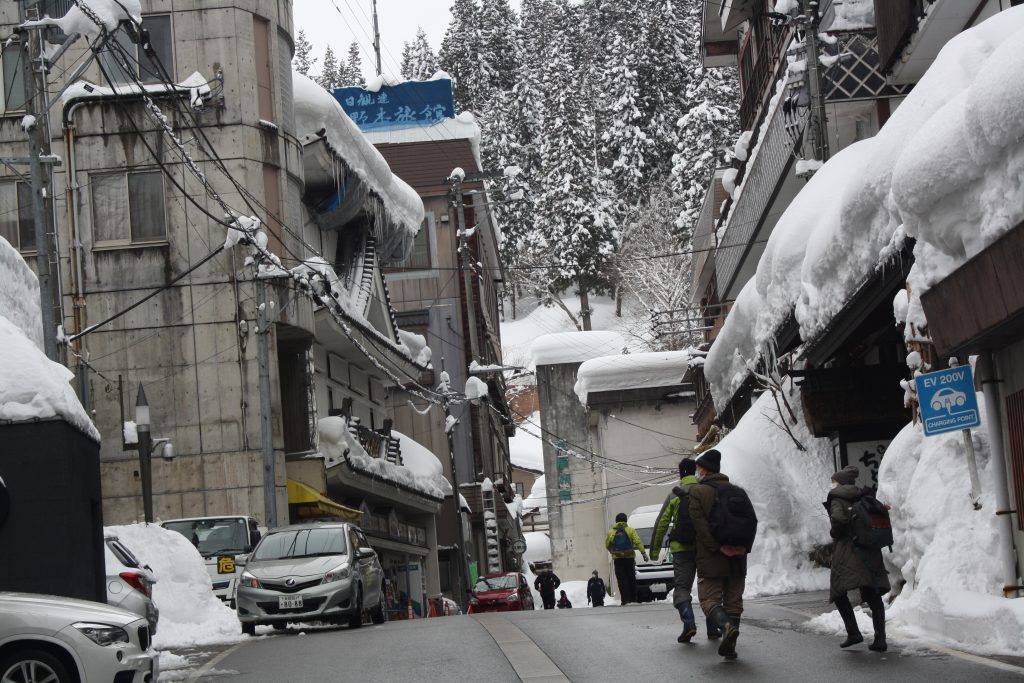 Some background about the festivals
Matsunoyama Onsen was not simply built to accommodate tourists enjoying the famous hot springs; in fact, there has been a community of people living here for centuries. Though the groom-throwing festival is now considered a significant tourist attraction, it has a basis in the history of this town. Legend has it that centuries ago a local woman got married to an outsider, and her family did not approve the union. In retaliation, they threw her husband from the top of the local shrine into the snow.
Since that time, mukonage has become a yearly tradition every January. In the afternoon of the festival, the groom to be thrown, along with the bride and their friends, gather at Jiro at the end of the Onsen Street. Jiro is a refurbished kominka, or old style-Japanese farmhouse, with the added benefit of heated floors and an old fashioned stove called an irori. Traditionally, irori was a place where the family could gather during mealtimes as well as social scenarios, and relax in warmth despite the harsh local winters. Jiro is also open to the general public during the warmer months, though only on weekends and holidays.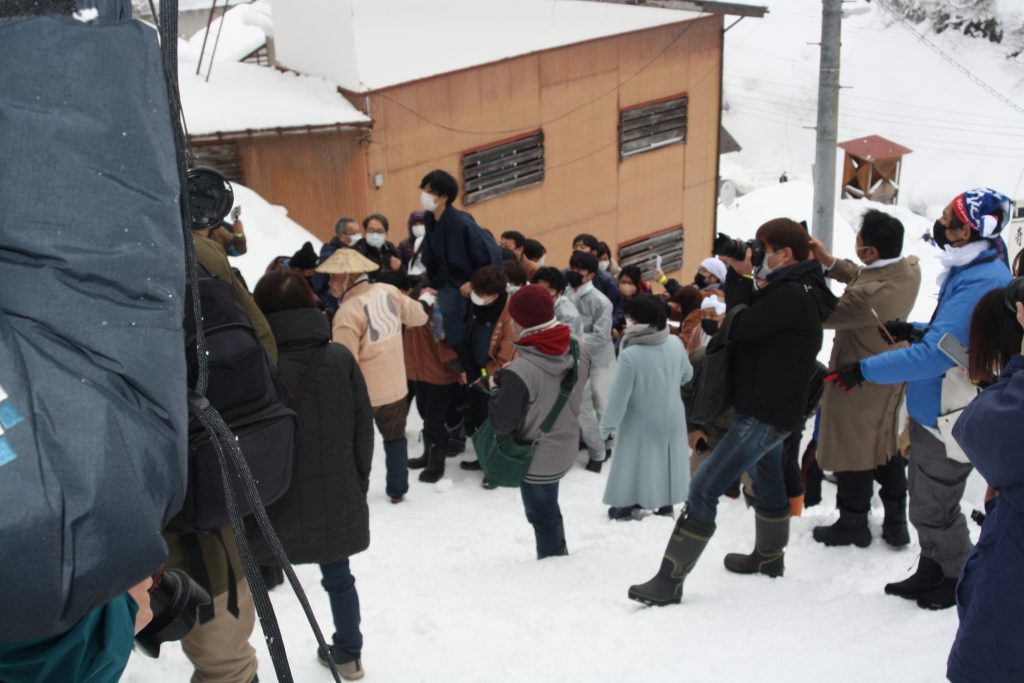 How to do Mukonage
It is here where the festivities begin, as the bridal party have drinks and make merry in an old-fashioned style. Then, at approximately 2 p.m. the doors to Jiro are thrown open, and they begin a procession up the hill to the yakushido shrine. This is where people typically pray for the healing powers of the local hot springs, which are well-known as one of the top 3 medicinal hot springs in Japan. Upon reaching the top of the hill, the groom is given a final drink, some words are said, and then he is thrown into the snow by his friends and family while his new wife looks on. This fun ceremony only takes a few minutes, but in contrast to certain more somber ceremonies is a rather jovial and laid-back affair. These days, it is also possible for those not living in Matsunoyama to take part, and get thrown themselves!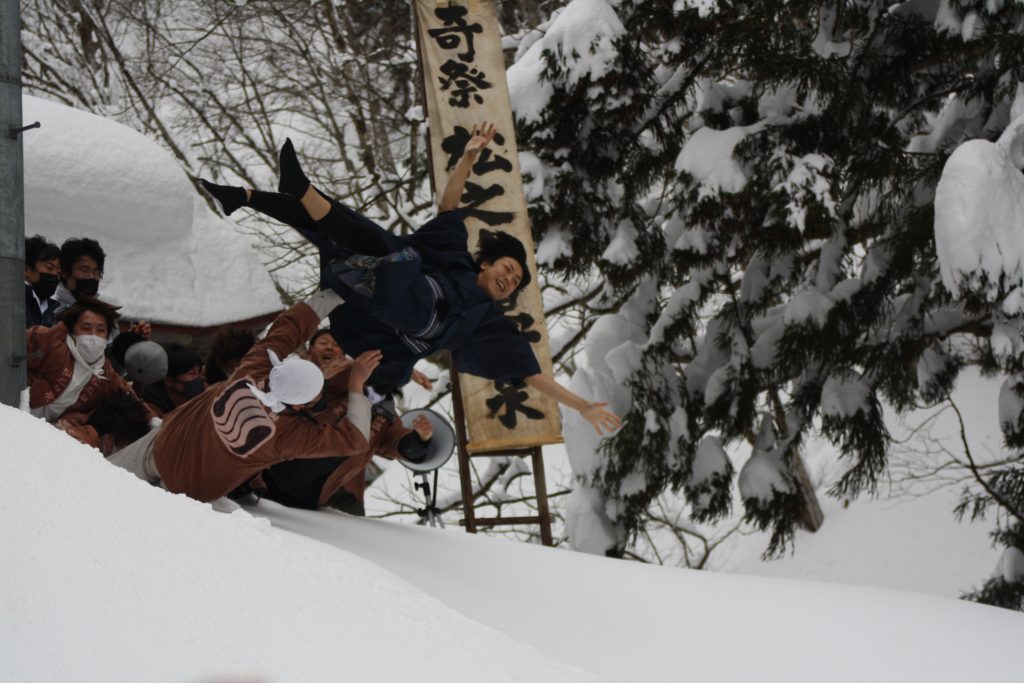 Matsunoyama's groom-throwing festival is well-known in this region, and gets quite a bit of news coverage, including national television stations such as NHK. In addition, children from the local elementary school also attend, and cheer on the festivities.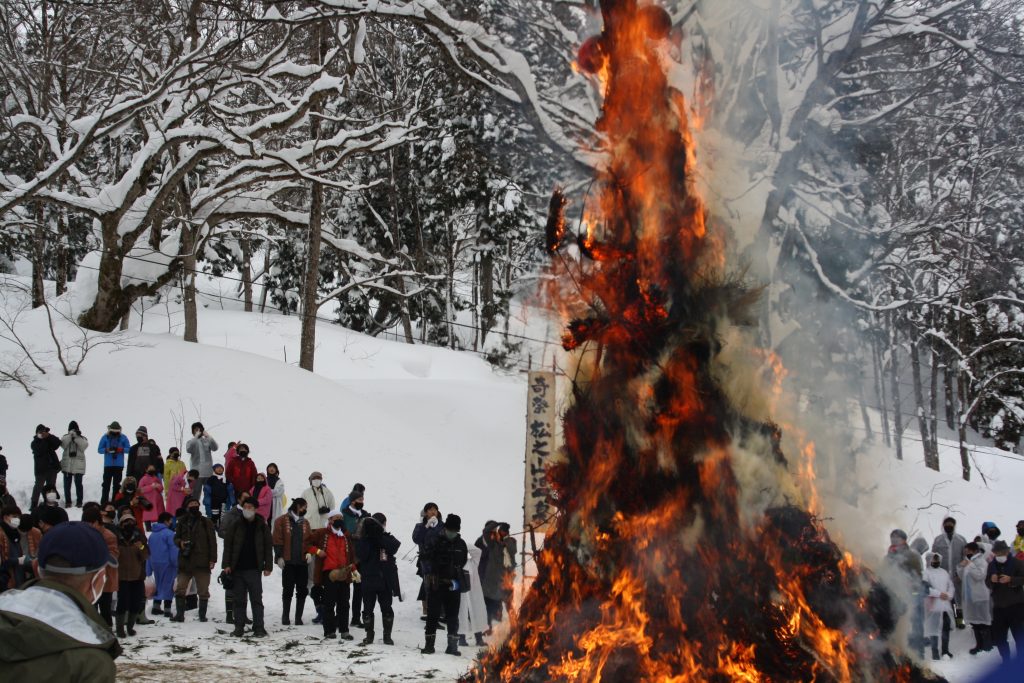 An old-style harvest festival- with a twist!
The next part of the day's events is the "Ash-Painting," or suminuri festival. This ceremony is actually much older than the preceding events, having begun nearly 600 years ago. Back then it was known both as a harvest festival and a way to let loose a little bit after having been cooped up during the heavy snows. Suminuri is based on a festival called Dondo-yaki, which is celebrated around Japan, typically as a way to end the Japanese New Year, where old charms are burned on a bed of pine for good luck.
After the groom-throwing ceremony is completed, everyone heads over to another clearing, which contains a tall tower made of straw called Sai no Kami, and a small shrine made of snow. Around the shrine are offerings of sake and food. A priest says a prayer at the shrine and onlookers are given a cup of sake and a mikan orange, which is a fruit typically eaten in winter in Japan. The meaning of the prayer is to bless newlyweds, and wish them continued health and happiness in their family life. A special prayer is also said for those who are an unlucky age according to Japanese tradition, most notably age 42 for men and age 33 for women.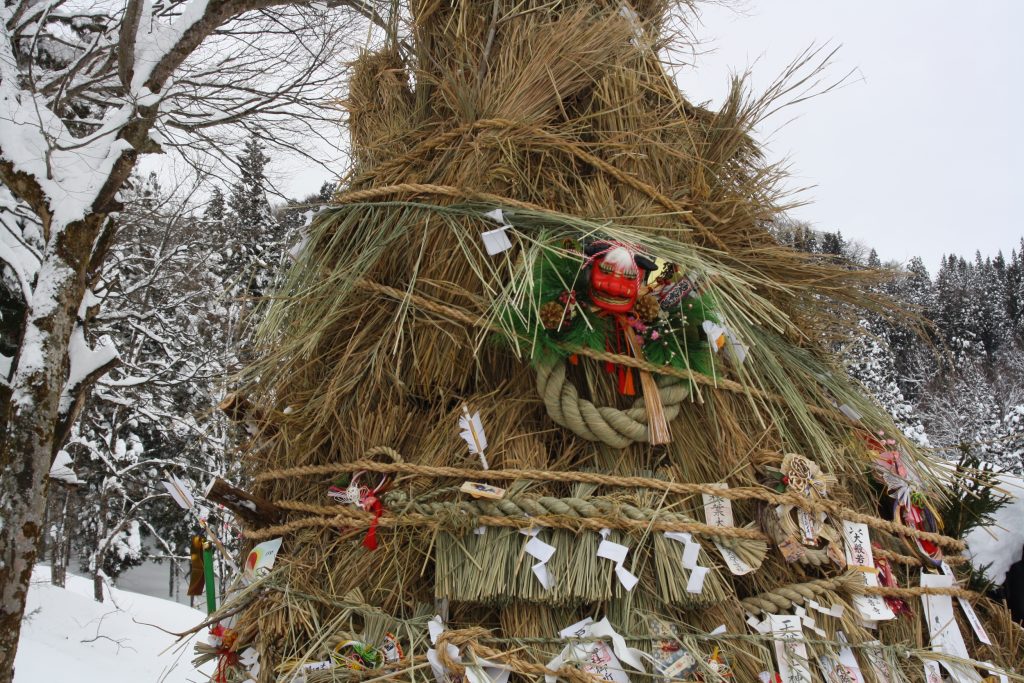 Once the blessings are done, it is time for the festivities to begin once again. The straw tower is decorated with charms and special ropes – shimenawa, which are typically used in Shinto purification rituals. Around the tree are charms such as daruma, which is a well-known round reddish figurine who is also an effigy of Bodhidharma, the founder of Zen Buddhism. Though its design is commonly seen on toys, daruma does have a real significance as a cultural good luck charm representing Japan.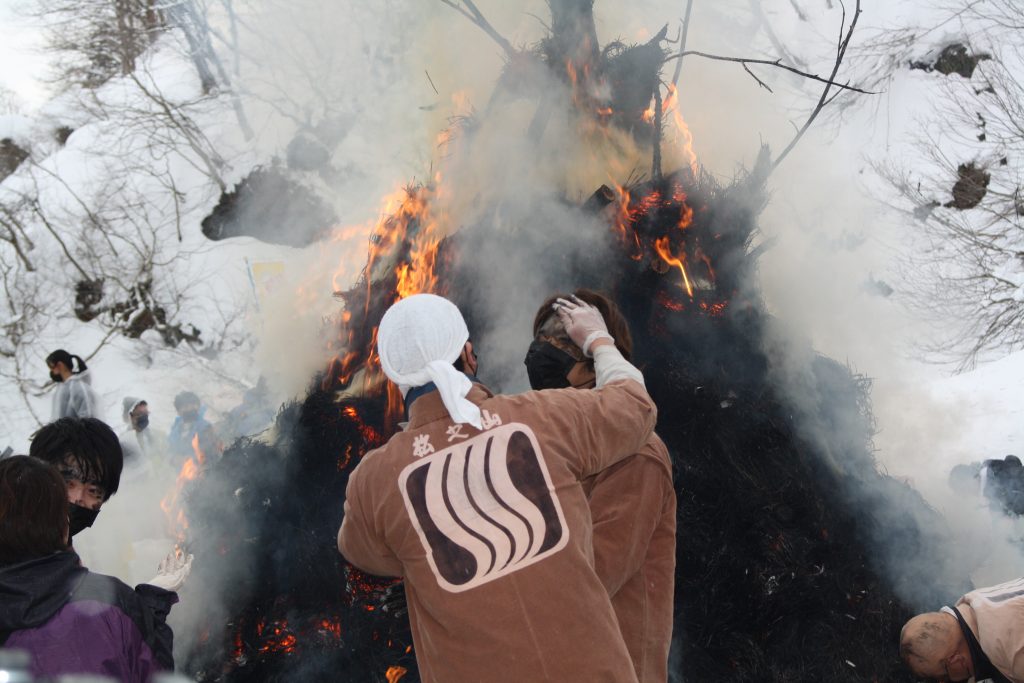 A party with drinking and painting
The tower is set on fire, and soot quickly forms in the snow, which people rush to collect in their now-empty sake cups. You can hear people wishing each other a happy New Year, or "omedetou!" as they paint each other's faces with soot. People then partake in some more drinking and playing in the snow. It is a strangely intimate holiday celebration, and a great way to get a look into the community here and make fast friends. It is considered good luck to get as much ash as on your face as possible, so if you prefer not to, it is better to stay toward the back and simply enjoy some sake. However, the soot is simply burned straw with snow mixed in, so it is not dangerous to put on your skin, and it will quickly wash off with some warm water.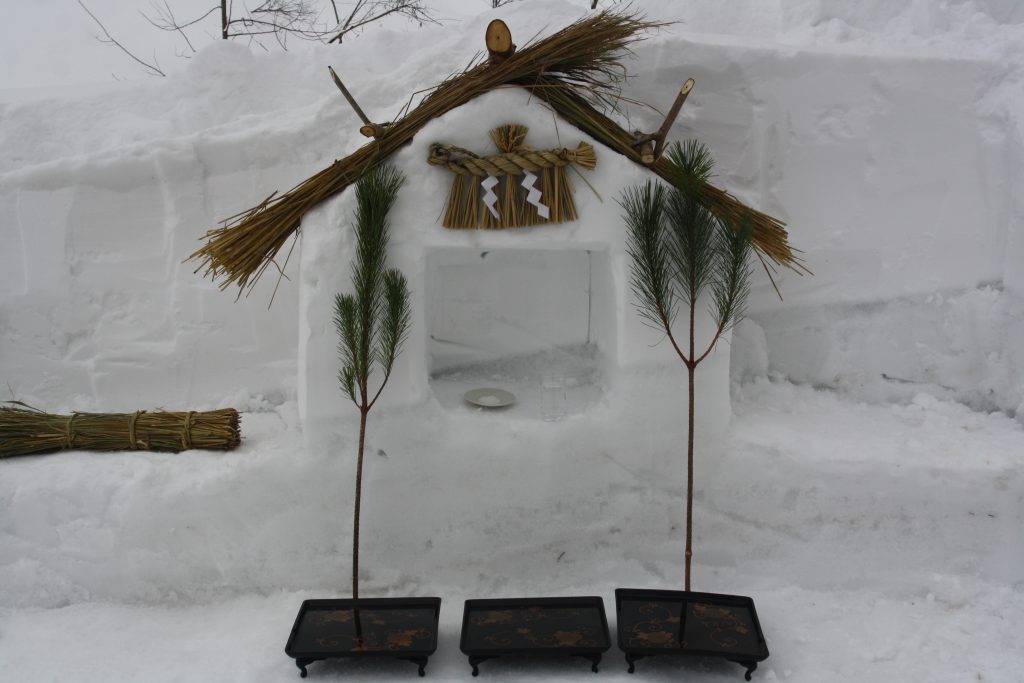 A one-of-a-kind Snow Country festival
Japan in these times is changing rapidly, which is beginning to effect even the remote countryside more and more. As these areas become smaller and smaller, some worry that festivals like mukonage and suminuri will disappear one day. It is a testament to Matsunoyama that they consider their attractiveness as a tourist destination without forgetting their unique heritage.
Though you can come to Matsunoyama just for the festivities, why not stay awhile? The hot springs there are famous as one of the top 3 medicinal onsen in the entire country, and the ryokan are top notch and very accommodating to international guests. You can see our feature including one such inn, Hinanoyado Chitose, here.