Certification schemes such as "TIMELESS YUKIGUNI" and "YUKIGUNI A-grade Gourmet" are part of the criteria for luxury travel. However, our idea of "luxury" does not mean simply being extravagant or exclusive. It is a unique culture and experience that is true luxury. If you are interested in the uniqueness of our region, you may also like to read this article.

A Hidden Cultural Experience In Japan
A ryokan where you can experience the full potential of hot springs

Ecolodges Japan in YUKIGUNI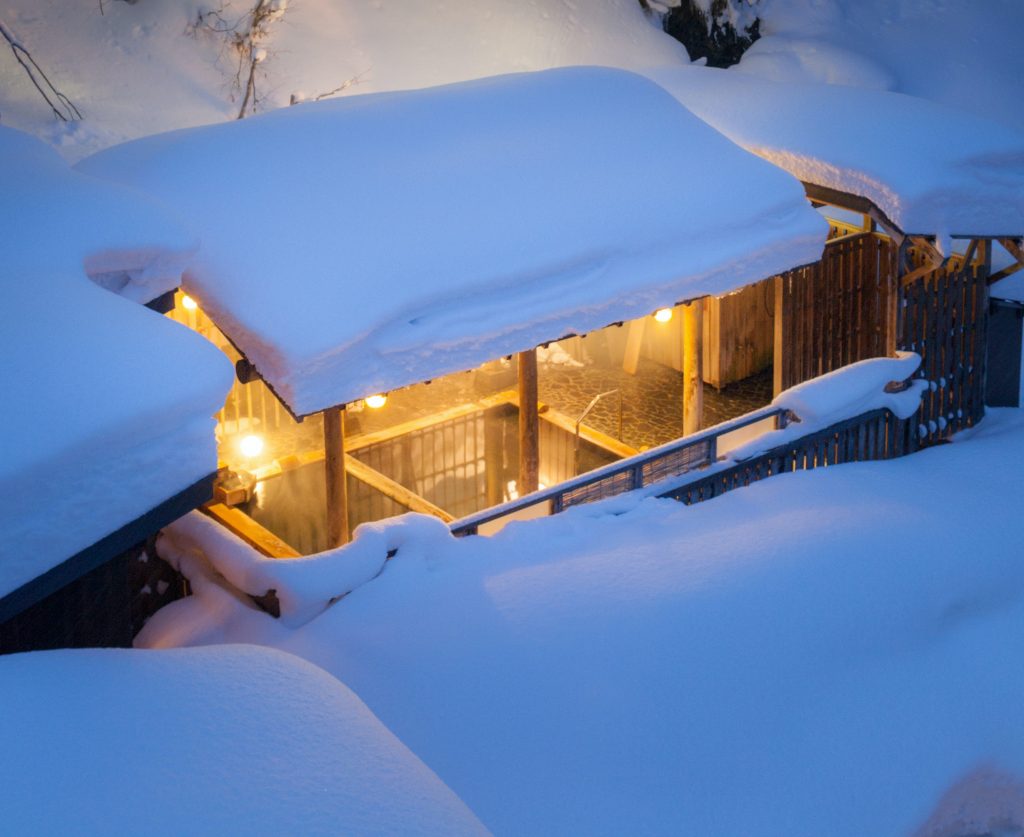 Message from the accommodation
Please take off your shoes and let yourself relax on the tatami mat flooring and rooms.
Half board/16,200 JPY〜29,160 JPY
Travel through rugged Tokamachi, with its forests and famous rice terraces, and you will eventually come to the small hot springs area of Matsunoyama. Though quiet and unassuming, this region has a long history, and is known within the country as one the three most famous medicinal onsen in Japan. Besides just taking a dip for fun, it isn't unheard of for doctors even in the present day to prescribe a trip to the local hot spring. However, not all onsen are created equal, and as a health spa area Matsunoyama is second to none. The biggest of all the ryokan in the area is Hinanoyado Chitose, which aims to introduce guests to the local culture at a reasonable price.

An Introduction To Hotels In YUKIGUNI
The reason why TIMELESS YUKIGUNI recommend Hinanoyado Chitose.
The ryokans selected to represent TIMELESS YUKIGUNI embody the very best of the Japanese hospitality tradition and the highest levels of comfort. Yet each one of them goes further than this, and all have incorporated influences from the history, culture, and way of life of the area. For those who see travel as an opportunity to broaden their minds and horizons, rather than mere sightseeing, TIMELESS YUKIGUNI ryokans are the perfect choice.
List of 12 ryokans at TIMELESS YUKIGUNI
Inspiration
Hinanoyado Chitose is a traditional style ryokan in the heart of Matsunoyama Onsen in Niigata Prefecture. The area is known for the curative quality of its hot spring waters. Though this little hamlet takes a little more effort to reach than some areas in Yukiguni it is most certainly worth the effort, and Chitose is the place to come to learn about the area.
Showcase for the Area & Keeping the Traditions Alive
Matsunoyama Onsen has a reputation that belies its small size as it is one of the top three curative onsens in Japan. It also has an interesting history and many stories. The owner of Chitose has a wealth of information on the subject and has been instrumental in setting up a town run travel agency called Manma to keep the traditions alive. They offer tours to visitors, resurrect forgotten recipes, pass on the knowledge and charms of the area, undertake revitalization programs and generally show the best of what there is on offer. The interactions with the locals are priceless and the stories you hear bring the town and history to life.
Comfort
Hinanoyado Chitose is a very well appointed ryokan in the traditional style with stylish modern rooms. It is a great location from which to explore the local region, and after a busy day you can enjoy the waters before (and after) a sumptious feast in the dining room.
Snow, Star, & Mountain Gazing from an Outdoor Onsen
The outdoor bath at Hinanoyado Chitose is often photographed as an incredibly scenic rotenburo. You can laze in the waters and enjoy the view of the local mountains or stars as your body soaks up the benefits. In winter it is especially beautiful. It is an unforgettable experience to feel truly warm in spite of the chill air and watch the gentle snowflakes drift down from the sky as those healing waters go to work on your body.
To find out more, please visit TIMELESS YUKIGUNI report page.
Hinanoyado Chitose is certified as A-grade Gourmet.
A-grade gourmet is a food certification system designed to preserve and pass on to future generations a traditional food culture suited to the climate. The certification is based on the proportion of local products used, including agricultural products and seasonings, efforts made in conjunction with agricultural producers, and taste.
If you would like to know more about the concept of A-Grade Gourmet and its contribution to the community, please read the following articles.
YUKIGUNI A-Grade Gourmet To Pass On Japanese Food Culture To The Future
Critique by A-grade gourmets
Overall rating ★★
They use their own rice and focus on vegetables, wild plants and mushrooms from Matsunoyama.
They actively use local traditional vegetables and seasonings.
They do not use chemical seasoning in miso soup stock.
Satoyama kaiseki cuisine with traditional Matsunoyama flavours
The cuisine at Chitose is a satoyama kaiseki cuisine using the bounty of the Matsunoyama mountains, including wild vegetables and mushrooms. You will find local dishes made using preserved foods and traditional methods from YUKIGUNI. Among them, "Nest basket of Kinome", "Yamashimizu carp stew" and "Sankai stew" are must-try dishes when you come to Chitose.
"Nest Basket of Kinome" is a dish of boiled and chopped sprouts of the akebi vine, dressed with ginger soy sauce and quail egg. It is best to eat it all at once while enjoying the smooth texture of the akebi vine. This is one of the familiar satoyama dishes at YUKIGUNI in Niigata prefecture. It is a dish that satisfies the wish of tourists to enjoy local food in a local way.
"Yamashimizu carp stew" is a traditional dish in Chitose. In mountain villages where there is a lot of snow, carp has long been a valuable source of protein. "Yamashimizu carp stew" is made from carp that have been cleaned in mountain water for a month and then simmered in the traditional Chitose taste. It is best to eat it all at once while enjoying the smooth texture of the akebi vine. This is one of the familiar satoyama dishes at YUKIGUNI in Niigata prefecture. It is a dish that satisfies the wish of tourists to enjoy local food in a local way. The fresh water cleanses the muddy smell of the carp and gives it a clear taste without any bitterness.
Sankai stew is a local dish that has been handed down from generation to generation in Matsunoyama. It is made by boiling herring in soy sauce with wild vegetables, mushrooms and bamboo shoots. The slightly peculiar flavour of the herring is soaked up by the wild vegetables, giving it a great taste. It is a dish that goes very well with sake.
Matsunoyama Onsen specialty "Tanada-nabe".
Matsunoyama is famous for its beautiful terraced rice paddies, which attract many photographers from all over Japan in search of a unique view. The summer terraced rice paddies are beautiful, but the winter terraced rice paddies are exceptionally beautiful. This scenery is used as a hot pot for Matsunoyama Onsen speciality "Tanada-nabe", which appears in the middle of the dinner. It is served in a heavy broth of Koshihikari rice, with vegetables from Matsunoyama and grated daikon (Japanese radish) on top to resemble snow. Koshihikari rice is of course made from terraced rice in Matsunoyama.
In spring They serve wild vegetables, in summer traditional vegetables, in autumn fresh Koshihikari rice and in winter Tanada-nabe. At Chitose, you can enjoy the satoyama cuisine that only a visit to Matsunoyama can offer. In addition, sashimi, appetizers and steamed egg custard are also served, making dinner a hearty affair. If you are looking for a comfortable stay in a ryokan with good hot spring water and local cuisine, then this is the place for you.
To learn more about A-Grade Gourmet (official website in Japanese)
49-1 Yumoto, Matsunoyama, Tokamachi, Niigata
Matsunoyama Onsen is located deep in the mountains of Tokamachi, not far from such scenic locations as Bijinbayashi Forest and the Hoshitoge Rice Terraces. The village is accessible by bus from either Tokamachi or Matsudai train stations, though if you arrive by car there is a large parking lot conveniently placed right at the entrance. The best time to visit Matsunoyama Hot Spring Village is in the autumn, when it is cool and the fall colors are in full bloom. Unfortunately, Matsunoyama Onsen Village is not always readily accessible in the winter, as the extreme amounts of snow make many mountain roads completely inaccessible. For winter onsen trips, we can also recommend many other nearby YUKIGUNI onsen, including some special "hidden onsen."

Matsunoyama Onsen – A Famous Medicinal Hot Spring Village In Yukiguni
Matsunoyama Onsen was not simply built to accommodate tourists enjoying the famous hot springs; in fact, there has been a community of people living here for centuries. Though the groom-throwing festival is now considered a significant tourist attraction, it has a basis in the history of this town. Legend has it that centuries ago a local woman got married to an outsider, and her family did not approve the union. In retaliation, they threw her husband from the top of the local shrine into the snow.

Matsunoyama's Groom-Throwing Festival