By Matt Klampert
Remote locales like YUKIGUNI are places where ancient traditions can live on. Historically, many of the people living in this part of Japan were peasant farmers, who also became known for their skill in weaving cloth. They co-existed with previously nomadic groups of hunter-gatherers known as "Matagi." The Matagi culture played an important role in rural Snow Country society, and their way of life continues on to the present day.
About the Matagi of Snow Country
The Matagi were groups of nomadic hunters that were known to live around the Tohoku area of Northern Japan. The term "Matagi" first came into use between four and five hundred years ago, though by some accounts Matagi have existed in Japan for over a millennia. Though it is sometimes said that the term has its origins in the Ainu language, historically there was little mixing between the Matagi of Tohoku and the Ainu peoples of Hokkaido. During the Edo period, some of them left their usual ranges to settle around Nagano, including Akiyama-go and the village of Sakae. In Akiyama-go, the Matagi put down roots- hunting and trapping during the winter, and taking odd jobs the rest of the year. Some Matagi even opened accommodation called minshuku.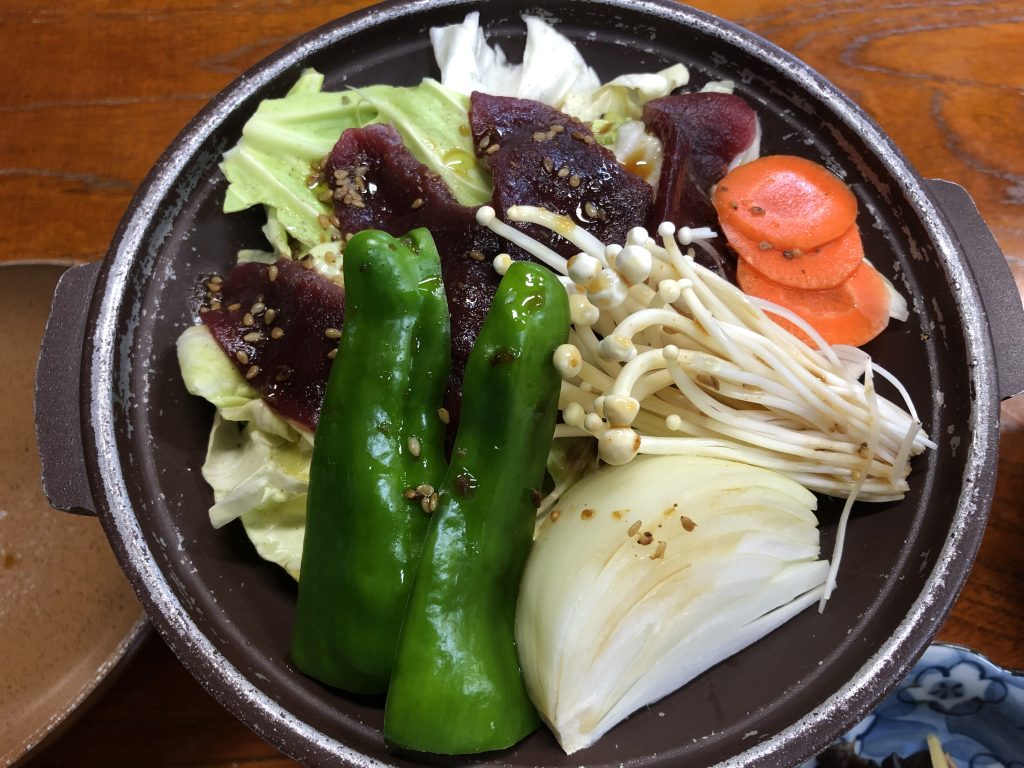 What is a minshuku?
In the past, we have written at length about the many ryokan and eco-lodges which are available to those who travel around YUKIGUNI. A minshuku can be considered the Japanese equivalent of a bed & breakfast- while not as swanky and full-service, they provide unique and valuable experiences of their own. In the case of Akiyama-go, where there are not many luxury ryokan around, staying at a minshuku is usually your best bet. Among these minshuku is Deguchiya, a quaint and welcoming lodge run by a Matagi family.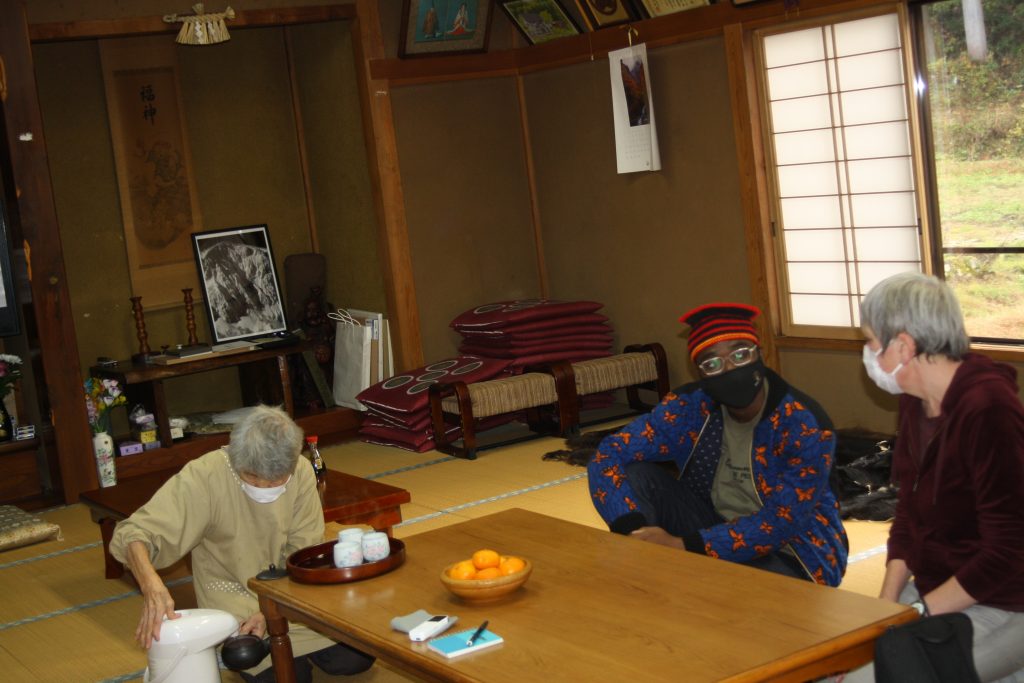 Deguchiya- A Minshuku in Nature
Kazuhito Fukuhara was born and raised in Akiyama-go as a descendant of one of the Tabi Matagi who first traveled here more than 200 years ago. Mr. Fukuhara's father first opened Deguchiya in the 1960s, and it has been a family-run operation ever since. While staying at Deguchiya, you can learn about Matagi, as well as enjoy fine home-cooked meals. Occasionally, Mr. Fukuhara does nature tours around the forests that he has known all of his life. However, taking guests hunting is not allowed. Though they are open all year round, Deguchiya is busiest in fall.
Staying at a minshuku is of course much different than staying at a ryokan for many reasons, not the least of which is that a family lives here all of the time. Individual minshuku usually cannot accommodate too many guests at once- Deguchiya itself only has five guest rooms. In many ways it can be thought of as a short homestay. You can feel much closer to your hosts and talk freely with them, while learning about the YUKIGUNI way of life. A highlight of the best minshuku is the food; at many minshuku around these parts (including Deguchiya) it is common to be servied jibie- from the French "gibier"- also known as wild game cuisine, during the winter months.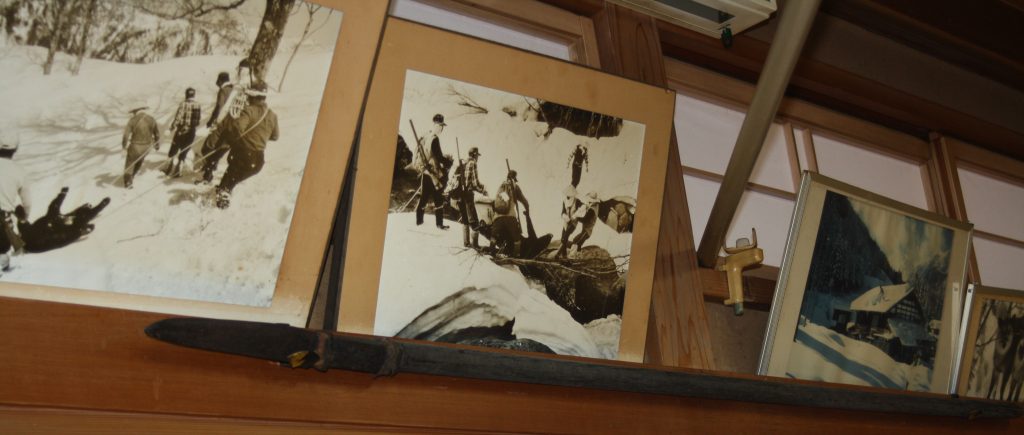 About the Matagi way of life
Though there are many around these parts with a license to hunt, only a handful among them are Matagi. To be Matagi is to be able to coexist with nature: when you are able to hunt an animal successfully, it is thought of as being a gift from the gods of the forest. Matagi begin hunting in the autumn and through the winter, and supplement this with fishing and farming in the spring. Their diet was not entirely meat, however, as they also lived on the mountain vegetables, or sansai, endemic to this region of Nagano and Niigata.
Matagi were often called upon by locals when bears were spotted close to villages, and they would hunt them in groups. Sometimes these animals were used as food, or other times they would raise the bears, as well as dogs-the cute Akita dogs that are now so popular on the internet originated as Matagi hunting dogs. When they did eat the animals, whether it be a bear or the more common kamoshika, they took extra care to make sure nothing was wasted. For example, certain innards of bears were highly prized for their use in traditional medicines, and were considered especially valuable in rural areas far from doctors or hospitals.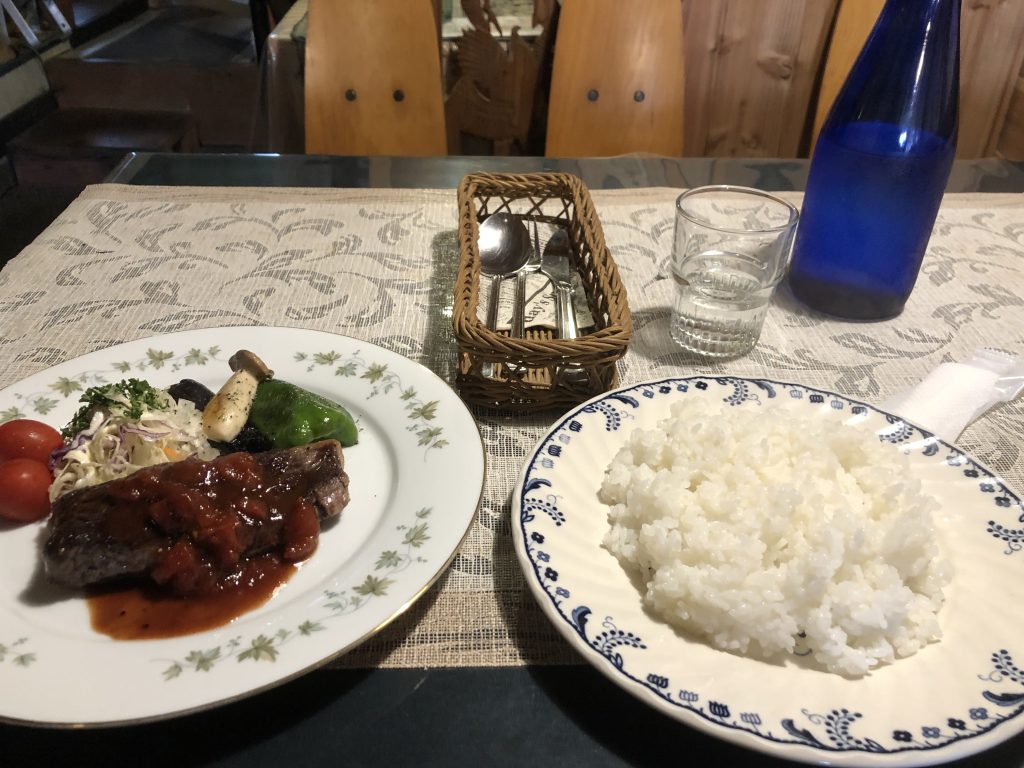 Where to go to eat wild game
Guests of Deguchiya can enjoy wild game, such as nabe hot pot made with bear meat, but if staying in a minshuku is not quite your speed, there are other places where you can try gibier, organized here from the most no-frills to Michelin-quality cuisine!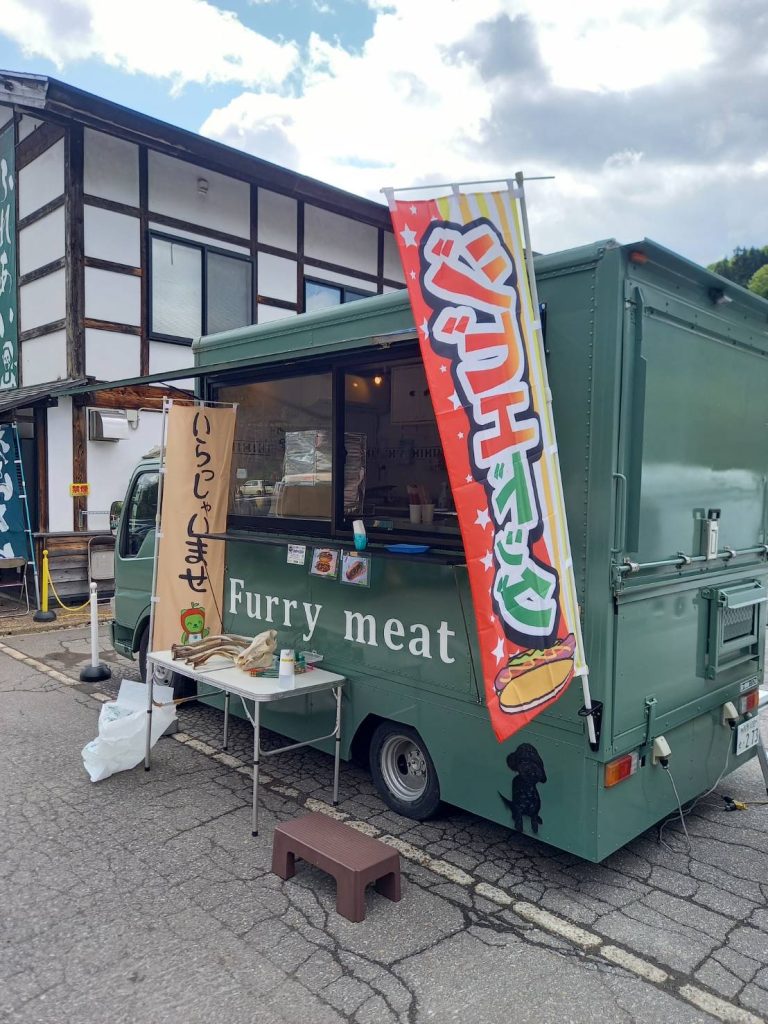 Furry Meat is a food truck around that can be found around Sakae village. They operate as a butcher shop on the go for most of the year, but during the warmer months they have a delectable variety of fast food-style options, such as hot dogs, burgers, and grilled meat dishes made with bear, deer, and wild boar.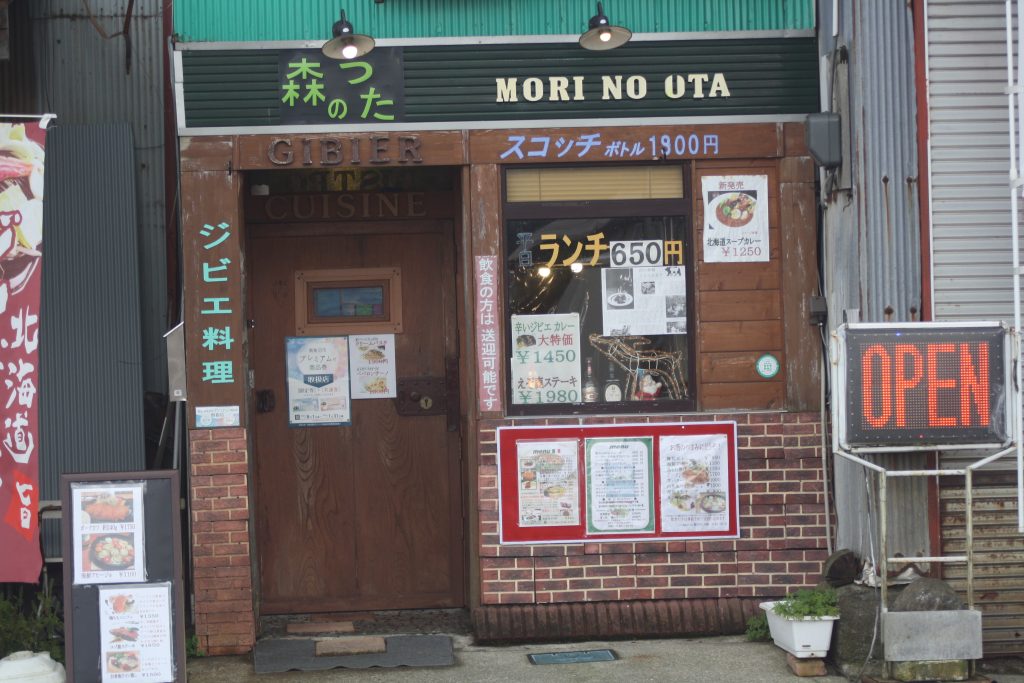 In Minamiuonuma, not far from Ishiuchi station is the restaurant Mori no Uta, a cozy café with a menu featuring pasta and risotto dishes, as well as a seasonal selection of wild game cuisine. On their regular menu is a deer steak and a slightly spicy curry made with wild boar. Other typical items on the winter menu include duck and lamb. These go especially well with Mori no Uta's wine list. As an interesting aside, the owner of the restaurant also repairs and sells vintage guitars.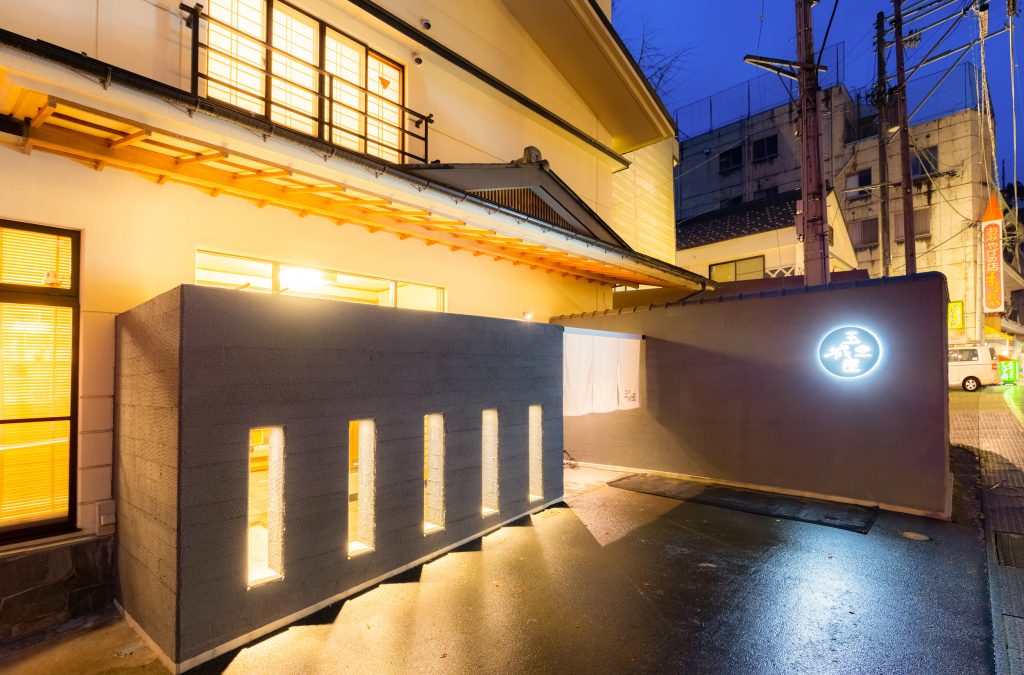 If you are familiar with some of our luxury eco-lodges, you might be aware of Tamakiya in Matsunoyama Onsen. In the winter they have wild game cuisine on their menu such as duck and wild boar.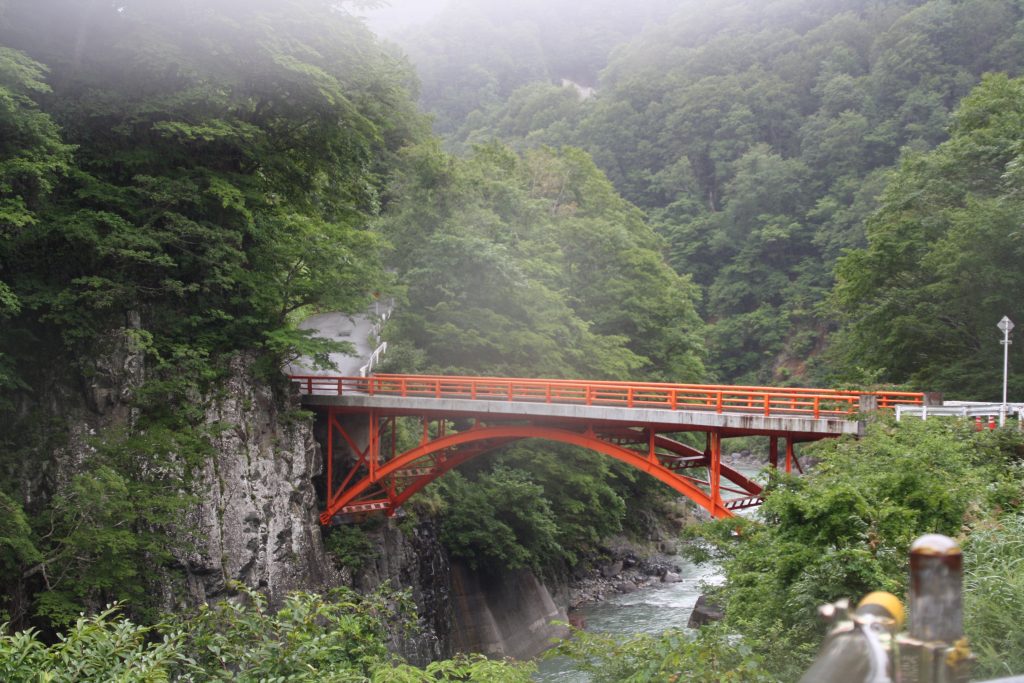 Come to Akiyama-go!
Akiyama-go itself has a long history, and is well known for its remote location and serene natural beauty at all times of the year. If you are looking to get away from it all, click HERE to learn about some of the sights!

Information for Travelers
Deguchiya
Address: 18174-2 Sakai, Sakae Village, Shimominochi District, Nagano Prefecture 949-8321
Phone: 025-767-2146 
Open Year-Round
Furry Meat
Address: 668-1 Toyosakae, Sakae Village, Shimominochi District, Nagano Prefecture 389-2701
Phone: 070-4438-1022
Open from 7 a.m. to 6 p.m. on weekends, 7 a.m. to 8 a.m., and 5 p.m. to 7 p.m. on weekdays (green season)
Open from 8 a.m. to 6 p.m. on weekends, 5 p.m. to 7 p.m. on weekdays (winter)
Mori no Uta
Address: 974-8 Seki, Minamiuonuma City, Niigata Prefecture 949-6371
Phone: 090-3145-0178
Open from 11:30 a.m. to 8 p.m. most days, closed Tuesdays and Wednesdays, a reservation is usually required on weekends
Address: 13 Matsunoyama-yumoto, Tokamachi City, Niigata Prefecture 942-1432
Phone: 025-596-2057