New Greenpia Tsunan is certified as Sakura Quality.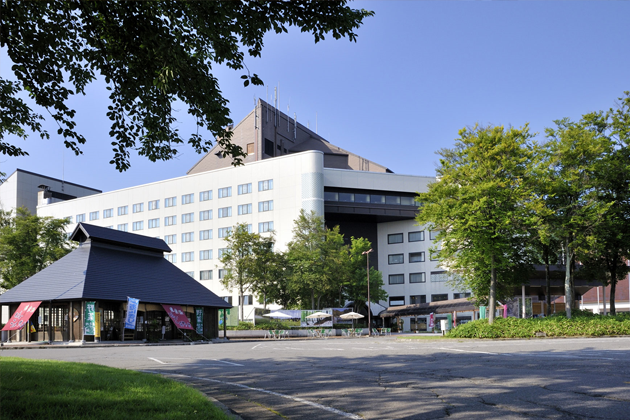 Message from the accommodation
Enjoy great Sake, local Uonuma rice, and a spa. We hold a famous Sky Lantern Festival in winter.
Half board/9,800 JPY〜39,000 JPY
First time visitors to the area are often surprised by this sight. Among the river terraces of Tsunan which are said to have 9 or 11 levels, the largest is the Maibara area which is at an altitude of 500 meters. Through the middle of that space stretches a straight road, and in the distance you can see an impressive mountain range including Mount Naeba (2,145 meters.) On both sides of the road are orderly fields and it is an otherworldly sight, not so much a city in the sky, but a garden in the sky instead.
If you continue along that road, you go over Maibara, and reach the oldest level, Taniage, where your destination, the New Greenpia Tsunan finally comes into view.

New Greenpia Tsunan — a sustainable hotel
〒949-8313 Akinari 12300, Tsunan Town, Naka Uonuma County, Niigata Prefecture
Taruda Mountain Park is the name of the forest therapy base within YUKIGUNI, however calling it a park may seem a little misleading. One of the reasons this region was chosen to be a forest therapy site in the first place is because of its very lack of amenities: no tennis courts, restaurants, or ice cream is available here. What you have instead is a few park benches, solar-powered bathroom facilities, and some of the most beautiful pristine forest imaginable.

Forest Therapy At Tsunan's Taruda Mountain Park
When it comes to the YUKIGUNI town of Tsunan, it can be said that its greatest charm is its exceptional natural beauty. This is also true of another YUKIGUNI town, the village of Sakae, in nearby Nagano. In between these two towns lies the Naeba Sanroku Geopark, which is one of 43 such Geoparks in Japan.

Welcome To The Naeba Sanroku Geopark!