By Matt Klampert
Snow Country is a great place to see even in the warmer months, and there is no better way to do so than with one of our special guided tours. With the help of a guide it is possible to go off the beaten path and enjoy some of the best nature spots while learning about the history and culture of this area from local people. One such tour is the "Tokamachi Tanada Treks" tour through the fields and mountains of rural Tokamachi City.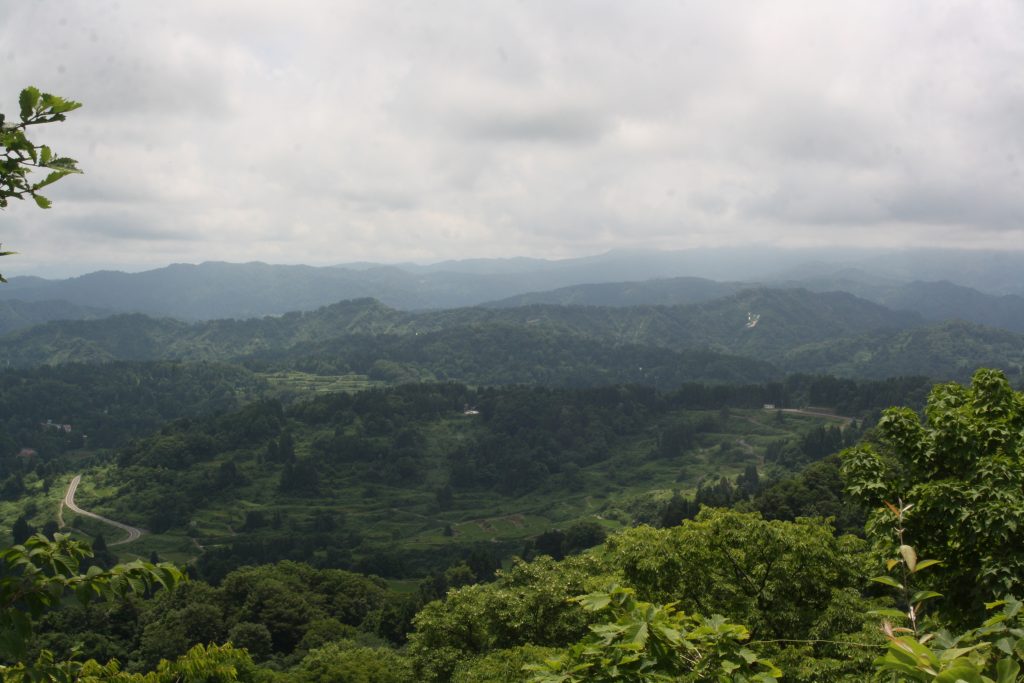 About Tanada Trekking
The Tokamachi Tanada Treks tour is a 5 km hike through vast rice terraces, known as "tanada" – a hallmark of YUKIGUNI geography – as well as historic mountain roads. These roads have been used for hundreds of years, and were originally the main way for locals to go from town to town. Though it certainly must have been inconvenient in those days, these mountain trails now make for enjoyable hikes through YUKIGUNI's endless summer greenery.
During this tour, I learned a lot about the value and importance of tanada in Snow Country. The value of rice and of agriculture cannot be overstated, and by being in Tokamachi and talking to locals you can come to appreciate the respect they have for rice farming. In particular, koshihikari rice, which is grown in Snow Country, is known to be perhaps the best-tasting rice in all of Japan, and is the pride of YUKIGUNI.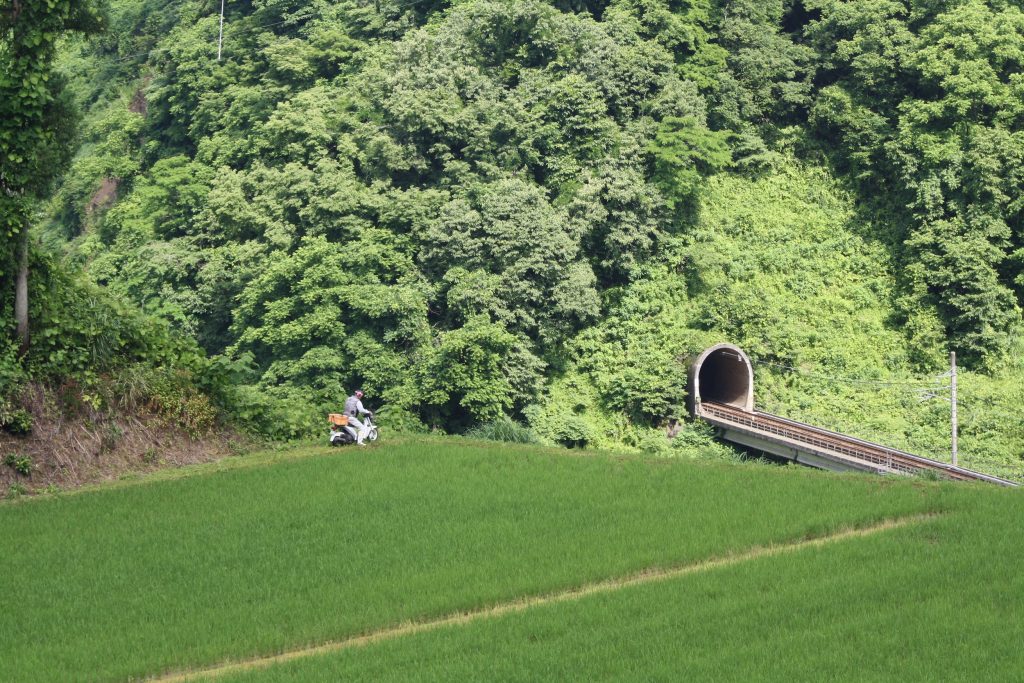 The start of your journey
The Tokamachi Tanada Treks tour begins at Hokuhoku-Oshima station on the Hokuhoku Line, which can be reached directly from Echigo-Yuzawa station. Outside the station you can fill up your water bottles with fresh spring water, and after a five-minute walk you will reach a small shrine to the nearby Mt. Yakushi. Even now, hikers frequently use this shrine to pray for safety on their journeys in serene peace and quiet.
Away from the hustle and bustle of urban Japan, you will hear the continuous sounds of flowing water around you as it goes down the mountain to the picturesque rice fields below.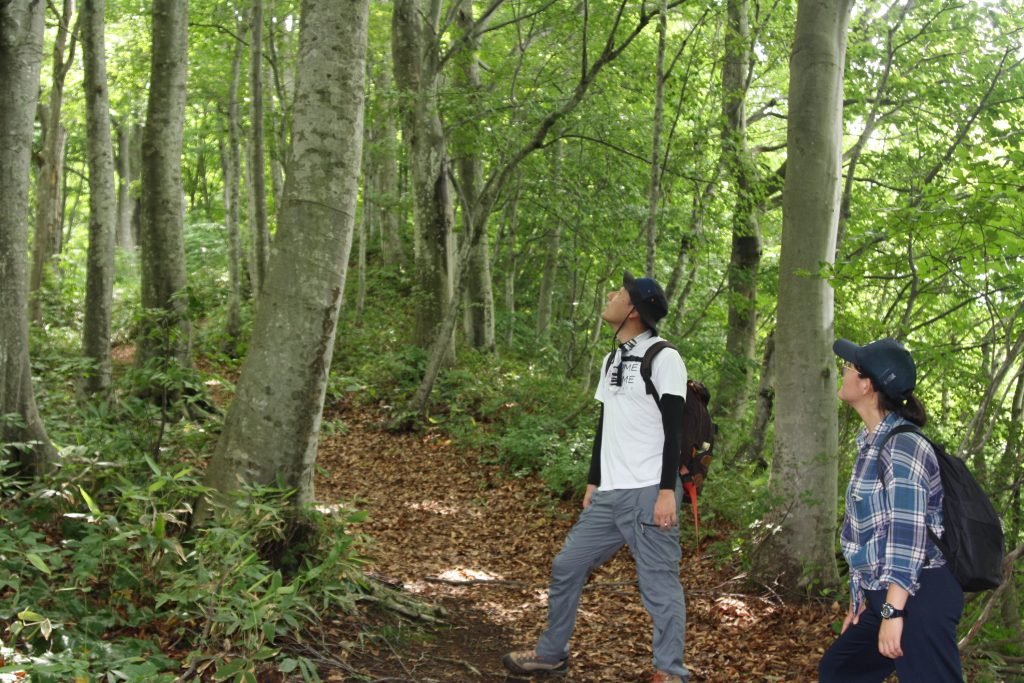 The flora and fauna of Snow Country
The path you will take on your tour is not through some park, but a living, breathing mountain forest. There is all sorts of nature around you, and aside from rice there is plenty that grows in YUKIGUNI. Along the trail you may see wild strawberries or pears that grow here, as well as mountain vegetables called "sansai." There are a wide variety of sansai in these mountains, including: kogomi (ostrich fern), tara no me (Japanese angelica), fuki (butterbur), and more. Lindera, or kuromoji, is a local herb that grows in abundance in this area. Kuwa (mulberries) are sometimes turned into juice or jam, and karamushi, or ramie is used to make Echigo Jofu cloth. This fabric is then turned into beautiful and highly prized kimonos, but here you have the privilege of seeing it while it is still growing. All around you grow snow camellias- the representative prefectural flower of Niigata.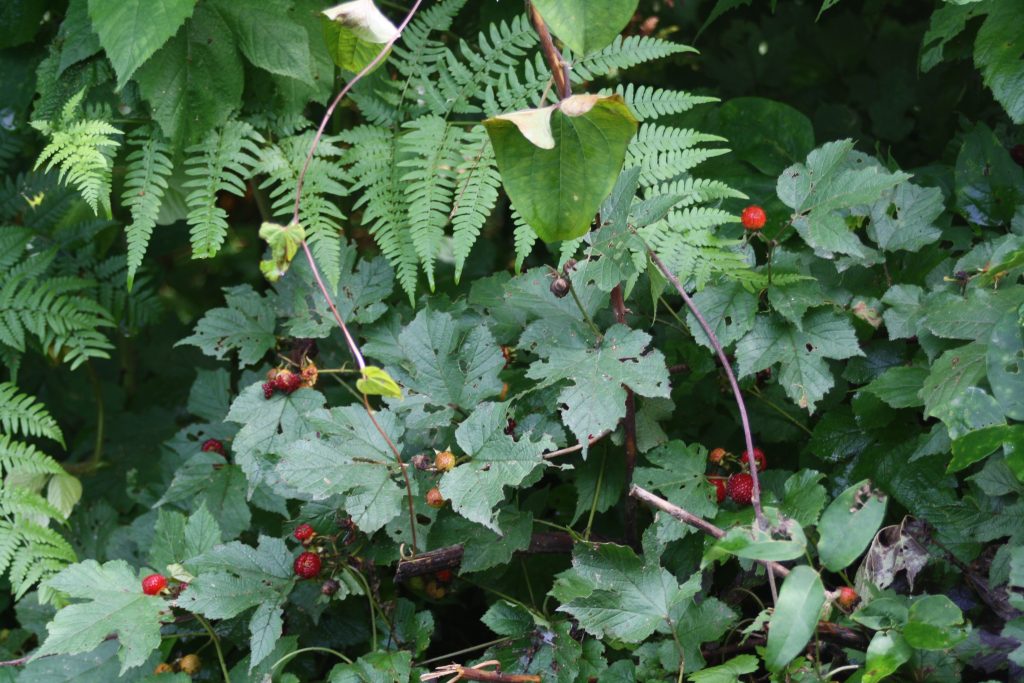 There are also plenty of animals: numerous varieties of birds, frogs, snakes and butterflies. As for larger creatures, you may see evidence of tanuki (Raccoon Dog) or kamoshika (Serow). The latter is considered a representative animal of Japan. Personally, seeing my first kamoshika out in nature is a thrill I will never forget.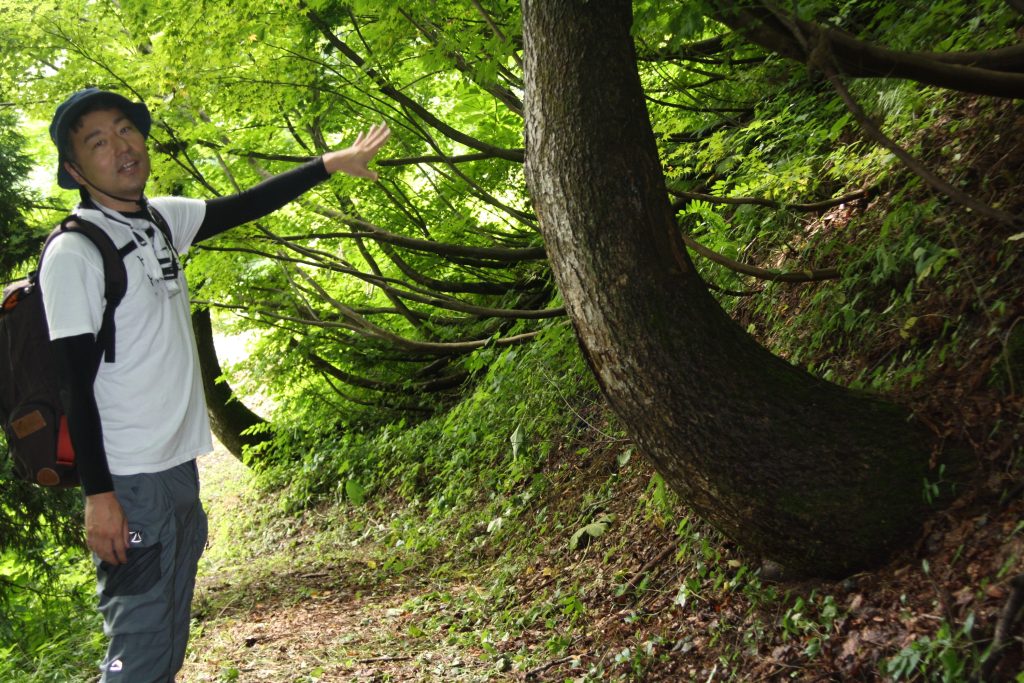 On the Mt. Yakushi Trail
Eventually you will come to the entrance to Mt. Yakushi. The mountain path is surrounded by cedar trees that turn to beech the farther up you go. A benefit of this trail, in fact, is that you get to see many such changes in scenery. While this is actually considered quite a low elevation for beech, or buna trees to grow, they thrive here because of the climate, which also explains the twisted trunks and branches as the young beech trees grow underneath the weight of the heavy YUKIGUNI snow.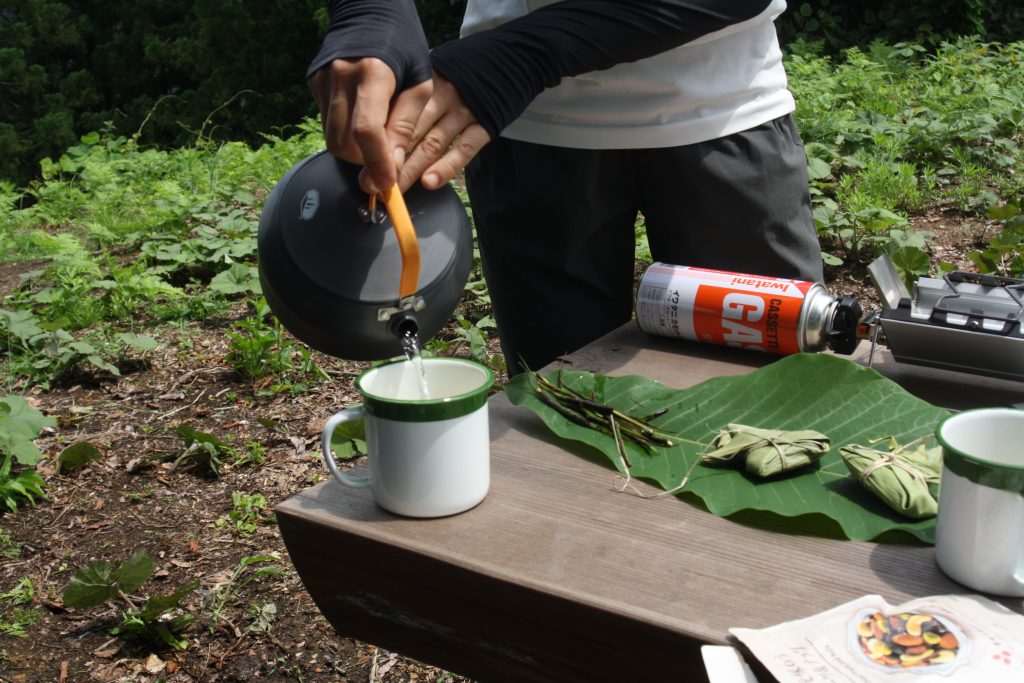 When you reach the summit you have a choice of beautiful scenery, as you can see both Tokamachi and Myoko on either side of the mountain. Kick back and relax while the lindera you picked earlier is made into tea. Lindera has a nice, calming smell, and was originally taken as medicine in the Snow Country region. Then you will descend, utilizing the Old Matsunoyama Road, which is a famous path once used by famed general Kenshin Uesugi and his army on their way to Tokyo. In many ways this trip is like stepping back into history.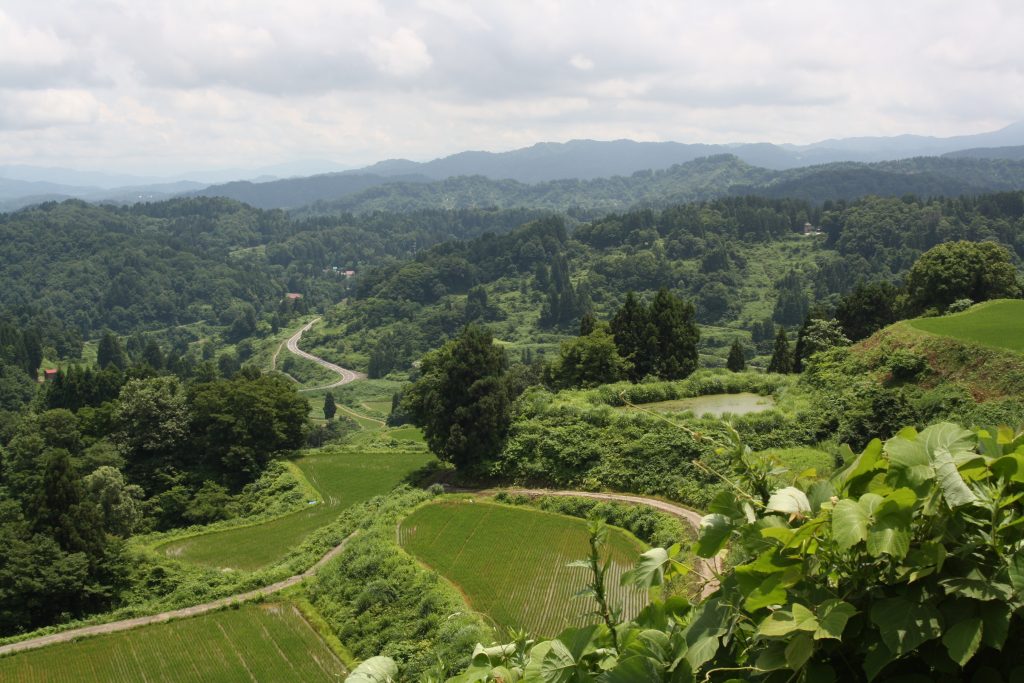 Tips for hikers
The climb down from the Yakushi summit can be quite steep, however your guide will carefully explain how to descend, such as by utilizing the provided ropes or even holding onto the hardy mountain vegetation, you may proceed down the path safely. It is also a good idea to have a pair of climbing gloves handy for this reason. During the descent you will eventually see a jizou statue. These used to delineate the borders between towns, but it now signals the end of your trip, where you can take a car or cab back to the station.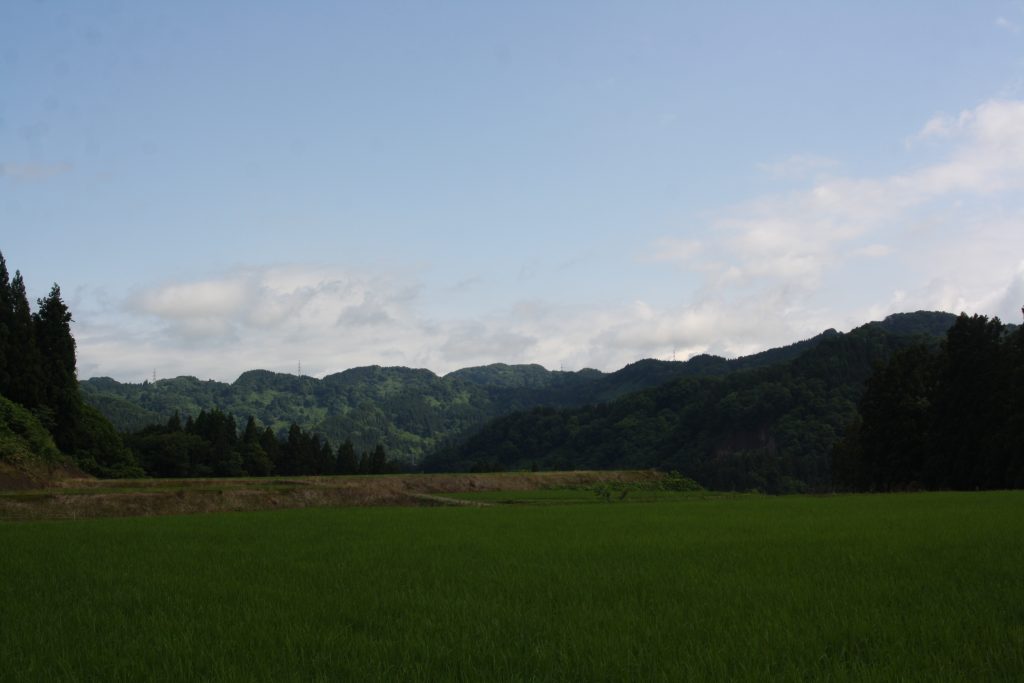 Model Tours of Snow Country
This hike is available until the autumn, when you can enjoy cooler weather and the beautiful fall colors. The Tokamachi Tanada Treks tour can also be enjoyed as part of a three-day-model tour you can find HERE.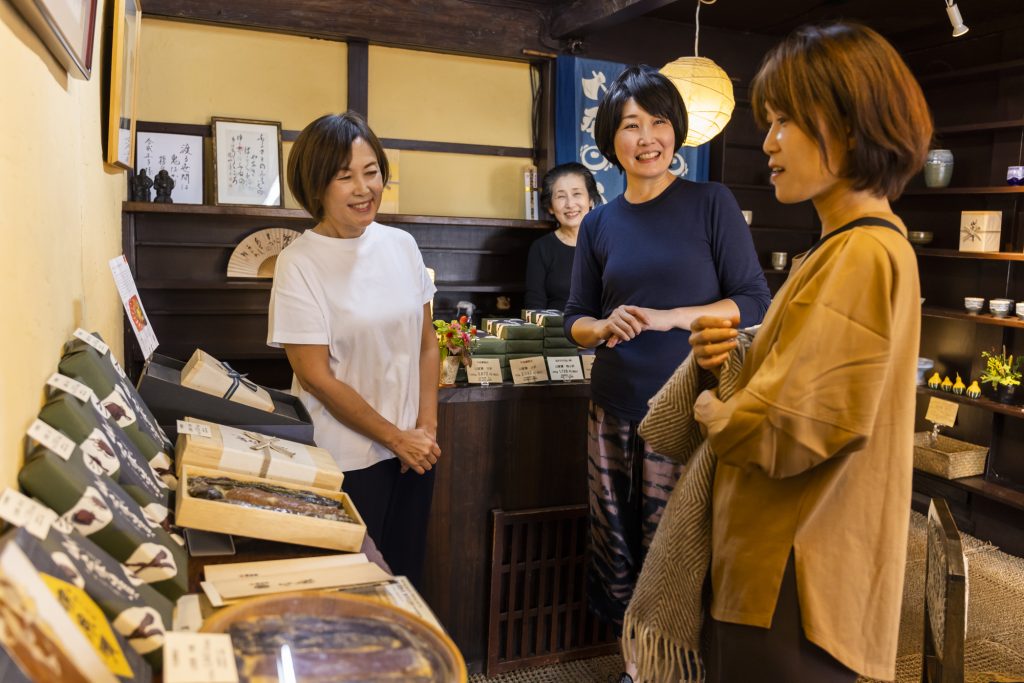 The first day of the tour will begin in the Muikamachi district of Minamiuonuma City. From Muikamachi station you will meet your guide, who will show you around the main streets of Muikamachi.
One stop on your tour will be Imanari, a shop known for their traditional Japanese pickles, as well as a variety of modern innovations in hakko-shokuhin, which are preserved and fermented specialty foods that are central to traditional Japanese cuisine. You will be able to learn about the history of this food from the Imanari family themselves, who have been in this business for generations.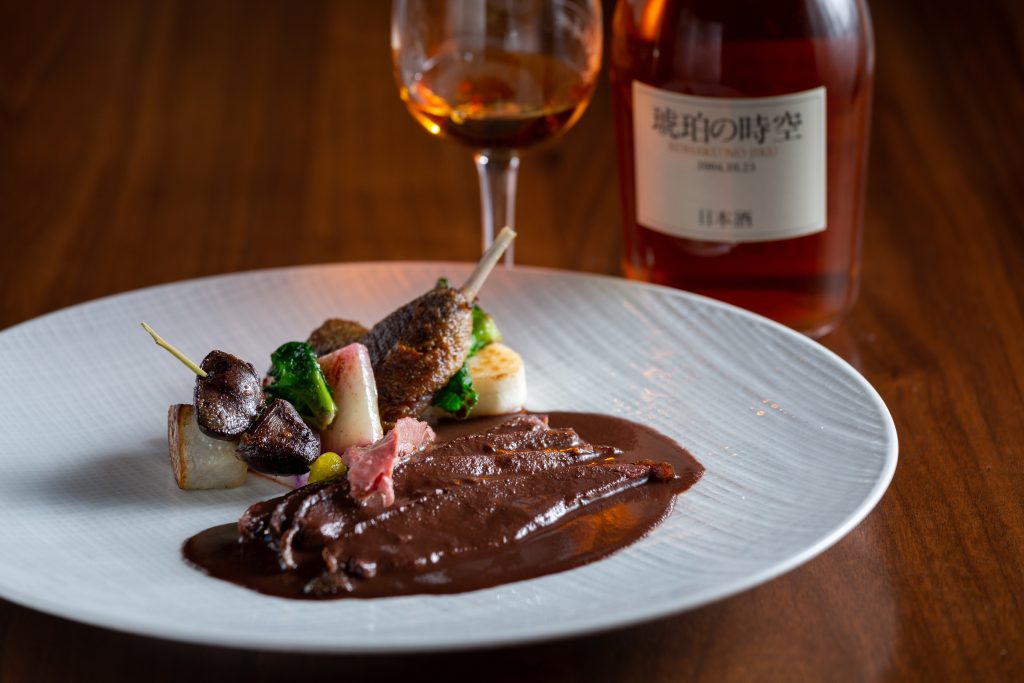 Day 2 of the model tour includes trekking excursions such as this one. On the way back, you will visit nearby Matsunoyama Onsen village for a meal. The appearance of this sleepy hot spring village belies the fact that it actually contains a Michelin star restaurant, Tamakiya, which serves award-winning Japanese-French cuisine with a large selection of local sake.
On your 3rd day, you will go even deeper into the nature of YUKIGUNI at the Naeba- Sanroku Geopark, a massive nature area that encompasses most of the twin towns of Tsunan in Niigata and Sakae in Nagano. First, you will head over to the Najomon Museum, which is built over an ancient Jomon settlement. You will learn from the staff there about the Jomon people, commonly considered to be the first societies in Japan, and how they coexisted with nature. There is a wide variety of things available for people of all interests at Geopark, more information is available HERE.