Matt Klampert
Despite the convenience of being directly connected to a bullet train line only 70 minutes from Tokyo, there is a lot of Yuzawa that people don't often see. Thankfully, these days there are more and more bike tours that let you experience even more of YUKIGUNI's beautiful nature as well as offer some insight to how people here live. Today we will introduce you to a tour encompassing a vital part of Snow Country's food culture: our "sansai" bike tour.
See Snow Country by bike
Though the terrain of YUKIGUNI is quite mountainous, the region has quickly become a favorite for cyclists during the green season, especially with the new e-bikes that are now being offered for rent in many tourist associations in YUKIGUNI, including Yuzawa's Snow Country Tourist Information Center. With milder temperatures during the warmer months compared to Tokyo, the Snow Country area, despite its name, is not only great for ski and snowboarding excursions, but also full of great hiking spots, places to relax and see cherry blossoms, or experience a variety of other sports and excursions.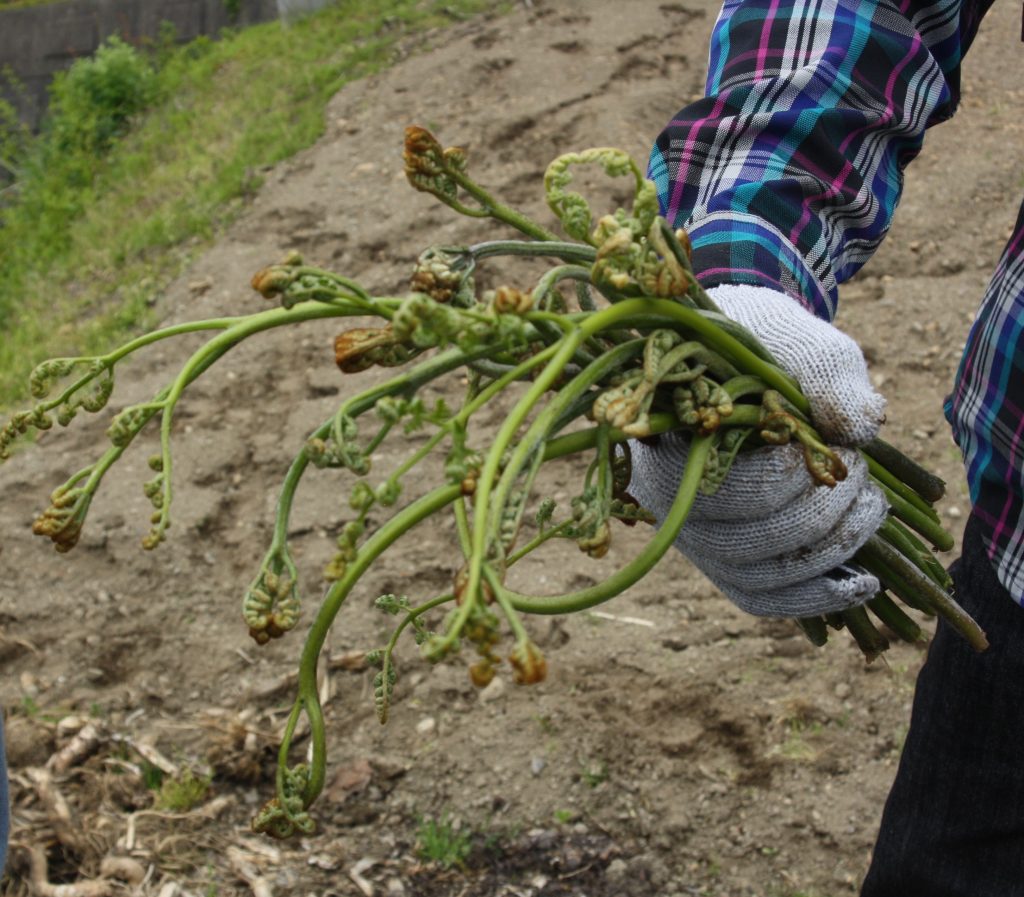 The history and culture of "Sansai"
When one thinks of the most important aspects of the food culture of Gunma, Niigata, and Nagano – the three prefectures that make up "Snow Country" – mountain vegetables known as "sansai" are definitely at the top of that list. Sansai isn't the name of one specific plant, but instead refers to over a dozen different herbs and vegetables that have been important to Japanese cuisine for thousands of years going back to the ancient Jomon period. While they are better known internationally for their association with shojin ryouri (vegetarian cuisine popular with Buddhists), in YUKIGUNI sansai have long been a regular part of most people's everyday lives.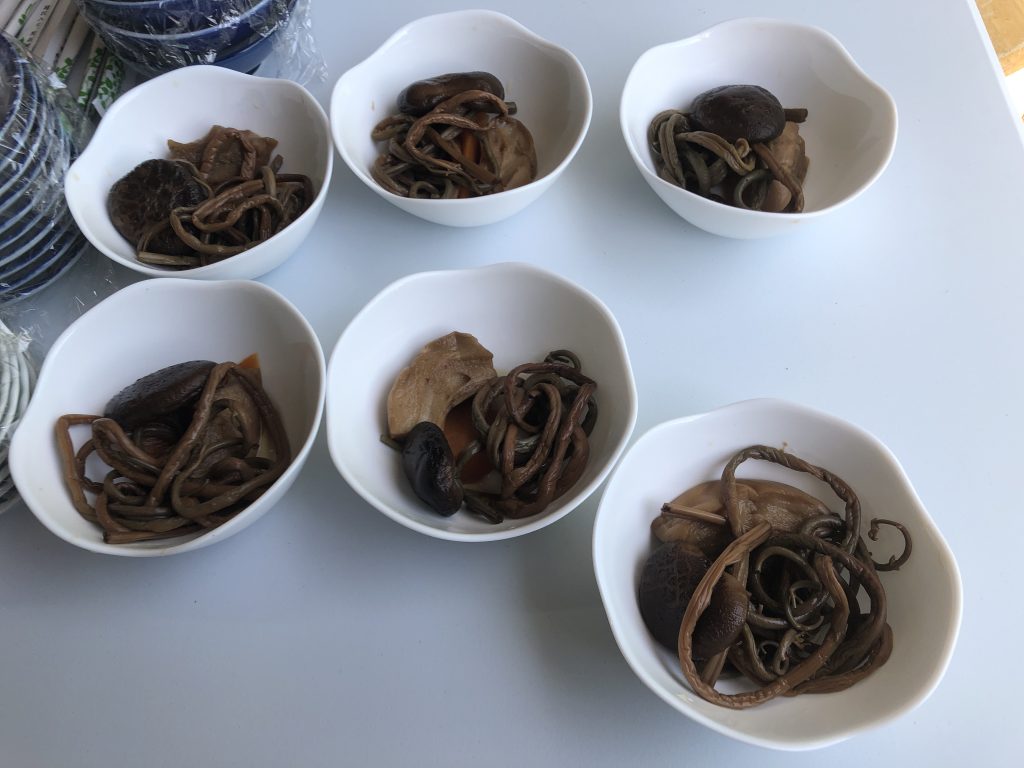 Chances are that if you have been in Japan long enough, you would have definitely eaten sansai at some point. Many varieties of packaged sansai are sold in supermarkets nationwide. The most commonly eaten kinds include zenmai (royal fern), warabi (bracken), fukinotou (butterbur), and mitsuba (honewort). Other root vegetables such as edible bamboo shoots, or takenoko are often grouped together with sansai, while herbs such as yomogi (mugwort) are often made into sweets like sasadango. For more information on the famous sweets of YUKIGUNI, click HERE. The sansai of Snow Country are often considered to be the best, and for good reason! Participants in this tour will have an opportunity to pick and eat sansai while they are at their freshest.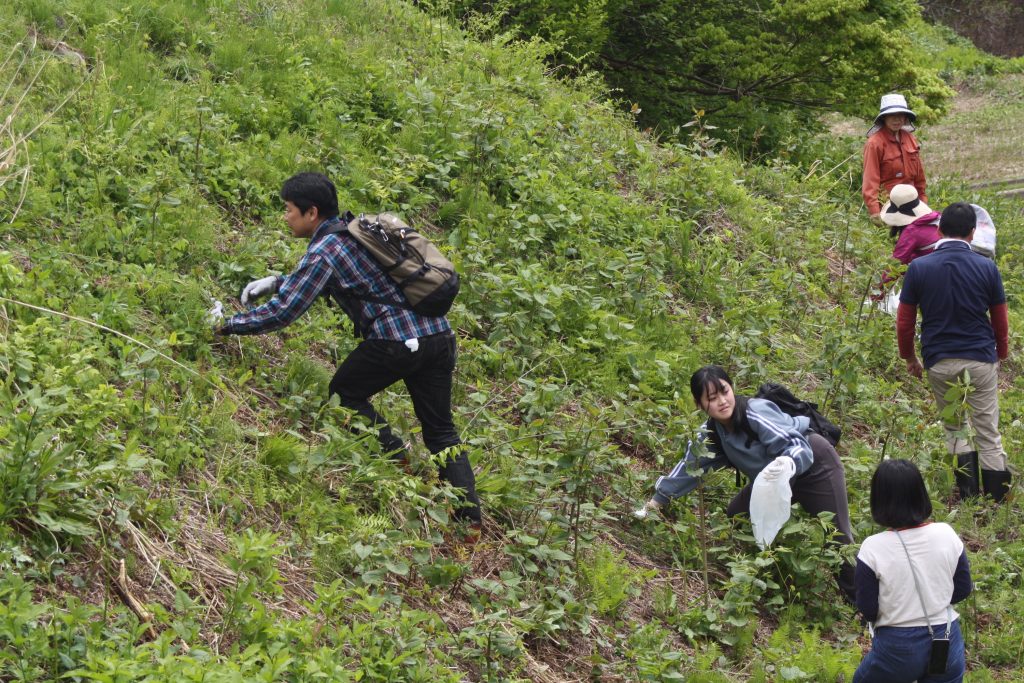 An overview of the tour
After gathering at the Snow Country Tourist Information Center in the morning, you will be able to pick out your ebike and get acclimated to using it. Then you will go on an approximately 20 minute bike ride to meet your "vegetable sommelier," who will be your guide for the day. This scenic trip will take you through the mountains of Kandatsu, and while it would normally be quite strenuous, on e-bikes it can be accomplished without breaking a sweat! Then you will spend roughly an hour walking around the rolling green hills and gathering local herbs and plants. What you will find may vary depending on what is in season at the time. You will also learn all about the local flora and fauna: kamoshika, bears, wild boar, and the fish swimming through the rivers at your feet.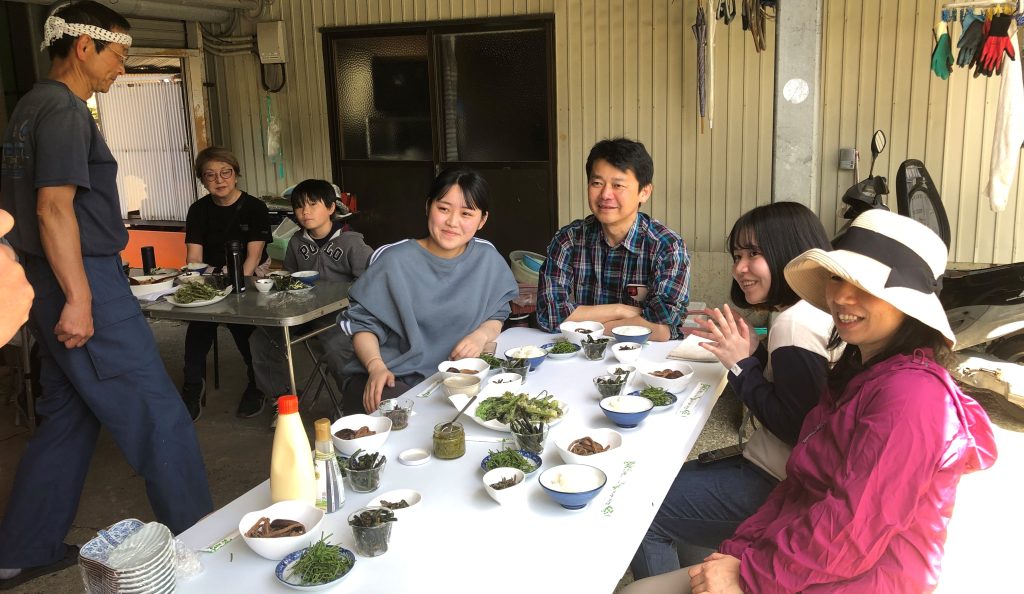 A veggie-filled cookout in the mountains
At around noon, you will have an impromptu cookout: clean the sansai you have collected, and learn from your guide how to make it into delicious tempura and other traditional Japanese dishes. Making tempura is very easy- take the cleaned veggies and dip them in tempura batter before quickly frying them. Like all traditional Japanese meals, you will also be served rice and miso soup. Other side dishes may vary, such as hitashi- vegetables (sansai, of course!) boiled with soy sauce. Besides just eating what you have picked, you will have an opportunity to learn everything that goes into its preparation, and if you like, grab some more sansai for your journey home from one of the many gift shops around town.
As this tour ends somewhat early in the day, there is plenty of time to do further exploring around the mountains of Kandatsu. The Kandatsu area is of course also a famous place to ski in Yuzawa during the winter time. If you are new to skiing and snowboarding in Snow Country, please read this article HERE for more information.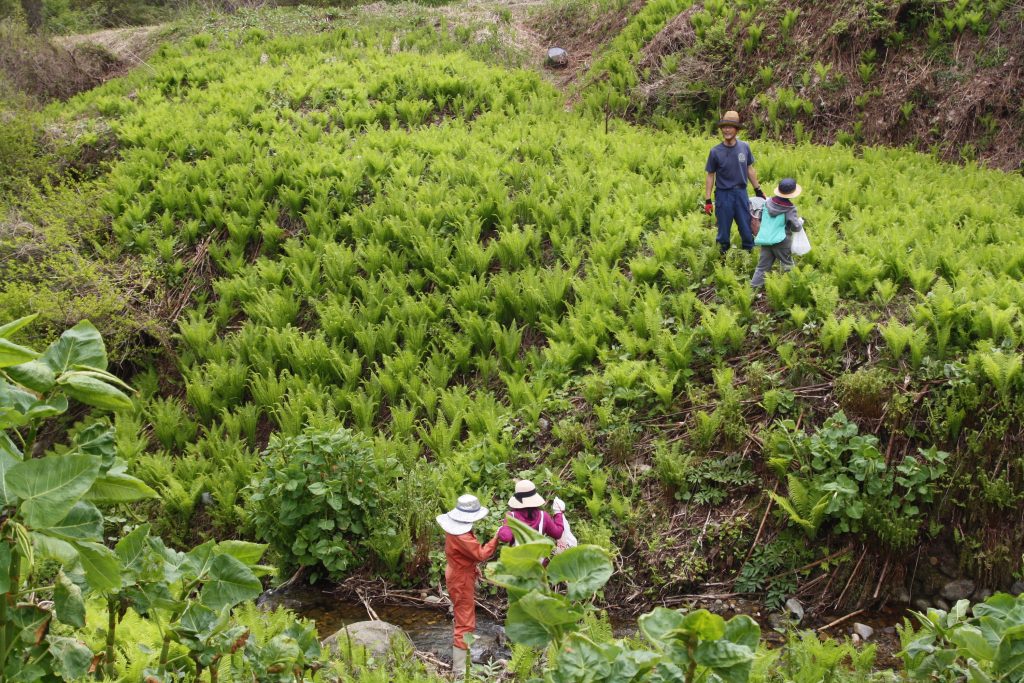 Tour Information
To book your tour, please send an E-mail to yoyaku@yuzawaonsen.gr.jp
Cost: 5,000 yen per person (Cancelation fees may be incurred if you cancel 1-3 days prior to the tour.)
Tour runs from April to June, and depending on availability of the guide
Can accommodate groups of 2-5 people
Tour duration: Approximately three hours
Recommended items to bring: boots, gloves, a hat, a bag for carrying vegetables
For customers who don't wish to use bikes, taxi service up the mountain can be arranged
Allergy information: Tempura not suitable for people with wheat allergies