By Matt Klampert
The area of YUKIGUNI in Niigata and Nagano Prefectures is steeped in culture, including traditional festivals, known as matsuri, that have been held for centuries. Unlike some of the more typical street festivals that you can find anywhere in Japan, many of these are known as Echigo Kisai or "strange festivals" of Echigo (the ancient name for this region). Even for those who have experienced Japanese matsuri before, the unique winter festivals here will be sure to pique your interest. With the current global situation making travel difficult, we'd like to offer a roundup of some of the numerous winter festivals in the famous "Snow Country," more or less in the order in which they usually occur. Please note that while some of the following festivals may not be held this year, they are generally held during most winters; check the "Information for Travelers" section of this article for more details.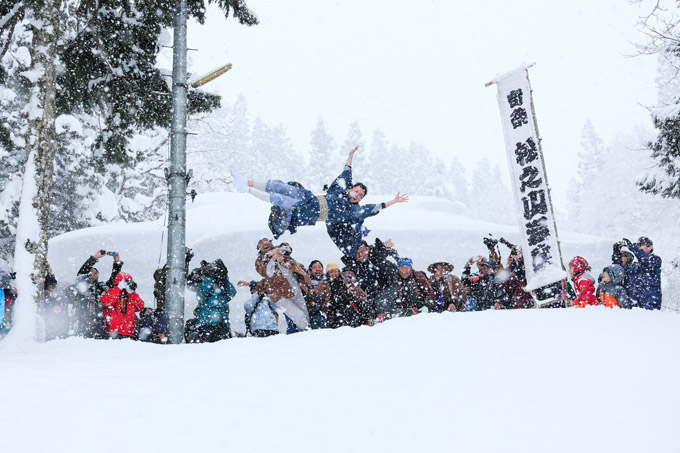 Get down and dirty at Matsunoyama Onsen
We talked recently about the famous medicinal hot spring at Matsunoyama Onsen village. This small community has its own unique traditions such as the groom-throwing, or Mukonage festival. It is said that approximately 300 years ago, a woman from Matsunoyama was married over the objections of her family. The next time the couple returned to the wife's hometown, her family decided to exact revenge by grabbing the husband out of bed and tossing him into the snow. Since then, it has become a tradition among newlyweds every January to fling a lucky groom from the top of the yakushido shrine down the snowy hillside. Not only that, but the village has recently allowed out-of-towners to participate in the festivities as well! The next part of the festival, known as Suminuri, has the crowd playfully covering themselves in soot from a celebratory fire.
A special fire festival in Tokamachi
Another of the "strange festivals" in the area is the Oshirakura Baitou festival in Tokamachi. In this harvest festival held in January, a 10m-high straw house called a baitou is constructed. This hut is used for celebration and drinking, and is then set on fire in order to wish for a good harvest in the new year. The flames can go as high as 30 meters! Because the population of the village is decreasing, locals have invited out-of-towners to participate.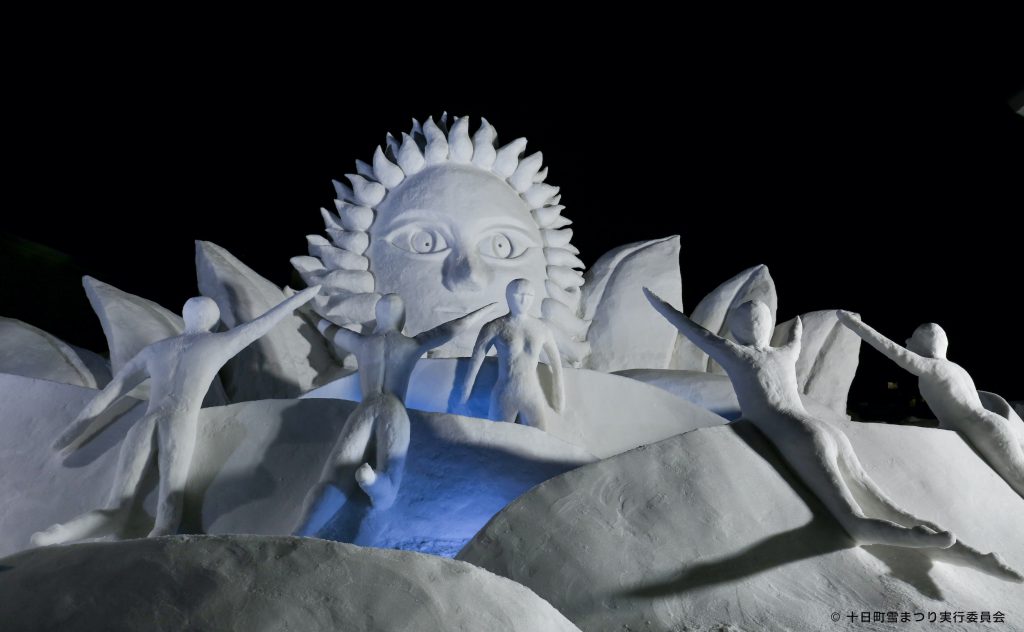 A world of snow sculptures
Yukimatsuri in Sapporo is world famous for its snow and ice sculptures, but it is not the only place in Japan where visitors can see such sights. The Tokamachi Snow Festival, a three-day-festival which is actually older than it's more famous cousin, is held every February, and features equally impressive massive snow sculptures, across a dozen or so sites around the town. You can also slide down special "snow slides" and enjoy a meal at the numerous food stalls, as well as have a taste of complimentary amazake, a variety of rice wine typically served warm.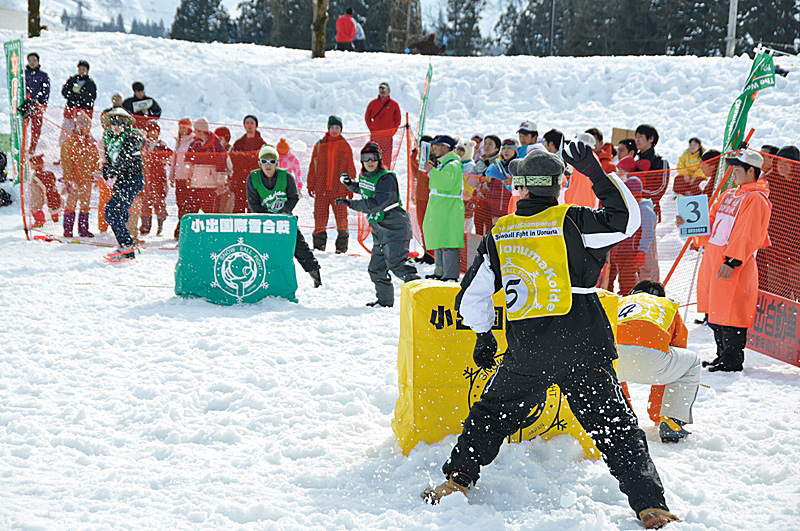 Who wants to have a snowball fight?
As a child, the thing I most looked forward to in winter, possibly even more than holiday gatherings and presents, was the coming of snow, and being able to throw some of it! Of course, having a good ol' snowball fight is a hobby enjoyed around the world, including Japan. A snowball fight competition, the Uonuma Kokusai Yukigassen Tournament, is held every February in Uonuma. It features snowball fighting teams competing in both child and adult competitions. The teams themselves come from all over Japan and number in the hundreds, and the total number of participants can amount to over 10,000. Teams frequently don unique costumes, and participate in a team photo competition. The multi-round tournament has food stalls for guests, while participants enjoy all-you-can-eat koshihikari rice.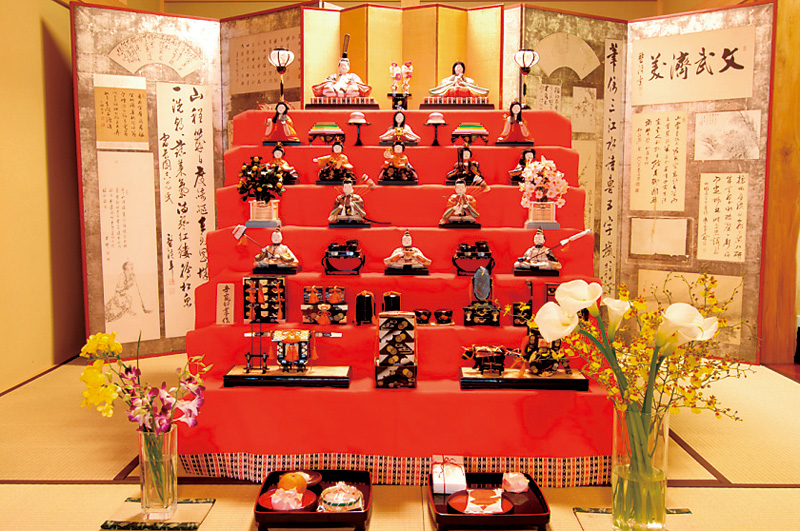 A pair of marriage festivals in YUKIGUNI
We have mentioned Minamiuonuma's rustic Bokushi-dori street in previous articles, and the best place to see this blast from the past is during Hina Yukimi Kazari. This Edo-style part of town is covered with traditional hina dolls from February to April to celebrate marriage, as well as to honor the Japanese emperor. The street itself is named after Bokushi Suzuki, the Edo-period writer whose novel Snow Country Tales helped teach the nation at large about life in YUKIGUNI.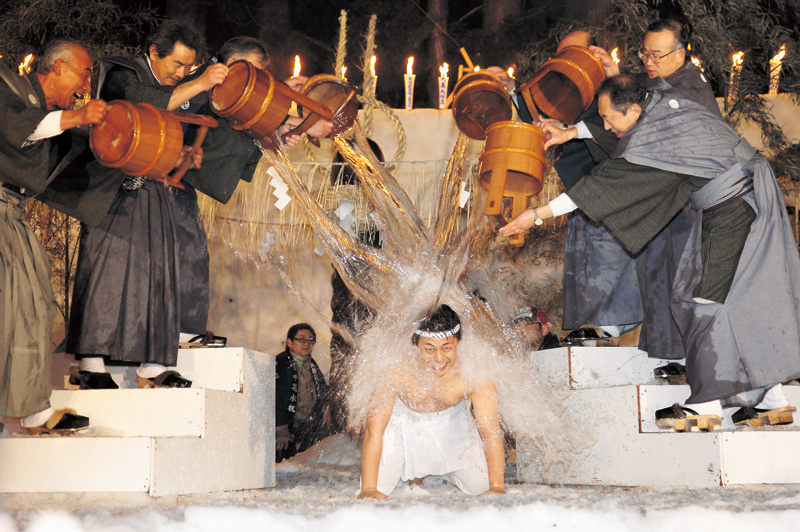 Another famous festival relating to marriage is the Hanamizu Iwai festival in Uonuma. In order to wish for a healthy child, a newlywed groom will pray at a shrine while mostly naked in the snow, and then have buckets of freezing water poured all over him. There is also a beautiful fireworks display to commemorate the festivities. This takes place every February.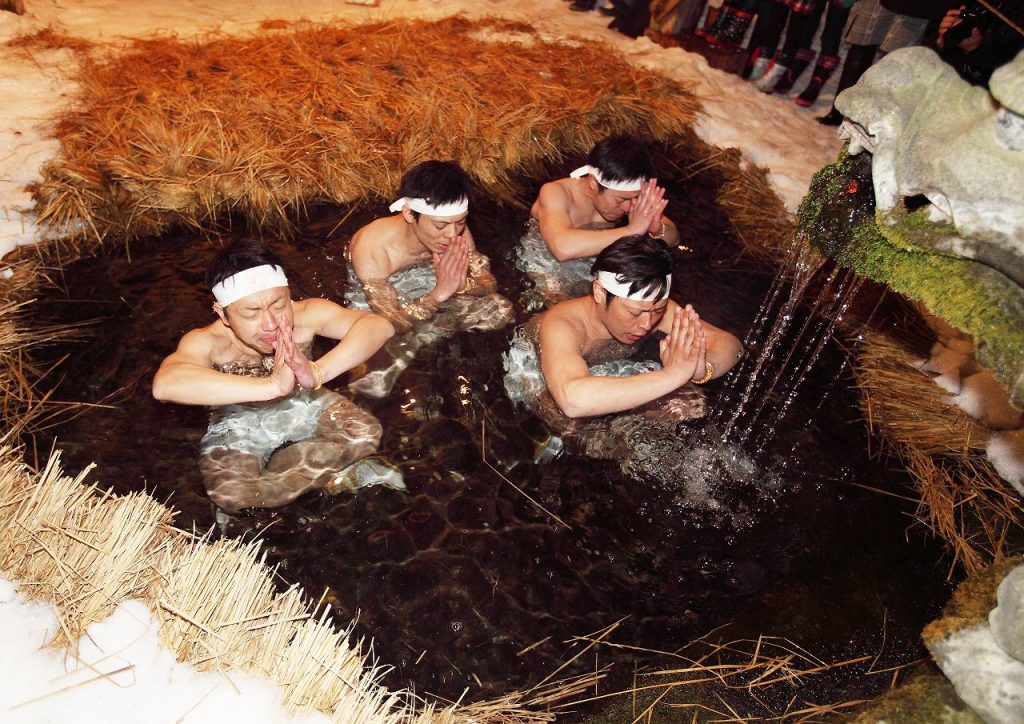 The famous naked festival
Probably the most well-known "strange festival" in Minamiuonuma is the Echigo Urasa Naked Festival. Having started over 1,000 years ago, it is held on the first Saturday of March in order to honor the Buddhist deity Vaisravana, who is one of the shitenno, or "Four Heavenly Kings." Vaisravana, or Bishamonten as he is known in Japan, is frequently depicted as an armor-clad warrior. In their fervor, people would pack into the Fukoji temple to pray, which even in the dead of winter would become very hot as a result of the accumulated body heat. The solution, naturally, was to get naked. These days, it is said that the men who join in the festivities, including travelers, can themselves harness the power of Bishamonten, so if you don't mind getting into a loincloth in the cold and taking an ice cold bath, you too can join in! Onlookers can also see the procession of these men holding giant candles weighing as much as 30 kilos, or shop at the many stalls that line the temple.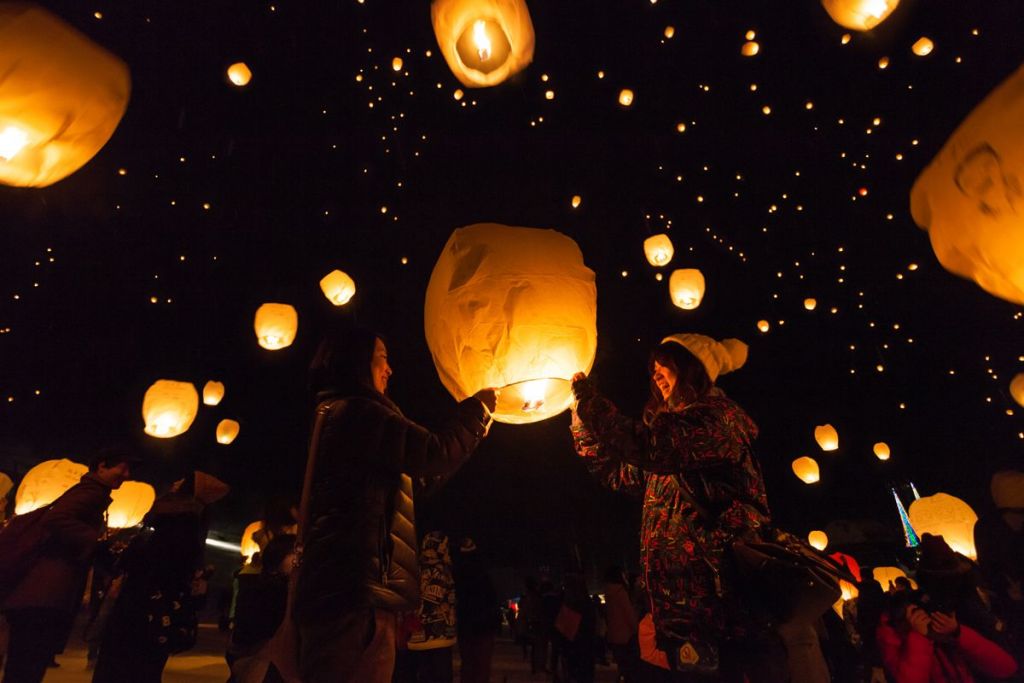 Fireworks and igloos
The town of Tsunan is known for having some of the heaviest snowfall in all of Japan, with approximately 2-3 meters at a time. It is no surprise that the people of Tsunan find interesting ways to keep themselves occupied during the long winters. Tsunan's snow festival features a snowboarding jump competition, stage shows, and the special "Tsunan Skylanterns," which are lit-up floats, over 2000 of which fill the night sky.
You don't need to visit the arctic to find igloos! Every March, igloos are made in Minakami, along with many candles made from recycled bottles and leftover oil. The igloos are lit up, along with a fireworks display. There are also treasure hunts, which are great for kids.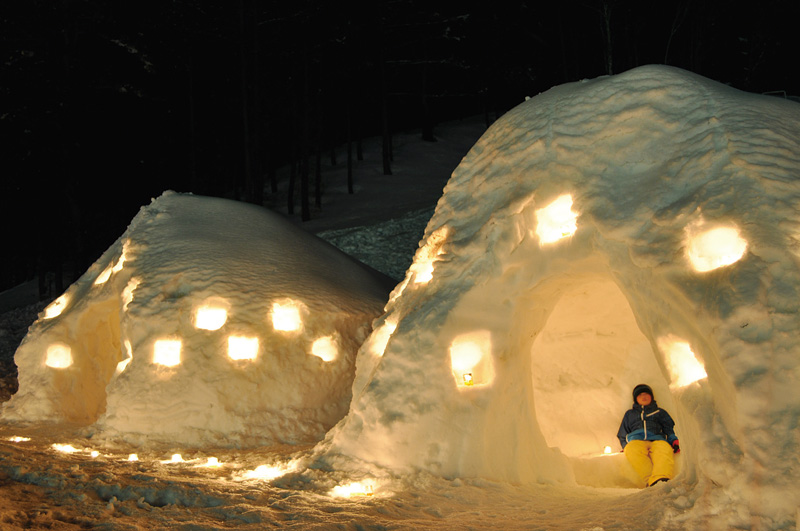 Although some of the festivals here are operating on irregular schedules now, you can check the respective websites for details.
Information for Travelers
Date: January 15th, Mukonage starts from 2p.m., Suminuri from 3:00pm
Date: Canceled until further notice
Date: Currently postponed until mid-February, check website for further details
Date: February 22nd, 8:45 AM start
Date: February 20th – April 3rd
Date: February 11th, food stalls open at 11:am, festival starts at 5:30 pm
Date: March 4th-5th
Date: Town-only event this year, normally held in March
Date: Canceled until further notice