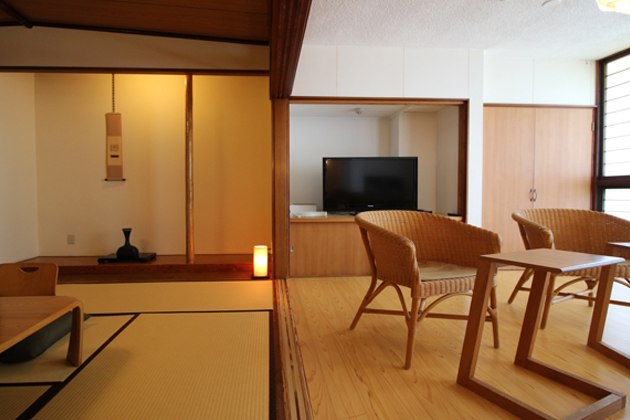 Message from the accommodation
Nestled in the quaint town of Uonuma, Tomoya hotel is the perfect place to spend a laid-back vacation. Tomoya's retro feel, relaxing atmosphere, and charming rooms set it apart from any other ryokan in Niigata. The gourmet dinner is one of the most delicious yet creative meals you will find. And there is plenty of entertainment for kids of all ages in the games room. Enjoy vintage arcade games, billiards and ping pong, to name a few, all while listening to music of all genres on classic vinyl LPs. Then slip into a hot bath in one of the private or larger o-furo baths and get ready for a great night's sleep! Tomoya has it all. Coustomer's feedback
Half board/12,000 JPY〜22,000 JPY
Tomoya Hotel is certified as A-grade Gourmet.
A-grade gourmet is a food certification system designed to preserve and pass on to future generations a traditional food culture suited to the climate. The certification is based on the proportion of local products used, including agricultural products and seasonings, efforts made in conjunction with agricultural producers, and taste.
If you would like to know more about the concept of A-Grade Gourmet and its contribution to the community, please read the following articles.
YUKIGUNI A-Grade Gourmet To Pass On Japanese Food Culture To The Future
Critique by A-grade gourmets
Overall rating ★★
They use mainly local ingredients such as wild vegetables, natural mushrooms and Miyuki trout.
The broth and seasonings are first class. The quality is as good as that of a restaurant.
You can enjoy safe and delicious food without additives or chemical seasonings.
Creative cuisine using local ingredients from Uonuma.
You can taste the season of Uonuma such as wild vegetables, local vegetables and natural mushrooms. One of the most impressive dishes is the "maitake nabe". The only ingredient was the maitake mushroom. Large and thick maitake mushrooms are placed in the pot. It is a luxury to be able to simply taste fresh maitake. You can enjoy the aroma and the firm texture of the maitake. The quality of the ingredients and the boldness of the dish is something that can only be achieved in a place of origin.
Other dishes include a salad of freshly picked wild vegetables and a plump roasted salmon, a speciality of Niigata Prefecture.
The seasonings are carefully selected from all over the country, and the broth is as good as that of a restaurant. Even the processed products are made without additives. It is a very natural cuisine, using only what is harvested. There is no way it could be bad.
To learn more about A-Grade Gourmet (official website in Japanese)
282 Oyu, Uonuma-shi, Niigata