By Matt Klampert
This past month I had the pleasure of joining influencer and editor at tsunagu Japan/D2C X lnc. Stefania as she learned about the highlights of YUKIGUNI. With this type of tour, you can really get an appreciation for the area's history, culture, and more! What follows is a travel diary of our 2-day adventure around the famous Snow Country. If any of these sights in particular strike your fancy, why not book a trip yourself?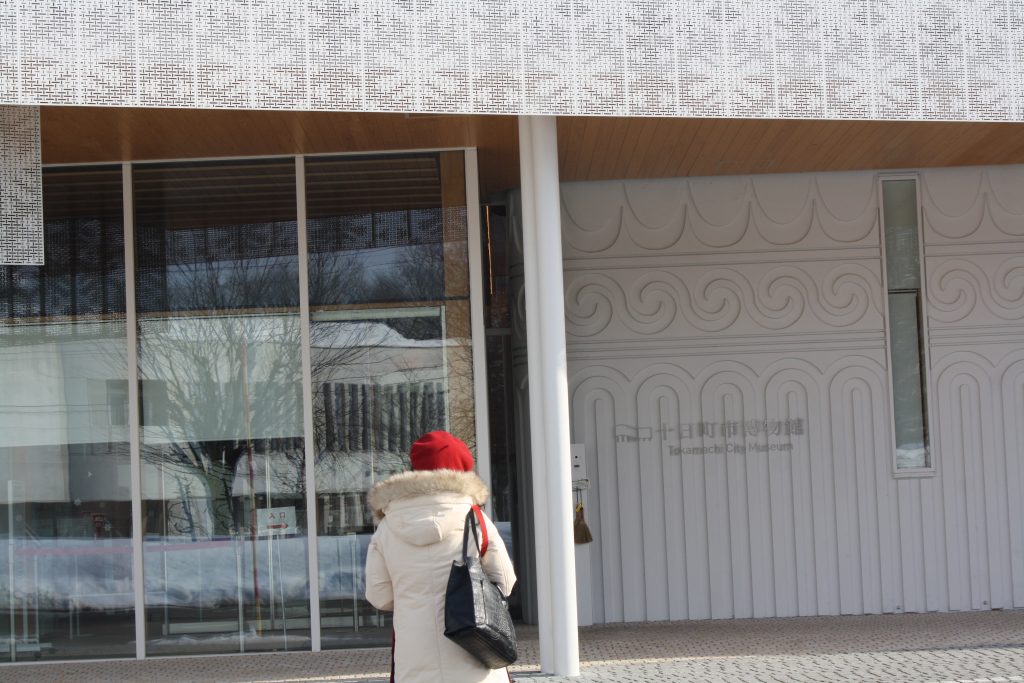 Start at the beginning: The history of YUKIGUNI at Tokamachi City Museum
If you'd really like to understand just how different life in Snow Country is compared to the rest of Japan, a great place to start is the Tokamachi City Museum. At this brand-new, state-of-the-art museum, you will see a wide variety of ancient artifacts and interactive displays which demonstrate how people here have been living with snow since the Jomon period over 10,000 years ago. The National Treasure Room contains one-of-a-kind pieces of pottery known as kaengata, or "flameware pottery." Since the mid-20th century, these pieces have achieved recognition as true works of art, and much attention has been given to the Jomon artists who made them. You can read more about kaengata HERE. The museum also gives significant attention given to the history of silk production in the area, and features a 200-year-old kominka style house, which has been completely relocated inside the museum itself.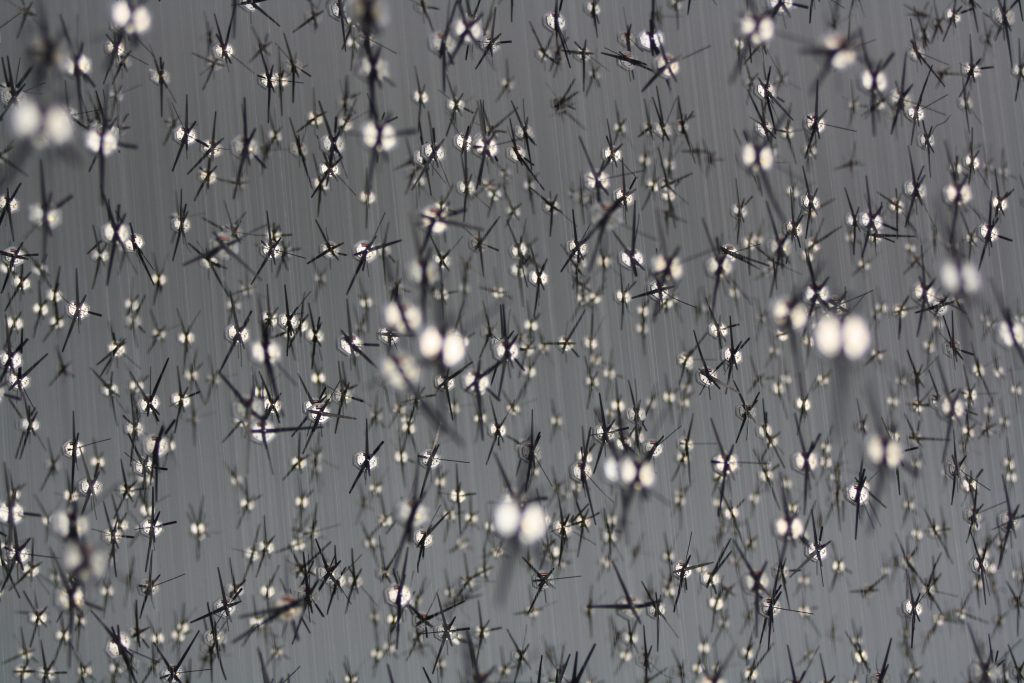 A modern art mecca in the snow: MonET and Nohbutai
The YUKIGUINI region isn't known just for traditional crafts: it has also become a great place to see modern art from all over the world! A great place to start is at the Echigo-Tsumari Satoyama Museum of Contemporary Art, aka MonET. The building itself was designed by the famous architect Hiroshi Hara, and houses over 200 exhibits throughout the year. This includes "Movements," a striking installation made up of countless working clock movements from the art collective "mé." Also noteworthy is "Resounding Tsumari," by the Dutch artist Marnix de Nijs. This exhibit utilizes 3D satellite data to put you inside a digitized "Virtual YUKIGUNI."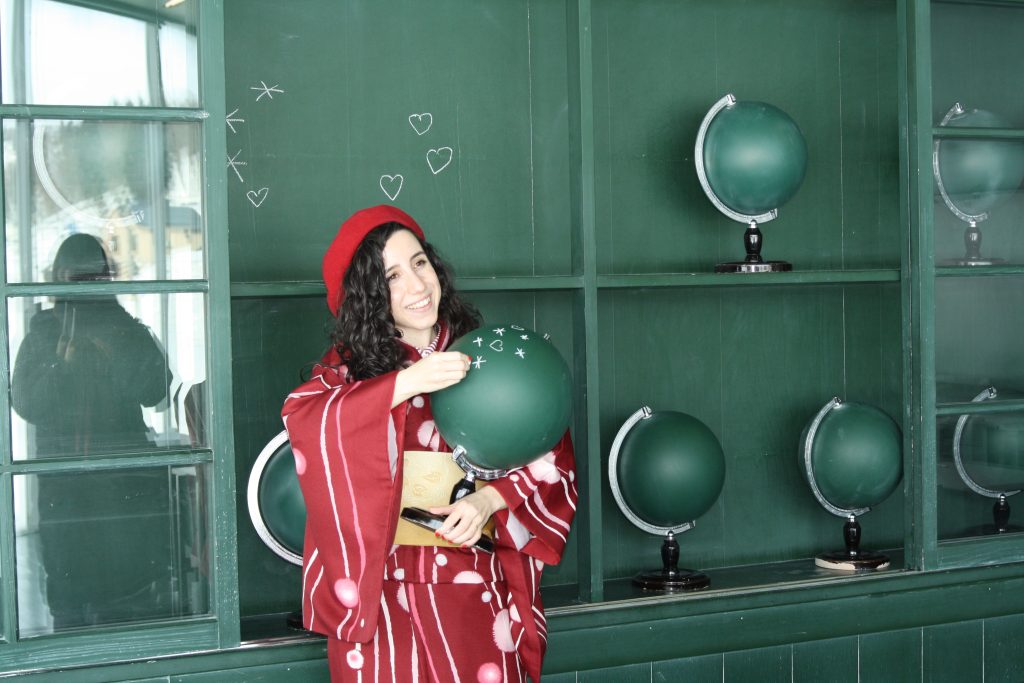 The museum creators also run a separate building, called Nohbutai, which has its own collection of unique exhibits. A particularly fun one is the "Rakugaki Room," an old repurposed classroom where you can feel free to leave messages and scribble wherever you like, and the desks themselves also contain various interesting curiosities. If experiencing all of gives you an appetite for more than just art, Nohbutai also houses the Satoyama Shokudo, a healthy and delicious farm-to-table café and buffet, which we wrote about HERE.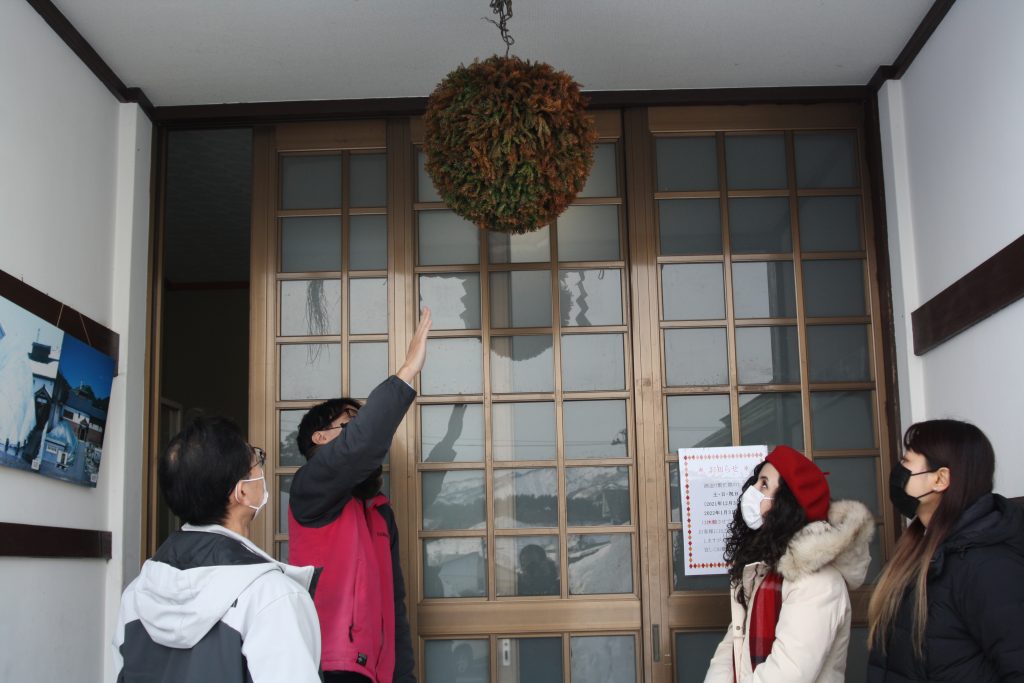 A taste of Snow Country sake
Besides the famous koshihikari rice of the YUKIGUNI region, the area is also known for its many sake breweries; in fact, there are more breweries here than anywhere else in Japan! One such sake brewery is Tamagawa Brewery in Uonuma City. Outside the factory we were able to see a giant cedar ball, called sugidama, which meant that some fresh and delicious sake was ready and waiting for us! During the brewery tour, you will learn how the brewers at Tamagawa use the traditional sandanshikomi process to wash, steam, and ferment rice to make sake, before it is pasteurized and bottled. Tamagawa in particular is keen to make sake that will serve as a good introduction to new sake drinkers, such as their signature "It's the Key" sake which was produced with the foreign market in mind. Also of note is their special plum wine – umeshu – which is aged in oak casks like whisky, giving it a unique flavor. We have written extensively about the superior qualities of YUKGUNI sake HERE.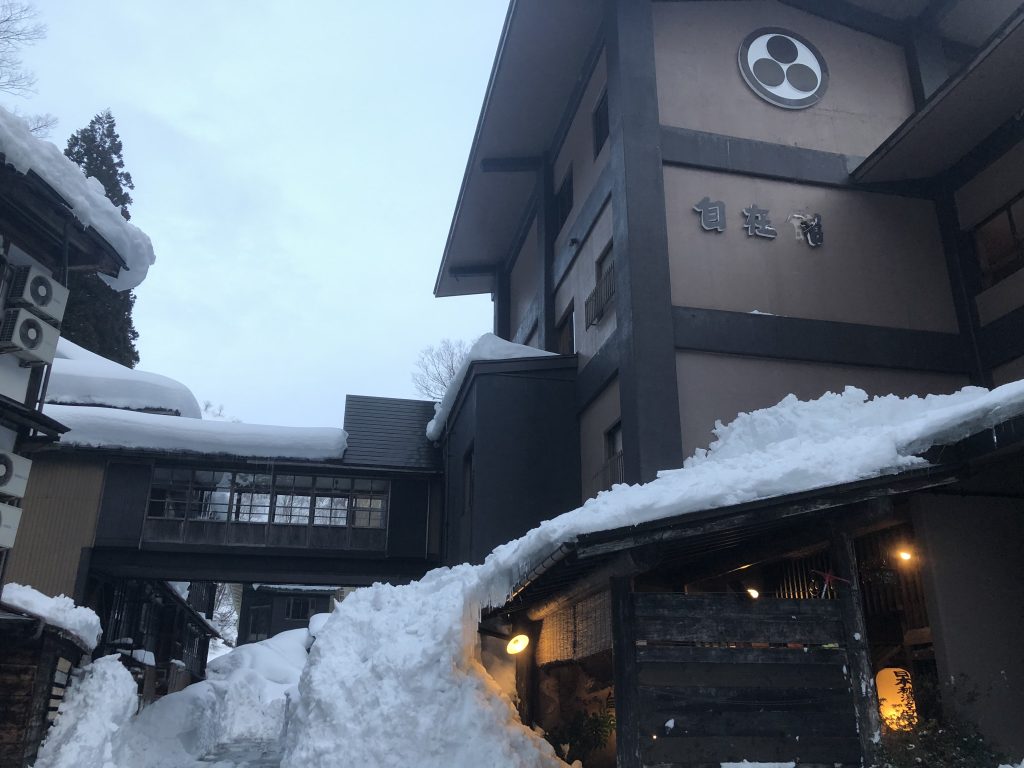 The charms of hidden onsen
Our first day ended with our arrival at our accommodation for the night- the onsen hotel Jizaikan. This hotel in particular is considered among Japanese-style ryokan to be a "hidden onsen," a place off the beaten path where busy guests can finally take some time for some R & R. The rooms at Jizaikan are wide and spacious and you have a variety of baths to choose from, which can be reserved and enjoyed privately for those not used to public bathing culture in Japan.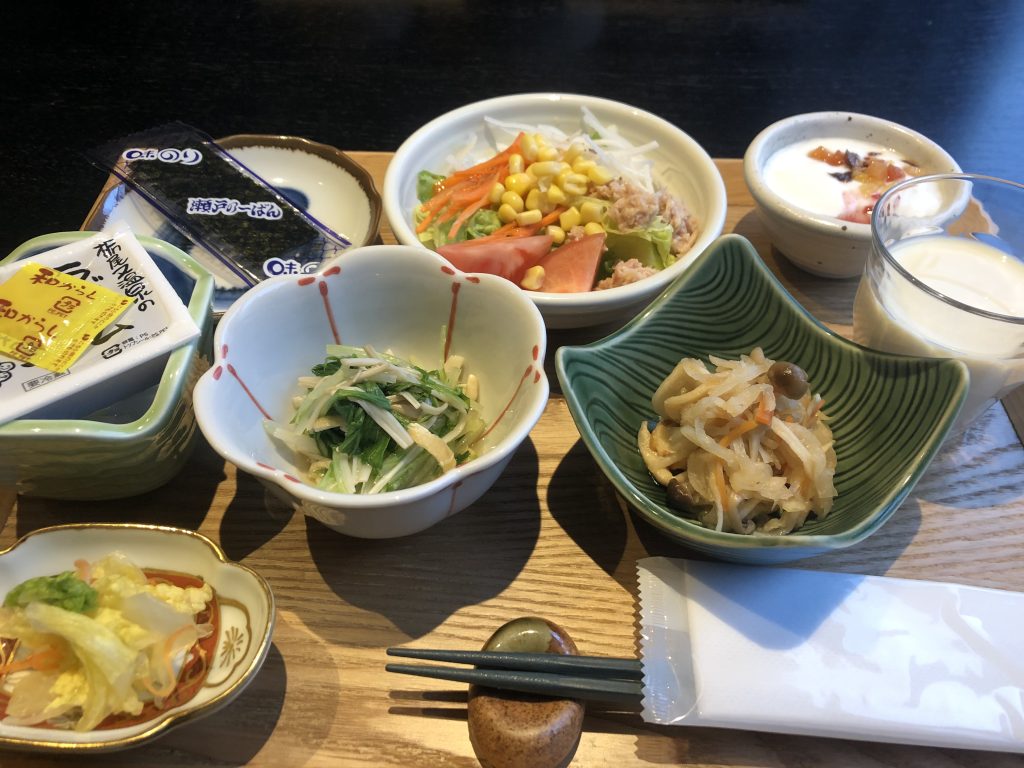 Jizaikan is also known for the quality of their meals. Our dinner was a great example of jimoto ryouri, a home-cooked multiple-course affair featuring delectable sashimi, tofu-wrapped boiled eggs, and hamburg steak in a soymilk cream sauce, as well as regional specialties like iwana fish– or char– and plenty of fresh veggies. While a typical Japanese set meal is known as ichijyu sansai, meaning 1 main dish with 3 sides, ours was actually 6 sides, plus desert! For those who think Japanese portions are too small, you will find Jizaikan's offerings most generous. You can also read more about Jizaikan, and other "hidden onsen" HERE.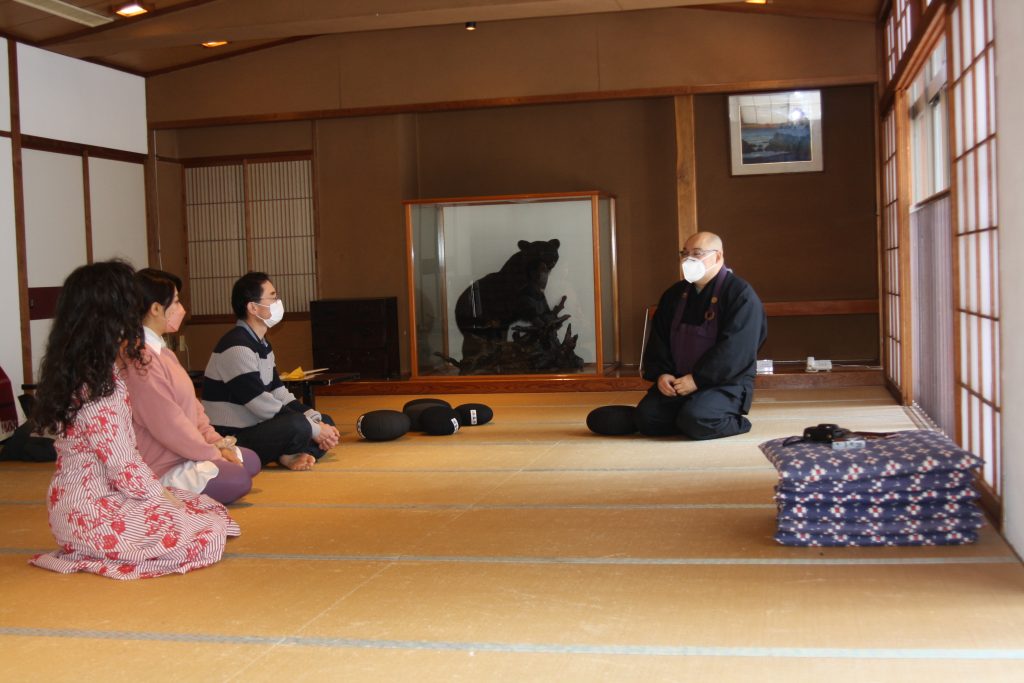 Spiritual retreats and fine art
Did you know? There are also special workshops you can participate in while a guest of your hotel. Our morning on the second day was spent learning zazen, a Buddhist technique used for contemplative meditation. We got a visit from a Buddhist monk from nearby Eirinji temple, who explained the philosophy and technique behind zazen. Once you know the basics, zazen is something that can be done on your own in order to aid relaxation; why not give it a try?
Our next destination was an actual temple, the famed Saifukuji Temple, which is one of the most important Soto Zen Buddhist temples. Both the interior and exterior of the temple are beautifully designed, but the inside area is particularly well-known for its artwork by famed painter and sculptor Uncho Ishikawa. The "kaizando" ceiling of the temple is the crowning achievement of the temple, and depicts a story of Zen master Dogen being rescued by a mystical dragon. We have written about the life and work of Uncho Ishikawa, including both Saifukuji and Erinji temples, HERE.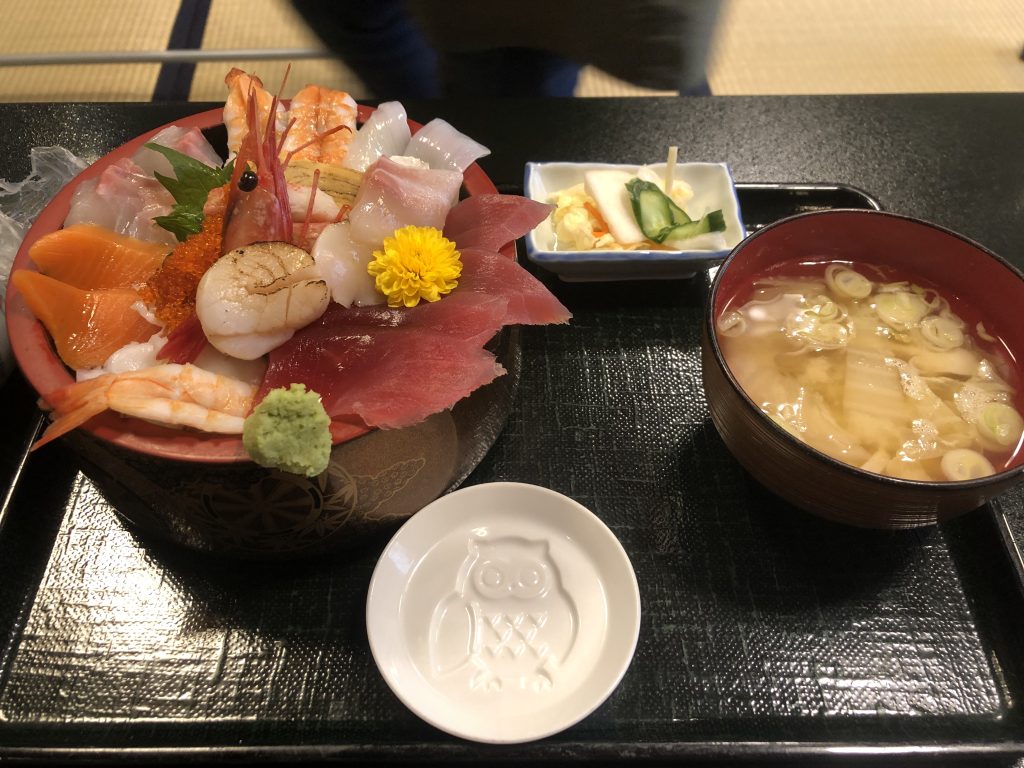 Majidon – A tradition of serious eating
A more recent invention-Majidon- refers to not just one meal or the name of a restaurant, but a food campaign run every winter in Minamiuonuma. 30 different restaurants around YUKIGUNI participate and make their own "Majidon." This can vary from traditional sashimi rice bowls to ones containing other toppings, from Chinese food to steak and cow tongue. We went to Hanaya, where we ate their special kibo no hikari seafood bowl, which was especially created as something for people who had been staying home due to the pandemic could enjoy. Majidon are all delicious, and contain a rather large amount of food, however in spite of that, some brave people do attempt to go to every restaurant during the campaign!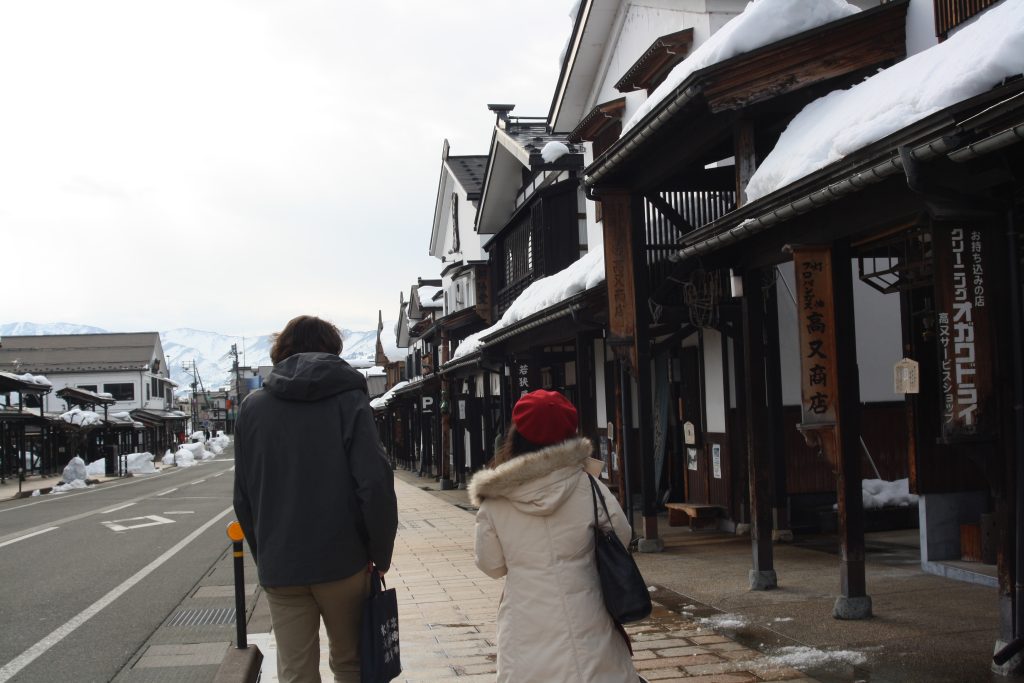 Hanaya is located at historic Bokushi-dori Street in Shiozawa. This entire street, located in downtown Minamiuonuma, was completely redeveloped in 1999 to make it a throwback to its history as an Edo-period post town. This includes old-style buildings, such as the post office and currency exchange. Around the town you will see excerpts of "Snow Country Tales," Bokushi's seminal collection of stories, which first put YUKIGUNI on the map.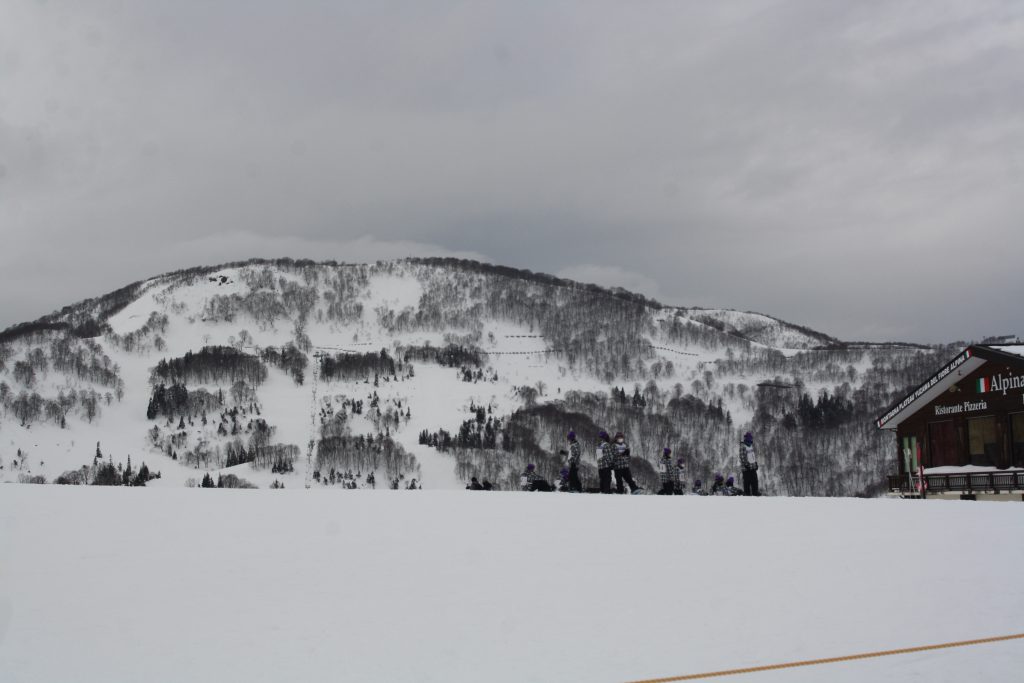 When you think Yuzawa in winter, think skiing!
Naturally, no trip around YUKIGUNI in winter is complete without a trip to the slopes! Yuzawa Kogen is conveniently located just a few minutes from the bullet train, and has its own ropeway station to boot, which is the biggest ropeway in Japan! It can hold over 160 people, and the view from over 870 meters up at "Panorama Station" is second to none. Besides skiing, sledding and tubing are also available. You can click HERE for tips for beginner skiers in YUKIGUNI.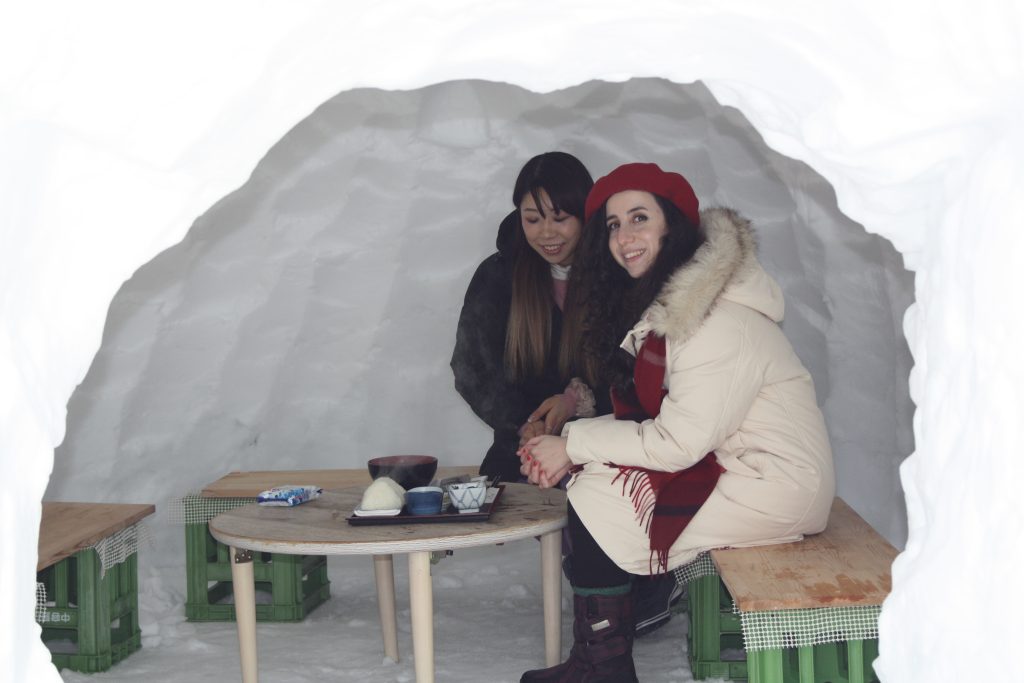 Another nearby ski slope, Ipponsugi, is particularly good for families. The slope is notable for its giant igloo, or kamakura, where you can go to relax and eat a traditional Japanese meal. The kamakura is made by hand by the owners every year, and takes approximately three days to finish.
Last, we visited the Echigo Sake Museum, better known as Ponshukan, before leaving. The sake museum's name belies the fact that its "exhibits," an immense selection of local sake, are for sale! Other activities, like sake tasting, and a special "sake bath" are also available.
We hope some of these locations and activities have whet your appetite to plan your own YUKIGUNI trip. Want to schedule your own tour? Contact the Snow Country Tourism Association HERE. You can also see more of Stefania at her Instagram "Prossima Fermata Giappone" at LINK.
Information for Travelers
Tokamachi City Museum
Address: 1-448-9 Nishihoncho, Tokamachi City, Niigata Prefecture 948-0072
Hours: 9 a.m. to 5 p.m., closed Mondays
Cost: 500 yen for general admission, discounts available for large groups
Echigo Tsumari Satoyama Museum of Contemporary Art (MONET)
Address: 1-71-2 Honchorokuno, Tokamachi City, Niigata Prefecture 948-0003
Hours: 10 a.m. to 5 p.m., closed Wednesdays
Cost: 800 yen for general admission
Matsudai Nohbutai Center
Address: 3743-1 Matsudai, Tokamachi City, Niigata Prefecture 942-1526
Hours: 10 a.m. to 5 p.m., closed Tuesdays and Wednesdays
Cost: Various ticket packages available, check homepage for details
Note: General admission ticket not required to visit restaurant
Tamagawa Brewery
Address: 1643 Suhara, Uonuma City, Niigata Prefecture 946-0216
Hours: 9 a.m. to 4 p.m.
Cost: Please inquire with brewery for tour information
Jizaikan
Address: 66 Kamioritate, Uonuma City, Niigata Prefecture 946-0087
Cost: 1,100 yen for day trip to hot spring
Open year round
Saifukji Temple
Address: 174 Oura, Uonuma City, Niigata Prefecture 946-0033
Hours: 9:00 a.m. to 4:00 p.m.
Cost: 500 yen per adult
Hanaya
Address: 233 Shiozawa, Minamiuonuma City, Niigata Prefecture 949-6408
Hours: 11:30 a.m. to 10 p.m.
Yuzawa Kogen Ski Resort
Address: 490 Yuzawa, Minamiuonuma District, Niigata Prefecture 949-6101
Hours: 8:30 a.m. to 5 p.m.
Cost: Various ticket packages available, inquire for details
Ipponsugi Ski Resort
Address: 2521 Yuzawa, Minamiuonuma District, Niigata Prefecture 949-6101
Hours: 8 a.m. to 5 p.m.
Cost: No admission fee, 2,500 yen for ski rental
Echigo Sake Museum (Ponshukan)
Address: 2427-3 Yuzawa, Yuzawa Town, Minamiuonuma District, Niigata Prefecture 949-6101 (Located inside Echigo-Yuzawa Station)
Hours:9:30 a.m. to 6:00 p.m.