By Matt Klampert
Though typically known for its snow-capped mountain peaks, the Snow Country area has no shortage of beautiful natural scenery, much of which can be enjoyed at any time of year. One highlight you definitely do not want to miss is Bijinbayashi Forest. Named as such because the trees are said to remind those who see them of beautiful women (bijin in Japanese), it is open every season, and offers a notably different experience depending on when in the year you decide to make your trip.
An undisturbed beech forest in the heart of Matsunoyama
Throughout Japan it is quite common to find cedar forests, but beech forests of the size of Bijinbayashi, are quite rare, especially outside of snowy areas like YUKIGUNI. In fact, beech is considered to be a representative tree of Snow Country, and is an important part of Snow Country life. Because of their many overlapping branches, you can stroll through dense beech forests in the rain without getting wet. Beech trees can grow in harsh winter climates, and they bend and twist under the weight of heavy snow.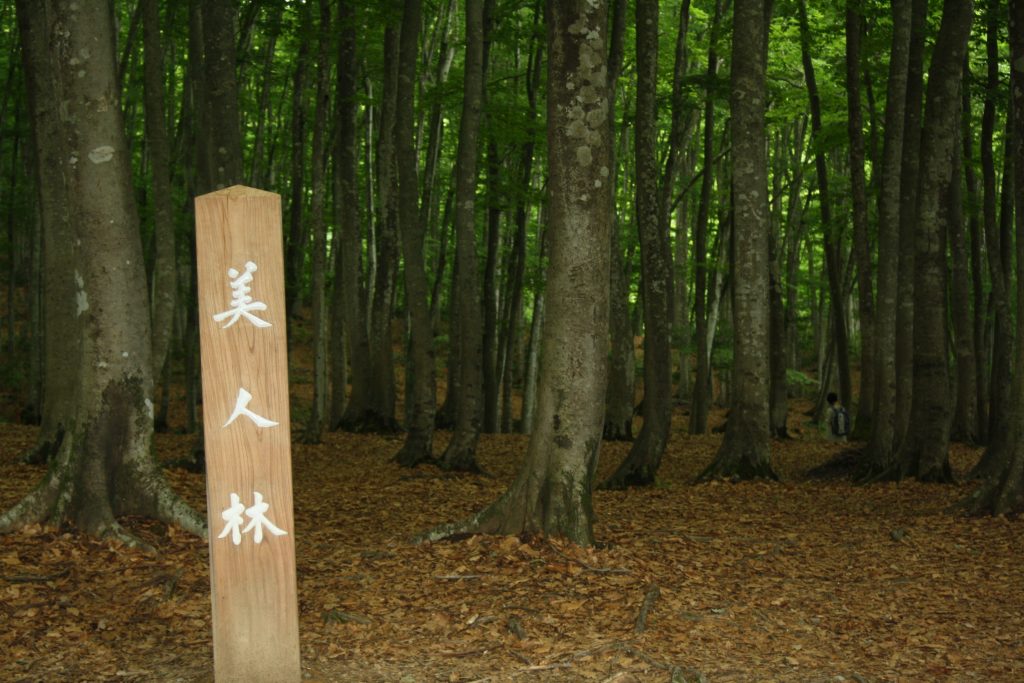 The Bijinbayashi Forest is a three-hectare forest said to contain over 3,000 beech trees that are all approximately a century old. 100 years ago all of the trees here were cut down for charcoal, but miraculously began to grow back, and are all roughly the same size. Since that time, this beautiful forest has been preserved so that everyone can enjoy it.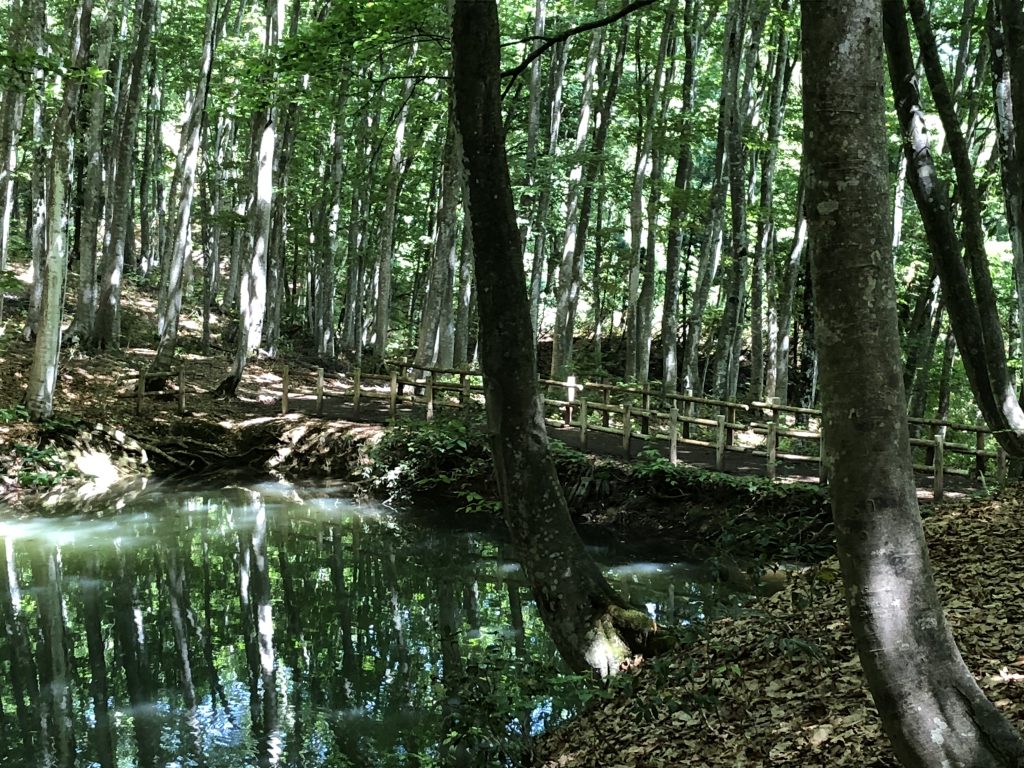 A living forest in Matsunoyama
The Bijinbayashi Forest is not frozen in time, but is a living forest that contains a treasure trove of animal and plant life. The woods here are a sanctuary for over 30 species of wild birds- common ones include various subspecies of thrushes, buntings, flycatchers, and sparrows. From the spring, it is common to see birdwatchers gathered in groups along the trail. The ruddy kingfisher, known as akashoubin, is considered to be the representative bird of Matsunoyama, and is known for its distinctive "kyororo" call, which has become the namesake of a nearby museum (see below for more details). You will constantly hear birdcalls here, as well as the sound of woodpeckers as you wander the various trails, which are wide, mostly flat, and easy to walk on.
Bijinbayashi is enjoyed by both locals and travelers alike, and all around Bijinbayashi there are local spots set aside for growing rice and sansai. Sansai are a variety of mountain vegetables that traditionally are an important part of life in YUKIGUNI, click HERE to learn all about them, and where to find and pick some yourself! There are some facilities at the entrance to Bijinbayashi, such as bathrooms, and vending machines. Often you will see a few stalls selling local crafts and produce, including sansai.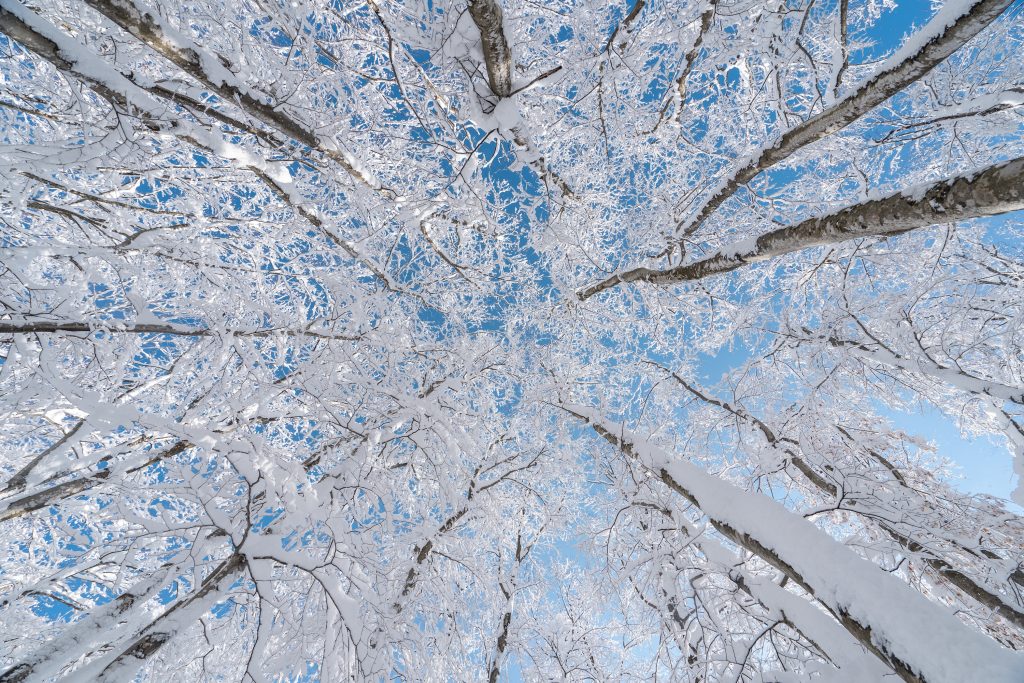 A forest for all seasons
One of the best points about Bijinbayashi Forest is that you will likely have a unique experience every time you enter. In spring you can see new leaves sprouting on the trees, and by summer the whole area is brilliant green. Summers in Japan are typically hot and humid, but it is said to be at least 2 degrees cooler in this forest than the rest of the area. Japanese people love viewing the fall colors, and Bijinbayashi has to be one of the best places in the area for this. In winter the forest is completely transformed to a winter wonderland. Note that the forest is even open during the winter, but do be aware that as certain roads in the area may be closed around this time, it makes going to the forest by public transport very difficult.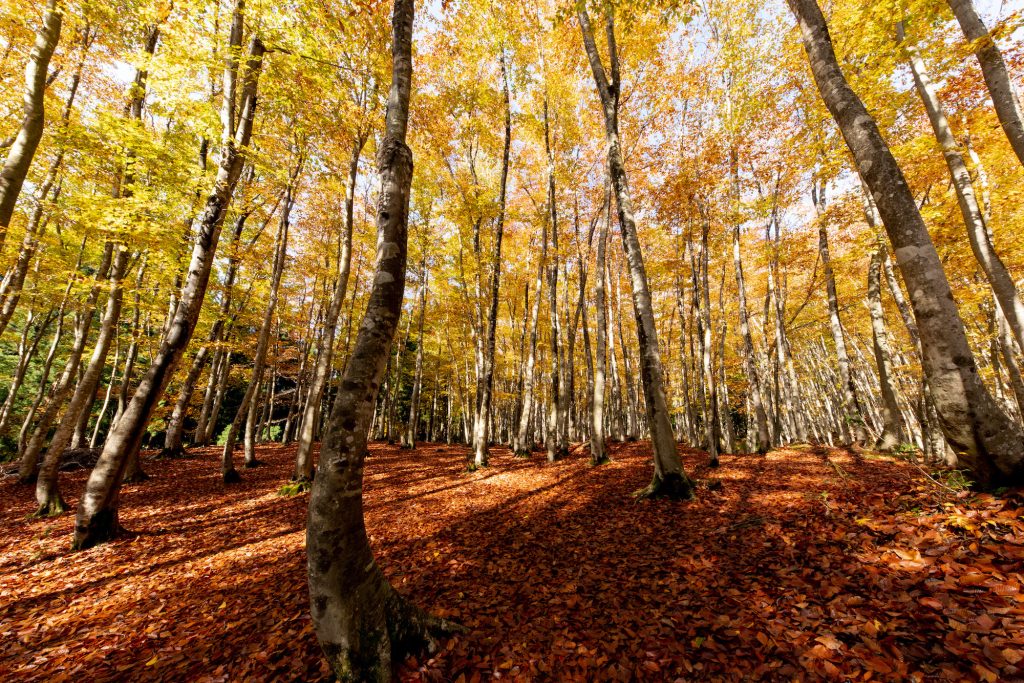 Join a tour
If you would like a more curated experience there are a variety of nature tours you can join, such as snowshoe tours in winter, and private taxi tours in the green season where you can also see some of Tokamachi's famous rice terraces.
Additionally, it is recommended that you visit Bijinbayashi by bicycle. E-bike rentals are available from the visitor's center at both Matsunoyama Onsen and at Matsudai Station.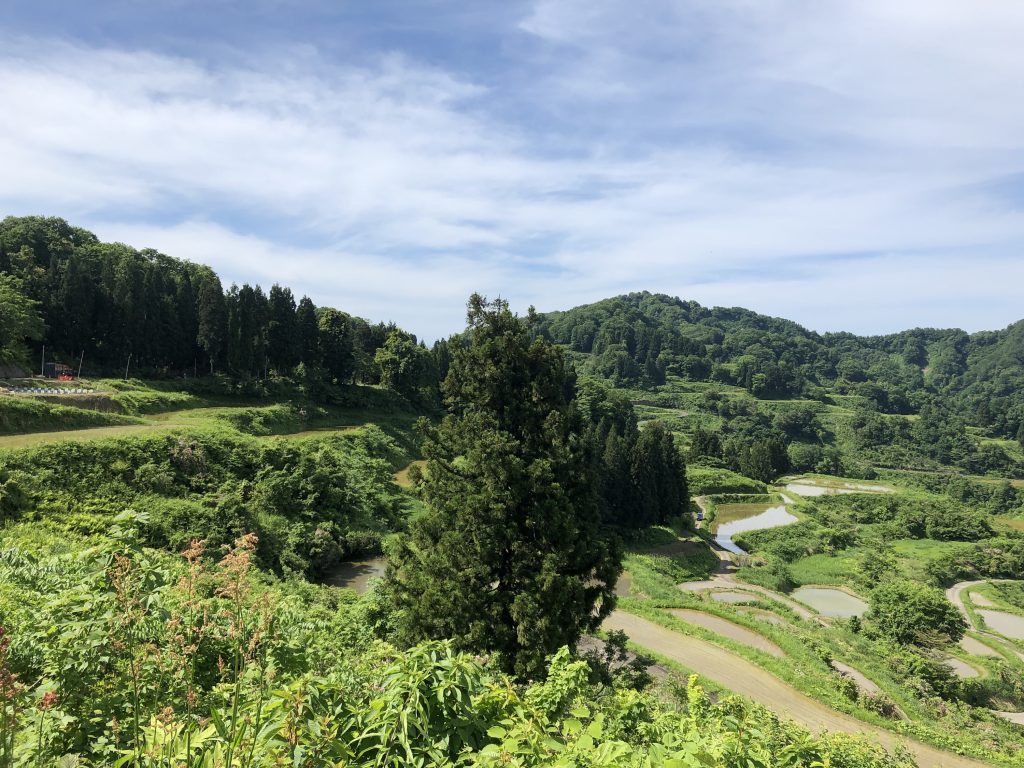 Things to do nearby
The Bijinbayashi Forest is located near Matsunoyama Onsen village, where you can enjoy a dip at their famous medicinal hot springs and stay at a number of quality hotels, including some premier eco-lodges.
The Echigo-Matsunoyama Museum of Natural Science "Kyororo" is a natural science museum located in the Matsunoyama neighborhood of Tokamachi, and is easily recognizable due to its being in the shape of a giant red submarine!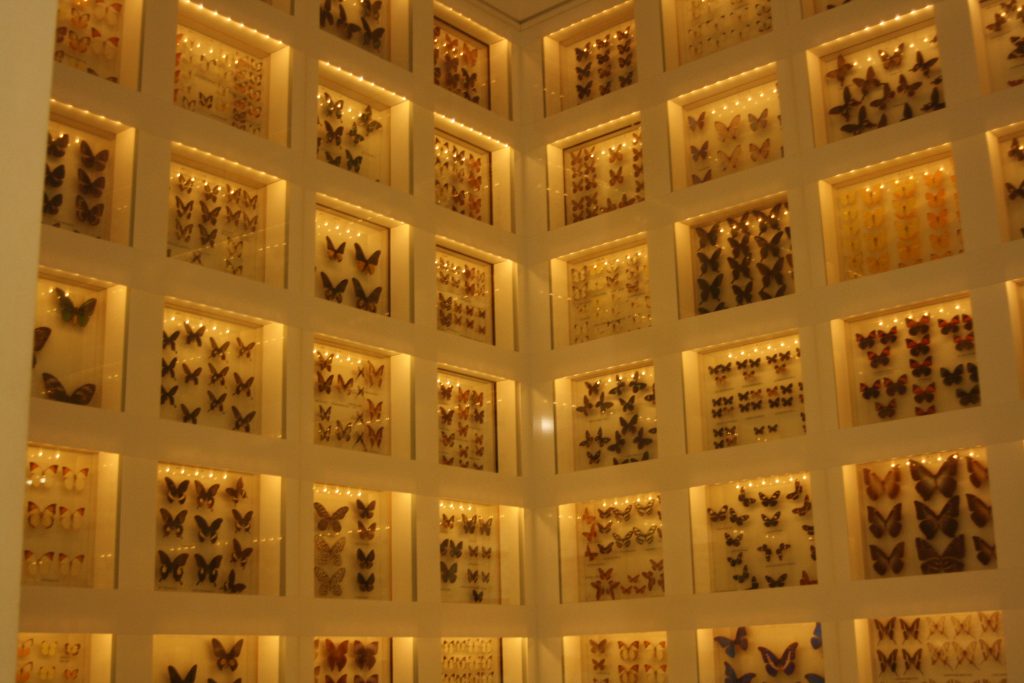 Permanent exhibits at Kyororo include the Usuke Shiga Collection, which houses thousands of expertly preserved butterfly specimens from around the world, and an in-house aquarium where you can learn about many different species of local fish and reptiles. There are also hands-on workshops devoted to fishing and woodworking, amidst artwork of the Triennale depicting the local flora and fauna. The top of the museum has an observation deck where you can see all around beautiful Matsunoyama. For more information about Kyororo and other great museums in the area, click HERE.
For other great forest experiences, look to the Naeba Sanroku Geopark in neighboring Tsunan. More information can be found HERE.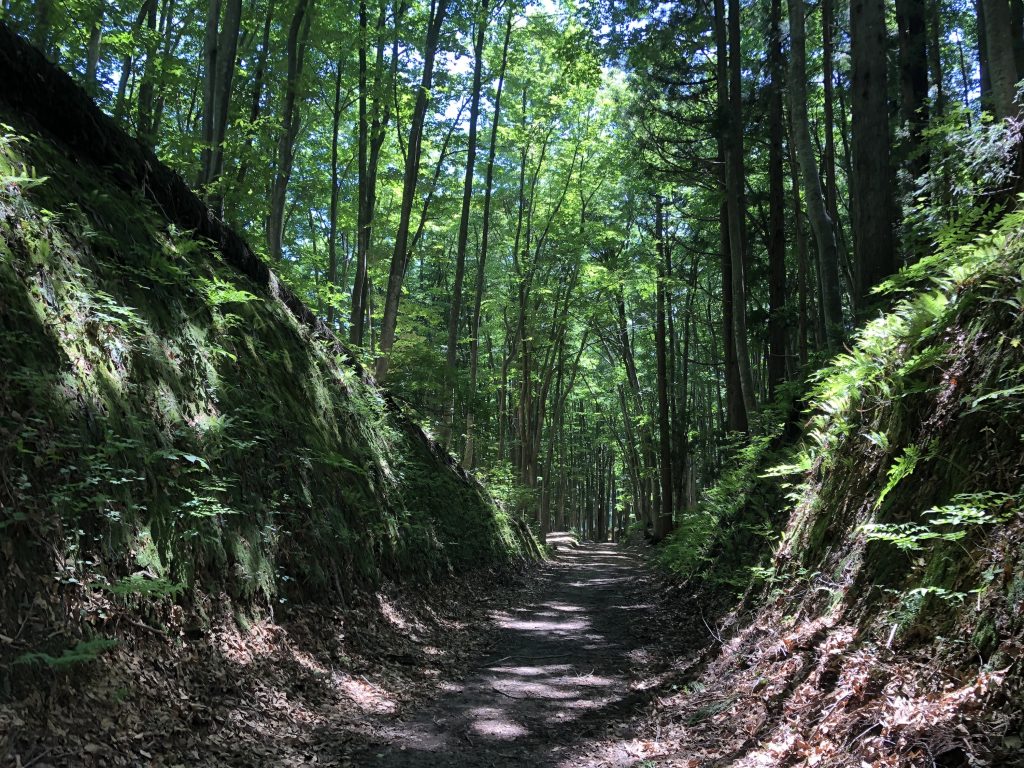 Information for Travelers
Bijinbayashi Forest
Address: 1225-1 Matsunoyama matsuguchi, Tokamachi City, Niigata Prefecture 942-1411
Cost: Free to enter, separate fee required for tours
Access: Accessible by car all year round. Bus available during the green season from Tokamachi and Matsudai stations (Hokuhoku Line). When arriving at Bijinbayashi by bus, get off at the "Sakaimatsu" stop. Follow the signs to Bijinbayashi, which is an approximately 20 minute walk away.
Echigo-Matsunoyama Museum of Natural Science "Kyororo"
Address: 1712-2 Matsunoyama matsuguchi, Tokamachi City, Niigata Prefecture 942-1411
Hours: 9-5, closed on Tuesdays
Cost: General admission- 500 yen
Access: 5 minute walk from Bijinbayashi Forest