This region boasts its rich culture of "Satoyama" where people engage with the land through agriculture. The festival has attracted attention from all over the world as an example of community revitalisation through art.
You can visit the artworks scattered in Satoyama throughout the year, not just once every three years. Approximately 200 artworks include outdoor sculptures, abandoned houses and closed schools transformed into artworks, architectural designs, art museums, accommodation facilities that are also artworks themselves, etc. The main art museum is open all year. The outdoor artworks will be closed during the winter due to snow. In addition, each season, we hold large-scale programmes that connect each facility's special expositions as well as artists' workshops, events, and performances.
TOUR INFORMATION
Price: JP¥14,800
Best Time of Year
2021 Spring ~2021 Autumn
Ideal no. of People
2~27
Booking Deadline
1 day before
Mode of Transport
Designated Bus
Cancellation Charge
3 days prior 30%
day before 40%
day of 50%
no contact 100%
Itinerary
10:00 Meet at Echigo Yuzawa Station→Forest School Kyororo→Matsudai Agricultural Stage→Satoyama Shokudo→Hikari no Yakata→Echigo Tsuma Ariyama Museum of Contemporary Art→Arrive at Echigo Yuzawa Station 17:30
Overview
Concept "In summer, cultivate the fields; in winter, cultivate the mind."
Echigo-Tsumari is known for heavy snowfall in winter. This motivates cultural exchanges based upon the principle captured by the Japanese expression "seiko udoku; kako todoku". It can be rendered in English as "In summer, cultivate the fields; in winter, cultivate the mind." Cultural facilities, created by global artists and run by local people, warmly welcome visitors and travellers. In viewing the artworks, the visitor passes through rice fields and forests, thereby experiencing the landscapes and cultures of Echigo-Tsumari through all five senses. Through this experience, we recover the memories of an origin that we had forgotten, and develop new links connecting people to each other and to the land.
Satoyama and Art
The twentieth century was the era of the city and the art of the city. However, as the city ailed, art became isolated and gradually lost its latent power to connect people to place and people to people. The nature and lifestyle of Echigo-Tsumari seems to inspire artists to recover the connections and collabora­tions.
Artworks are dotted across approximately 200 villages. This is an absolutely inefficient approach deliberately at odds with the rationalization and efficiency of modern society. Wander­ing among artworks which emphasise the beauty and richness of satoyama opens the senses to thewonder of existence and revives the soul.
Approximately 160 artworks by artists from all over the world are dotted across the Echigo-Tsumari Art Field. We hope that you will feel and discover satoyama in different seasons via artworks in the fields, unoccupied houses and closed schools.
Co-operation beyond generations, regions and genre
In Echigo-Tsumari, artists have no choice but to create their artworks on someone else's land, requiring interac­tion with locals. The artists' passion moves local people, and they engage with artworks not as spectators but as collaborators.
Echigo-Tsumari Art Field has welcomed many young volunteers from cities. They have been involved with many different projects. The encounter between the old who have spent their entire lives on farming thinly populated lands and students who don't have clear purpose in their city lives resulted in collision and confusions at first. But this transformed into appreciation and co-opera­tion, leading to an opening up of the region through the initiative of these young people.
It was the artists and these supporters from the cities who got engaged the area after the Chuetsu Earthquake in 2004. Through such activities, Echigo-Tsumari has become a place for hope for those living in the cities. Young people as well as those with more experience are jointly participating in building a "new hometown".
As a new model for building community
The way Echigo-Tsumari has pursued community building has been acknowledged beyond the framework of art. This approach to community building through culture and art has drawn great attention as type of "creative city". Echigo-Tsumari has influenced other community building projects in Tokushi­ma, Ibaraki, Niigata, Osaka, and Setouchi.
Festival
In addition to the Triennale itself, visitors can enjoy the Summer Festival ("Daichi-no-matsuri") and the winter "Snow Art Project". The "Daichi-no-matsuri" takes place in the years between the Triennale, welcom­ing visitors and opening artworks to the public.
Learn and play
Matsudai Nohbutai, Kyororo and artworks in unoccupied houses and abandoned schools offer public programmes through which you can learn about and experience local life, culture. Training programmes can be organized for schools and companies.
Eat
Everything human beings created is a form of "art" and its essential element is "life art" especially. "Food" is one of the most important elements. In the Echigo-Tsumari Art Field, we focus on "food" based on the concept that food is the most essential and basic form of culture and art. "Food" is an important element that allows the locals to become the festival's protagonists. Please enjoy the local and creative cuisine made from the local agricultural products.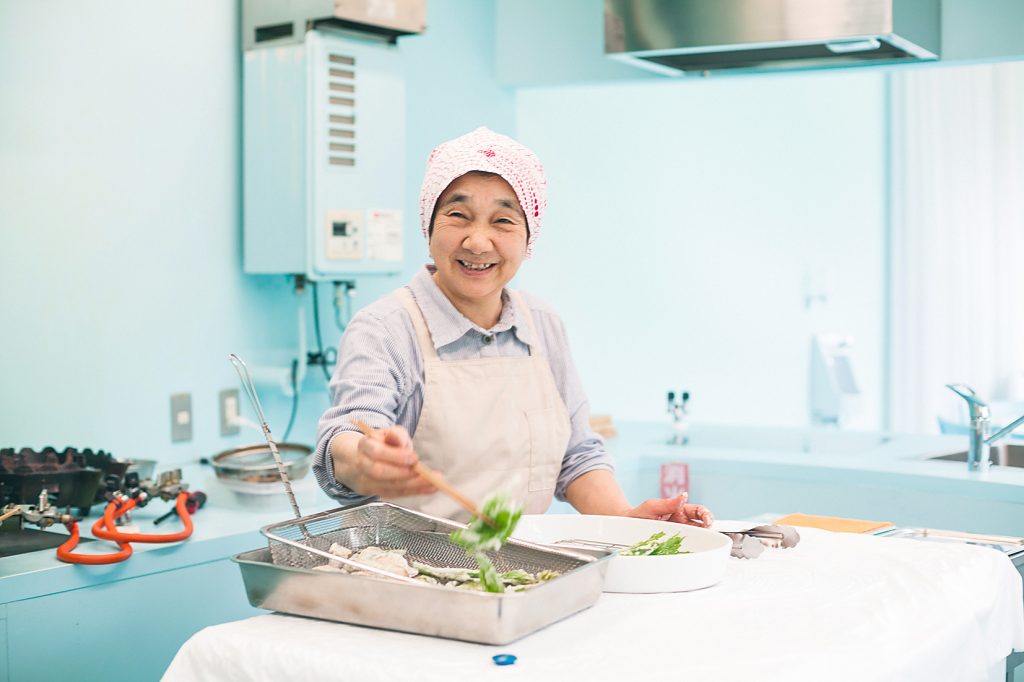 Echigo-Matsudai Satoyama Shokudo
At the Echigo-Matsudai Satoyama Shokudo, we invite you to enjoy fresh vegetables and locally-cultivated rice while overlooking terraced rice field landscapes. The restaurant serves a unique menu inspired by local traditionalrecipes passed down over generations – but with a modern twist.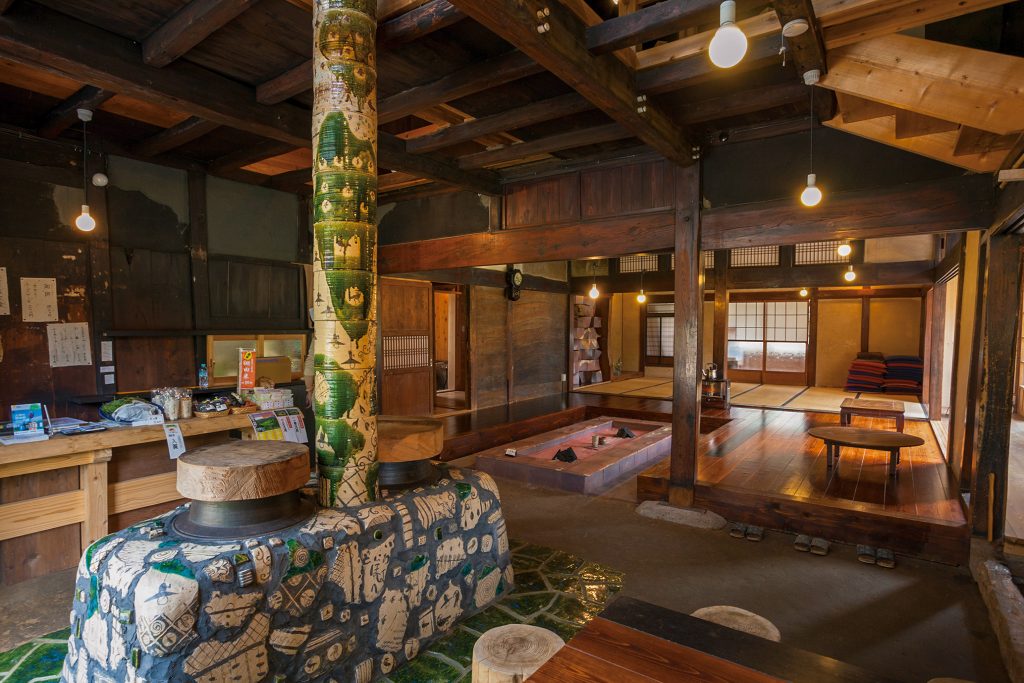 Ubusuna House
Housed in an old thatched-roof traditional house built over 80 years ago. Visitors can enjoy home-cooked meals made by local women using seasonal produce and served on plates and bowls made by famous Japanese potters. (Limited period only)
Stay
Accommodation facilities are all unique. The Echigo-Tsumari Art Field is known for its abandoned house and closed school projects. With these art projects, we produced many accommodation facilities that allow you to immerse in arts.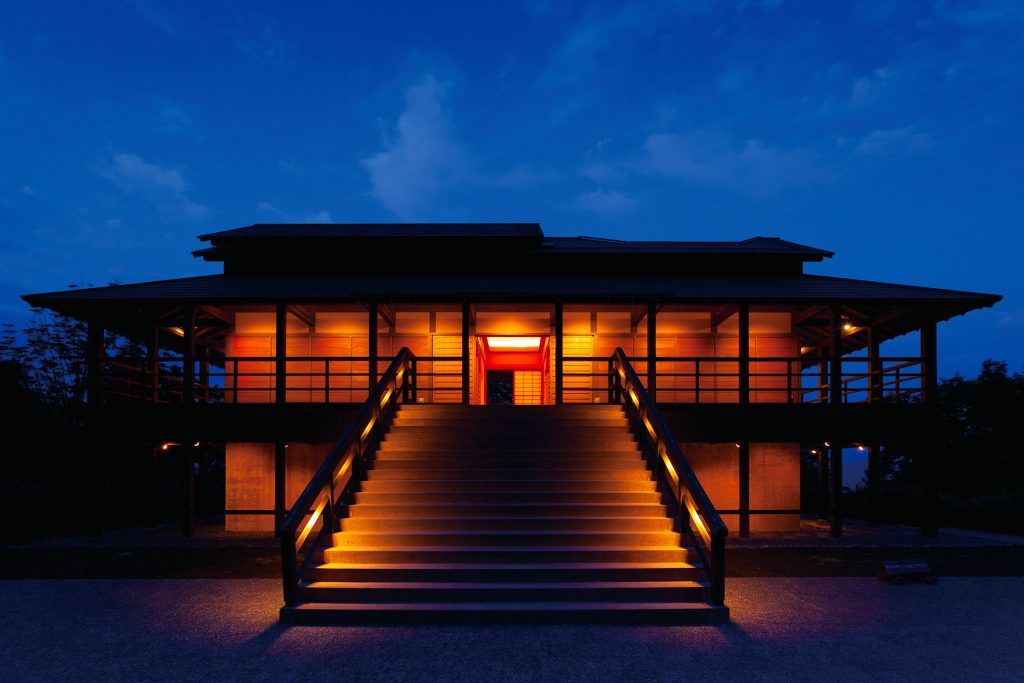 House of Light
The House of Light is a work of art created by James Turrell, renowned globally as "an artist oflight". At this experimental piece you can experience the artist's world of art, is an architectural structure unparalleled elsewhere in the world. It was conceived as a guest house for meditation, as Turrell found this concept in Junichiro Tanizaki's essay "In Praise of Shadows". He came up with the idea of incorporating his work on light into the intimate light of a traditional Japanese-style house.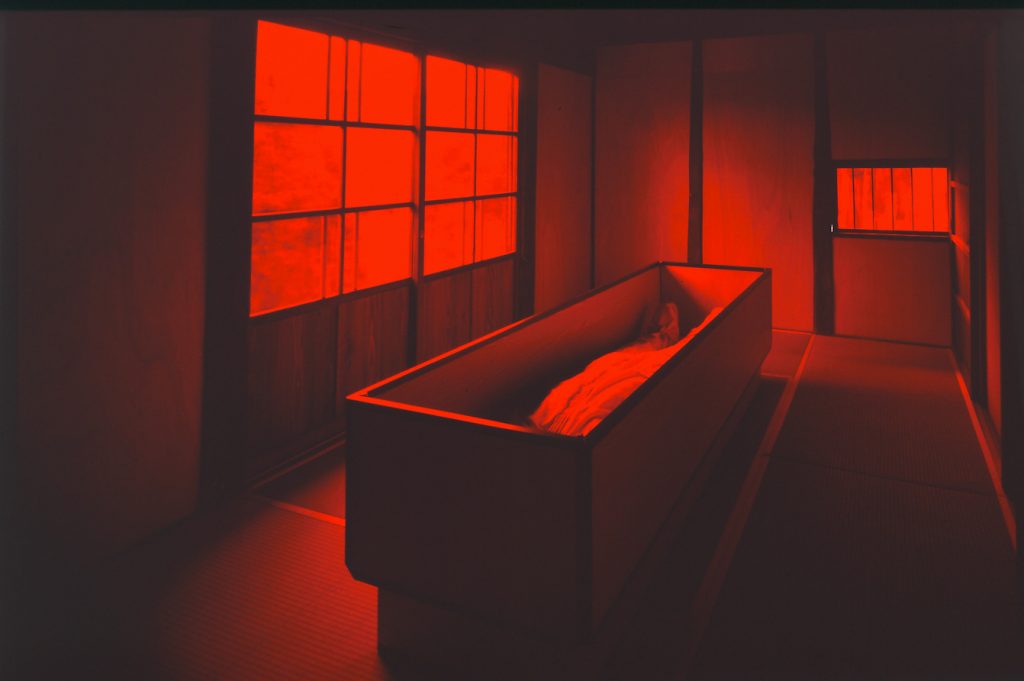 Dream House
An artwork by Marina Abramovic which provides guests with aunique opportunity to reflect upon themselvesby dreaming overnight.
Guests are invited to "participate" in the artwork directly through wearing a special sleeping suit, sleeping in a unique bed, and keeping notes of their own dreams, which will becontributed to thehouse's "Dream Book".
Events and Performances
Performances and entertainments from all over the world are presented on the unique stage of Echigo-Tsumari. Visitors can enjoy local expressions and entertainments. (Limited period only)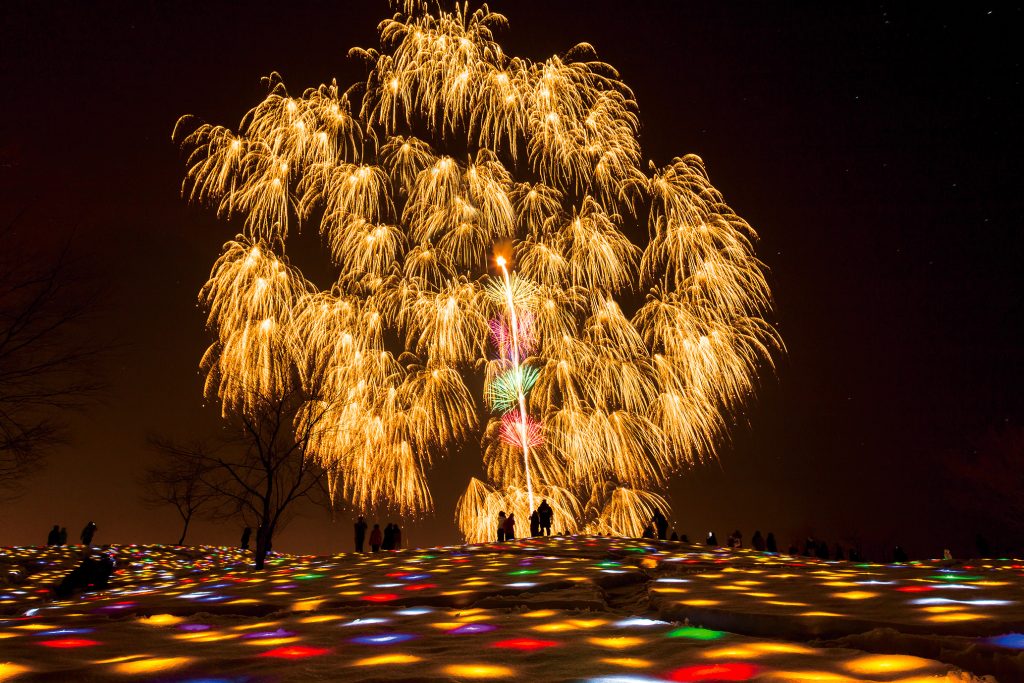 Echigo-Tsumari Snow Fireworks
We hold Echigo-Tsumari Snow Fireworks at Belnatio. The largest fireworks over the snow field in the world will light up winter sky.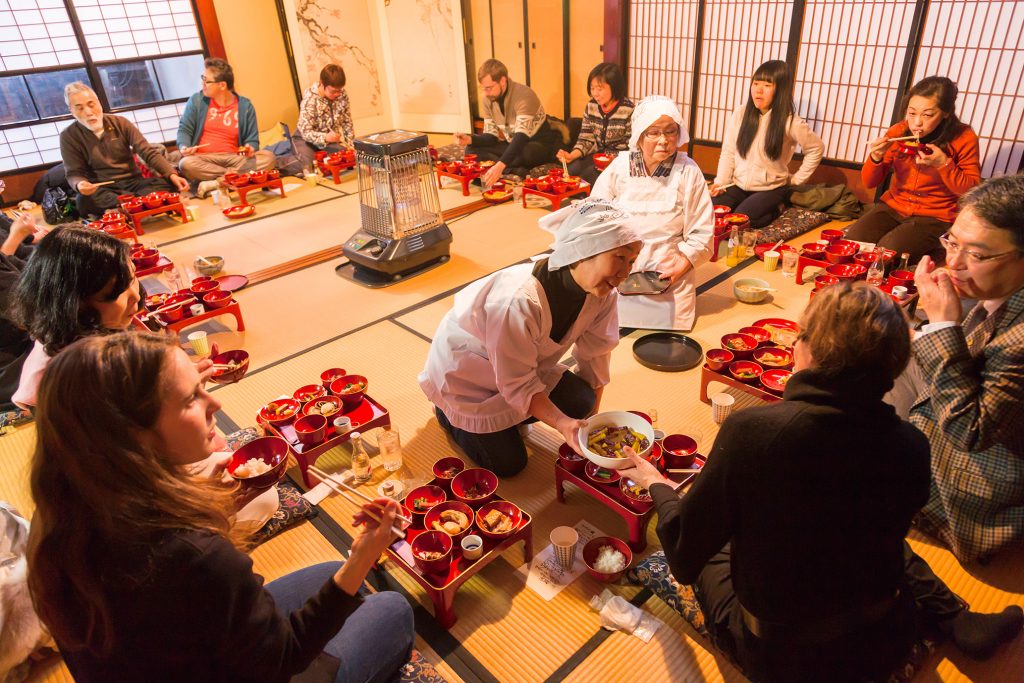 Experience winter
Echigo-Tsumari is home for approximately 200 villages and each has its distinctive ways to enjoy winter. Try "Yukimigozen" and feel like living in the village in winter.
Local people in Echigo-Tsumari work hard. As soon as snow disappear in late spring, they work hard on farming and preserve food for winter before the first snow falls down again. "Yukimigozen" is a special meal served in a traditional crokery used for generations in families and villages.