Immerse yourself in the beauty of YUKIGUNI on this 1-day itinerary that takes you to the contemporary art in harmony with nature.
The first encounter with contemporary art that coexists with the natural environment begins in Echigo-Yuzawa. Echigo-Yuzawa is only 70 minutes from Tokyo, but from there you can explore another world created by world-famous artists.
Our first stop is the Forest School Kyororo. It is a museum dedicated to the natural environment of the region, but the rusty steel structure itself is a work of contemporary art by a Tezuka Architects.
The next stop is the Matsudai Agricultural Stage, one of the main facilities of the Echigo-Tsumari Art Field. The interior was designed by French artist Jean-Luc Vilmouth and you can enjoy a lunch of YUKIGUNI A-grade gourmet food at the Satoyama Restaurant.
Hikari no Yakata is an art building created by James Turrell, an artist who works with light, inspired by Junichiro Tanizaki's "In Praise of Shadows".
Finally, head to the Echigo-Tsumari Ariyama Museum of Contemporary Art, where you can see Leandro Erlich's large-scale works and a permanent collection that captures the essence of Echigo-Tsumari.
TOUR INFORMATION
Price: JP¥14,800
Best Time of Year
2021 Spring ~2021 Autumn
Ideal no. of People
2~27
Booking Deadline
1 day before
Mode of Transport
Designated Bus
Cancellation Charge
3 days prior 30%
day before 40%
day of 50%
no contact 100%
Itinerary
10:00 Meet at Echigo Yuzawa Station→Forest School Kyororo→Matsudai Agricultural Stage→Satoyama Shokudo→Hikari no Yakata→Echigo Tsuma Ariyama Museum of Contemporary Art→Arrive at Echigo Yuzawa Station 17:30
In addition, the TIMELESS YUKIGUNI's luxury inns will make your trip even richer.
Overview
Echigo-Tsumari has a rich culture of satoyama, a place where nature and people coexist in harmony, and the Echigo-Tsumari Art Field has attracted international attention as a successful example of how art can revitalise a region.
The contemporary art dotted around the satoyama of Echigo-Tsumari is open to visitors all year round.There are around 200 works of art, including open-air sculptures, abandoned houses and schools turned into artworks, architectural designs, museums, and accommodation facilities where visitors can stay in the artworks themselves. The main museum is open all year round, but the outdoor works are closed in winter due to snow.
The museum offers a varied programme of exhibitions, artist workshops, events and performances.
Concept: Human beings as part of nature
Embraced by rich nature, Echigo-Tsumari is undergoing a major transition due to the wave of globalisation and ageing population. This is an opportunity to reflect on the challenges that different regions of the world will face in the future and to rethink contemporary paradigms. The theme of the Echigo-Tsumari Art Field is "Human beings as part of nature". Echigo-Tsumari aims to be a model region that demonstrates the possibility of coexistence between humans and nature.
Echigo-Tsumari Art Field, created by international artists and run by local people, offers a warm welcome to visitors and tourists. When viewing the artworks, visitors pass through rice fields and forests, experiencing the landscape and culture of Echigo-Tsumari with all five senses. Through this experience, we regain our forgotten memories of our origins and develop new connections between people and land.
Satoyama and Art
The twentieth century was the era of the city and the art of the city. However, as the city ailed, art became isolated and gradually lost its latent power to connect people to place and people to people. The nature and lifestyle of Echigo-Tsumari seems to inspire artists to recover the connections and collaborations.
Artworks are dotted across approximately 200 villages. This is an absolutely inefficient approach deliberately at odds with the rationalization and efficiency of modern society. Wandering among artworks which emphasise the beauty and richness of satoyama opens the senses to the wonder of existence and revives the soul.
Approximately 160 artworks by artists from all over the world are dotted across the Echigo-Tsumari Art Field. We hope that you will feel and discover satoyama in different seasons via artworks in the fields, unoccupied houses and closed schools.
Collaboration across generations, regions and genres
In Echigo-Tsumari, artists are forced to work on other people's land, which requires interaction with local people. The passion of the artists moves the local people and the local people become involved in the work not as spectators but as collaborators.
The Echigo-Tsumari Art Field also welcomes many young volunteers from urban areas. They take part in a variety of projects. The encounter between elderly people who have been farming in a sparsely populated area and students who do not have a clear purpose for their life in the city is at first marked by conflict and confusion. However, this turned into gratitude and cooperation, leading to the opening up of the community through the initiative of the young people.
Through these activities, Echigo-Tsumari has become a place of hope for people living in urban areas. Young people and experienced people are working together to create a "new hometown".
A new model for community development
Echigo-Tsumari regional development has been recognised beyond the realm of art. Regional development through culture and the arts is attracting attention as a "Creative City". Echigo-Tsumari is beginning to have an impact on regional development in Japan and around the world.
Festival
The largest festival is the Echigo-Tsumari Art Triennale, which dates back to the year 2000 and is held every three years, featuring international artists and presenting many new contemporary artworks. Other festivals are held every summer and winter, featuring new work, theatre and workshops with artists.
Learn and play
Matsudai Nohbutai, Kyororo and artworks in unoccupied houses and abandoned schools offer public programmes through which you can learn about and experience local life, culture. Training programmes can be organized for schools and companies.
Eat
Everything human beings created is a form of "art" and its essential element is "life art" especially. "Food" is one of the most important elements. In the Echigo-Tsumari Art Field, we focus on "food" based on the concept that food is the most essential and basic form of culture and art. "Food" is an important element that allows the locals to become the festival's protagonists. Please enjoy the local and creative cuisine made from the local agricultural products.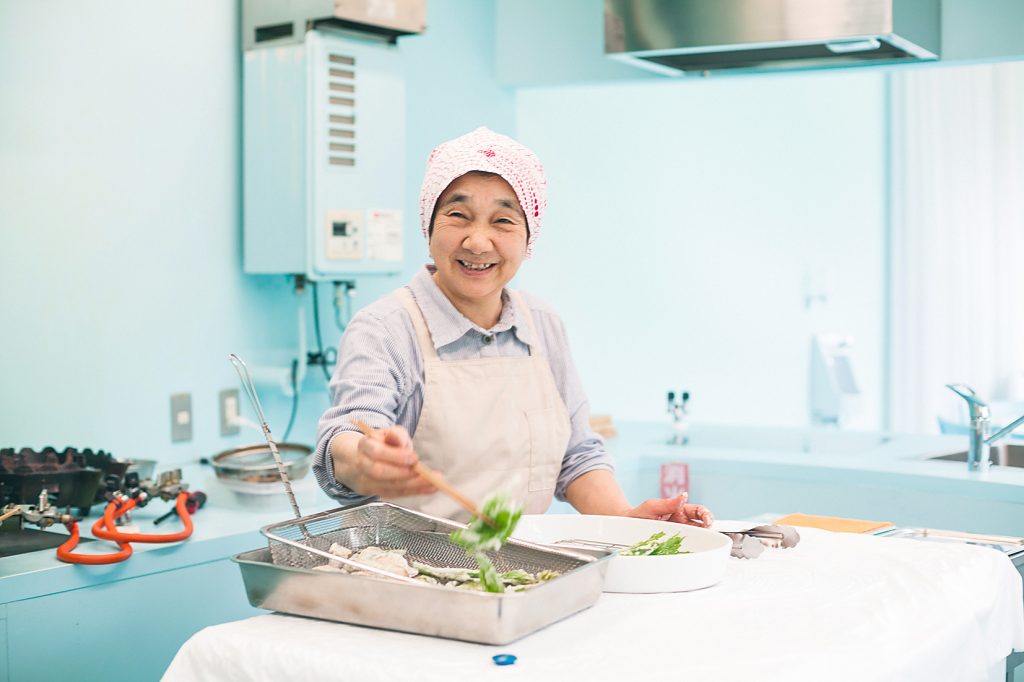 Echigo-Matsudai Satoyama Shokudo
At the Echigo-Matsudai Satoyama Shokudo, we invite you to enjoy fresh vegetables and locally-cultivated rice while overlooking terraced rice field landscapes. The restaurant serves a unique menu inspired by local traditionalrecipes passed down over generations – but with a modern twist.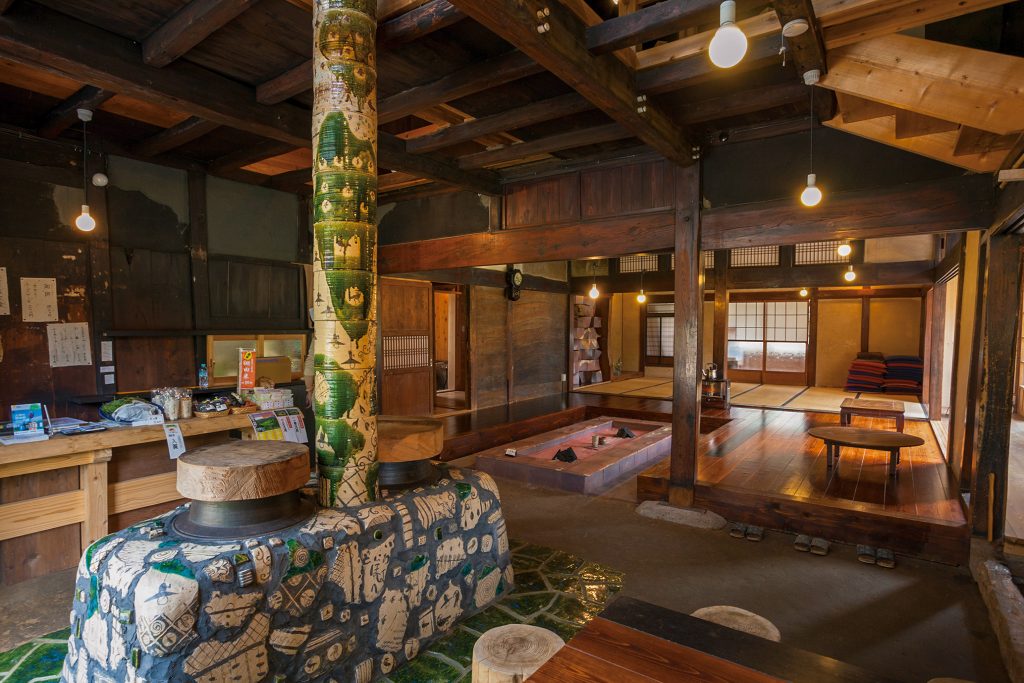 Ubusuna House
Housed in an old thatched-roof traditional house built over 80 years ago. Visitors can enjoy home-cooked meals made by local women using seasonal produce and served on plates and bowls made by famous Japanese potters. (Limited period only)
Stay
Accommodation facilities are all unique. The Echigo-Tsumari Art Field is known for its abandoned house and closed school projects. With these art projects, we produced many accommodation facilities that allow you to immerse in arts.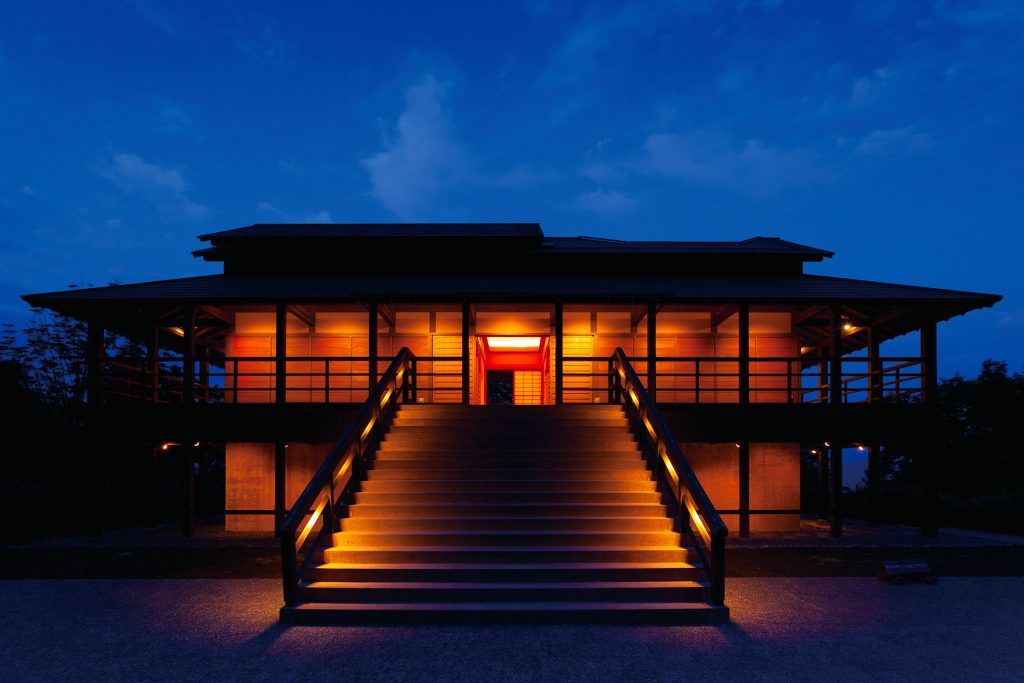 House of Light
The House of Light is a work of art created by James Turrell, renowned globally as "an artist oflight". At this experimental piece you can experience the artist's world of art, is an architectural structure unparalleled elsewhere in the world. It was conceived as a guest house for meditation, as Turrell found this concept in Junichiro Tanizaki's essay "In Praise of Shadows". He came up with the idea of incorporating his work on light into the intimate light of a traditional Japanese-style house.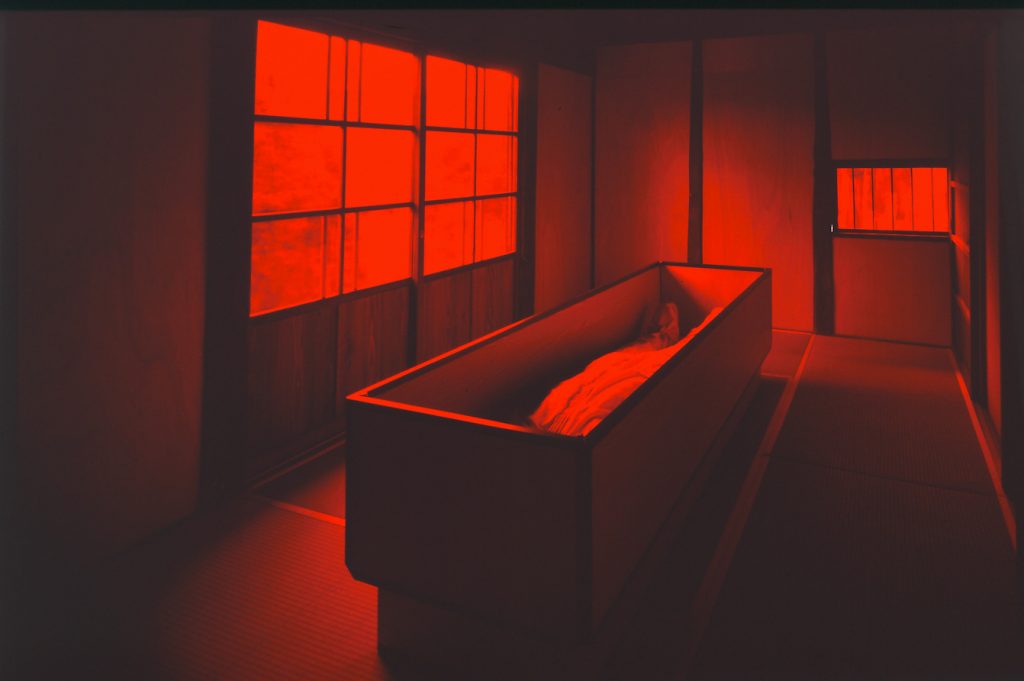 Dream House
An artwork by Marina Abramovic which provides guests with aunique opportunity to reflect upon themselvesby dreaming overnight.
Guests are invited to "participate" in the artwork directly through wearing a special sleeping suit, sleeping in a unique bed, and keeping notes of their own dreams, which will becontributed to thehouse's "Dream Book".
Events and Performances
Performances and entertainments from all over the world are presented on the unique stage of Echigo-Tsumari. Visitors can enjoy local expressions and entertainments. (Limited period only)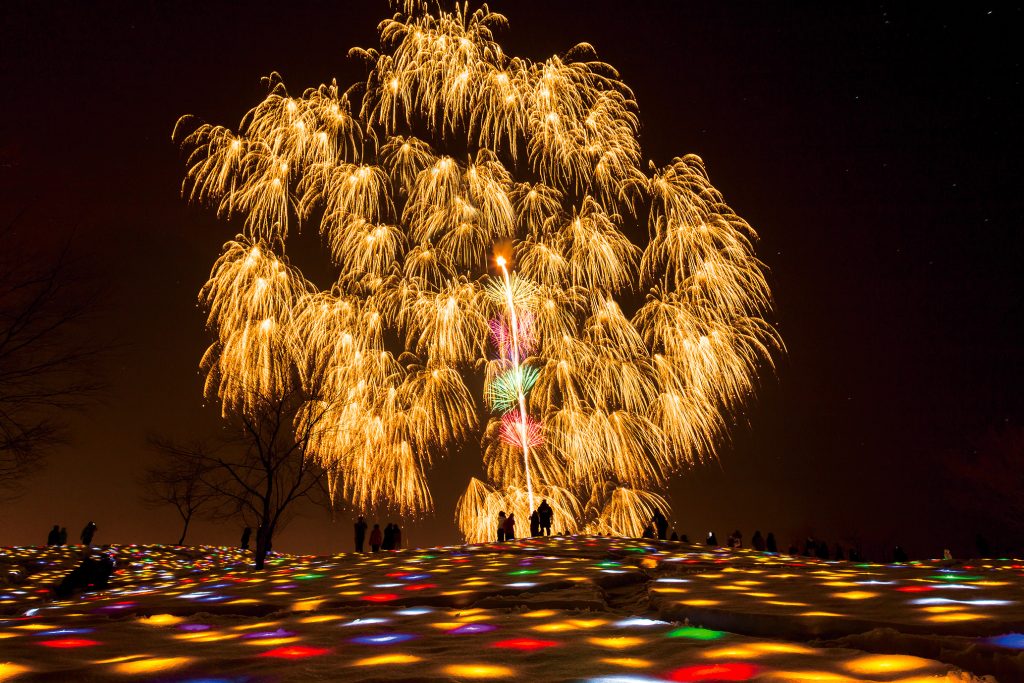 Echigo-Tsumari Snow Fireworks
We hold Echigo-Tsumari Snow Fireworks at Belnatio. The largest fireworks over the snow field in the world will light up winter sky.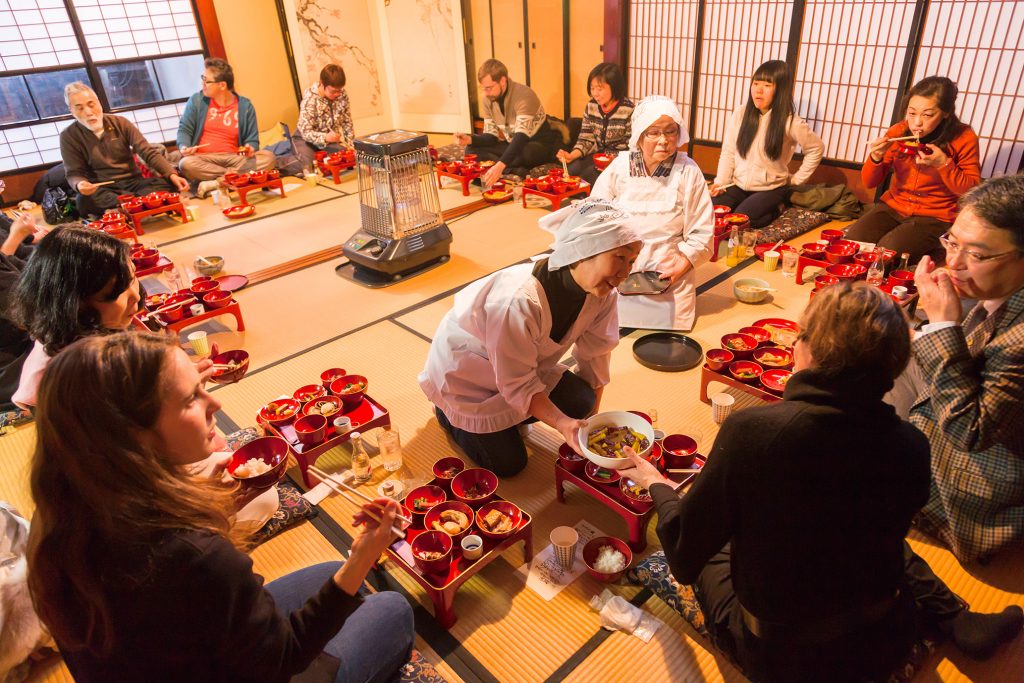 Experience winter
Echigo-Tsumari is home for approximately 200 villages and each has its distinctive ways to enjoy winter. Try "Yukimigozen" and feel like living in the village in winter.
Local people in Echigo-Tsumari work hard. As soon as snow disappear in late spring, they work hard on farming and preserve food for winter before the first snow falls down again. "Yukimigozen" is a special meal served in a traditional crokery used for generations in families and villages.