By Matt Klampert
These days, people are starting to rethink tourism. Rather than the focus being herded to and fro on a big bus from one gift shop to another, many travelers now crave more authentic experiences. This is especially true when considering where to stay during your trip. As domestic tourists here in Japan well know, one of the charms of rural areas like YUKIGUNI is, of course, ryokan and onsen! Ryokan are traditional Japanese-style hotels, and typically have an onsen, or hot spring, on the premises. However, staying at such accommodations can also be somewhat daunting to someone who has never experienced one before. International travelers wonder, and rightly so, about the level of English support they can expect at such a hotel. They also sometimes have a reputation for strict rules that can make people unfamiliar with such accommodation uneasy the first time staying there. Even if you do have experience traveling in Japan, it is sometimes hard to know which of the many onsen hotels to choose. Here are three such hotels in YUKIGUNI that are notable as being particularly foreigner-friendly. For people who have been interested in staying in a Japanese-style hotel with a hot spring, any of these three would make a great choice.
Hatago Isen (Yuzawa) – A relaxing mix of traditional and modern
It is no secret that Yuzawa is one of the most easily accessible parts of the Japanese countryside from Tokyo, being only about an hour away by bullet train. So, what is the most easily accessible ryokan in the most accessible part of the Japanese countryside? The answer would have to be Hatago Isen. A handsome and eclectic hotel, Isen is literally across the street from both Echigo-Yuzawa station and the Snow Country Tourist Information Center. Flexibility and convenience are the key words at Isen, as they pride themselves on being able to work with their guests on an individual level to accommodate just about any request imaginable.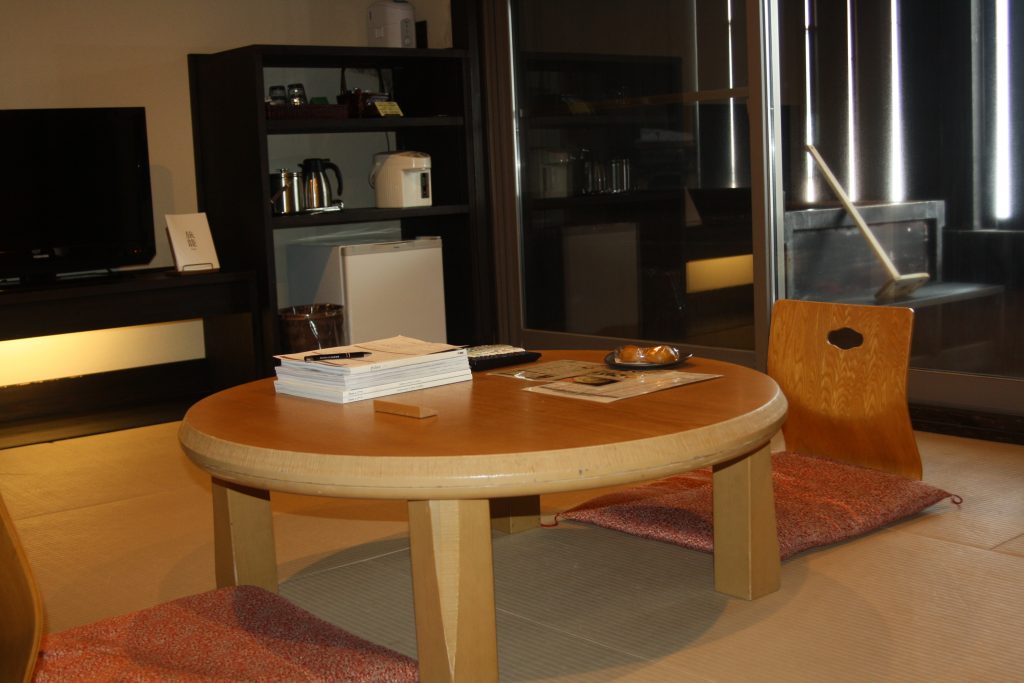 Though Isen has a wide variety of rooms available, they invite international guests to try their Japanese-style rooms. These rooms have given a modern facelift with the helpful addition of "bedmats," a perfect compromise between a western-style hotel bed and Japanese futon, which have the benefit of being familiar yet comfortable. The room itself has all the conveniences one could expect from a modern hotel, so one can stay in comfort. In addition, five of the available rooms in the hotel also have their own private hot spring.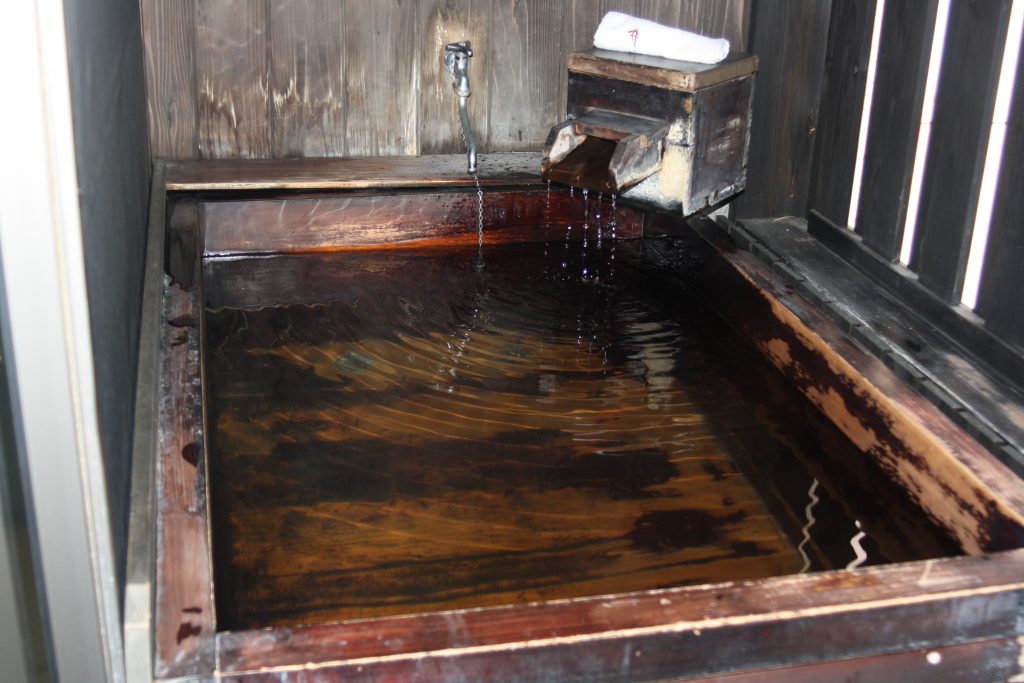 Speaking of onsen, Isen guests have many choices available to them. Guests who don't have a hot spring in their rooms can still enjoy a private onsen experience by paying a small fee and making a reservation at the onsen on the 5th floor, or enjoy the public one in a group, Japanese style! Please note, however, that guests with tattoos are not permitted at the group onsen at Isen. The onsen water in Yuzawa and Isen is unique in that it doesn't have a sulfurous smell, and is also completely clear. This may be appealing to someone experiencing a Japanese hot spring for the first time.
The Isen hotel is all-inclusive in a variety of other ways as well. The premises includes both a restaurant, called Murangozzo, and a café featuring freshly made sweets. The menu at Murangozzo is a modern take on traditional kaiseki course meals, featuring such dishes as Salmon with a nalta jute sauce, steamed eggplant, and their famous A5 grade Niigata beef. Restaurant Murangozzo in particular prides itself on being a farm-to-table affair with locally sourced seasonal food that is sure to please. Isen has many other associated restaurants in the YUKIGUNI region, where you can expect the same level of service and food quality. Guests looking to work off these great meals can book a variety of activities through Isen and their sister hotel Ryugon. Everything from leisurely tours to cooking workshops are available. The staff especially recommend the hiking trips during the summer months.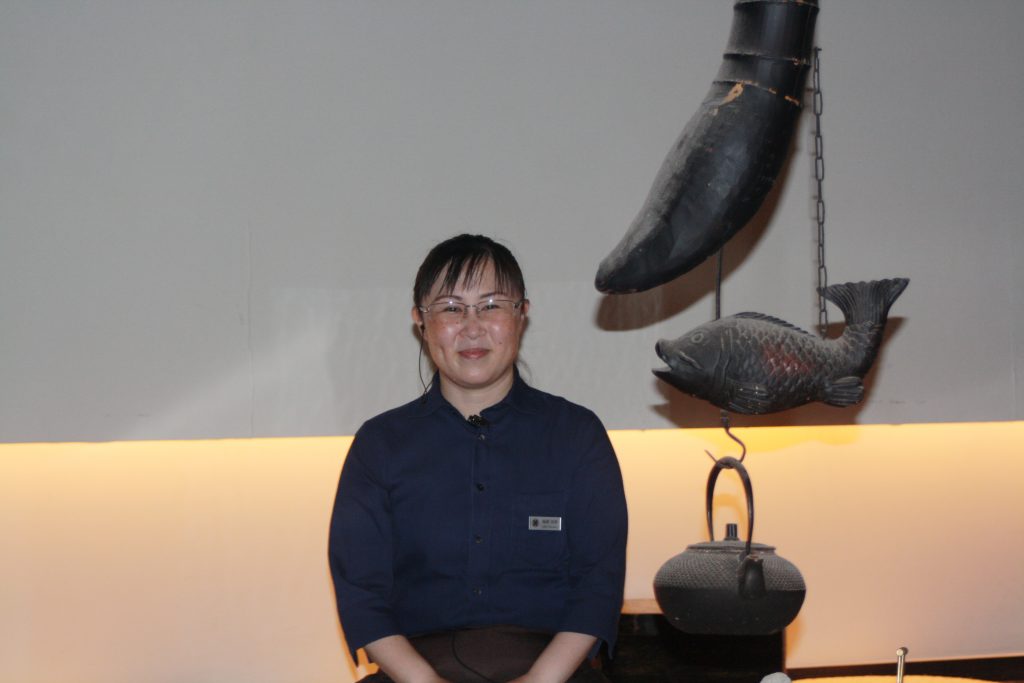 Isen, now in its 4th generation of family ownership, styles itself on an old-fashioned kominka house, with a unique design that is both nostalgic and unique for a ryokan hotel.
A Home Away from Home: Hinanoyado Chitose at Matsunoyama Onsen Village (Tokamachi)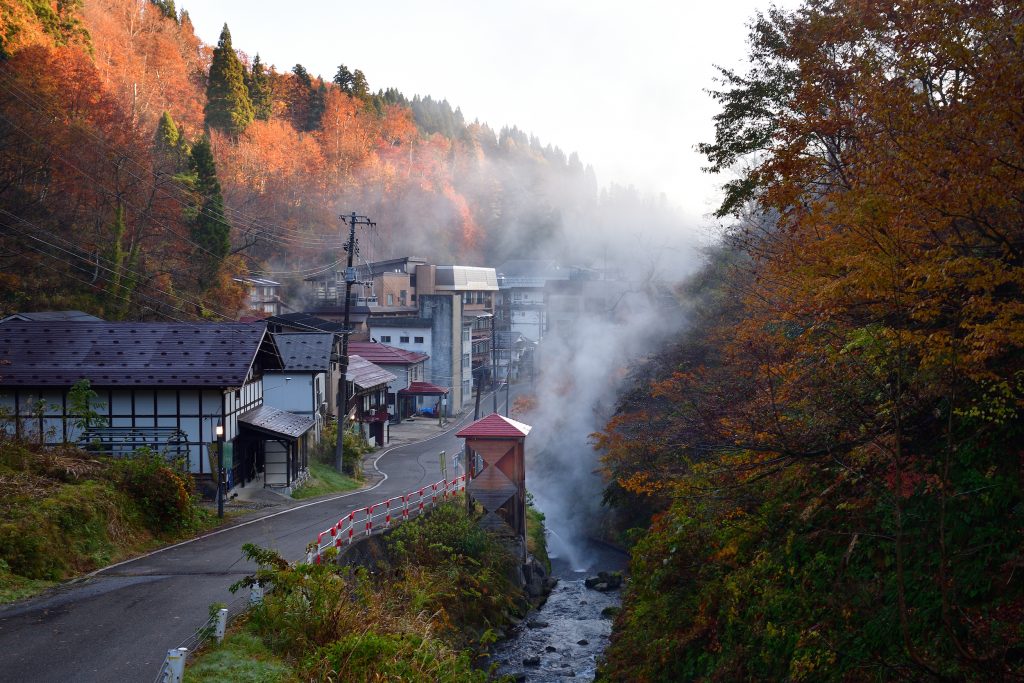 Travel through rugged Tokamachi, with its forests and famous rice terraces, and you will eventually come to the small hot springs area of Matsunoyama. Though quiet and unassuming, this region has a long history, and is known within the country as one the three most famous medicinal onsen in Japan. Besides just taking a dip for fun, it isn't unheard of for doctors even in the present day to prescribe a trip to the local hot spring. However, not all onsen are created equal, and as a health spa area Matsunoyama is second to none. The biggest of all the ryokan in the area is Hinanoyado Chitose, which aims to introduce guests to the local culture at a reasonable price.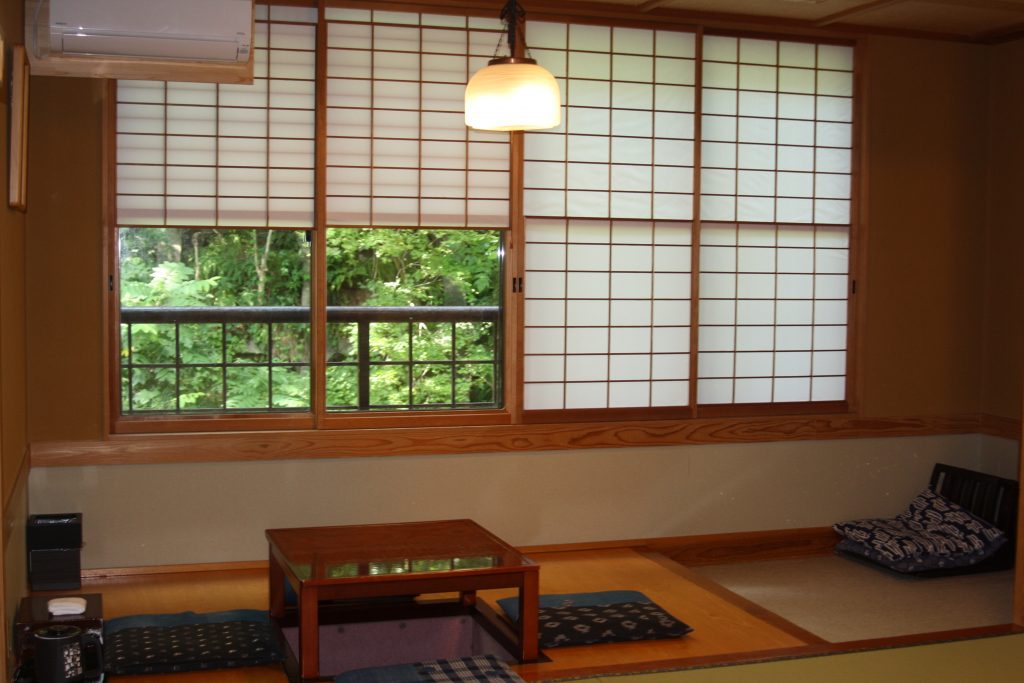 At Chitose, you have your choice of Japanese and western-style rooms. The Yamaboshi room, as shown here, is laid out somewhat typically of Japanese ryokan hotels: one big open room, tatami-style flooring, and futon that you lay out yourself each night. There are special windows here, called yukimi shoji, which are designed to let you enjoy watching the snow fall from the luxury of your heated kotatsu table. The room decorations and furnishings at Chitose are handmade in the local style and are a great introduction to Matsunoyama's regional history.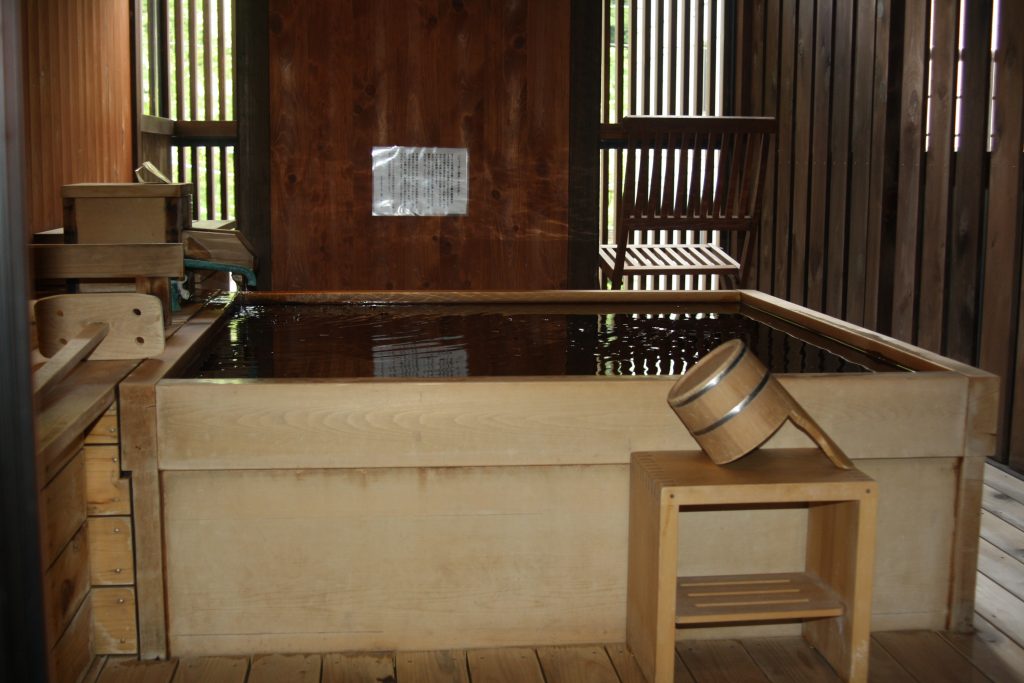 Speaking of Matsunoyama's history, it is primarily tied to the healing properties of its hot springs. Though the majority of hot springs in Japan contain sulfur, as a result of past volcanic activity, the hot springs in Matsunoyama is the result of trapped seawater. Containing an extremely high salt content, it is said to be useful in the treatment of rheumatism, digestive problems, neuralgia, and the healing of bone fractures. Although only three of the 27 rooms contain private onsen, the public onsen, which contains the same kind of water, can be reserved for a small fee. In addition, the management at Chitose assured me that guests with tattoos can use the facilities without any restrictions.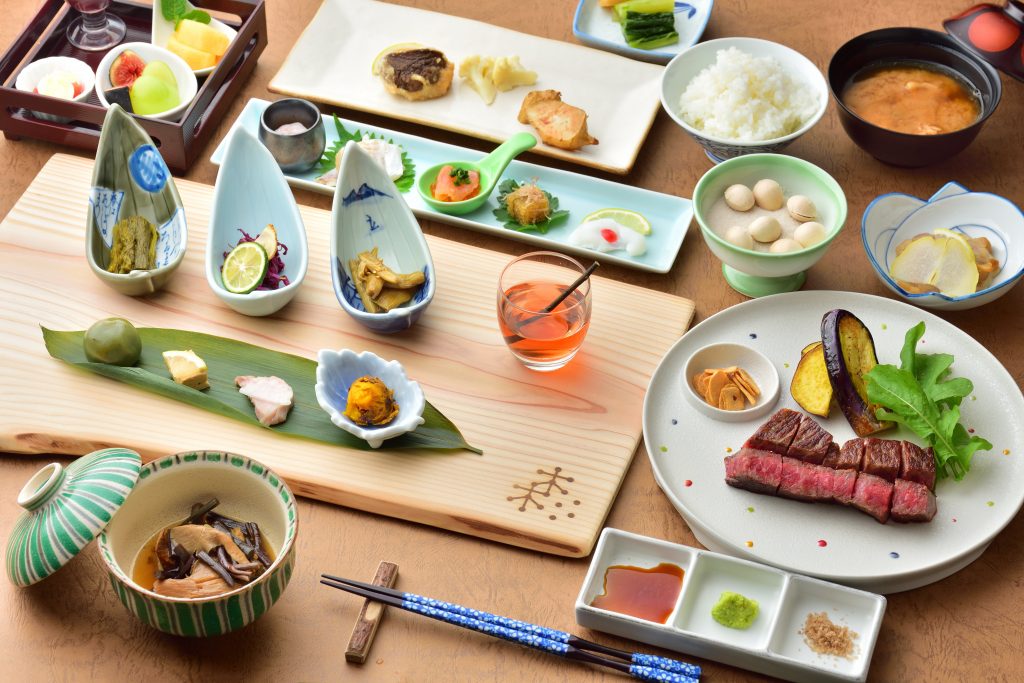 Another charm of Chitose are the home-cooked meals at the restaurant, featuring plenty of vegetarian friendly fare, as well as other house specialties such as their slow cooked pork. Chitose can accommodate guests with food allergies, as well as other dietary restrictions. The home-grown attitude of Chitose even extends to the local power plant, where they use the onsen water in the hopes of eventually making the town self-sufficient in an eco-friendly way.
YUKIGUNI Luxury: Bettei Senjuan (Minakami)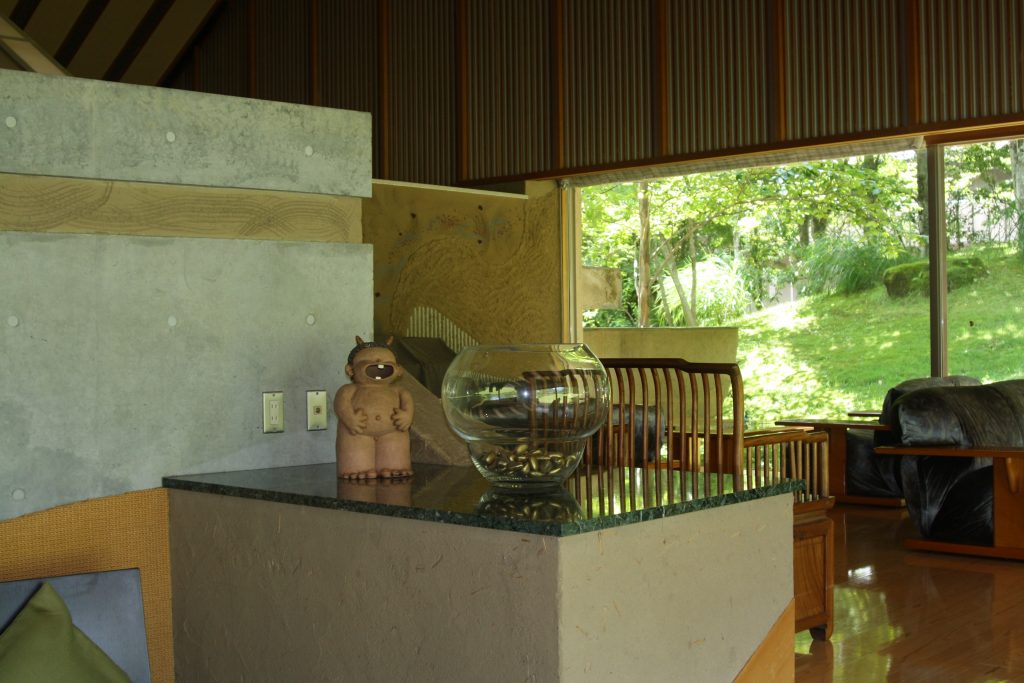 Last, but not least, we head across the border to Gunma prefecture to Bettei Senjuan in Minakami. Lately, Minakami has acquired something of a reputation among the adventurous and the outdoorsy for the variety of activities available to guests in the warmer months. From rafting to bungee jumping, Minakami has you covered. While there, if you want to experience your indoor time in complete luxury, look no further than Bettei Senjuan. Located next to Mt. Tanigawa, this spacious ryokan contains 18 rooms, each with their own private onsen.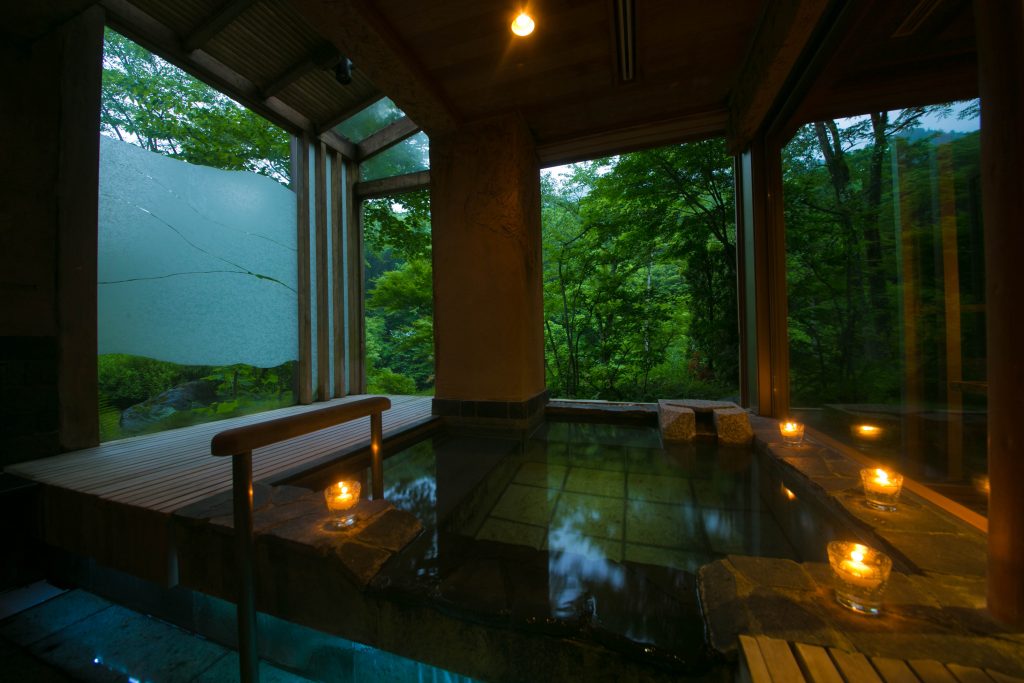 From the outset, entering Senjuan is like being inside a work of art. The walls and sliding doors all contain intricate work from local artists, and the Edo-style marbling and hand-crafted washi makes wandering the hotel grounds an absolute joy. Along the exterior walls are giant glass windows to better help you admire the scenery; in fact, the surroundings of the hotel are so beautiful that they have made yoga mats available to let you take in the daytime scenery or watch the stars at night, all while enjoying some delicious ume plum juice.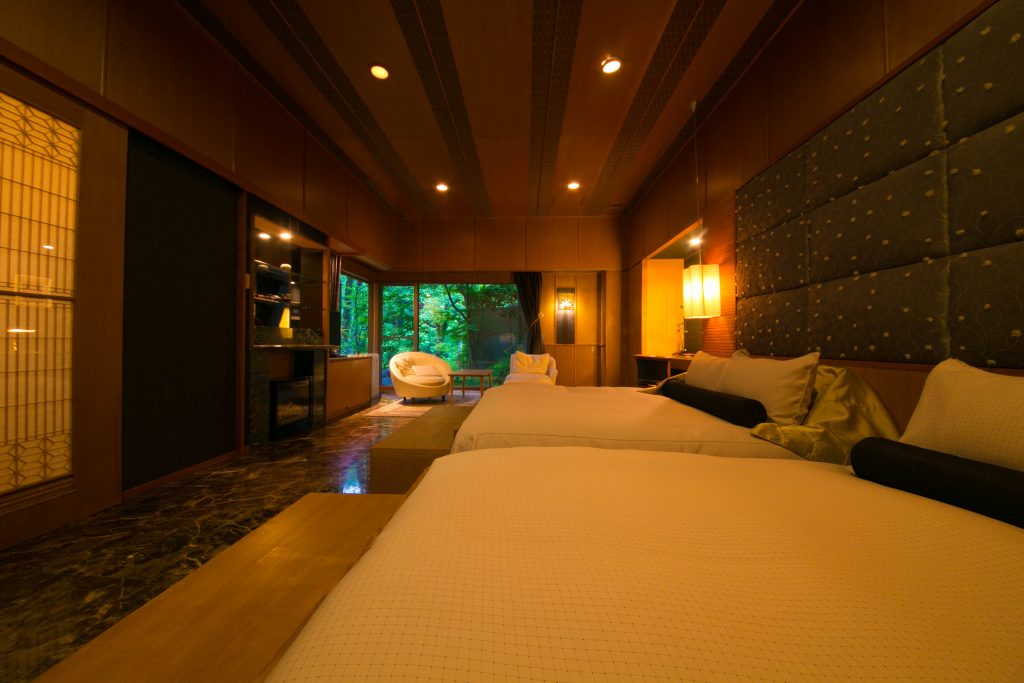 The rooms themselves vary from Japanese style to something you might see at a top luxury hotel in Europe or America. The "Shakunage" room, though seemingly traditional Japanese, takes extra care to accommodate western clientele, including large sized futon and a separate comfortable living room. The private garden (yes, you read that right) for the room is a sight to behold, full of dragonflies and wisteria flowers alongside the beautiful hot spring. When walking in the super deluxe western-style room, one thing it is not is your typically-sized room in Japan: big beds, big closets, big everything! As with all rooms, it has central heating and cooling, with the extra addition of a cozy fireplace and a fully stocked minibar. Additionally, all guests can expect room service from the hotel restaurant, featuring traditional kaiseki cuisine with all-natural additive-free ingredients.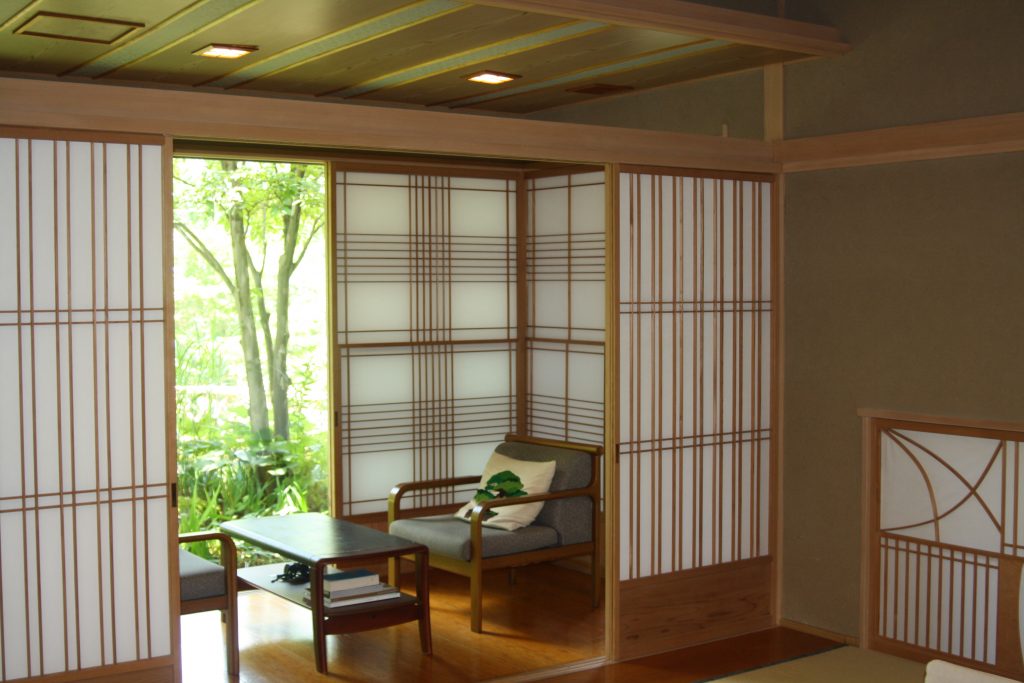 As for the hot springs at Senjuan, the public onsen may be entered freely without reservations. It is unique for both its tatami floor as well as massage chairs – a curious mixture of east-meets-west. The open-air rotenburo bath is adjacent to a brick sauna. At Senjuan, there are infinite ways for you to have the most relaxing time possible in YUKIGUNI.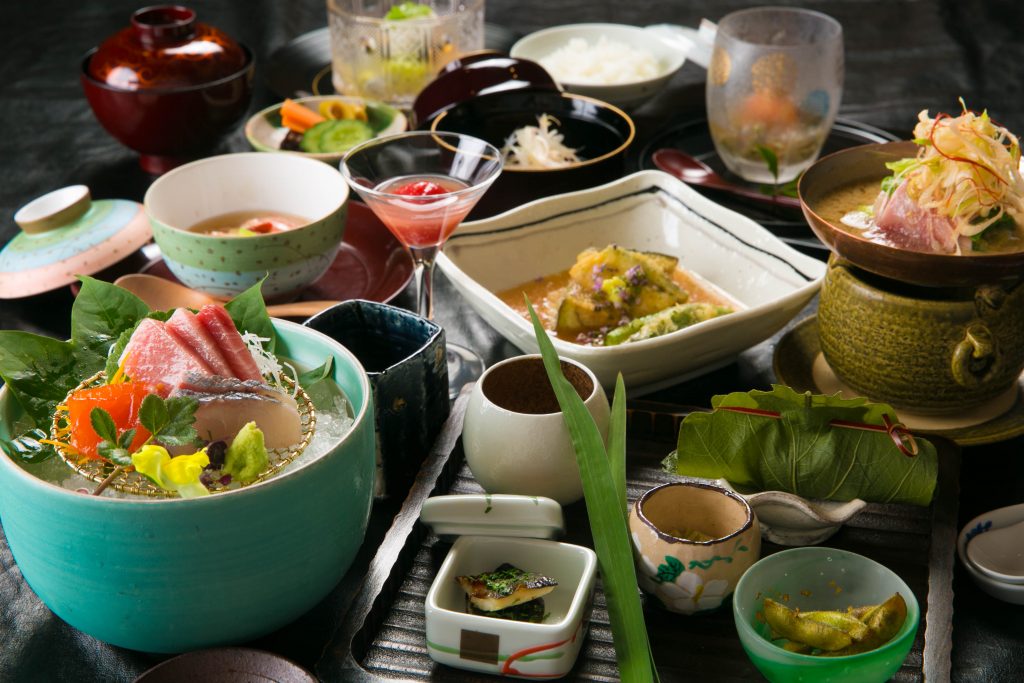 Information for travelers
Address: 2455 Yuzawa, Minamiuonuma District, Niigata 949-6101
Access: 1 minute walk from west exit of Echigo-Yuzawa station
Address: 49-1 Matsunoyamayumoto, Tokamachi, Niigata 942-1432
Access: Shuttle service from Echigo-Yuzawa station available depending on season, please inquire for more information.
Address: 614 Tanigawa, Minakami, Tone District, Gunma 379-1619
Access: 5 minutes by car from Minakami station, or 30 minute walk. Please inquire with hotel for direct pickup.