Certification schemes such as "TIMELESS YUKIGUNI" and "YUKIGUNI A-grade Gourmet" are part of the criteria for luxury travel. However, our idea of "luxury" does not mean simply being extravagant or exclusive. It is a unique culture and experience that is true luxury. If you are interested in the uniqueness of our region, you may also like to read this article.

A Hidden Cultural Experience In Japan
The Gateway to Yukiguni

Ecolodges Japan in YUKIGUNI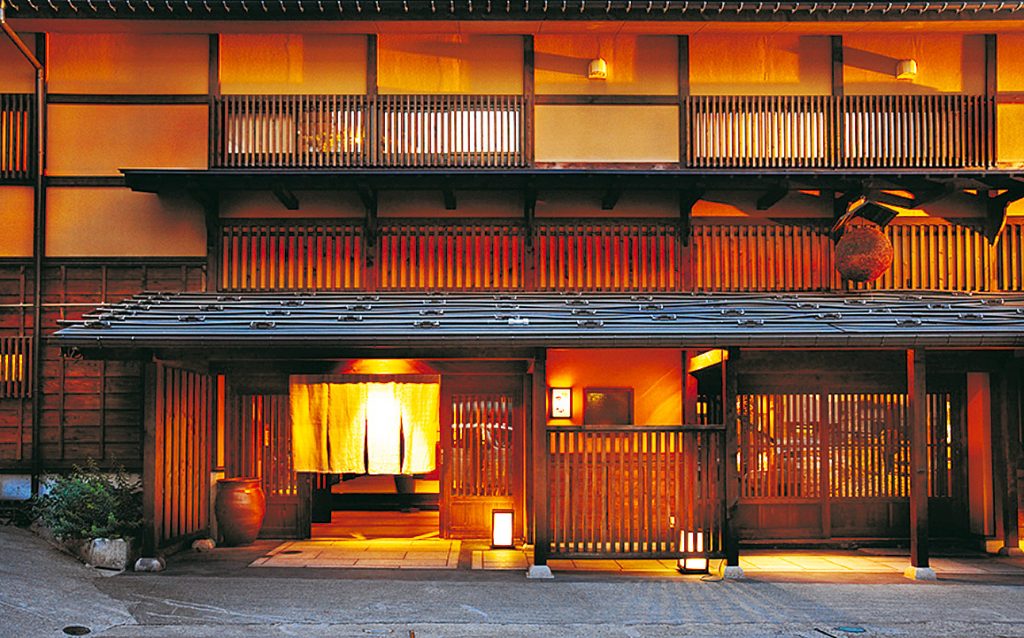 Message from the accommodation
There are many types of travel, and they are all available to you here. Your journey begins at Hatago, and the whole of YUKIGUNI awaits.
Half board/16,000 JPY〜30,000 JPY
The reason why TIMELESS YUKIGUNI recommend Hatago Isen.
The ryokans selected to represent TIMELESS YUKIGUNI embody the very best of the Japanese hospitality tradition and the highest levels of comfort. Yet each one of them goes further than this, and all have incorporated influences from the history, culture, and way of life of the area. For those who see travel as an opportunity to broaden their minds and horizons, rather than mere sightseeing, TIMELESS YUKIGUNI ryokans are the perfect choice.
List of 12 ryokans at TIMELESS YUKIGUNI
Inspiration 
Hatago Onsen is directly opposite the West Exit of Echigo-Yuzawa Station and it owes its existence to the discovery of an onsen in that part of Yuzawa. Its roots and concept put it in the position of a gateway to the local region.
The Unique Position of the Hatago Inns
A hatago was a type of inn at a post town along a main travelling route. It was the lodging type for the normal person rather than the officials who stayed at a different kind of accommodation. The hatagos soon started to occupy a unique position in the town as a place where people came to congregate and exchange information. Hatago Isen carries on these traditions as a welcoming rest stop on your journey, a place to meet people, and as a gateway to the local region.
Comfort
Hatago inns were used by travelers passing through and aimed to give them the chance to rest, dine, and enjoy before continuing their journey. The modern twist on this concept is embraced at Hatago Isen.
Stylish Rooms with Traditional Roots
The hatago tradition was for short stays as travelers moved along their way, rather than the longer stays typical at bigger onsen ryokans. The rooms at a hatago were smaller but even today the comfort is first rate. Hatago Isen has stylish modern rooms that manage to combine traditional aspects with some chic touches.
To find out more, please visit TIMELESS YUKIGUNI report page.
Hatago Isen is certified as A-grade Gourmet.
A-grade gourmet is a food certification system designed to preserve and pass on to future generations a traditional food culture suited to the climate. The certification is based on the proportion of local products used, including agricultural products and seasonings, efforts made in conjunction with agricultural producers, and taste.
If you would like to know more about the concept of A-Grade Gourmet and its contribution to the community, please read the following articles.
YUKIGUNI A-Grade Gourmet To Pass On Japanese Food Culture To The Future
Critique by A-grade Gourmets
Overall rating ★★★
They use many local ingredients such as wild vegetables, traditional vegetables and Niigata Wagyu beef.
Their dishes bring out the best of the ingredients.
All Their food is handmade, both processed and seasoned. Their seasonings are also made in Niigata.
Because they trust in their ingredients, they do as little as possible.
HATAGO Isen is a long-established inn located right in front of the west exit of Echigo-Yuzawa station. The charm of this inn is its comfortable rooms, themed "Study Room" and "Snooze Room", and its creative cuisine, which uses plenty of Uonuma ingredients.
The dishes are creative cuisine prepared with Uonuma vegetables and traditional foods in a unique arrangement. The dishes may look like French cuisine, but they are based on Japanese cuisine. It goes well with sake and wine. The basic dashi is made from bonito and kombu. They use mostly local ingredients such as Koshihikari rice produced in Minami-uonuma, Yukimuro (Snow room) potatoes, Niigata Wagyu beef, Miyuki trout and Uonuma wasabi.
Uonuma produces good rice and vegetables are also delicious. The ingredients themselves have a lot of power, so the chef try to cook them as little as possible to bring out their best flavours.
That's why the seasoning is very light. They don't serve richly cooked dishes with soy sauce, or salads with strong dressings. They make all the seasonings and dressings they can by hand, according to the ingredients.
To learn more about A-Grade Gourmet (official website in Japanese)
2455 Yuzawa Machi, Minamiuonuma Gun, Niigata Pref Japan 949-6101
It is no secret that Yuzawa is one of the most easily accessible parts of the Japanese countryside from Tokyo, being only about an hour away by bullet train. So, what is the most easily accessible ryokan in the most accessible part of the Japanese countryside? The answer would have to be Hatago Isen. A handsome and eclectic hotel, Isen is literally across the street from both Echigo-Yuzawa station and the Snow Country Tourist Information Center. Flexibility and convenience are the key words at Isen, as they pride themselves on being able to work with their guests on an individual level to accommodate just about any request imaginable.

An Introduction To Hotels In YUKIGUNI