Certification schemes such as "TIMELESS YUKIGUNI" and "YUKIGUNI A-grade Gourmet" are part of the criteria for luxury travel. However, our idea of "luxury" does not mean simply being extravagant or exclusive. It is a unique culture and experience that is true luxury. If you are interested in the uniqueness of our region, you may also like to read this article.

A Hidden Cultural Experience In Japan
Modern design that incorporates harmony with the local nature and region

Ecolodges Japan in YUKIGUNI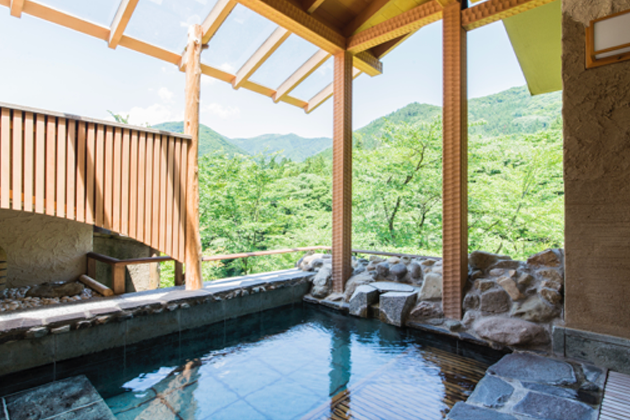 Message from the accommodation
We have been a member of Relas & Chateaux since 2012. It takes only about two hours by car from Tokyo. Located at the foot of Mount Tanigawa. There are 18 rooms within the site of 83000 square meters. Once you pass through the entrance hall, there are seasonally wonderful views.
Room only/39,894 JPY〜59,334 JPY
From the outset, entering Senjuan is like being inside a work of art. The walls and sliding doors all contain intricate work from local artists, and the Edo-style marbling and hand-crafted washi makes wandering the hotel grounds an absolute joy. Along the exterior walls are giant glass windows to better help you admire the scenery; in fact, the surroundings of the hotel are so beautiful that they have made yoga mats available to let you take in the daytime scenery or watch the stars at night, all while enjoying some delicious ume plum juice.

An Introduction To Hotels In YUKIGUNI
The reason why TIMELESS YUKIGUNI recommend Bettei Senjuan hotel.
The ryokans selected to represent TIMELESS YUKIGUNI embody the very best of the Japanese hospitality tradition and the highest levels of comfort. Yet each one of them goes further than this, and all have incorporated influences from the history, culture, and way of life of the area. For those who see travel as an opportunity to broaden their minds and horizons, rather than mere sightseeing, TIMELESS YUKIGUNI ryokans are the perfect choice.
List of 12 ryokans at TIMELESS YUKIGUNI
Inspiration 
Senjuan sits beside the Tanigawa river in Minakami, Gunma Prefecture. It was built to be something completely different, to admire the majesty of Mount Tanigawa, and to be a fitting retreat for a spiritual master. It is a luxurious place and succeeds on all counts.
Design Fusion
Bettei Senjuan is a beautiful property and a wonderful place to relax. The design throughout is an interesting blend of traditional and modern, and the attention to detail means that you are constantly making new discoveries. The earthen walls use clay from different parts of the country. The local clay is much darker than the type from Kyoto that is used more abundantly. The door covers have been specially designed for Senjuan. Some of the pillars in the dining room are from old pipes that come from the family's connections to a company that drills for onsen.
Comfort
The level of comfort at Bettei Senjuan is superb, and you know as soon as you set foot inside the grounds that you are in for a very special stay.
Private Outdoor Onsen With Stunning Views
It is possible to sit in an outdoor hot spring bath attached to your room and gaze up at the face of Mount Tanigawa as each room has its own rotenburo. The ryokan has been built as a relaxation space so comfort and quiet abound. It is the ideal place to reset and refresh as you gaze out and contemplate the beauty of nature with the sound of the river close by.
To find out more, please visit TIMELESS YUKIGUNI report page.
Bettei Senjuan Hotel is certified as A-grade Gourmet.
A-grade gourmet is a food certification system designed to preserve and pass on to future generations a traditional food culture suited to the climate. The certification is based on the proportion of local products used, including agricultural products and seasonings, efforts made in conjunction with agricultural producers, and taste.
If you would like to know more about the concept of A-Grade Gourmet and its contribution to the community, please read the following articles.
YUKIGUNI A-Grade Gourmet To Pass On Japanese Food Culture To The Future
Critique by A-grade gourmets
Overall rating ★★★
They use the highest quality, additive-free seasonings and processed products.
They carefully prepare our dashi from the finest natural ingredients.
All rooms have an outdoor hot spring bath with a view of Mt Tanigawa. The view is superb.
A taste that soaks into your body
The chef, who trained at a ryotei restaurant in Kyoto, uses local ingredients as well as Kyoto vegetables to create spectacular kaiseki cuisine.
They source the best quality ingredients from all over Japan, with a particular focus on those produced in Minakami. All vegetables are sourced from local farms. For dashi, They use a selection of the best quality ingredients from kombu, katsuo, tuna and mackerel. For example, tuna and bonito back flakes are used for boiled dishes, while bonito belly flakes are used for miso soup.
Because they care so much about the quality of our products, of course use seasonings that are additive-free. They use only first-class, naturally brewed products made in the traditional way. This is what makes foods so delicious. The highest quality dashi brings out the flavour of the ingredients and is complemented by additive-free seasonings to give you a clear taste.
To learn more about A-Grade Gourmet (official website in Japanese)
614, Tanigawa, Minakami-machi, Tone-gun, Gunma-pref.