By Matt Klampert
Although the old Japanese name for the United States- Beikoku – literally translates to "Rice Country," it is in fact Japan that is best known for its rice. Whether it is rolled up for sushi, topped with meat and / or fish for a donburi rice bowl, or milled and fermented to make sake, Japanese traditional food culture is dominated by fluffy white rice. As rice is so important to Japanese cuisine, it is no surprise that it is grown just about everywhere in Japan.
So where is the best place to find delicious rice? That's right, it is right here in YUKIGUNI! Niigata in particular is known as Japan's breadbasket for the amount of agriculture that takes place here. This is also where Koshihikari rice is grown.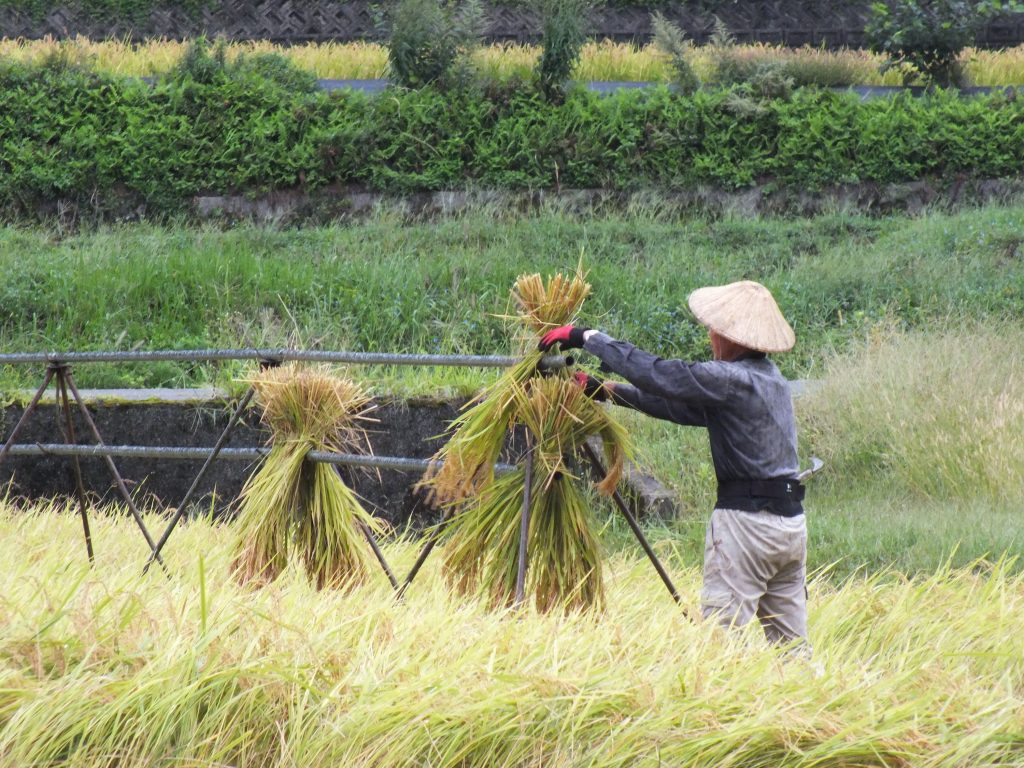 All about Snow Country's famous rice: Koshihikari!
Since it was first developed in 1956, Koshihikari has become the most popular variety of rice in Japan. By this time, the attitude toward rice production in Japan had changed from trying to produce as much as possible to instead emphasizing the quality and taste of the rice. Koshihikari is known for its soft, sticky, and chewy texture, and is perfect for sushi and other traditional Japanese dishes. Koshihikari can be enjoyed all around Niigata, such as Yuzawa, Tsunan and Minamiuonuma. These days, Koshihikari and other crossbred varieties of Koshihikari are widely grown, but we encourage you to try this delicious rice at its source in Snow Country.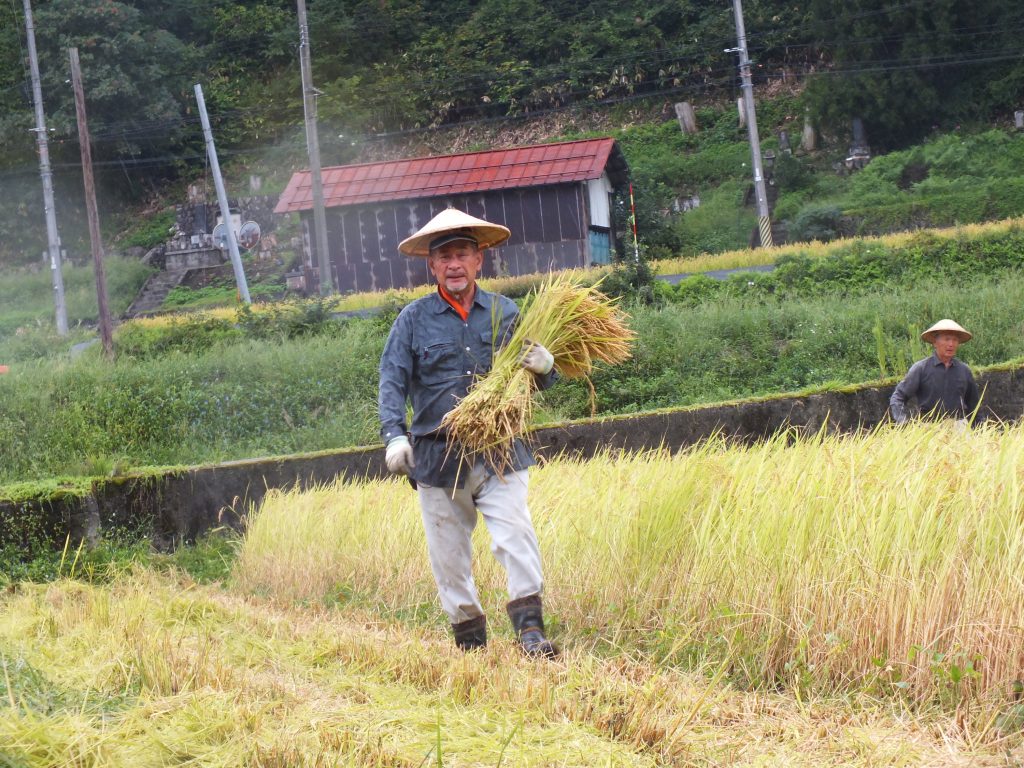 The process of growing Koshihikari rice – A timeline
Let's talk a little about how this delicious rice arrives at your table. The planting season for rice begins each year in the spring around April. Farmers choose the best places for growing rice, especially marshlands around mountainous regions. Melted snow comes down from the mountains and permeates the clay-like soil. The Snow Country Region is especially well known for picturesque rice terraces, such as those that can be found at Hoshitouge in Tokamachi and within Tsunan's Naeba Sanroku Geopark.
Once the rice seeds are spread, the large temperature differences between hot and cold during the day help the rice grow well, and frequent precipitation (ideally every three days) keeps the soil from drying up. Then the rice is ready to be harvested in the fall from mid-September through the end of the month. However, just as we enjoy the taste of this rice, so too do some of the local wildlife. In particular, wild boars and snow monkeys have been known to eat Koshihikari rice. In the case of the latter, farmers sometimes put their harvested rice on our ski lifts to dry so that the monkeys won't steal it! These days, as rice is selling well, they try to grow as much as they can. After the rice is harvested, the leftovers are piled up and burned, in order to help regenerate the soil for next year's crop.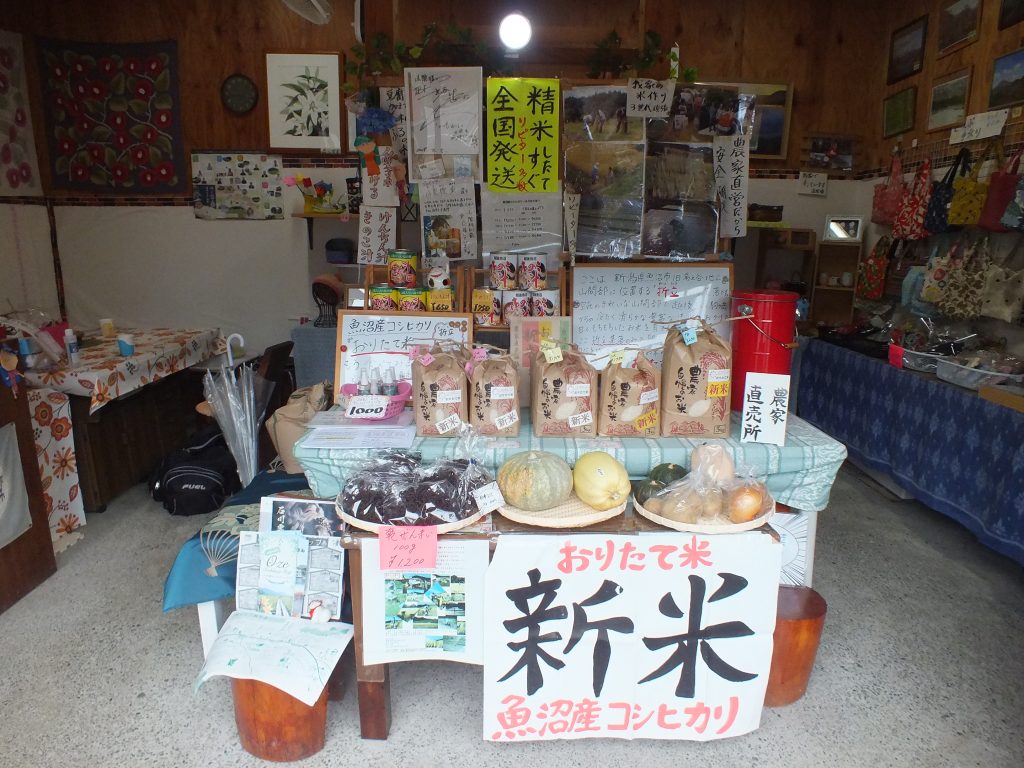 About Oritate Onsen – The home of "Oritate-mai"
Oritate Hot Spring in Uonuma City is a quiet onsen village where they make their own variety of Koshihikari known as "Oritate-mai." Oritate-mai has been grown since the 1960s. You can purchase this exclusive and premium Koshihikari rice at local shops such as Tezukuri House Oritate. Tezukuri House sells "shinmai," highly prized freshly harvested rice, a selection of local produce, as well as cute local crafts.
The Oritate Hot Spring area is busiest in fall during the kouyo season when the leaves change color. Hikers like to come here to climb Mt. Echigo-Komagatake, which is one of the three most important mountains in Niigata. Other activities available include soba-making workshops, and there is also a mini golf course.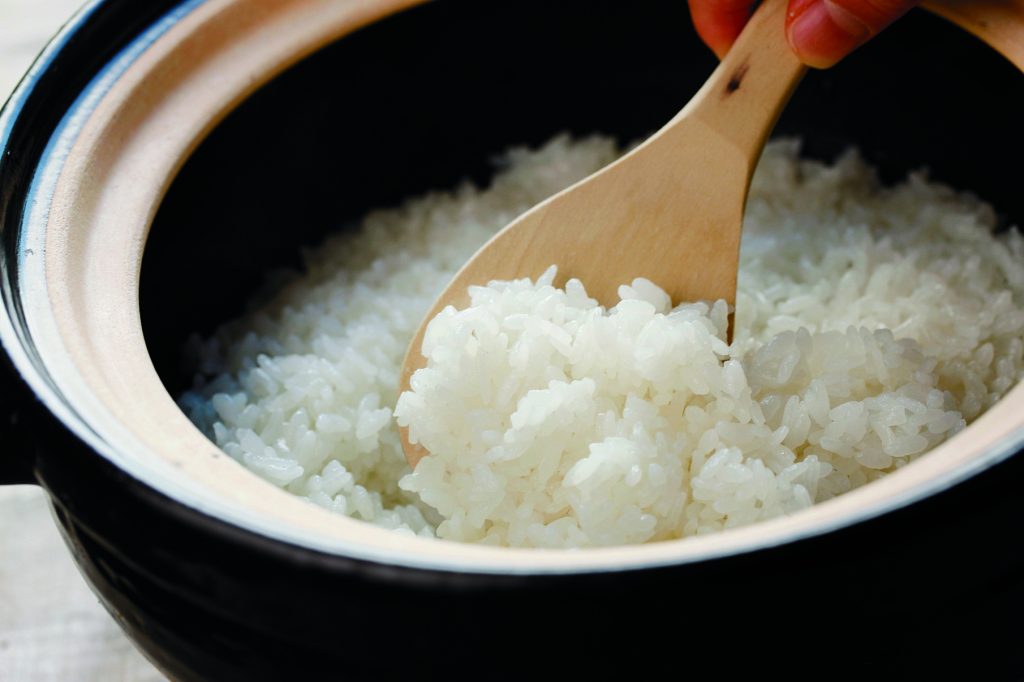 Where can I eat Koshihikari?
People around here like to say that "you can live as long as you have rice." While quite rural and off the beaten path, people in YUKIGUNI are also quite fortunate in that they are able to eat Koshihikari rice for three meals a day.
If you want to enjoy Koshihikari at its best, leave it to the experts! Irori Jinen is a farm-to-table restaurant within Oritate Onsen itself where you can experience the best of traditional mountain cuisine with a generous portion of Oritate-mai rice. Kyou, an izakaya in Minamiuonuma, is known for their kirizai-don, which is natto, nozawana, salmon, and kagura nanban pepper atop delicious Koshihikari rice. Many of our eco-lodges are also known for fine cuisine: Satoyama Jujo has a Michelin Star restaurant where you can have delicious and healthy meals. Kaikake Onsen, a so-called "hidden onsen", receive deliveries of local Koshihikari rice three times a month, and have the facilities to polish the rice on-site at the inn. This goes well with delicious rustic dishes like sansai and nabe.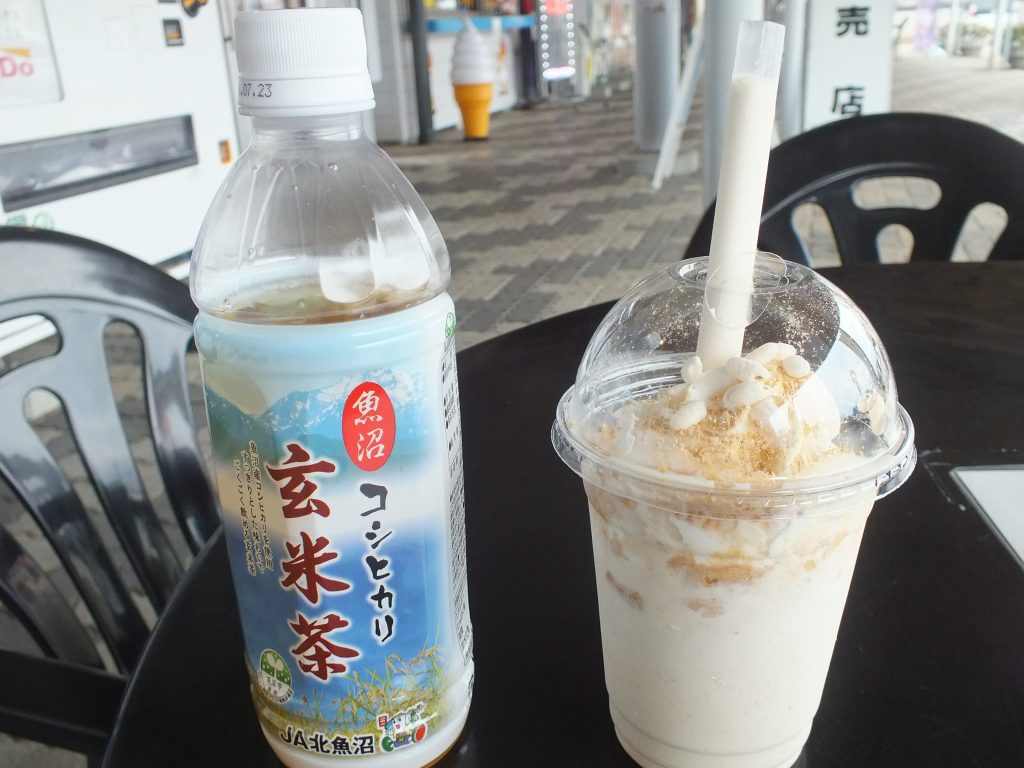 Where can I buy Koshihikari?
Though Koshihikari itself is a best-seller, regional varieties like Oritate-mai are produced in smaller quantities. Koshihikari can be purchased at local roadside stations (michi no eki) such as Miyuki no Sato in Uonuma as well as Echigo-Yuzawa Station itself. At Miyuki no Sato you can get "crepe onigiri" rice balls made with Koshihikari, Koshihikari green tea, and even Koshihikari milkshakes. People living in Tokyo or other urban areas can also receive Koshihikari from the furusato nouzei hometown donation system. In nearby Minamiuonuma you can visit the Okome no Gakkou rice museum where you can learn about and purchase rice, and even make your own kamameshi, mochi and anbo.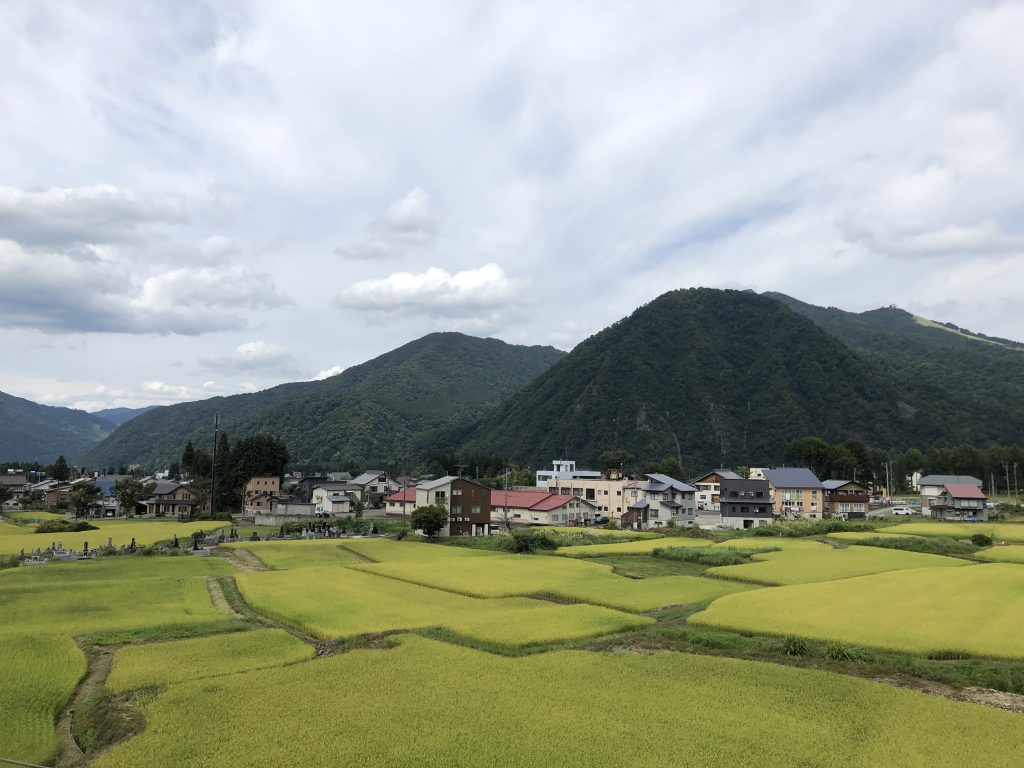 Information for Travelers
Tezukuri House Oritate
Address: 554 Shimooritate, Uonuma City, Niigata Prefecture 946-0085
Hours: Open in the mornings from 8:30
Irori Jinen
Address: 718 Kamioritate, Uonuma City, Niigata Prefecture 946-0087
Hours: 11:00 a.m. to 3:00 p.m. or until sold out, closed Thursdays, closed from late November to mid-April
Kyou
Address: 2252 Muikamachi, Minamiuonuma City, Niigata Prefecture 949- 6680 (Approximately 10-minute walk from Muikamachi station)
Hours: Open 11:30 a.m. to 2:00 p.m. for lunch, 5:00 p.m. to 10:00 p.m. for dinner
Satoyama Jujo
Address: 1209-6 Osawa, Minamiuonuma City, Niigata Prefecture 949-6361
Kaikake Onsen
Address: 686 Mitsumata, Yuzawa Town, Minamiuonuma District, Niigata Prefecture 949-6211
Okome no Gakkou Rice Museum
Address: 229-1 Shiozawa, Minamiuonuma City, Niigata Prefecture 949-6408
Hours: Open from 10:00 a.m. to 4:00 p.m.