Certification schemes such as "TIMELESS YUKIGUNI" and "YUKIGUNI A-grade Gourmet" are part of the criteria for luxury travel. However, our idea of "luxury" does not mean simply being extravagant or exclusive. It is a unique culture and experience that is true luxury. If you are interested in the uniqueness of our region, you may also like to read this article.

A Hidden Cultural Experience In Japan
A peaceful hot spring ryokan with views of Mount Tanigawa

Ecolodges Japan in YUKIGUNI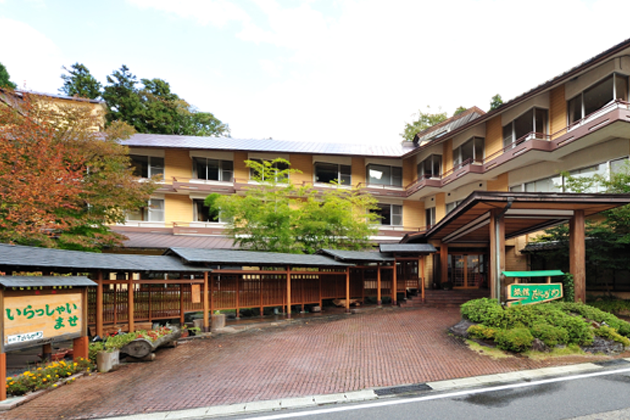 Message from the accommodation
Our staff await with smiles and cuisine prepared with ingredients from the local Gunma region.
Half board/16,500 JPY〜30,000 JPY
The reason why TIMELESS YUKIGUNI recommend Ryokan Tanigawa.
The ryokans selected to represent TIMELESS YUKIGUNI embody the very best of the Japanese hospitality tradition and the highest levels of comfort. Yet each one of them goes further than this, and all have incorporated influences from the history, culture, and way of life of the area. For those who see travel as an opportunity to broaden their minds and horizons, rather than mere sightseeing, TIMELESS YUKIGUNI ryokans are the perfect choice.
List of 12 ryokans at TIMELESS YUKIGUNI
Inspiration 
Ryokan Tanigawa sits alongside the Tanigawa river at the foot of Mount Tanigawa in Minakami in Gunma Prefecture. It was specially constructed to make the most of its fantastic views of the famous mountains that looms above it.
Nature at the Foot of an Infamous Mountain
The whole area stands inside the borders of the Joshinetsu National Park, and Mount Tanigawa, one of the famous peaks in Japan, towers over everything. The rooms at the hotel are designed to make the most of this view so you can relax and enjoy the pristine nature of the valley. It is an ever changing show with the seasonal variety giving it a different aspect as the months tick by. With its healing onsen and peaceful location it was a place writers and artists came to relax and seek inspiration.
Comfort
As you would expect from a ryokan that is in a process of continual improvement, any stay here is going to be a comfortable one. Ryokan Tanigawa offers a classic experience of onsen and hospitality.
Room with a View
The structure of the building has been designed to give each room a spectacular view from the windows out onto the face of Mount Tanigawa and the nature of the valley all around.
To find out more, please visit TIMELESS YUKIGUNI report page.
524-1 Tanigawa, Minakami, Tonegun, Gunma