If you're reading this page, you're probably interested in travelling to Japan. But if you're looking for information about major Japan like Tokyo, Kyoto or Mt Fuji, we can't meet your expectations. Sorry……
However, if you are looking for a hidden Japan or an intellectually stimulating trip, we think you will find it interesting, so please bear with us for a moment. What we introduce is one of the heaviest snowfall areas in Japan. And it is a region where the heavy snowfall has been a barrier to the preservation of the original culture until today. And you will be surprised to know that it is only 70 minutes away from Tokyo by Bullet train.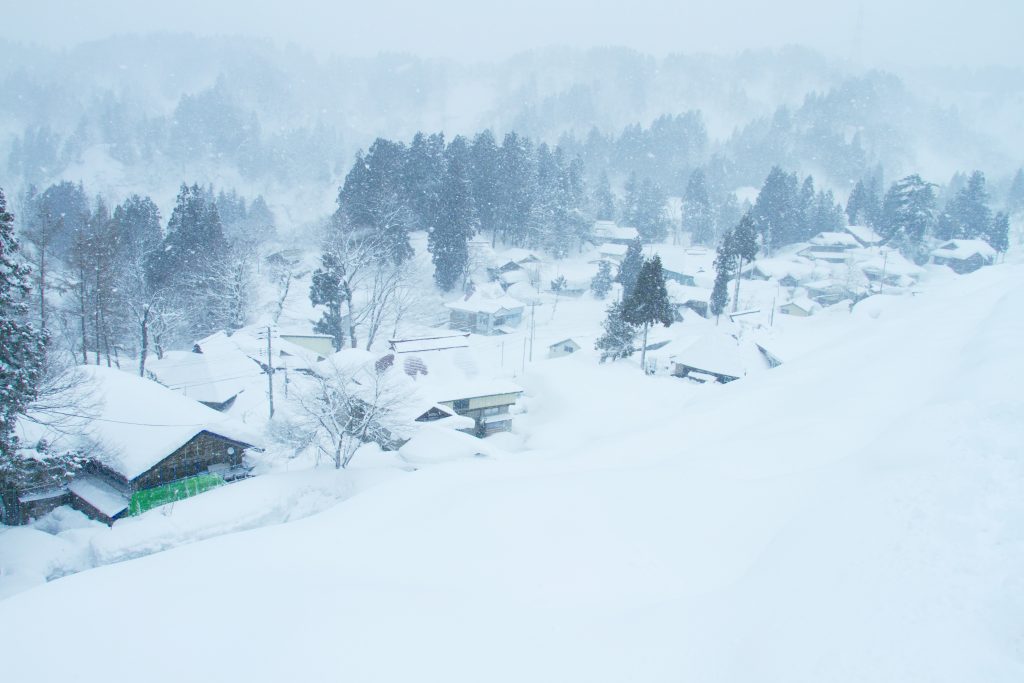 This is a snow country, covered with up to 3 metres of snow in winter. Snow country is pronounced YUKIGUNI in Japanese. So from now on we will call it "YUKIGUNI".
Unique food culture
YUKIGUNI is covered with snow for almost half the year, so the unique wisdom of living in the snow is still alive and well. This wisdom is best expressed in the fermentation, drying and salting of food. For example, the typical wild vegetable "zenmai" is usually foraged in spring and dried immediately for the following winter. This is not an old story, it is still a normal lifestyle in YUKIGUNI.
YUKIGUNI, with its abundance of water from the melting snow and the great difference in temperature between morning and evening, grows the best rice in Japan. It may not be familiar to people in the West, but we hope you will be fooled and try the excellent rice of YUKIGUNI. It has a slight sweetness to it and is very tasty.
The abundance of water and the difference in temperature is also good for other vegetables, making YUKIGUNI a treasure trove of delicious produce. If the ingredients are good, then of course the food is good too. In recent years YUKIGUNI has become an area of interest to Japanese foodie because of the high standard of its food. For the peace of mind of travellers, our region also has the YUKIGUNI A-grade gourmet scheme, which certifies the quality of ingredients and dishes.
Jomon – the roots of our culture
The roots of living with snow, such as food culture, can be traced back to the Jomon period. Heavy snowfalls, which are rare in the world, are said to have started during the Jomon period, some 8,000 years ago. Our ancestors lived in harmony with the snow for an unbelievably long time, and the wisdom they gained is still alive in our lives today.
Contact with literary works
YUKIGUNI is also a place loved by Japan's famous writers. Nobel Prize winner Yasunari Kawabata's famous novel 'Yukiguni (Snow Country)' is set in Echigo Yuzawa. Kawabata loved Takahan, a onsen ryokan in Yuzawa, and stayed there to write his novel "Yukiguni". There are still many places in Yuzawa which are related to the novel. There are also other onsen ryokan loved by the great writers, such as Chojukan onsen ryokan and Ryokan Tanigawa in Minakami.
A journey that will broaden your horizons and enrich your soul.
One last thing: YUKIGUNI is proud of its many small, luxurious onsen ryokans. "Luxury" in this context does not mean luxury. It means being unique, authentic and original. We believe that a unique experience is what makes a trip truly luxurious.
If you are looking for a hidden Japan or an intellectually stimulating trip, we would like to propose you TIMELESS YUKIGUNI, a selection of luxury ryokans. Because the time you spend at a ryokan is such a large part of your trip, we have carefully selected a selection of inns that embody the culture of YUKIGUNI.
All of our inns embody the unique values and offer excellent service inspired by the wisdom of the snow country. Each inn represents the unique culture of YUKIGUNI in the present. Travellers will find many opportunities to learn from the past.
The architectural style and the materials used. The cuisine and the preservation methods adapted to the unique environment. Traditional foodstuffs that have been alive since ancient times. Folk art techniques honed to survive in the past. A way of life and community that is unique to YUKIGUNI. This is a rather long story, but we hope it will be of interest to you.
Unique cultural experiences in a hidden Japan.
YUKIGUNI Gastronomy
Much of this region, home to some of the best Koshihikari rice in Japan, is snowbound for almost half the year. It is a region where food is much more difficult to obtain than in other parts of Japan, but where there is a unique wisdom that has survived the snowy winters. The wisdom of the snow country is most strongly expressed in the food. We offer a wide range of food based on this unique snow country culture, sublimated into a gourmet cuisine.
Representative ryokans
YUKIGUNI Architecture
YUKIGUNI is one of the heaviest snowfall areas in Japan. Here is famous for its unique architecture, with beams and pillars designed to withstand the winter. TIMELESS YUKIGUNI offers a fusion of traditional and modern luxury, designed to experience the climate of the area, while retaining the traditional construction methods.
Representative ryokans
YUKIGUNI Onsen
Japan has a long tradition of onsen (hot springs) where people stay for long periods of time to recover from illness and recuperate. YUKIGUNI is home to one of the three most effective hot springs for curing illnesses, and it is also one of the cultural centre of literature, as exemplified by the novelist and Nobel laureate Yasunari Kawabata, who wrote "YUKIGUNI (Snow Country)" set in the snow and hot springs.
Representative ryokans