Certification schemes such as "TIMELESS YUKIGUNI" and "YUKIGUNI A-grade Gourmet" are part of the criteria for luxury travel. However, our idea of "luxury" does not mean simply being extravagant or exclusive. It is a unique culture and experience that is true luxury. If you are interested in the uniqueness of our region, you may also like to read this article.

A Hidden Cultural Experience In Japan
A marriage of traditional Yukiguni culture and modern design

Ecolodges Japan in YUKIGUNI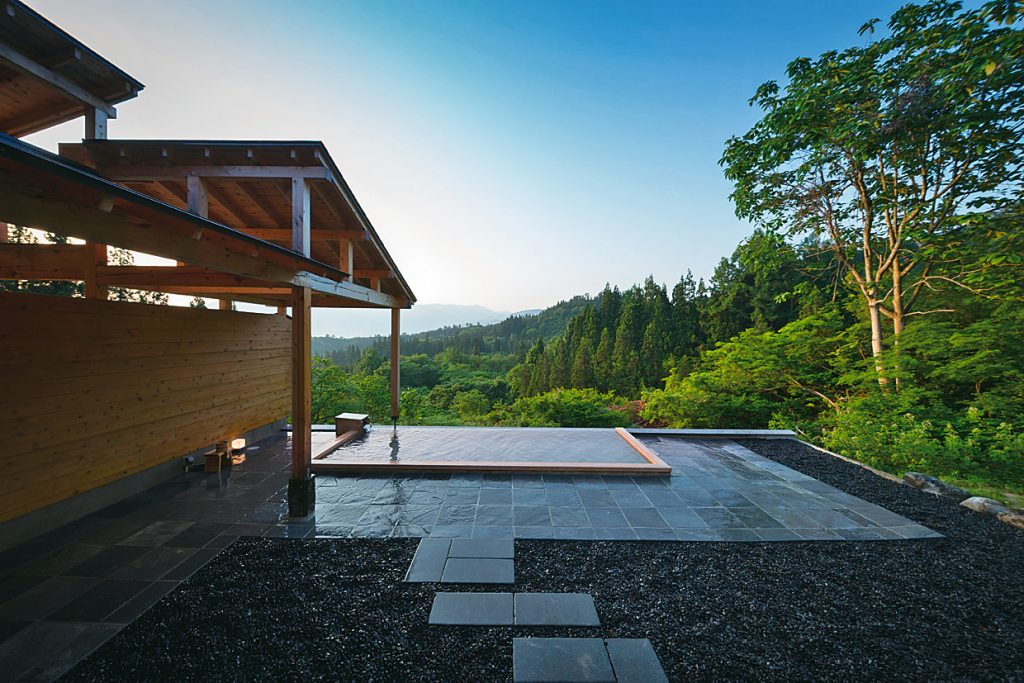 Message from the accommodation
We established this hotel to tell a story and redefine what luxury is. Let us guide your experiences and discoveries.
Half board/26,800 JPY〜34,500 JPY
The reason why TIMELESS YUKIGUNI recommend Satoyama Jujo.
The ryokans selected to represent TIMELESS YUKIGUNI embody the very best of the Japanese hospitality tradition and the highest levels of comfort. Yet each one of them goes further than this, and all have incorporated influences from the history, culture, and way of life of the area. For those who see travel as an opportunity to broaden their minds and horizons, rather than mere sightseeing, TIMELESS YUKIGUNI ryokans are the perfect choice.
List of 12 ryokans at TIMELESS YUKIGUNI
Inspiration 
Satoyama Jujo is perched on the side of a hill in Minami Uonuma in Niigata Prefecture. It is surrounded by unspoiled nature which is one of the themes for this ryokan, another being its attachment to the culture of the land.
The Timeless Style of an Old Folk Building
The building that houses the lobby of Satoyama Jujo is an old folk building that was relocated here from another part of the prefecture. It is dotted with works of art and designer furniture but is an amazing piece in itself. It is a nest of old beams with the timber originally selected for their unique properties (keyaki for the uprights and the more flexible cedars for the horizontal ones) but all the inconveniences of such an old building have been negated. The spaces are well heated with modern systems including a wood burning stove specially adapted to the local woods which aren't the best firewoods, and an air circulator that takes the warm air from the top of the ten meter tall space and pumps it down to the bottom. The mixture of the best of the old with the innovation of the new is a comfortable and stylish blend.
Comfort
Satoyama Jujo has been loving designed to offer ultimate comfort, and the attention to detail is amazing. The idea was to take the very best of the old and combine it with the comfort of the modern world so that both complement each other.
Each Room is Distinctively Individual
At Satoyama Jujo all the rooms are unique and have been specially designed for luxury and relaxation. The rooms are in the new building and have been decorated with comfortable designer furniture and works of art. They have views either overlooking the valley and the mountains in the distance, or gazing out onto the changing colors of the forest on the slopes behind the ryokan.
To find out more, please visit TIMELESS YUKIGUNI report page.
Satoyama Jujo is certified as A-grade Gourmet.
A-grade gourmet is a food certification system designed to preserve and pass on to future generations a traditional food culture suited to the climate. The certification is based on the proportion of local products used, including agricultural products and seasonings, efforts made in conjunction with agricultural producers, and taste.
If you would like to know more about the concept of A-Grade Gourmet and its contribution to the community, please read the following articles.
YUKIGUNI A-Grade Gourmet To Pass On Japanese Food Culture To The Future
Critique by A-grade gourmets
Overall rating ★★
To learn more about A-Grade Gourmet (official website in Japanese)
Osawa 1209-6, Minami-Uonuma,Niigata