By Matt Klampert
The end of winter in Japan signals the beginning of the cherry blossom season, where locals and travelers alike crowd the streets and parks to admire and picnic under the beautiful sakura. A benefit to seeing cherry blossoms in YUKIGUNI is that they are known to bloom later here than in the Tokyo area. Once you've had your fill of hanami around busy Kanto, you will find the sakura here just as beautiful if not more so. Here are some of the favorite spots for viewing cherry blossoms in Niigata, Nagano, and Gunma, which you should come and see from around mid-to-late April.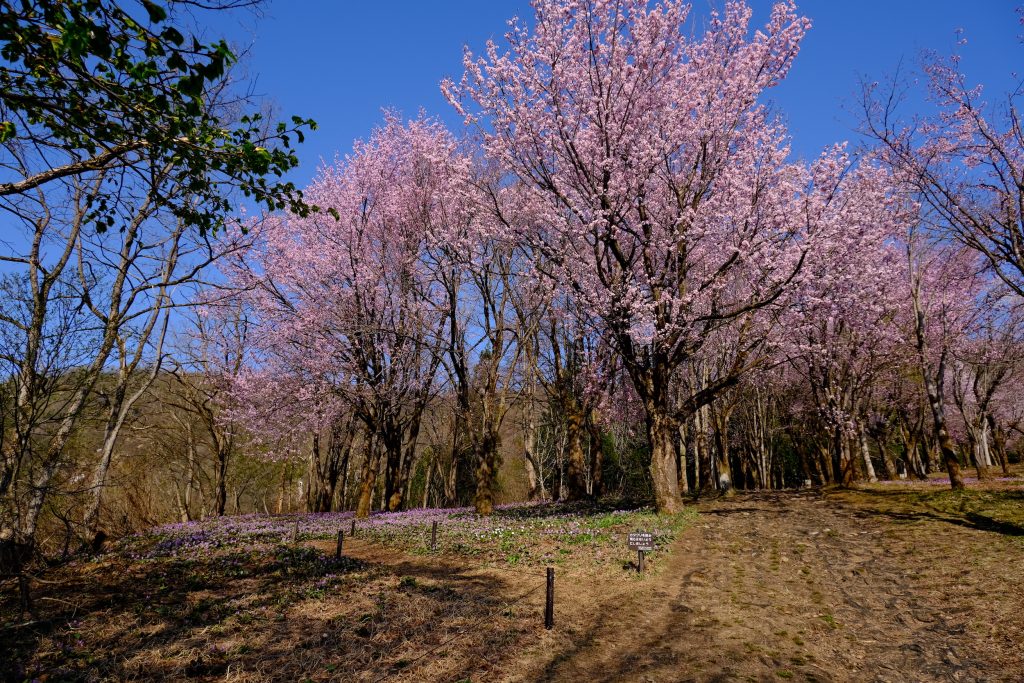 A castle with a view: Sakado Castle in Minamiuonuma
Sakado Castle in Minamiuonuma was built during the Sengoku period in the 16th century, and was once associated with the famed general Kenshin Uesugi through his two adopted sons. These two generals fought amongst one another for sole possession of the territory, before it was eventually claimed by an outside clan. The castle was abandoned in 1608, and now only a few ruins remain. These days the site of Sakado Castle is more famous for its breathtaking views of Minamiuonuma City, great trails for hiking, and the many beautiful flowers that you will see on your journey. There are plenty of other great hiking areas around YUKIGUNI, such as Yuzawa's 100 Kannon course, which you can learn about HERE.
At the foot of the mountain leading to the castle ruins is Zenibuchi Park, a beautiful nature park that hosts light-up sakura viewing events some spring nights, making for breathtaking scenes of flower-viewing. There are often food trucks around the park during the busy weekends of the cherry blossom season.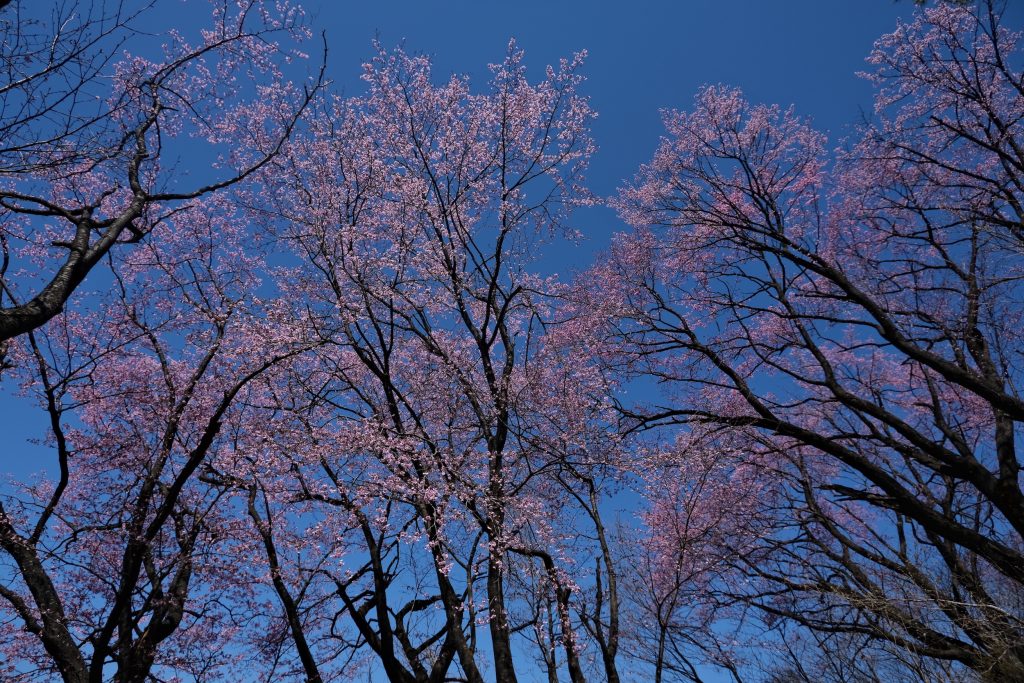 As you make your way farther up the mountain you will see other flowers in abundance, such as katakuri. Katakuri, also known as dogtooth violets, are another favorite to see in spring because of their beautiful blossoms and their rarity- katakuri are considered endangered in certain parts of Japan. Like sakura, they bloom during the spring, though they last a little longer than the famously ephemeral cherry blossoms. Of the many katakuri-viewing spots in Minamiuonuma, they are known to bloom at Sakado Castle first, as well as around Nakazato in nearby Yuzawa. Why not add some katakuri viewing to your sakura trip?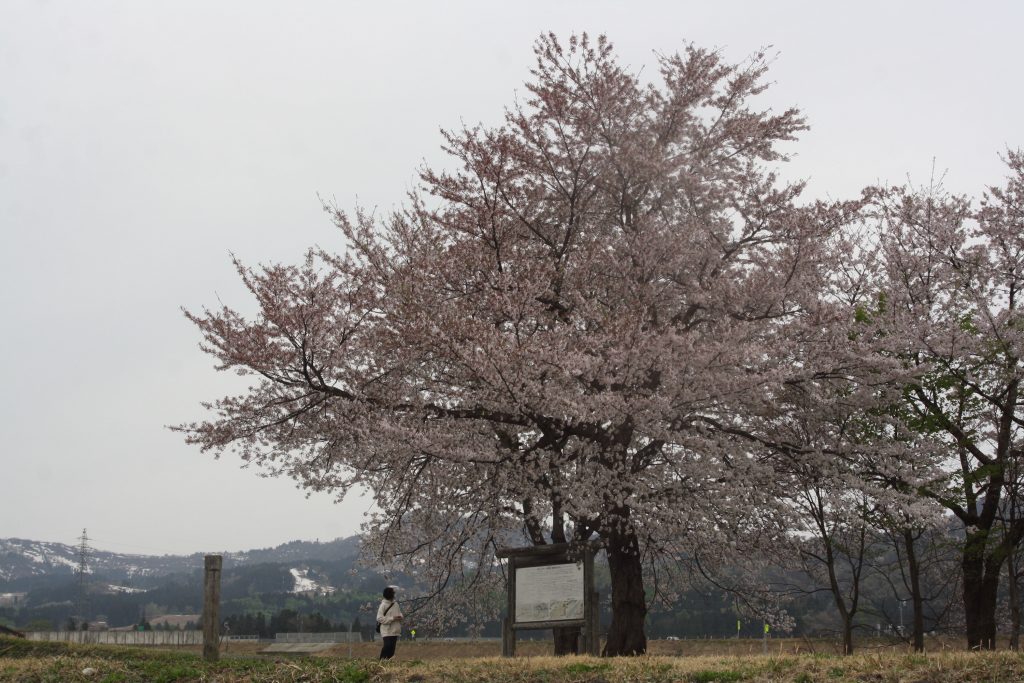 If you have a bit of extra time in Minamiuonuma, there is another spot nearby that is only known to locals. Kamakura Sakura Hills are a beautiful park on a hill near the Kamakurasawa River where you can enjoy walking between the rows of sakura trees. The nearby erosion control facility is a registered cultural property of Minamiuonuma city, and if you're feeling peckish there is also a cute doughnut shop right outside the park.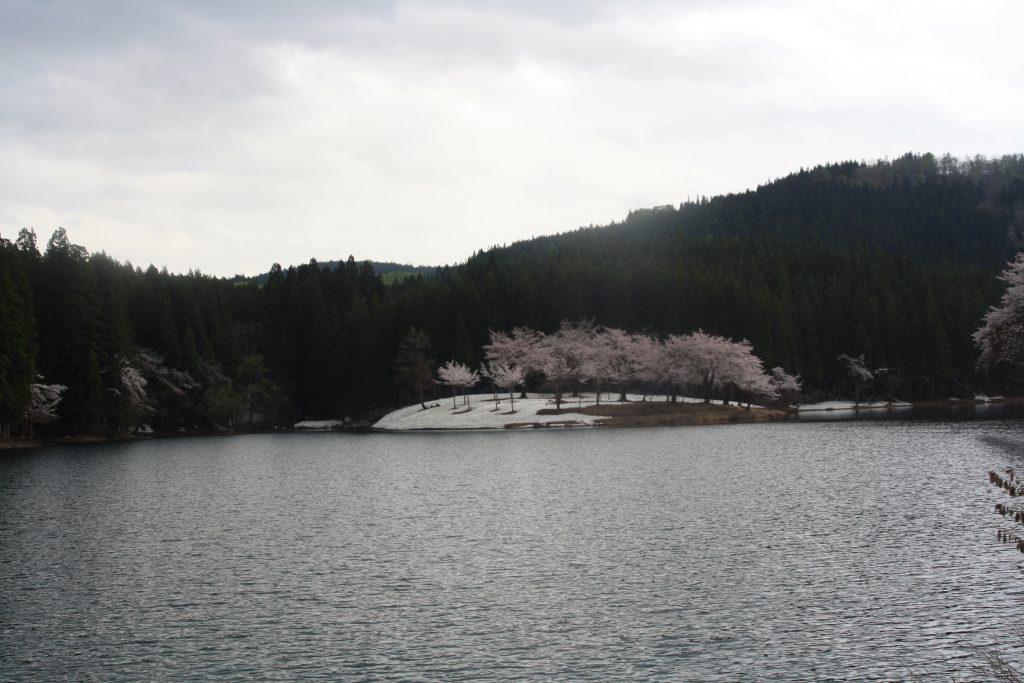 Nakago: Sakura in the snow
If our name didn't already give this away, a unique point of seeing cherry blossoms in YUKIGUNI is that you can often see sakura while there is still snow on the ground! In Snow Country, the spot most famous for this combination of snow and cherry blossoms is the area known as Nakago in the town of Tsunan.
Nakago, originally known locally, became famous after a local photographer submitted photographs of the cherry blossoms to a magazine photo competition. In the middle of the lake are some islands where sakura trees bloom. It is a premier photo spot for spring- just be advised there are very few facilities nearby. However there is the Nakago Shrine, a peaceful spot that also offers a great view of the sakura from the other side of the lake. If you are interested, Nakago is also relatively near Ryugakubo pond, which is one of the 100 most beautiful bodies of water in Japan, and is also within the Naeba Sanroku Geopark. More information about the Geopark can be found HERE.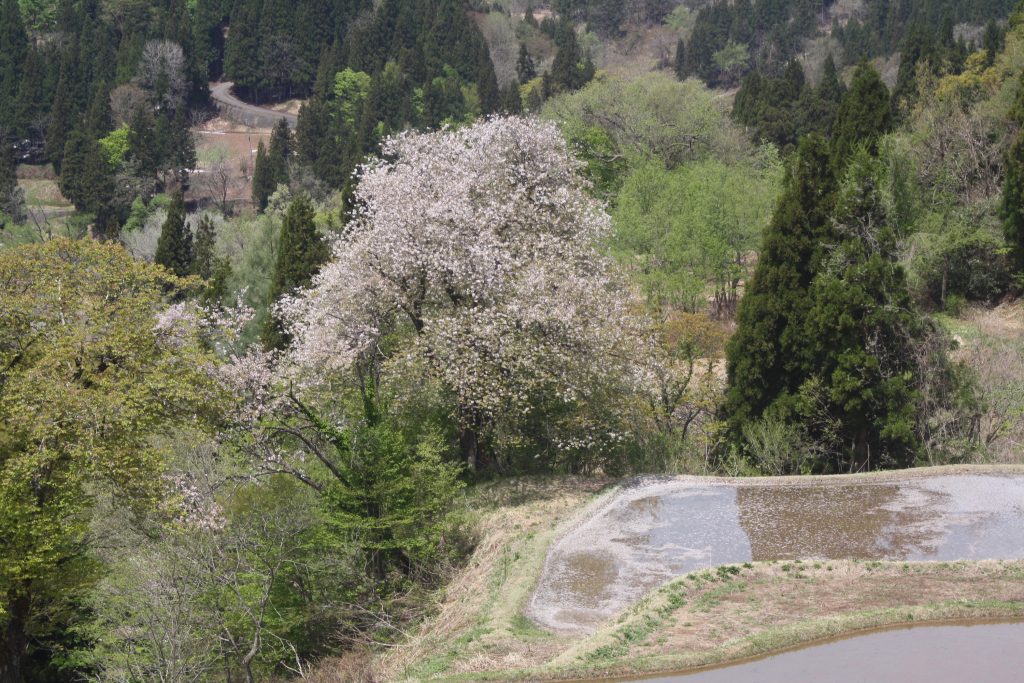 Gimyo: Cherry blossoms over the rice terraces
A highlight of Tokamachi City is its famous rice terraces, and in the spring you can actually see cherry blossoms here! Gimyo in Matsudai is probably the most loved of these, and is a government-recognized heritage site. Sakura around this area tends to bloom later, so it is sometimes possible to see cherry blossoms during Golden Week! Here the cherry blossoms are viewed from the roadside, so there are no facilities, and because it is an uphill climb it is recommended that you go by taxi from Matsudai station. In order to preserve the natural beauty of the area, unfortunately, it is not possible to get any closer to the trees. These beautiful rice terraces are close to the Nohbutai Museum, which is one of the premier locations of the Echigo-Tsumari Art Triennale, and also a great place to get a bite to eat at the Satoyama Shokudo cafe. Click HERE to learn more.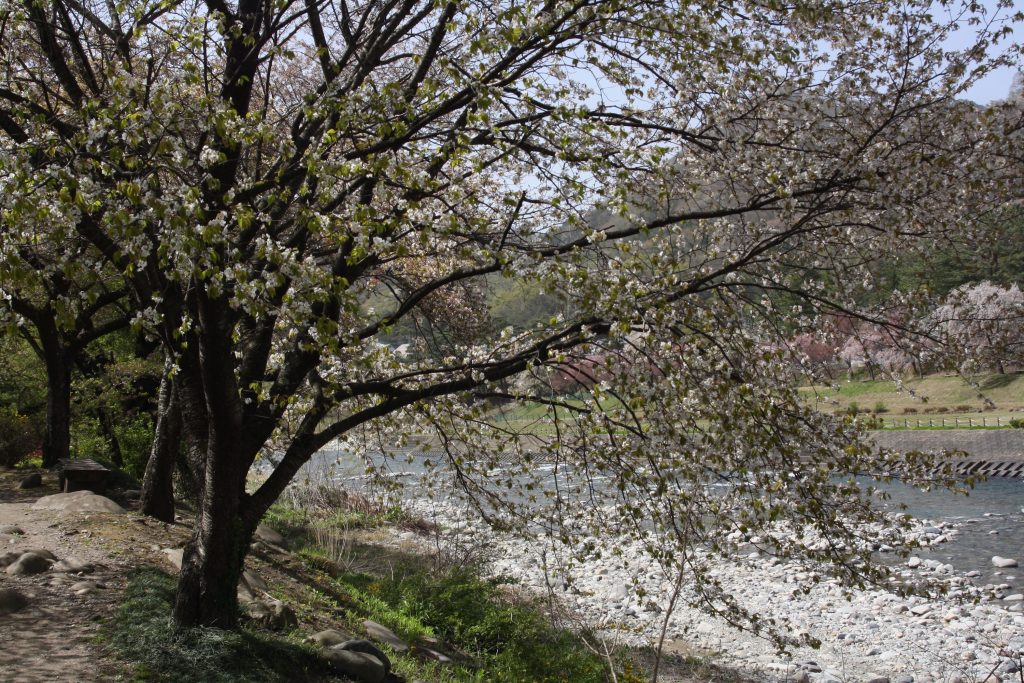 A winding climb through Suwakyo Gorge
As you walk around Minakami's onsen street near the station, you will see a scenic side path that goes along the river. This will take you to Suwakyo Gorge, which is located inside a scenic valley. Away from the shops and tall hotels, there is nothing but the rushing river and the sound of birds with the snow-capped mountains visible in the distance. Do be aware that the "path" through the gorge is rarely flat, so watch your step and take it slow. When you reach the Suwakyo Bridge, you can sometimes see people coming by on canoes below, as well as people bungy jumping from the bridge itself! There are park benches and covered areas around the path to relax, as well as a few restaurants and cafes not far from the gorge itself. There are guided tours of the Suwakyo Gorge area should you wish to join in.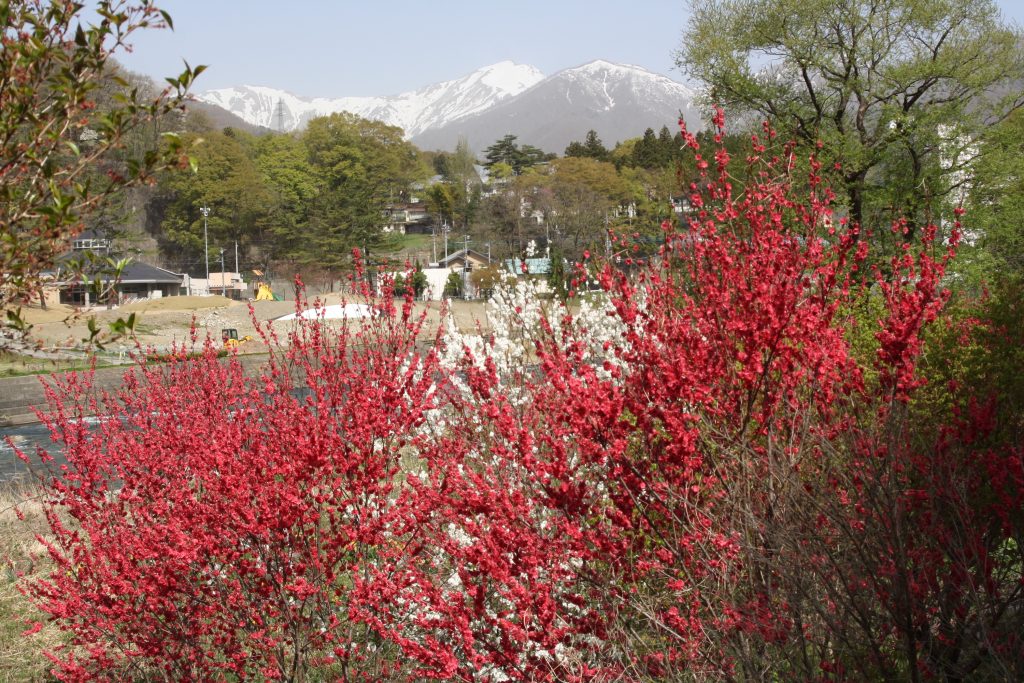 Other places to go
Probably the most accessible place to see sakura in YUKIGUNI is Yuzawa Central Park. There are many facilities around the park grounds such as an athletic track, a pool and a variety of sporting facilities. Nonomi Kogen in Sakae, Nagano is another great place to see katakuri. Surrounded by beautiful beech trees, it is a great location for camping in warmer months. In the village of Sakae you can also visit Kiriyake, a famous "hidden onsen" in YUKIGUNI. Click HERE for more information about hidden onsen.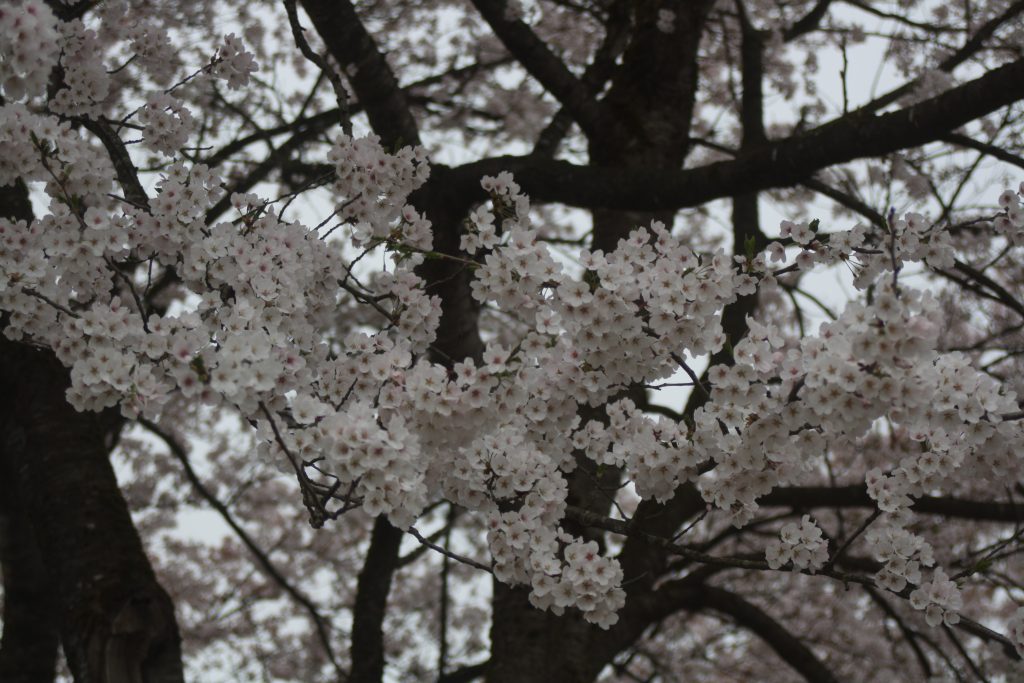 Information for Travelers
Sakado Castle Ruins & Zenibuchi Park
Address: 392 Sakado, Minamiuonuma City, Niigata Prefecture 949-6611
Peak Season: early-to-late April
Access: About 15 minutes from Muikamachi station on the JR Joetsu line.
Kamakura Sakura Hills
Address: 310 Katata, Minamiuonuma City, Niigata Prefecture 949-6404
Peak Season: early-to-late April
Access: Take bus from Muikamachi station on JR Joetsu Line, get off at City Hospital (Shimin Byouin), then a 10 minute walk.
Nakago
Address: Prefectural Route 251, Kamigotokane Shinden, Naka Uonuma District, Tsunan Town, Niigata Prefecture 949-8124
Peak Season: late April to early May
Access : Nakago accessible by bus from Tsunan Station on the Iiyama Line.
Gimyo
Address: 999 Gimyo, Tokamachi City, Niigata Prefecture 942-1536
Peak Season: late April to early May
Access: Accessible by taxi from Matsudai station on the Hokuhoku line.
Suwakyo Gorge
Address: Kohinata, Minakami Town, Tone District, Gunma Prefecture 379-1612
Peak Season: mid April to early May
Access: Entrance at Minakami's onsen street, a 15 minute walk from Minakami Station on the Joetsu Line
Yuzawa Central Park
Address: 151-1 Tsuchidaru, Yuzawa Town, Minamiuonuma District, Niigata Prefecture
Peak Season: from mid April to early May
Access: 15 minute walk from Echigo-Yuzawa station, bus service also available
Nonomi Kogen
Address: Teruoka, Iiyama, Shimominochi District, Nagano Prefecture 389-2601
Peak Season: from mid-to-late April
Access: The entrance to Nonomi Kogen and Naeba Sanroku Geopark is accessible from Morimiyanohara Station (Iiyama Line)