By Matt Klampert
In the past we have written about Uncho Ishikawa, known as "Japan's Michelangelo," a master carver whose works decorate many YUKIGUNI temples. However, there are quite a few other temples and shrines with long histories in this area- some going back one thousand years or longer!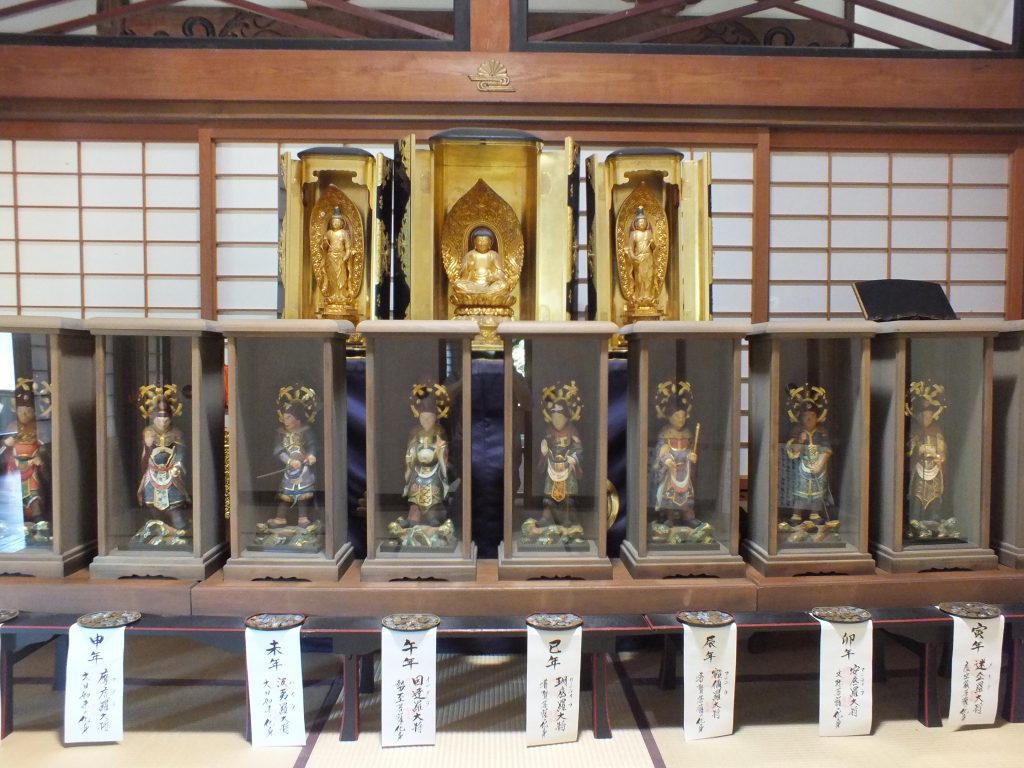 Untoan – The great temple of Echigo
Possibly the most famous temple in the Snow Country region is Untoan. This temple is over 1,300 years old, and was built at the behest of Fujiwara no Fusasaki, a distinguished nobleman from the powerful Fujiwara clan. Centuries later, the temple was restored by the powerful Uesugi samurai family, and the famed hero Kenshin Uesugi's adopted son Kagekatsu was educated here. After Kenshin's death, Kagekatsu fought and defeated his adopted brother Kagetora for control of Echigo- present-day Niigata. More recently, Untoan has been used as a filming location for popular historical period dramas.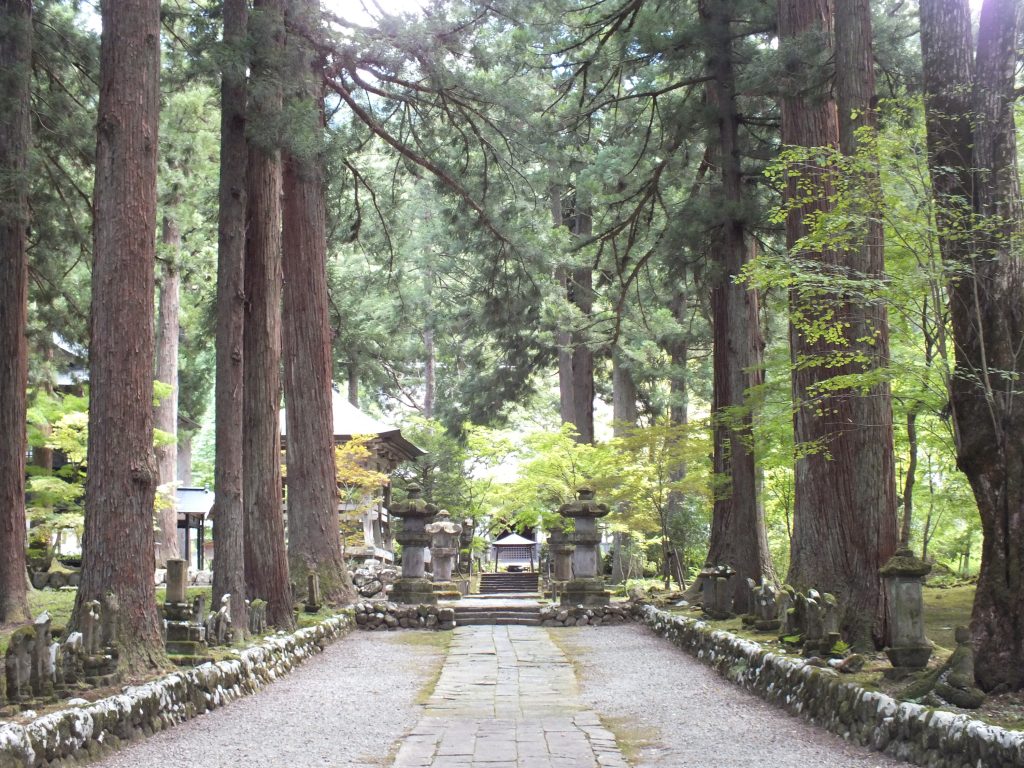 As you enter the temple grounds, you will see a stone path surrounded by giant cedar trees that are approximately 300-400 years old. Each stone on this path contains a character from the lotus sutra. When you enter the temple proper, you will hear the calming sounds of flowing water, which comes from an old-fashioned fountain at the entrance you can drink from.
Untoan is a large temple with plenty to see. The main hall contains beautifully painted fusuma doors and intricate wall carvings. There is a Yakushi Nyorai statue, which people pray to for health, as well as deities representing each sign of the zodiac. A "Yakushido" shrine also exists in Matsunoyama Onsen, which is known as one of the top medicinal hot springs in Japan.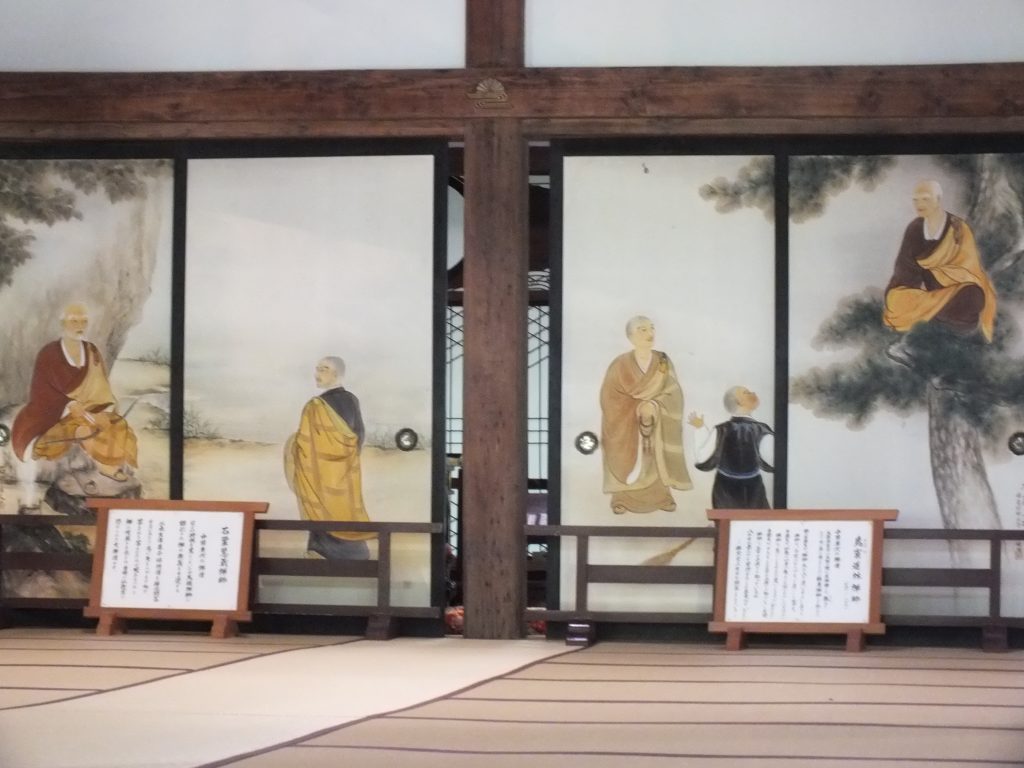 As Untoan is both a famous tourist destination and a functioning Buddhist temple, guests are expected to observe certain manners while visiting. For example, speaking in a low voice, and praying while kneeling instead of standing. Food is not permitted, but you are allowed to bring something to drink as long as you have a cap. Tourists are also advised not to stroll around areas with grave sites. Of course, do remember to take your shoes off at the entrance!
One of the highlights of Untoan has to be its Homoutsuden, or treasure hall. This is a veritable museum containing all sorts of ancient scrolls, maps, lacquerware, statues, and many other priceless artifacts. Some of these treasures belonged to Abbot Hokko, who was the chief priest of Untoan in the 16th century. He was a holy man of some renown, and Bokushi Suzuki writes of the legends surrounding Hokko in his book Snow Country Tales. One relic in particular is said to be the bones of a kasha, a demon spirit that was slain by Hokko according to a famous tale.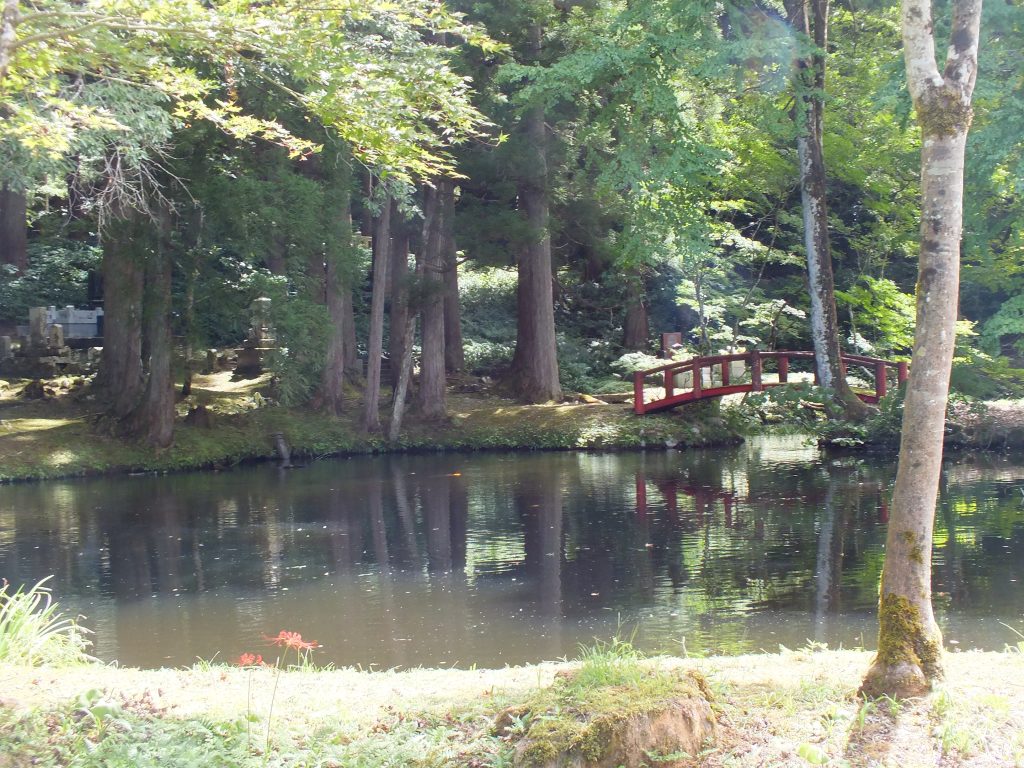 Untoan is a treat to see all year round. The inside of the temple is actually quite cool in summer, and is said to be busiest in the fall, when the leaves start to change color. Aside from locals, people from all over come to visit Untoan during special events, like Daihhanya in May. The chief priest at Untoan, who speaks some English, sometimes leads zazen- zen meditation lessons. Otherwise there is a zazen session once a month, and groups of 10 or more can reserve a lesson, depending on availability, at the large zazendo, where you can see cherry blossoms in the spring. Around YUKIGUNI it is also possible to have a zen meditation lesson at your accommodation, which you can learn more about by checking out this model tour HERE.
Kankoji – The temple of famous miso
Kankoji, also in Minamiuonuma, was founded in 1410, and belongs to the Rinzai sect of Japanese Zen Buddhism. The temple flourished due to government support throughout the Muromachi period of the 15th and 16th centuries, and Kankoji administered as many as 300 other temples, some of them as far as Ishikawa and Toyama. In particular, Kankoji was patronized by the affluent Uesugi clan, but was attacked during periods of infighting among the clan leaders. In order to prevent the destruction of valuable Buddhist sutras, the monks hid them in jars of miso. Even now, the miso of Kankoji is said to receive blessings from these sutras as a result. This famous miso is sold at the temple, and makes for a great souvenir.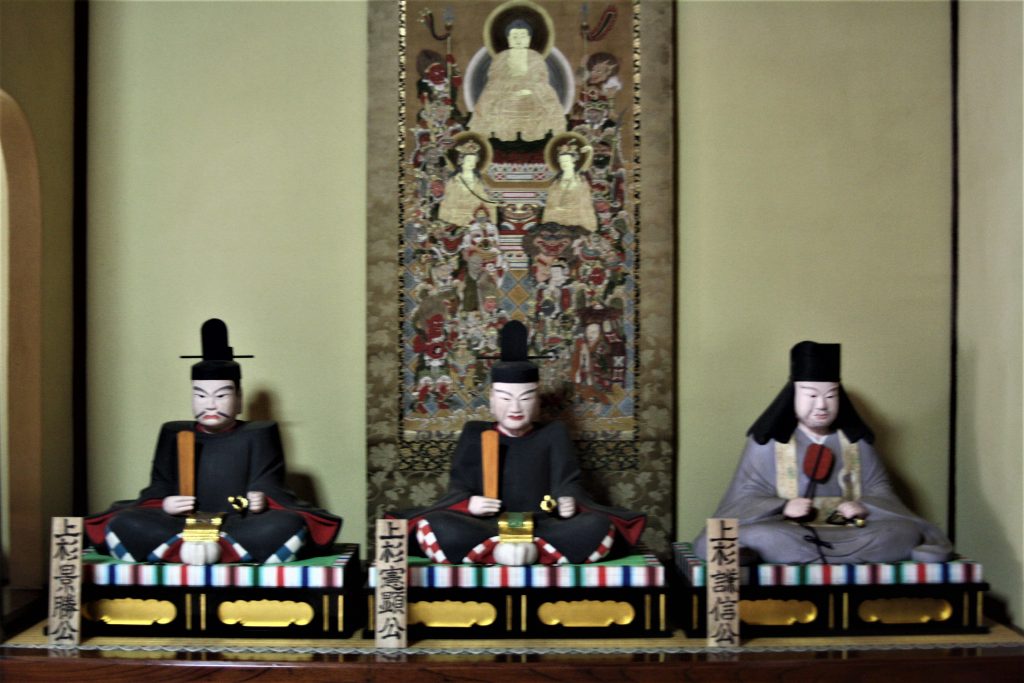 Members of the Uesugi clan themselves are venerated at Kankoji, as is Kannon, the bodhisattva of compassion in Buddhism. The temple contains many interesting artifacts, and also a variety of charms for sale. The carvings around the temple, though not made by Uncho Ishikawa himself, are said to have possibly been carved by one of his disciples.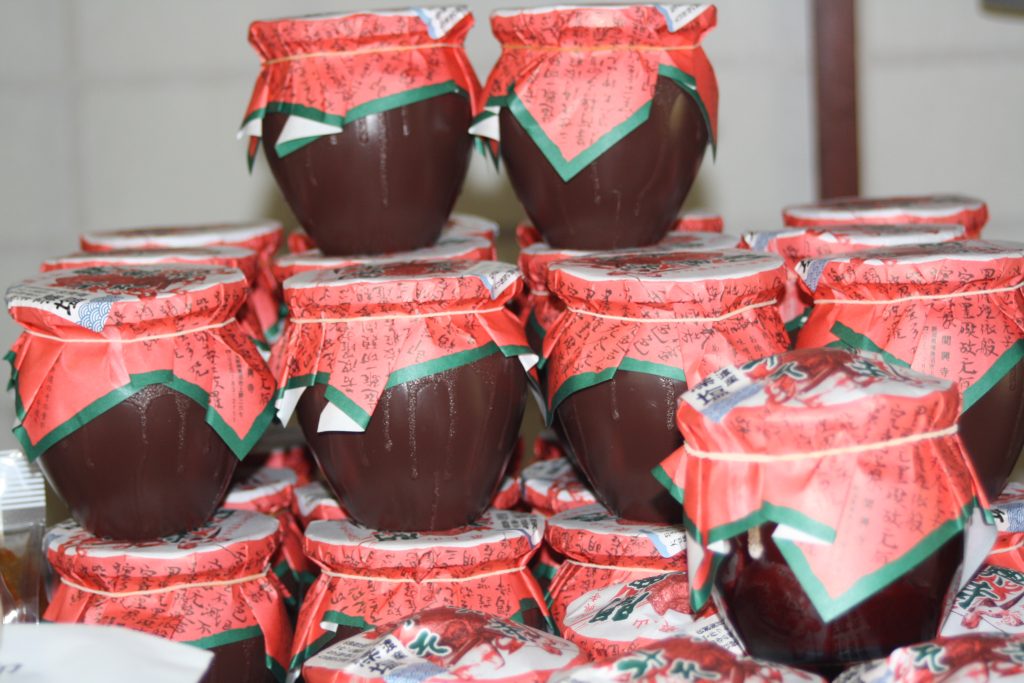 Inside the temple grounds is the serene Shoryu no Taki waterfall, a great place to meditate in quiet contemplation while gazing at the beautiful koi fish and bright pink water lilies. Like Untoan, there are zen meditation lessons here, as well as tea ceremony. If you have time to spare after visiting Kankoji, the Nanpo Inari Shrine is not far.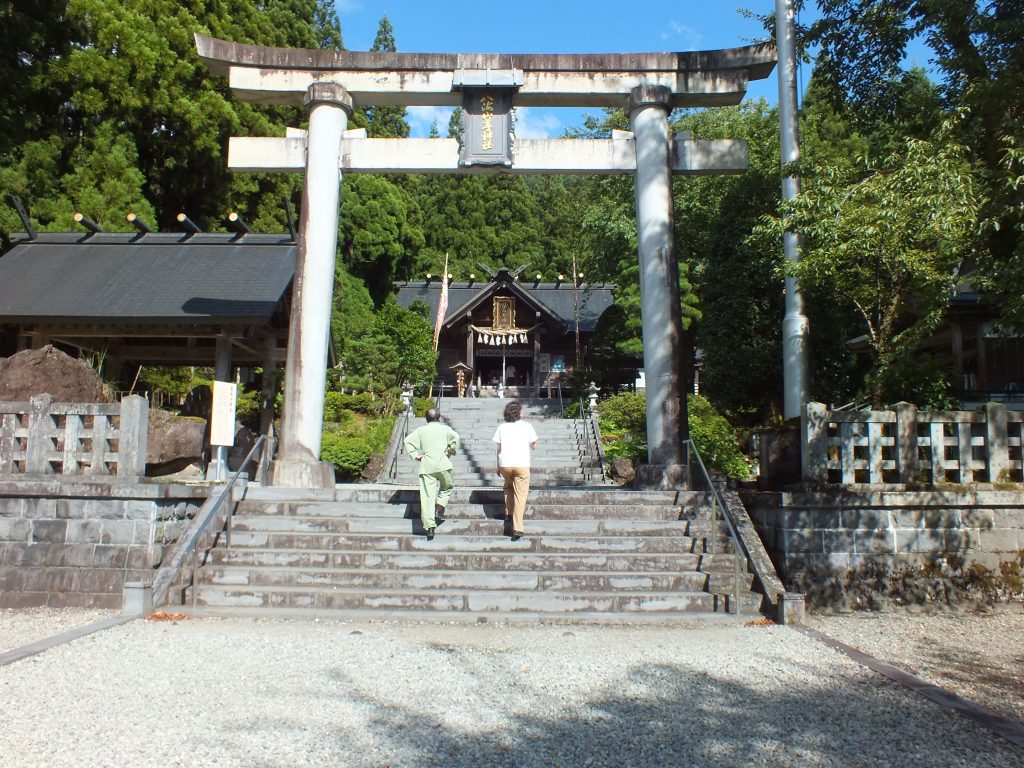 The story of Mt. Hakkai and its many shrines
Mt. Hakkai has been revered as a sacred mountain for over one thousand years, and is traditionally regarded among the 3 most important mountains in Snow Country, along with Mt. Echigo-Komagatake and Mt. Nakanodake. Because of this, Mt. Hakkai was a central site for shugendo, a belief system practiced by traveling ascetics. Over time, this caused many shrines to sprout up on and around the mountain. What is commonly called "Hakkai Shrine" in English is actually a few different shrines working together, the biggest of which is the Hakkaisanson Shrine, located in what was previously known as the settlement of Osaki (now a part of Minamiuonuma). Among the people of Osaki, the ascetic Taiken undertook many pilgrimages to the mountain in the 18th and 19th century, and was instrumental in the creation of what is now Hakkaisanson Shrine.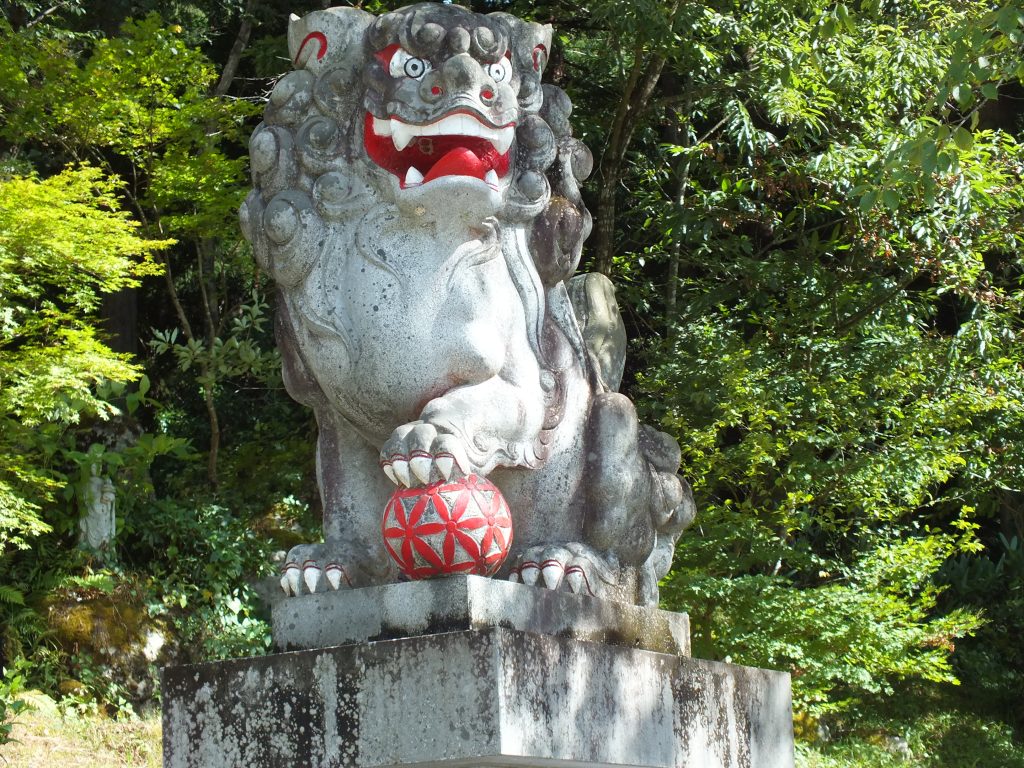 Even in the present day, the Hakkaisanson Shrine is popular with both locals and visitors, especially in the green season from when the climbing season starts and the shrine holds its Yama Birakisai Festival. Traditionally, the mountain ascetic tradition of Japan had many rules regarding mountain climbing. This is because gods, or kami, were thought to reside in nature, so it was necessary to pay them respect. For example, it was said that people must not take anything out of the forest, even a rock or blade of grass, and of course not to pollute it with anything that didn't belong there. Many people also thought it necessary to abstain from meat or alcohol before climbing, and there were even restrictions on climbing mountains based on gender. However, these rules aren't followed strictly nowadays, though we do ask that people help keep our mountain paths clean, as well as take proper precautions before climbing for their own safety.
All around Hakkaisanson Shrine are images of dragons, including a statue called "Ryumei" that was made in 2016. This dragon imagery is quite common in Japanese shrines, and is said to have originally come from China, where they are thought of as deities protecting bodies of water. In YUKIGUNI, a dragon is said to protect the waters of the famous Ryugakubo Pond in Tsunan. Another famous body of water is within Osaki itself. Known as Kongou Reisen, it has been designated as a famous body of water within Niigata Prefecture since 1985.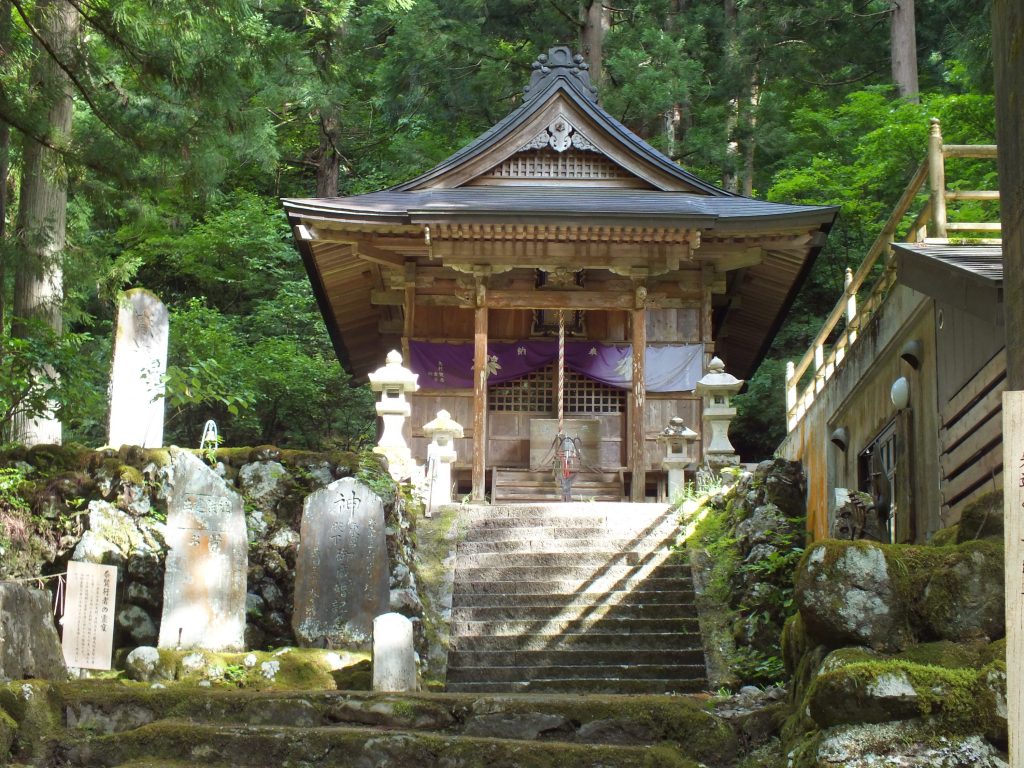 At the trailhead of Mt. Hakkai you will find another Hakkai Shrine called "Satomiya." This serene forest location alone makes it well worth seeing. Near Satomiya is a small waterfall, and a cave where Taiken himself prayed for three years. Only a minute or so from Satomiya there is a famous soba restaurant that is over 100 years old. There are a few other Hakkai Shrines in the area, each with their own unique charm.
If you have time, also check out nearby Osaki Shrine. The shimenawa – a sacred rope used for ritual purification- at many of the local shrines is unique to YUKIGUNI, and are handmade locally.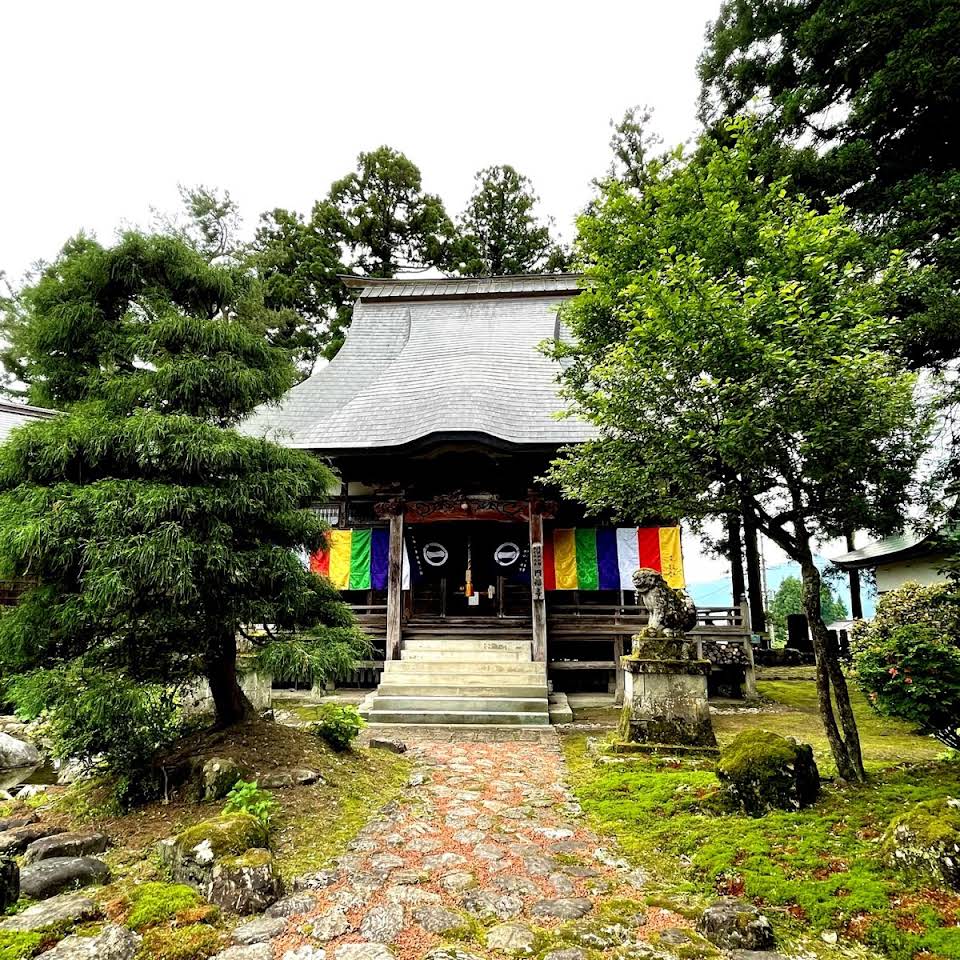 Other historical temples of note
Aside from the above-mentioned locations, the Snow Country area has many other ancient temples that are well worth seeing. Gakurinji is a 16th century Buddhist temple in Minakami, where they hold moon-viewing parties every September. Enpukuji is near Oritate Onsen in Uonuma City, which is considered a prime hiking spot in summer. This Shingon temple hails from the Nara Period, (around 700 AD), and some of the statues here are nationally recognized cultural properties.
Information for Travelers
Untoan Temple
Address: 660 Untoan, Minamiuonuma City, Niigata Prefecture 949-6542
Cost: 300 yen entry fee
Kankoji Temple
Address: 267 Uwano, Minamiuonuma City, Niigata Prefecture 949-6373
Cost: 300 yen entry fee
Hakkaisanson Shrine
Address: 3746 Osaki, Minamiuonuma City, Niigata Prefecture 949-7251
Cost: Free to enter
Enpukuji Temple
Address: 433 Sanashi, Uonuma City, Niigata Prefecture 946-0021
Cost: Free to enter
Gakurinji Temple
Address: 1697 Tsukiyono, Minakami Town, Tone District, Gunma Prefecture 379-1313
Cost: Free to enter