By Matt Klampert
The idea of "YUKIGUNI" may seem abstract to those first arriving at the bullet train station at Echigo-Yuzawa, but this area is connected by much more than just culture or cuisine. In the most literal sense, there are over 300 km of hiking trails which join these 7 towns and cities in 3 separate prefectures.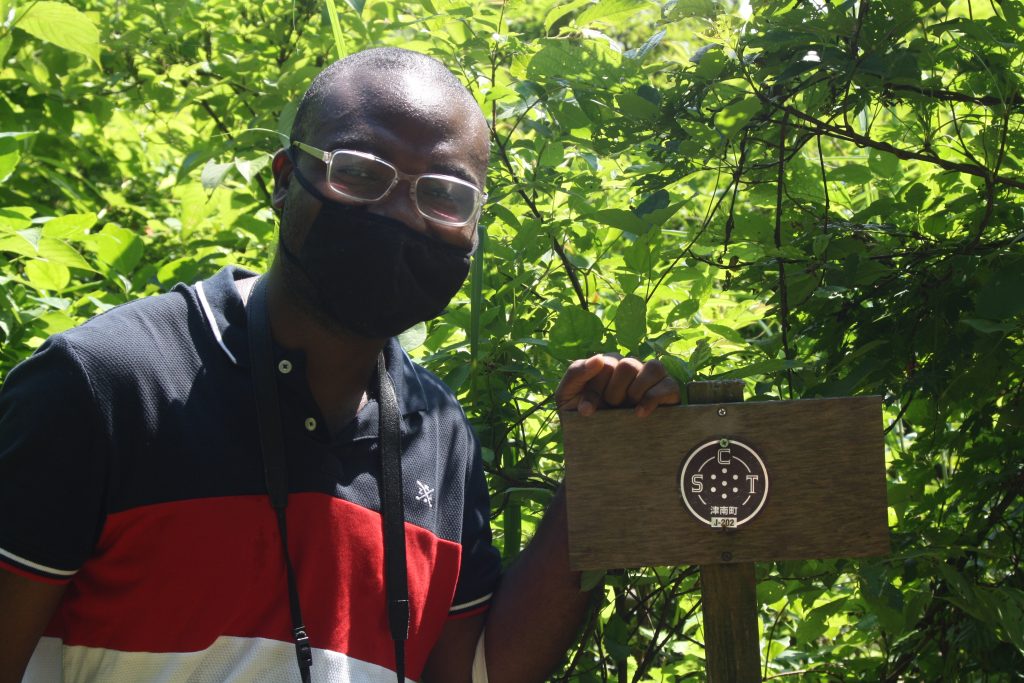 All about SCT
There is a great variety to our hiking trails, from mountain passes to old thoroughfares that frequently pass by hot springs, shrines, and more. This is managed by the Snow Country Tourism Association and Snow Country Trails (SCT), who have been working hard on hiker support campaigns to encourage people to see all this beautiful nature. SCT have been collaborating with locals to promote these trails, and now seek to open them up to guests by cooperating with local accommodations in the area to hold guided tours, possibly as soon as 2024.
The perks of SCT
If you see our "SCT" stickers around, here is what that means: by purchasing such a sticker and putting it, for example, on a water bottle, you will be able to refill your water bottle or freely use the restroom facilities at designated hiker support sites. You may also receive discounts to various hot springs in the area. The proceeds from these passes are used for things such as trail maintenance.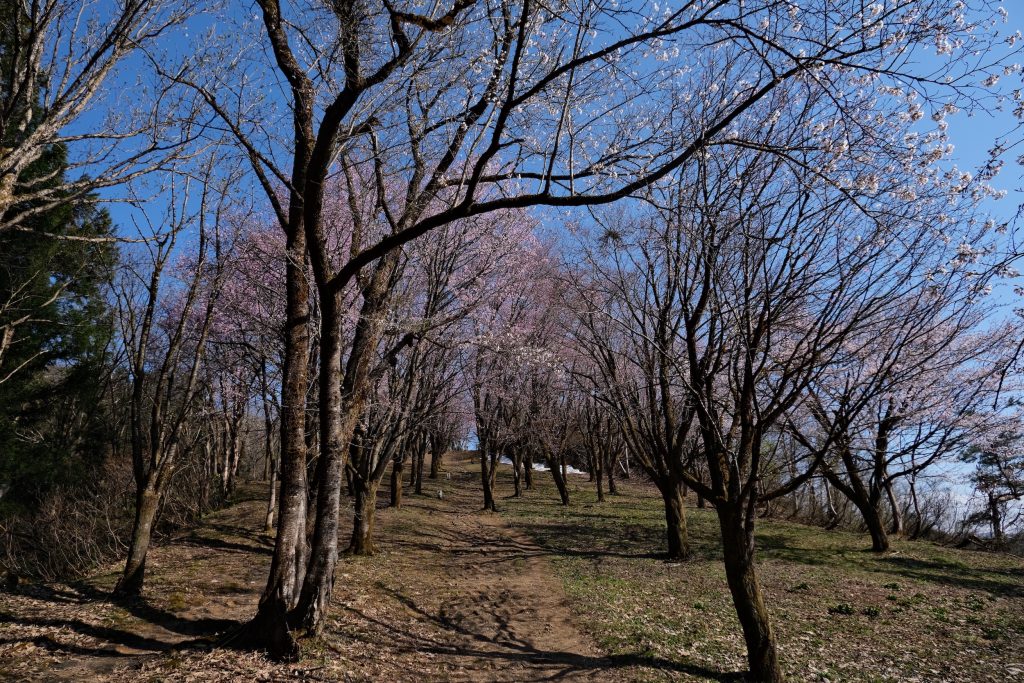 Snow Country for beginners: The Mt. Sakado trail
A recommended course for beginners is listed as "Course C" on the SCT website, and connects the three mountains of Mt. Sakado, Mt. Nagamori, and Mt. Botan in Minamiuonuma. These mountains are famous for unkai, where the fog settles on the mountain which appears as a "sea of clouds," and there are great scenic overlook points from which you can take in the expansive views.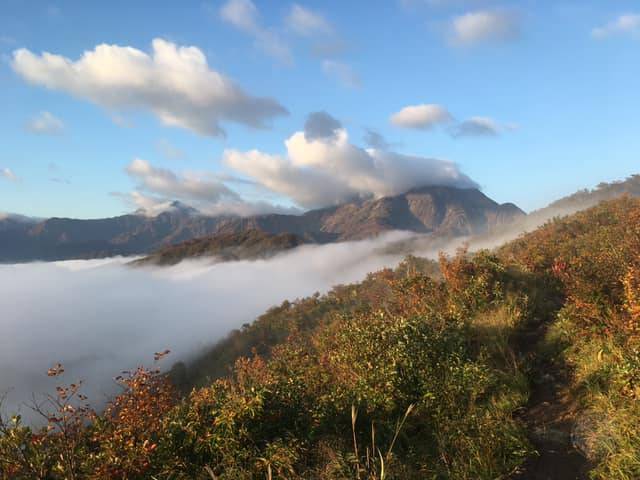 The course begins on the footpath up toward the Sakado Castle ruins. This castle was originally built by the famed Uesugi clan, and was an important stronghold during the wars of the 16th century. The Sakado Castle grounds were designated as a National Historic Site in 1979. In the spring this area is known as a great place to view dogtooth violets (called katakuri), and for its giant fireworks festival in the summer, click HERE for more information. You can also visit the Naoe Kanetsugu Denseikan Museum located inside Zenibuchi Park. The museum is dedicated to the history of the castle as well as the famous Sengoku-period samurai Naoe Kanetsugu. The path continues to an old mountain road that can be easily traveled throughout the green season, with many stunning views of rural Japan. On the way you have easy access to some fascinating temples and shrines, such as Eirinji Temple and Hakkaisanson Shrine. The former features a gallery of 100 carved Buddhist figures, as well as works from the famed sculptor Uncho Ishikawa, while the latter is known for their firewalking festival in the fall, and other festivals during the green season. From Muikamachi station, the entire course takes about three and a half hours.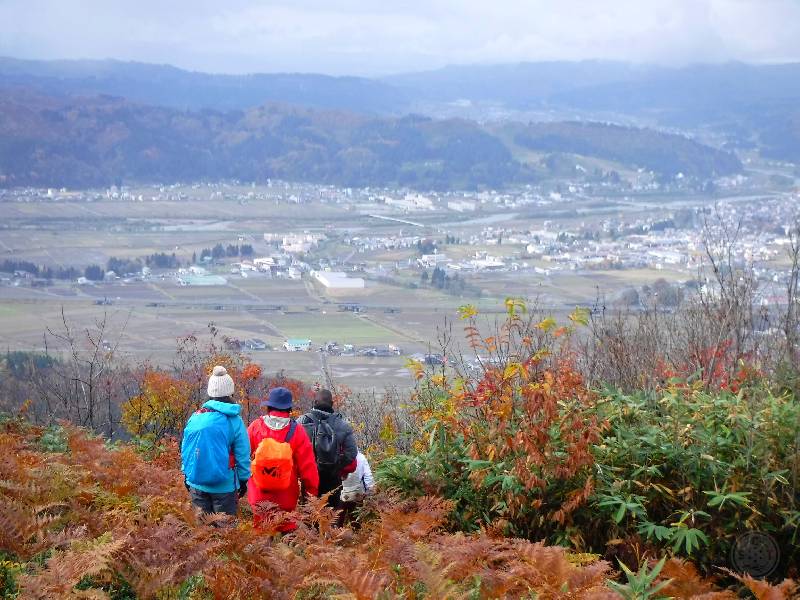 An ideal hike for the pros: Echigo-Komagatake and more!
For more advanced hikers and mountain climbers, the staff at SCT recommend a mix of "Course D" and "Course E": a satisfying long journey from Mt. Dairiki to Echigo-Komagatake in Uonuma City. Before you get on the trail, you may want to visit Saifukuji Temple, which is considered one of the most important temples in the area with a history spanning nearly 500 years. Once you get to the mountain you can see lots of dogtooth violets, magnolias, and azaleas. You will reach the Okurekku Park and its visitor's center, where there are some facilities available.
The Echigo-Komagatake trail leads to the Roadside Station Yunotani, where you can buy a variety of local products and gifts and grab a bite to eat. From Yunotani, you can take a bus to Oritate Hot Spring, where the next part of the journey begins (alternatively, you can take this bus route the other way back toward Koide station if you wish). While at the hot spring, you can visit the scenic Enpuku-ji temple, or, if you have a reservation you can eat at the farm-to-table restaurant Irori Jinen, which we wrote about HERE. Then you will reach Oyu Onsen, and the trailhead for Mt. Echigo-Komagatake. This mountain is known as one of the 3 most famous mountains in the prefecture.
These are only a few of the 13 routes that you can learn about in detail on the SCT website. In addition, there are other hikes and nature walks we have discussed here at length previously, such as the nature tours available at the vast Naeba Sanroku Geopark HERE, or the conveniently located Daigenta Canyon in Yuzawa located HERE.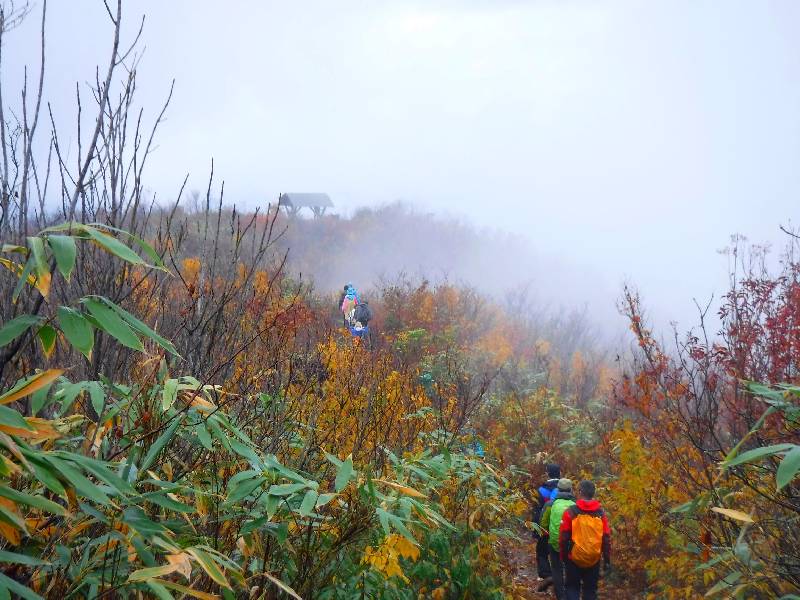 Ask the experts:
Mr. Nakamaru of Snow Country Trails says, "The Snow Country Tourism Area where we live is one of the few places in the world where people live amongst such heavy snow. Even in this harsh natural environment, people have long lived in harmony with one another. We have an obligation to protect the nature and culture of this Snow Country, and pass it on to the next generation. We believe that creating this Snow Country Trail is not just about connecting roads, but about creating a place of interaction that connects people, culture, as well as nature. Through Snow Country Trails, we aim to raise the level of the local economy by increasing the number of people who interact with each other, and to create a strong and stable community that can continue on even 100 years from now."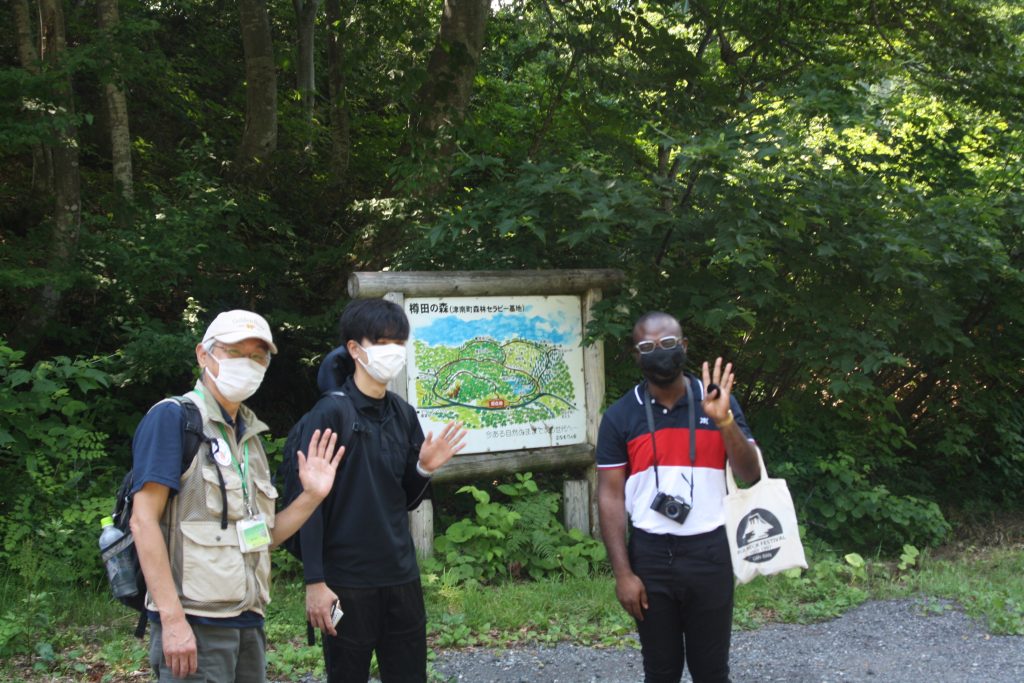 What to bring on your journey
When you are planning your own excursion through the trails of YUKIGUNI, it is important to come prepared. The SCT staff highly recommend that hikers come fully prepared with a map, adequate water and footwear, a hat, gloves, bug spray, and depending on the area, a bear bell. Don't try to camp out outside of designated camping sites. A light of some sort is a must for long journeys, even if you think you will return before dark. For safety reasons, be sure to submit your travel itinerary online ahead of time, or in one of the boxes labeled 登山届 (Tozantodoke) that can generally be found at trailheads. There are plenty of maps available for download on the SCT website. You can also pick up maps at our information center free of charge.
Information for Travelers
Sakado Castle Ruins & Zenibuchi Park
Address: 392 Sakado, Minamiuonuma City, Niigata Prefecture 949-6611
Access: About 15 minutes from Muikamachi station on the JR Joetsu line.
Eirinji Temple
Address: Negoya, Uonuma City, Niigata Prefecture 1765
Hours: 9:00 a.m. to 4:30 p.m.
Cost: 300 yen per person
Hakkaisanson Shrine
Address: 3746 Osaki, Minamiuonuma City, Niigata Prefecture 949-7251
Saifukuji Temple
Address: 174 Oura, Uonuma City, Niigata Prefecture 946-0033
Hours: 9:00 a.m. to 4:00 p.m.
Cost: 500 yen per adult
Roadside Station Yunotani
Address: 1148 Yoshida, Uonuma City, Niigata Prefecture 946-0075
Hours: 9:00 a.m. to 5:00 p.m.
Irori Jinen
Address: 718 Kamioritate, Uonuma City, Niigata Prefecture 946-0087
Hours: 11:00 a.m. to 3:00 p.m. or until sold out, closed Thursdays, closed from late November to mid-April