Certification schemes such as "TIMELESS YUKIGUNI" and "YUKIGUNI A-grade Gourmet" are part of the criteria for luxury travel. However, our idea of "luxury" does not mean simply being extravagant or exclusive. It is a unique culture and experience that is true luxury. If you are interested in the uniqueness of our region, you may also like to read this article.

A Hidden Cultural Experience In Japan
A ryokan that captures the charm of the region through its cuisine and sake

Ecolodges Japan in YUKIGUNI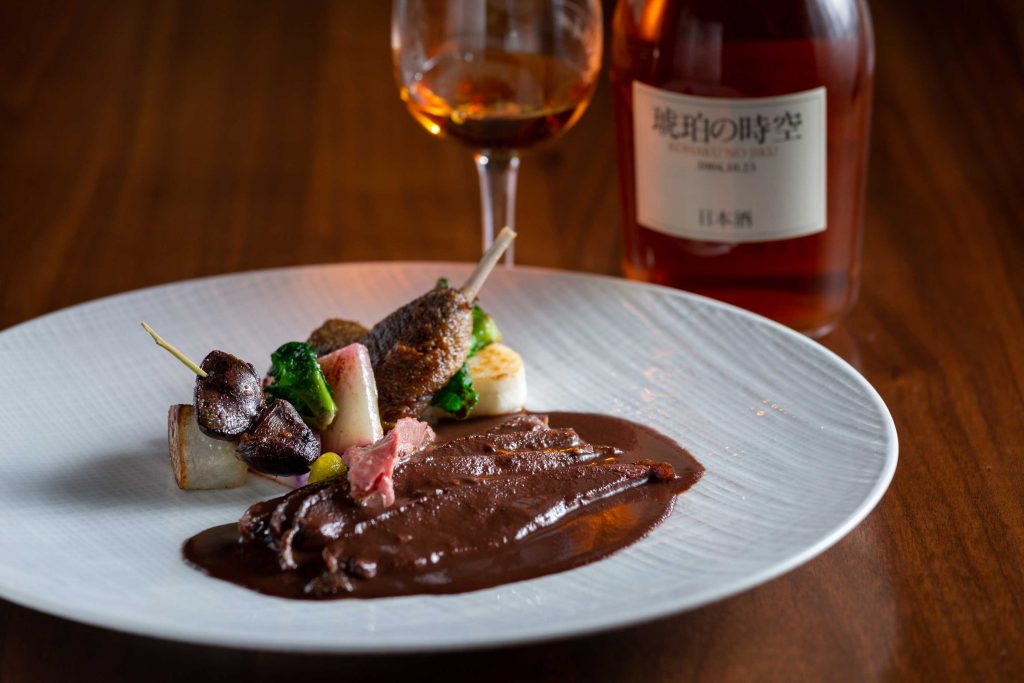 Message from the accommodation
A small lodge where you can enjoy sake and wine pairing. Over 200 varieties of sake from Niigata. The head chef from Ryuzu creates cuisine dish by dish in our 2 star michelin restaurant. Dishes are paired with a best match wine, or sake from Niigata, by the sommelier and owner.
Half board/16,000 JPY〜35,000 JPY
You can read more about Matsunoyama Onsen in this article.

Matsunoyama Onsen – A Famous Medicinal Hot Spring Village In Yukiguni
The reason why TIMELESS YUKIGUNI recommend Sake Hotel Tamakiya.
The ryokans selected to represent TIMELESS YUKIGUNI embody the very best of the Japanese hospitality tradition and the highest levels of comfort. Yet each one of them goes further than this, and all have incorporated influences from the history, culture, and way of life of the area. For those who see travel as an opportunity to broaden their minds and horizons, rather than mere sightseeing, TIMELESS YUKIGUNI ryokans are the perfect choice.
List of 12 ryokans at TIMELESS YUKIGUNI
Inspiration
Tamakiya is a modern-style ryokan located on the main street of Matsunoyama Onsen in Niigata Prefecture. The big draw here is the dining room which has been awarded a Michelin star and where guests are attended to by a world-class sake master and sommelier.
Local Cuisine from a Michelin-starred Kitchen
You could almost describe Tamakiya as an amazing restaurant that also has rooms attached. The chef has a top pedigree working in a leading French dining restaurant in Tokyo. The kitchen sources traditional local ingredients (and it is not uncommon for the chef himself to be out foraging) but uses them with a French-inspired twist. This fusion cuisine blending old and new, French and Japanese has been highly praised and is a real treat for any food lover.
Comfort
From the moment you enter Tamakiya it is obvious that a great deal of care has gone into the design and decor. The rooms have been recently renovated to continue this style throughout. As you would expect from a ryokan in Matsunoyama Onsen, the hot spring water comes from the famous source that makes this town one of the top three curative hot springs in Japan.
Stylish Modern Rooms
Since the running of Tamakiya has passed down to the next generation the whole place has been undergoing a gradual facelift and the rooms have received a stylish renovation. The choice of materials and attention to detail is impressive, and a comfortable stay awaits in the bright, modern rooms.
To find out more, please visit TIMELESS YUKIGUNI report page.
13 Matsunoyamayumoto, Tokamachi, Niigata
Matsunoyama Onsen was not simply built to accommodate tourists enjoying the famous hot springs; in fact, there has been a community of people living here for centuries. Though the groom-throwing festival is now considered a significant tourist attraction, it has a basis in the history of this town. Legend has it that centuries ago a local woman got married to an outsider, and her family did not approve the union. In retaliation, they threw her husband from the top of the local shrine into the snow.

Matsunoyama's Groom-Throwing Festival